August 28, 2018
Confetti Sugar Cookies
These homemade sugar cookies stay soft and chewy and there is no rolling needed!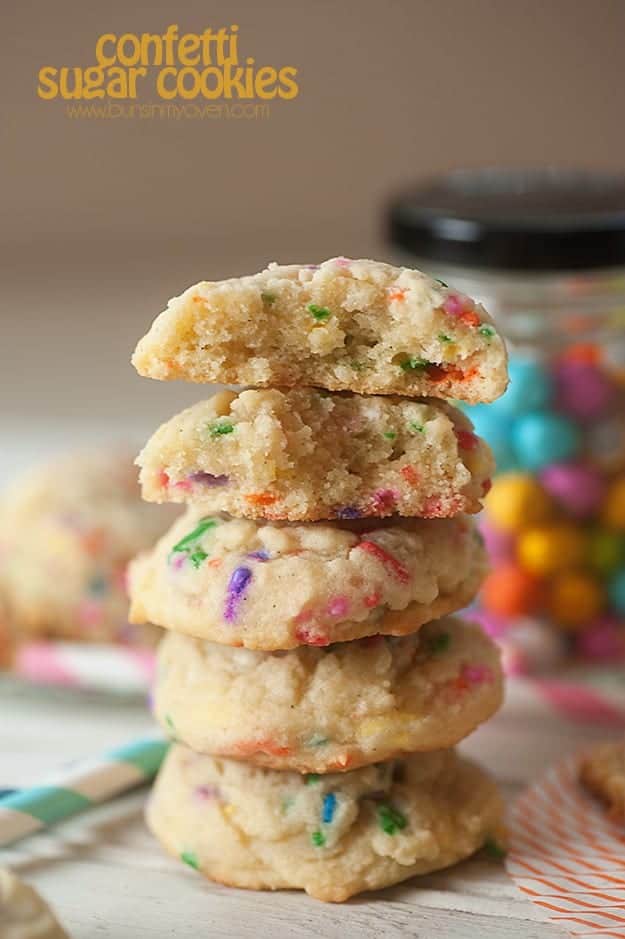 You guys know how raw cookie dough is the absolute best part of a cookie? Say yes, nod along, and no one gets hurt.
Well. These cookies, even after they are baked in the oh-ven, taste just like the raw dough.
Do you hear that? That's the sound of angels singing.

If you're all like, well, doesn't all cookie dough taste the same as a baked cookie? Um, no, you're wrong and now we can't be friends. I'll miss you and all, but go. Just go.
Also, I can't stop calling my oh-ven the oh-ven because I heard someone pronounce my blog as "Buns In My Oh-ven" and it's just stuck with me. #sorrynotsorry
So, back to the cookies! These are a simple sugar cookie, but instead of rolling them out all tedious and work-y like, we just use a cookie scoop to drop them on a pan. It makes for a super soft, thick cookie. Also, these don't need any time to chill in the fridge, which means cookies right NOW. No waiting.
These are loaded with sprinkles because the other day my daughter mentioned that her favorite flavor is sprinkles and I like her and her adorable dimple so I made her cookies that were her favorite flavor. <— aaaaand, breathe. Longest sentence ever.
Speaking of dimples, did you know that my kids have a matching set? My daughter has one perfect dimple on her right cheek and my son has one perfect dimple on his left cheek. I just really like those two humans.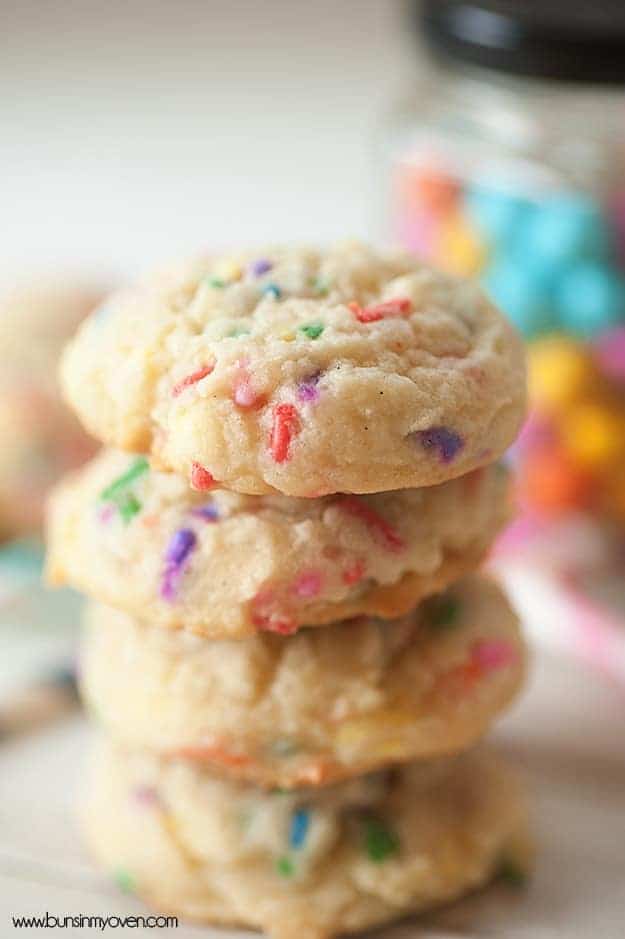 Anyway, as I was saying, cookies! These are baked with alllllll butter, because I like butter. Sometimes shortening is a good thing, but it's not needed here. Bring on the butter. Bake these just until the edges are turning color and the tops still look a wee little bit underdone. They'll finish baking on the hot cookie sheet and turn out perfectly.
Now, head to the kitchen, pre-heat that oh-ven, and get to making cookies! Because I'm the boss and I said so.
Confetti Sugar Cookies
Servings: 36 cookies
Course: Dessert
Cuisine: American
Keyword: easy cookie recipes, kid-friendly recipes, party recipes
Calories: 155 kcal
These homemade sugar cookies stay soft and chewy and there is no rolling needed!

Ingredients
1 1/3 cup butter room temperature
1 1/2 cups granulated sugar
2 large eggs
2 teaspoons vanilla extract
3 1/2 cups flour
2 teaspoons baking powder
1 teaspoon salt
3/4 cup sprinkles
Instructions
Preheat the oven to 350 degrees. Line a baking sheet with parchment paper.

Beat together the butter and sugar until light and fluffy, about 3 minutes with a stand mixer. Beat in the eggs and vanilla until very well combined.

In a small bowl, combine the flour, baking powder, salt, and sprinkles. Gradually add the flour mixture to the butter mixture and mix until combined and the dough comes together.

Use a cookie scoop to drop balls of dough on the prepared baking sheet, about 1-inch apart. Bake for 11 minutes or until edges are turning golden and tops are just slightly underdone looking.

Cool for 10 minutes on the cookie sheet before transferring to a cooling rack to cool completely.
Nutrition Facts
Confetti Sugar Cookies
Amount Per Serving
Calories 155 Calories from Fat 63
% Daily Value*
Fat 7g11%
Saturated Fat 4g25%
Cholesterol 28mg9%
Sodium 129mg6%
Potassium 41mg1%
Carbohydrates 20g7%
Sugar 11g12%
Protein 1g2%
Vitamin A 225IU5%
Calcium 15mg2%
Iron 0.6mg3%
* Percent Daily Values are based on a 2000 calorie diet.
Nutrition Disclaimer: All information presented on this site is intended for informational purposes only. I am not a certified nutritionist and any nutritional information shared on bunsinmyoven.com should only be used as a general guideline.