Parmesan crusted chicken is crispy and flavorful on the outside and so juicy on the inside! You'll love how simple this weeknight dinner recipe is!
I have a confession to make, you guys.
My daughter discovered the frozen bags of chicken nuggets at the grocery store about a year ago and she is straight up obsessed with them.
It's not like she'd never had them before last year – it was just that she didn't realize that these were a thing she could convince
me to buy regularly.
I am weak. I am lazy. I will buy you frozen chicken nuggets to get out of cooking lunch any time you ask. This is a fact and now she knows it and uses it against me.

I've really been trying to cut back on them a bit, because it was getting out of hand there for awhile.
I mean, they're fabulous for a quick lunch when we're busy, but maybe they shouldn't be an every day food. You know?
So, I made her this Parmesan crusted chicken recipe instead to show her that, hey, your mama can make chicken taste good too, ok?
She likes this chicken recipe better, thank the good Lord. I would have been offended if it had gone the other way.
This parmesan crusted chicken breast recipe is super easy and that Parmesan crust is really packing some flavor, especially when you dip it in my easy homemade honey mustard recipe!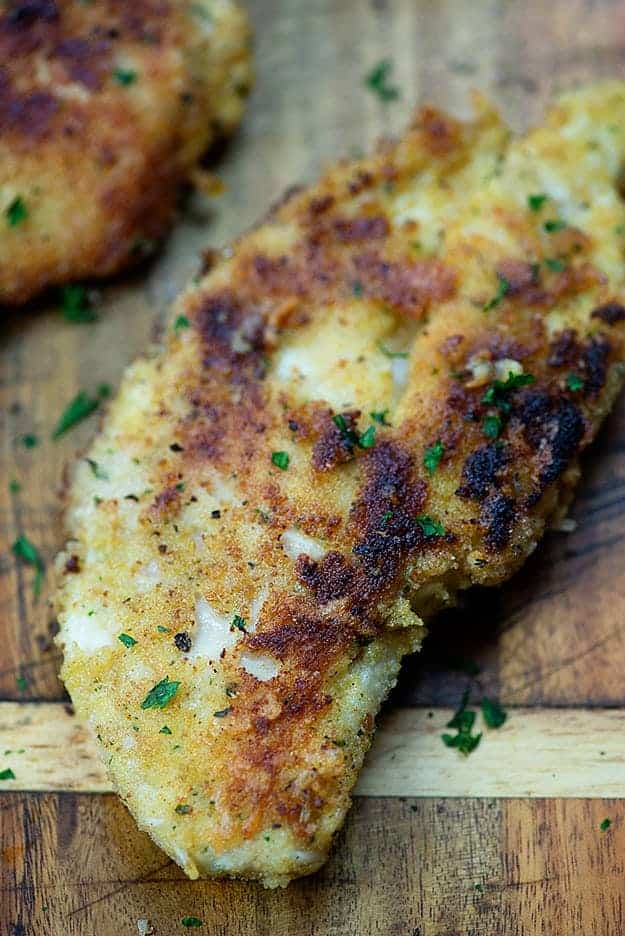 How to make Parmesan crusted chicken:
I start with chicken breasts for this recipe, but you can definitely use thighs if that's your preference.
Be sure your chicken is sliced nice and thin – you can either cut a regular chicken breast in half or you can purchase thin sliced breasts.
You'll dip your chicken breasts in some beaten egg and then in a mixture of grated Parmesan cheese and bread crumbs.
True story: I have done this with both the powdered Parmesan cheese that comes in a green can and with actual grated Parmesan cheese. Both work. Use whatever you happen to have in your fridge right now.
Next, you just pop the chicken in a hot skillet with a little olive oil or butter and cook them on medium heat until the outsides are crispy and the chicken is cooked through.
This easy Parmesan crusted chicken recipe literally takes about 20 minutes of work.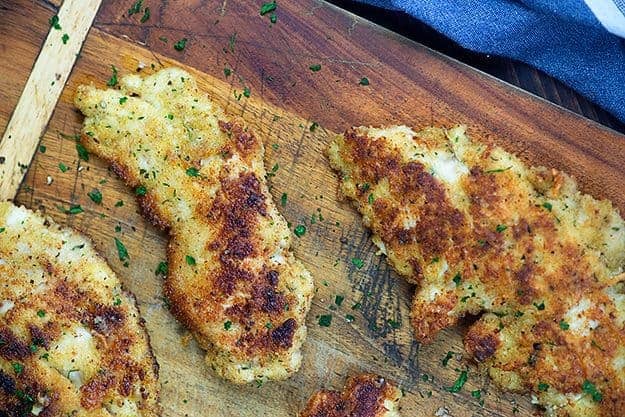 What to serve with Parmesan crusted chicken:
This is so darn good with a side of steamed broccoli and a big drizzle of Alfredo sauce over everything. Try it!
Italian Pasta Salad is a great side dish that you can make ahead and eat all week with just about anything.
Jiffy corn casserole is always a hit on my table.
Roasted sweet potatoes are a simple, healthy side.
For dessert, try my chocolate chip cookies or peach cobbler.
And if you're always on the hunt for new ways to cook chicken, give this stuffed chicken breast recipe a try. It's full of spinach and cream cheese – if you love spinach dip, you have to try it!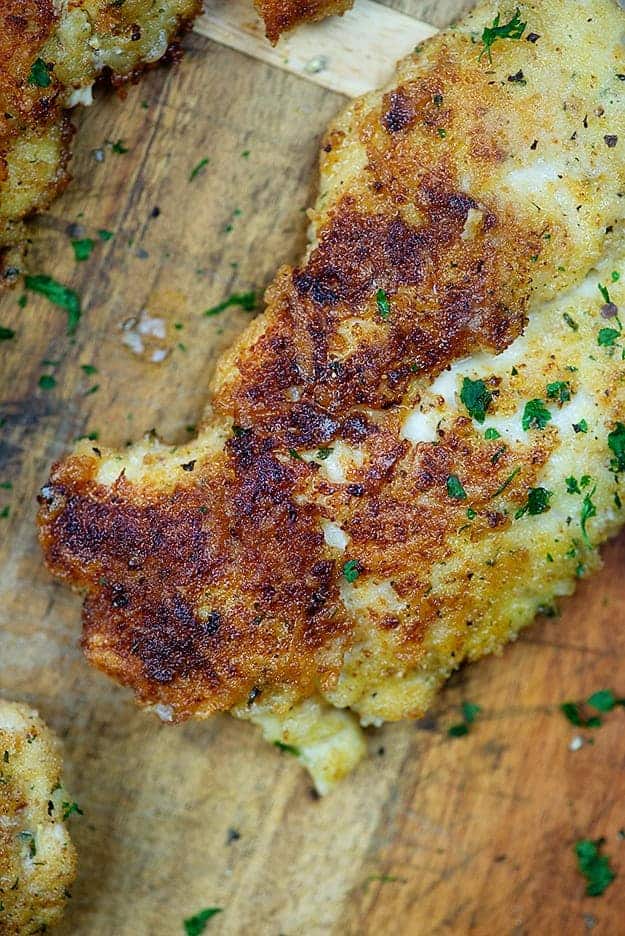 If you enjoy this recipe, be sure to follow me on Pinterest as well! I'm always pinning new family-friendly, quick, and easy meals like this!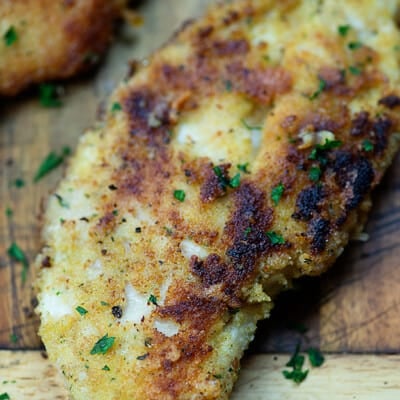 Parmesan Crusted Chicken Breasts
These chicken breasts are crispy on the outside and juicy on the inside and best of all, they're ready in just 20 minutes.
Prep10 minutes
Cook10 minutes
Total20 minutes
Ingredients
1 pound chicken breasts thin sliced
2 large eggs
1/2 cup grated Parmesan
3/4 cup Italian bread crumbs
1 teaspoon garlic powder
½ teaspoon onion powder
¼ teaspoon salt
¼ teaspoon pepper
1 tablespoon olive oil
Instructions
Beat the eggs with 1 tablespoon of water and place in a shallow dish, such as a pie plate.

Add the Parmesan, bread crumbs, garlic powder, onion powder, salt, and pepper to a second shallow dish and stir to combine.

Dredge each chicken breast into the eggs and then the Parmesan mixture to coat.

Heat the olive oil in a large skillet over medium heat.

Cook the chicken over medium heat for about 5 minutes per side or until golden brown and cooked through.

Serve immediately.
Nutrition Information:
Calories: 339kcal (17%)| Carbohydrates: 16g (5%)| Protein: 35g (70%)| Fat: 13g (20%)| Saturated Fat: 4g (25%)| Cholesterol: 176mg (59%)| Sodium: 804mg (35%)| Potassium: 530mg (15%)| Fiber: 1g (4%)| Sugar: 1g (1%)| Vitamin A: 320IU (6%)| Vitamin C: 2mg (2%)| Calcium: 199mg (20%)| Iron: 2.1mg (12%)