LOOSE MEAT SANDWICHES are a staple in our house! Such an easy and fun twist on burgers inspired by the Maid Rite recipe! The beef gets cooked in a savory sauce so that it has tons of flavor.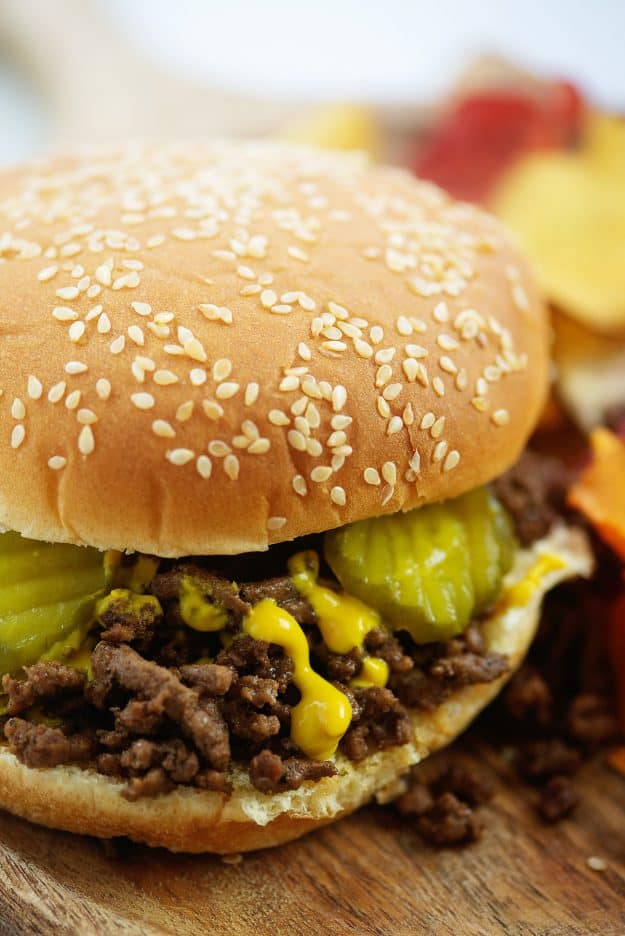 I'm sorry. Loose meat sandwiches? I hate that name. We actually call these sandwiches Maid Rite Burgers after a burger joint in town that makes loose meat sandwiches.
Do you have a Maid Rite near you? Ever tried one of their burgers? So good!
But, whatever you call these, just know that they are utterly delicious. So much more fun than a traditional cheeseburger and there's no worrying about firing up the grill.
These are similar to a sloppy joe, but without the sauce. (Speaking of which, our homemade sloppy joe sauce is phenomenal.)
I grew up eating these Maid Rite sandwiches and I'm raising my kids on them too!

Ingredient list:
Ground Beef – We usually cook with lean beef, but use whatever you have on hand.
Hamburger Buns – these are also good on Hawaiian rolls!
Worcestershire Sauce – Adds tons of savory flavor to the beef.
Onion Powder
Garlic Powder
Beef Broth
Toppings – We usually stick with dill pickles and mustard, but any burger toppings would work here. You do you!
How to make Maid Rite Burgers (aka loose meat sandwiches):
Beef: There isn't a whole lot of work involved in making loose meat sandwiches, but they are full of flavor! Start by browning the beef in a skillet, breaking it up as it cooks into smaller pieces.
Add the Worcestershire sauce, garlic powder, and onion powder and continue cooking until the meat has browned.
Broth: When the meat has browned go ahead and pour in the beef broth and bring to a boil. This is going to add a whole new level of flavor to the meat! Once boiling, reduce the heat to a simmer and cook for 30 minutes or until the liquid has evaporated. The meat will be so tender and flavorful, but give it a taste and add salt if you think it needs it.
Assemble: When the meat has finished cooking you are almost done! Spoon the beef onto some buns and top with mustard and pickles or whatever your favorite topping is!
Tip: It's worth the extra effort to butter and grill the hamburger buns on a griddle or skillet first before serving!
Leftover Hack!
Turn your leftovers into a burger burrito! Warm up a large flour tortilla, fill with meat, pile on french fries, drizzle with ketchup and mustard, add some pickles, and roll it all up like a burrito! Our kids are obsessed with 'burger-ittos!'
What Readers are Saying!
"Last week I was going through my Pinterest saves looking for something easy to cook for dinner. I came upon this recipe and I have tried many versions but I never found a version that I liked. Until I made these!!! OMG! Pure Awesomeness! They were so yummy that hubby requested them this evening for dinner and I was informed to make enough for one of his friends because he has been bragging all week on these sandwiches so we are having company for dinner." – Paula K
Recommended burger toppings:
Cheese – Any variety you like works, but we're partial to American on a burger.
Pickles
Ketchup and Mayo
Ketchup and Mustard
Salty, crunchy potato chips – Not a traditional burger topping, but this is how my kids eat their Maid Rite burgers and I have to admit that it's delicious!
Steak Sauce
More burger recipes for you to try: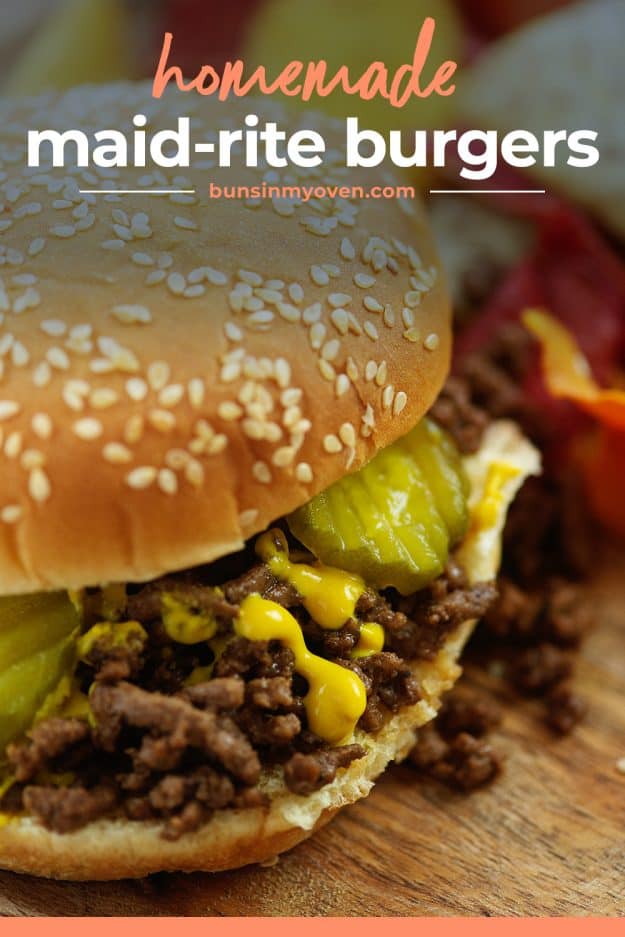 Loose Meat Sandwiches
We call these Maid-Rite burgers after a local restaurant, but they're more commonly referred to as loose meat sandwiches. Whatever you call them, they're delish!
Prep5 minutes
Cook30 minutes
Total35 minutes
Ingredients
1 pound lean ground beef
1 tablespoon Worcestershire sauce
2 teaspoons onion powder
1 teaspoon garlic powder
1/2 teaspoon salt
1/2 teaspoon ground pepper
1 1/2 cups beef broth
4 hamburger buns
pickles for serving
mustard for serving
Instructions
Place ground beef and seasonings into a large skillet and brown meat, crumbling as it cooks, over medium heat until cooked through. Do not drain fat.

Pour beef broth into pan and bring to a boil. Reduce heat to a simmer and cook for 30 minutes or until liquid has evaporated.

Spoon beef onto buns and top with pickles and mustard.
Nutrition Information:
Serving: 1sandwich| Calories: 291kcal (15%)| Carbohydrates: 24g (8%)| Protein: 30g (60%)| Fat: 8g (12%)| Saturated Fat: 3g (19%)| Trans Fat: 1g| Cholesterol: 70mg (23%)| Sodium: 958mg (42%)| Potassium: 552mg (16%)| Fiber: 1g (4%)| Sugar: 3g (3%)| Vitamin A: 5IU| Vitamin C: 1mg (1%)| Calcium: 100mg (10%)| Iron: 5mg (28%)
This recipe was originally published in August 2016. It was updated in February 2021.