So, the other day I came across these cray-cray Jalapeno Cheddar Chicken Meatball Sandwiches from How Sweet Eats and I thought to myself, "Self! You will make those for dinner!"
Then I remembered that my entire family would up and move across the country to get away from me if I put a bunch of jalapenos in their dinner. They'd probably even take the dog, which would be tragic, because the dog is my favorite of the bunch.
I mean, can you blame me? Total fluff ball right there.
Anyway, after I cried about the lack of jalapeno lovers that live in my house, I had a lightbulb moment. Like, literally, I lit up the whole main floor of my house with the idea that I had.
Buffalo Chicken Meatball Sandwiches, baby. Sure, yes, my daughter would be eating another PB&J if I served spicy chicken meatballs for dinner. That's, like, her trifecta of awful right there. Spicy. Chicken. Meatballs. She's glaring at me right now just for thinking about those three things in her presence.
The husband is a major sissy when it comes to hot sauce, so I went easy on it. We wouldn't want the poor wittle baby to cry, would we?
Anyway, I morphed Jessica's sandwiches into a food that I sort of want to marry. Imagine how cute our meatball babies would be in their little bonnets and booties crawling around the house all innocent and sweet.
Ugh. This is ridiculous.
Buffalo Chicken Meatball Sandwiches. I mean…can you even…am I dreaming?
These sandwiches are so good you'll want to punch someone in the face. Preferably not me, but go ahead and try them to find out. The meatballs are so soft and tender, the carrots add a nice bit of texture, and the mixture of the ranch and hot sauce is just simply divine. The meat is flavored so perfectly!
Please, please, please make these for the Superbowl. Then make them again for dinner on Tuesday and eat the leftovers for lunch on Wednesday. Then make them again on Friday. You know, it's really never a bad time to eat buffalo chicken meatball sandwiches.
A few notes: These were made to accommodate a sissy-la-la 32 year old man and a 12 year old boy. They're pretty mild, more tangy and bright flavored than overly spicy, so feel free to bump up the amount of hot sauce you use in the meat mixture to 1 cup or more. I'd add in an extra 1/4 cup of oats for each 1/2 cup of hot sauce that you add, just so things don't get too out of control moist and fall apart-y. Alternately, keep these as is and just load them up with more hot sauce as needed when you make your sandwiches.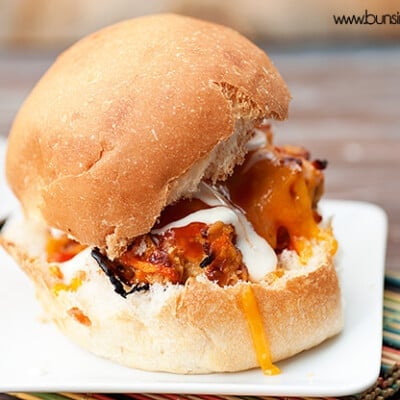 Buffalo Chicken Meatball Sandwiches
Tangy, buffalo flavored chicken meatballs bake up in less than 15 minutes for a quick, flavorful dinner!
Prep15 minutes
Cook5 minutes
Total20 minutes
Ingredients
1 pound ground chicken
1 large egg
4 ounces Mozzarella cheese grated
1/2 cup grated carrot
1/2 cup panko
1/2 cup rolled or quick oats
1/2 cup bottled Ranch dressing
1/2 cup Frank's Red Hot Sauce
5 bakery style sandwich rolls
4 ounces cheddar cheese grated
Ranch dressing and Hot Sauce for serving if desired
Instructions
Preheat oven to 500 degrees. Line a large cookie sheet with parchment paper.

In a large bowl, combine all of the meatball ingredients and mix until combined using your hands. Alternately, mix everything together in the bowl of a stand mixer fitted with the paddle attachment.

Scoop out chunks of the mixture, about 2 tablespoons each, and shape into balls. Place on the prepared baking sheet.

Bake for 12-15 minutes or until cooked through.

Slice the sandwich rolls in half and top with three to four meatballs, depending on what will fit. Drizzle on extra hot sauce if desired. Top with a small handful of cheddar cheese. Place on a baking sheet, with the top half of the roll laying cut side up next to the bottom portion with the meatballs. Repeat with remaining buns.

Place sandwiches back in the hot oven for about 5 minutes, or until the cheese has melted and the bread is beginning to brown at the edges.

Top the meatballs with the sliced bun tops.

Serve with extra ranch dressing and hot sauce as desired.
Nutrition Information:
Calories: 645kcal (32%)| Carbohydrates: 43g (14%)| Protein: 35g (70%)| Fat: 36g (55%)| Saturated Fat: 12g (75%)| Cholesterol: 164mg (55%)| Sodium: 1713mg (74%)| Potassium: 684mg (20%)| Fiber: 2g (8%)| Sugar: 3g (3%)| Vitamin A: 2575IU (52%)| Vitamin C: 1.6mg (2%)| Calcium: 370mg (37%)| Iron: 3.9mg (22%)
Other buffalo chicken recipes you will totally love:
Buffalo Chicken Dip from Buns In My Oven
Buffalo Chicken Macaroni and Cheese from Table For Two
Buffalo Chicken Nachos from Baked By Rachel
Buffalo Chicken Egg Rolls from Taste and Tell
Buffalo Chicken Taquitos from Buns In My Oven