The easiest Easter cookies you could ever make – they start with my reader favorite chocolate chip cookie dough and get dressed up with colorful Easter candy! These bake up soft, chewy, and thick – and they're ready in about 20 minutes!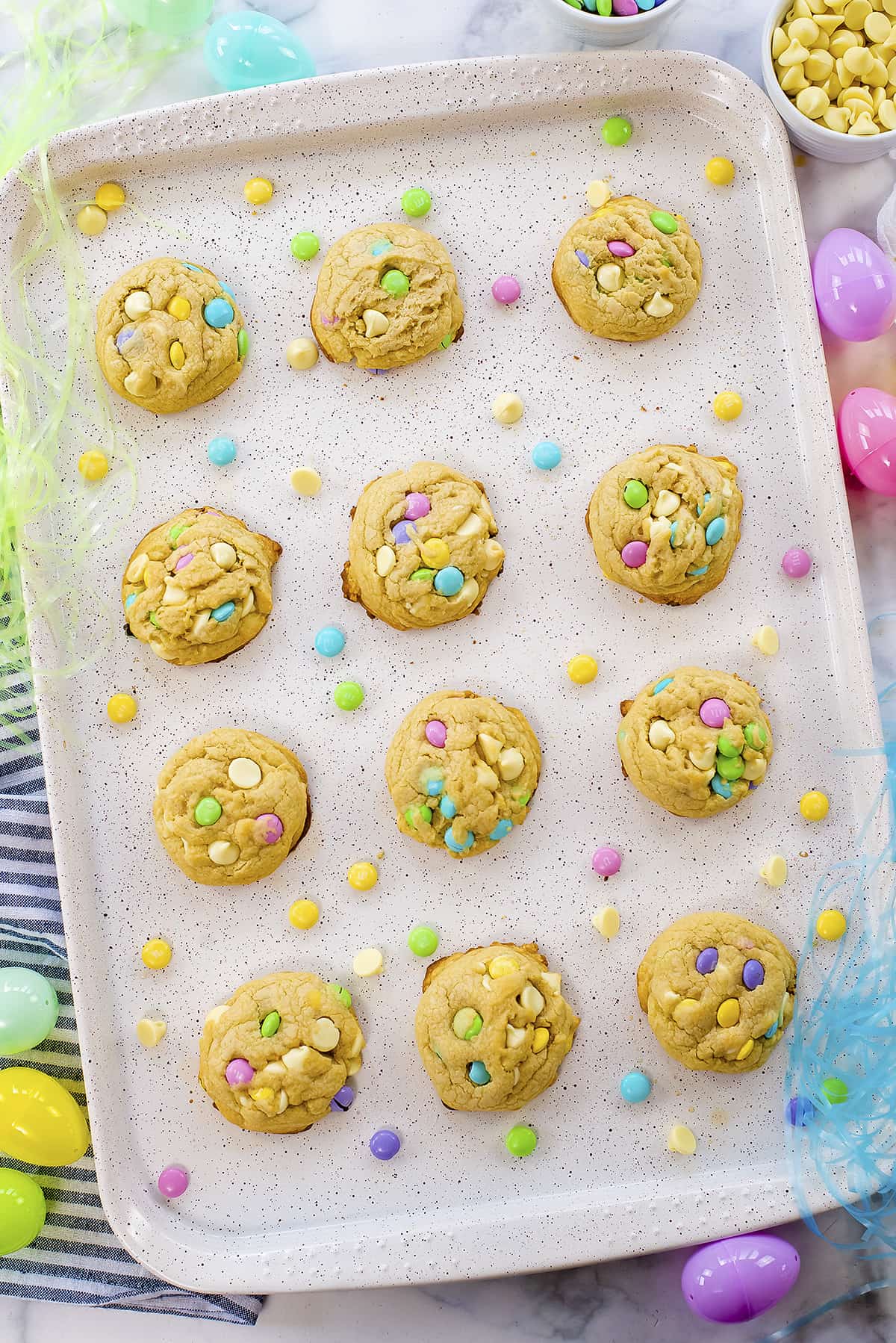 We love making EASY holiday desserts and they often start with my perfect chocolate chip cookies! That dough is so versatile, easy to make, and it churns out the BEST chocolate chip cookies ever!
Love adding candy to the dough, because the the cookie dough bakes up into these AMAZING, soft, chewy cookies that seriously everyone loves and the candy makes them so festive and fun with practically no extra effort!
This time around we used pastel m&m candies, but the m&m eggs are super fun too! You can use either variety – peanut butter m&ms are obviously also a good choice. 😉
My daughter has this cookie recipe memorized because we make it so often with different mix-ins.
This dough is infinitely adaptable and I think you'll love it.
Ingredients:
This post contains affiliate links. As an Amazon associate and member of other qualifying programs, I earn from qualifying purchases.
Butter – We use melted butter in this recipe. A bit untraditional, but it makes for a chewier cookie and it's easy because there's no need to wait for butter to soften.
Sugar – This recipe calls for more brown sugar than white, to give these more depth of flavor.
Vanilla – We like a good quality pure vanilla extract.
Egg
Flour – We only make these with all purpose flour, but I've heard from readers that white whole wheat flour works well too.
Baking Soda
Salt
White Chocolate Chips – You could also use regular chocolate chips, if preferred.
Easter Candy – We're using the pastel m&m candies. You can also use the m&m candies that look like Easter eggs. Robin's Eggs, peanut butter m&m's, and sprinkles are all good options here.
What We Love About This Recipe:
Some holiday recipes can be fussy, but these couldn't be easier! Just stir in some holiday m&m's and you've got a fun Easter cookie!
Adapt this recipe to use any variety of m&m candies or just mix in chocolate chips! These really are the BEST chocolate chip cookies.
No need to soften butter, use a mixer, dirty a bunch of bowls, or chill the dough! These cookies are ready from start to finish in about 20 minutes!
What Readers are Saying!
"loved these, perfect recipe (I quadrupled it for work and made them bakery style – 1/4c of dough per cookie) and they look sooo pretty!" – Hannah
How to make Easter cookies: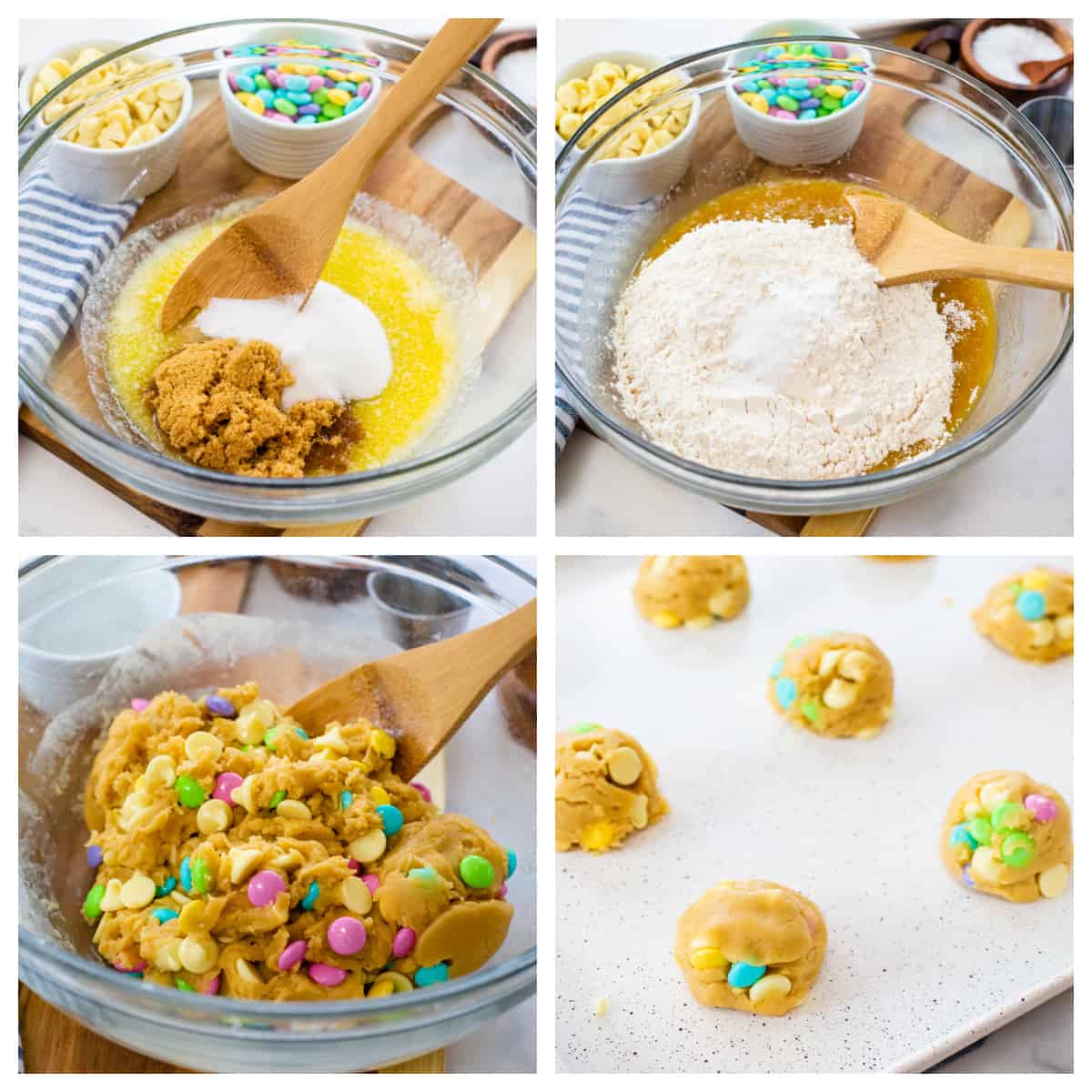 Butter & Sugar – Add melted butter, brown sugar, and white sugar to a mixing bowl. Stir to combine. Beat in an egg and vanilla extra. You can do this by hand or use an electric mixer – the dough is definitely soft enough to use a wooden spoon, though.
Dry Ingredients – Add your flour, baking soda, and salt and stir things together. Make sure to measure your flour properly – spoon it into the measuring cup and then level it off. Too much flour will make for cookies that don't spread correctly.
Candy – Stir in the chocolate chips and candy by hand.
Scoop & Bake – Use a large cookie scoop to scoop out 12 cookies and place them on your baking sheet. Pop these in a 350 degree for 10 minutes exactly. Let them set on the hot cookie sheet for at least 5 minutes before digging in.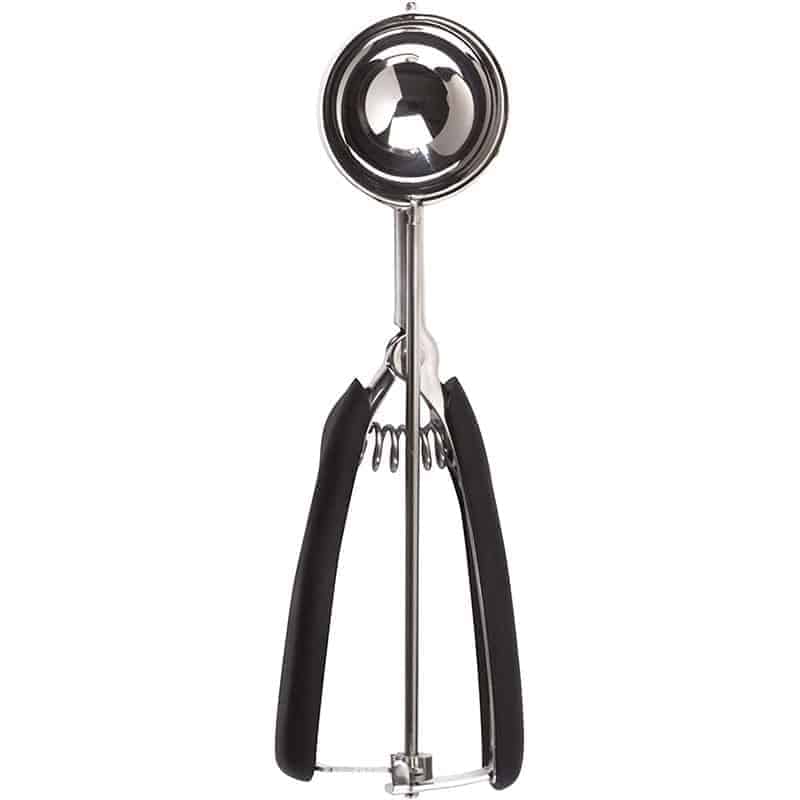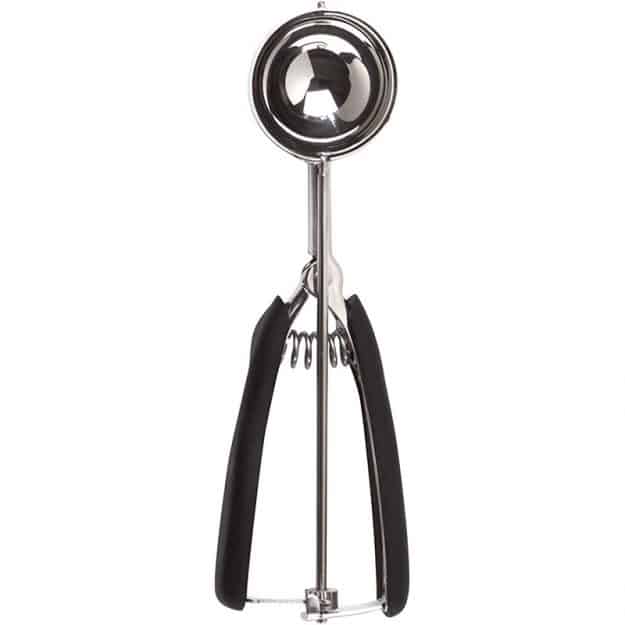 We use cookie scoops for everything from baking cookies to scooping meatballs to easily filling muffin tins.
Helpful Tip!
Don't overbake your cookies!
After 10 minutes the cookies will be slightly underdone. This is on purpose as the cookies will finish cooking while they are cooling on the cookie sheet.
How to properly measure flour:
Believe it or not, the way you measure your flour will play a big part in how your cookies turn out!
For the best results, fluff your flour in the container and then spoon it out and into a dry measure. Use the back of a butter knife to level it off.
Don't pack the flour into the measuring cup or your cookies will be more cake-y and won't spread the way they're meant to.
As written, this recipe makes for thick, soft cookies that spread just the right amount – they won't get thin and crispy, but they won't bake up as little dough balls either.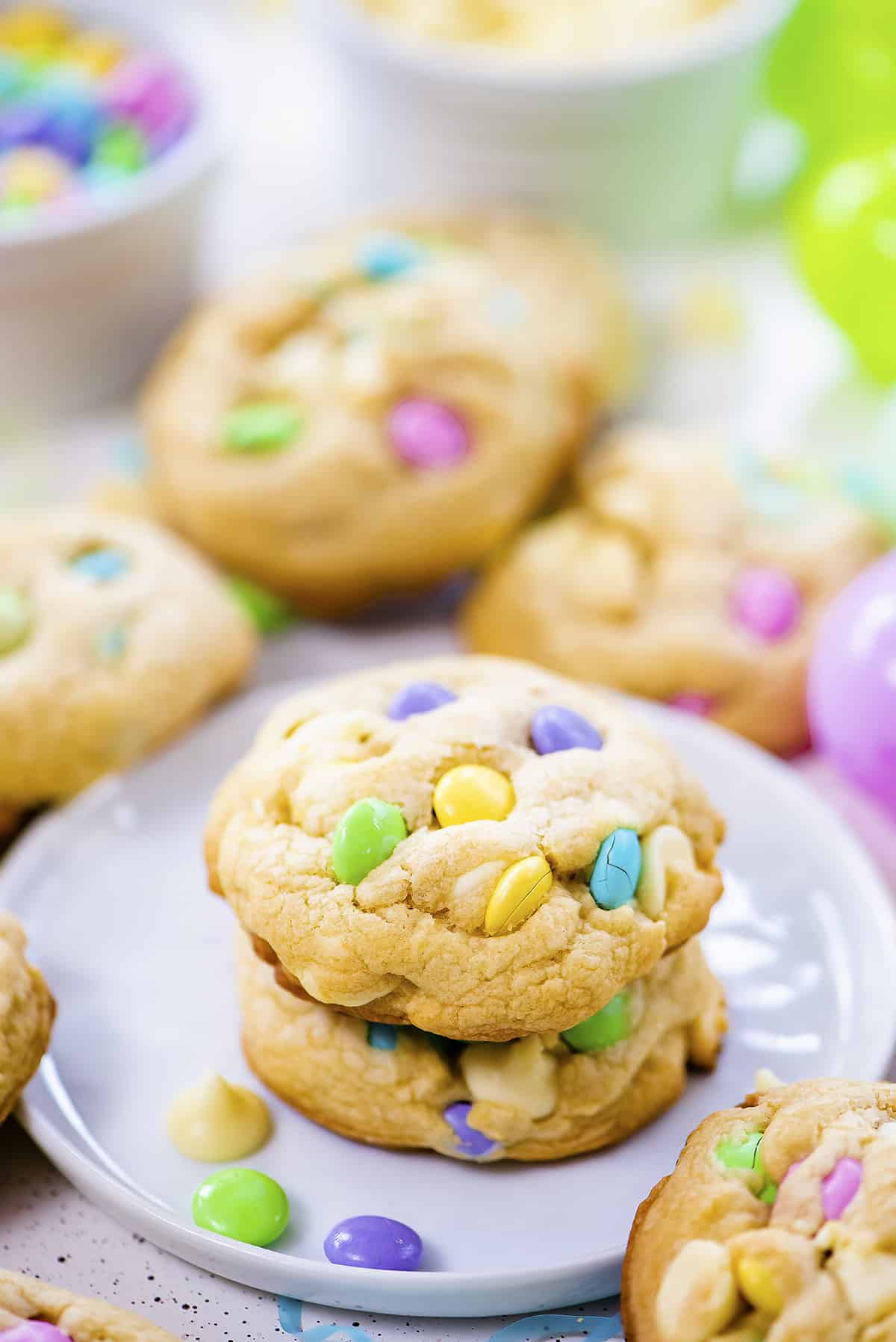 More Easter recipes to try this holiday:
Jiffy Corn Casserole: We make this side for every holiday!
Cheesy Hashbrown Casserole: A classic!
Crockpot Green Bean Casserole: A Thanksgiving classic, but it's good for any holiday if you ask me!
Cucumber Salad: Simple, quick, and the perfect side.
Blackberry Cobbler: This dessert is best with a little ice cream on top!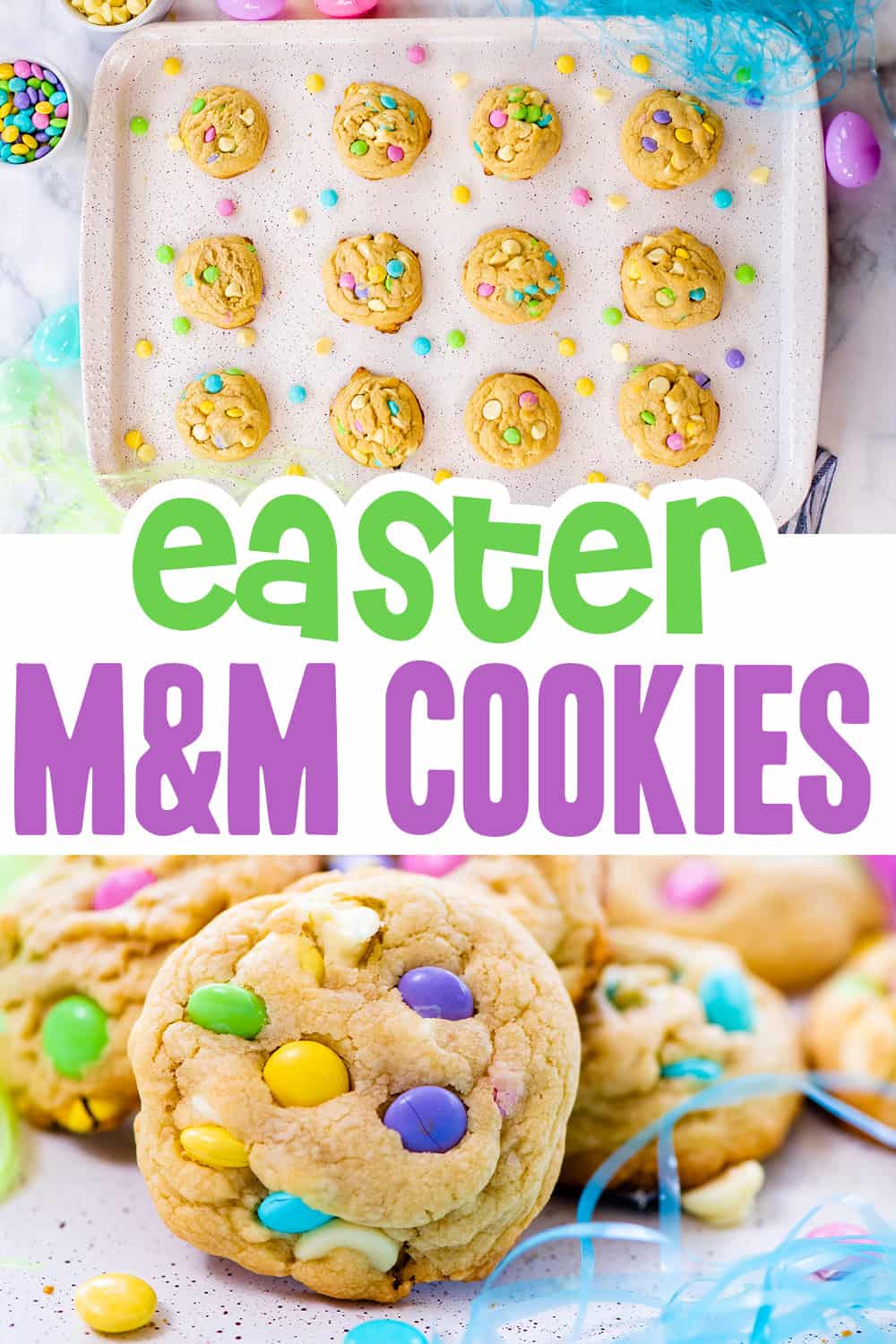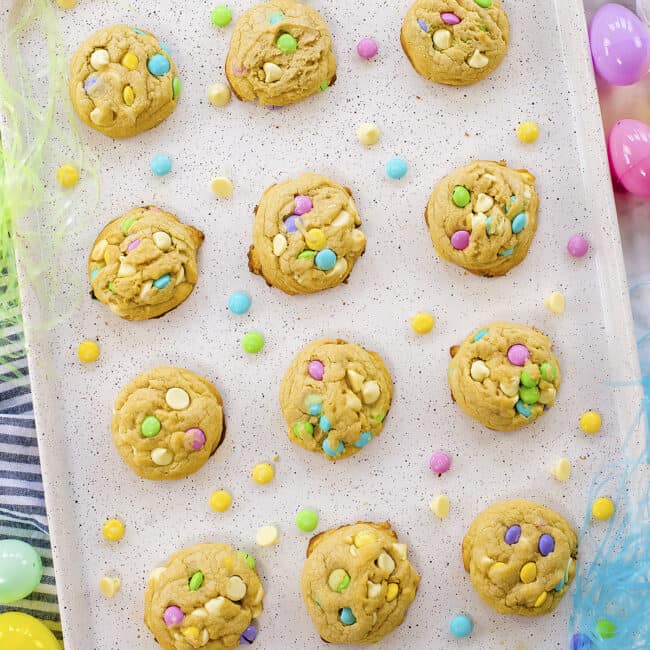 Easter Cookies
The perfect soft and chewy cookie dough sprinkled with festive M&M's! These are so simple to make and the cookies bake up perfectly soft and thick.
Prep10 minutes
Cook10 minutes
Cooling Time5 minutes
Total25 minutes
Ingredients
1/2 cup butter
1/2 cup brown sugar
1/4 cup white sugar
2 teaspoons vanilla extract
1 large egg
1 2/3 cup flour
1/2 teaspoon baking soda
1/2 teaspoon salt
1/2 cup white chocolate chips
1/2 cup pastel M&M candies
Instructions
Preheat oven to 350 degrees.

Add butter to a microwave dish and microwave in 20 second increments until butter is fully melted.

Add the brown sugar and white sugar to a large mixing bowl with the melted butter and stir well to combine.

Beat in the vanilla and egg until just combined.

Pour in the flour, baking soda, and salt and mix until just combined.

Stir in the chocolate chips and candies by hand, reserving a few to press onto the tops of the cookie dough, if desired.

Use a large cookie scoop to scoop out 12 cookies and arrange them evenly on a large ungreased baking sheet.

Bake for 10 minutes exactly. Cookies will still be slightly underdone when you remove them from the oven. Do not overbake.

Let sit on baking sheet for 5 minutes before eating. Allow cookies to cool completely before storing in an air-tight container for up to 5 days.

Tips & Notes:
To make larger bakery-sized cookies, portion the dough into 9 large balls and bake for 11 minutes exactly. You can use any variety of m&m's you like. Sprinkles also add a little fun pop of color!
Nutrition Information:
Serving: 1cookie| Calories: 274kcal (14%)| Carbohydrates: 36g (12%)| Protein: 3g (6%)| Fat: 12g (18%)| Saturated Fat: 7g (44%)| Cholesterol: 40mg (13%)| Sodium: 232mg (10%)| Potassium: 58mg (2%)| Sugar: 23g (26%)| Vitamin A: 280IU (6%)| Calcium: 40mg (4%)| Iron: 1.1mg (6%)
This recipe was originally published in April 2019. It was updated with new photos in March 2023.