This Cheesy Chicken Broccoli Casserole is total comfort food and my whole family loves it. The casserole starts off with broccoli and chicken and gets mixed with an easy, creamy cheese sauce, and then it's all topped off with stuffing. I could eat this one at least once a week!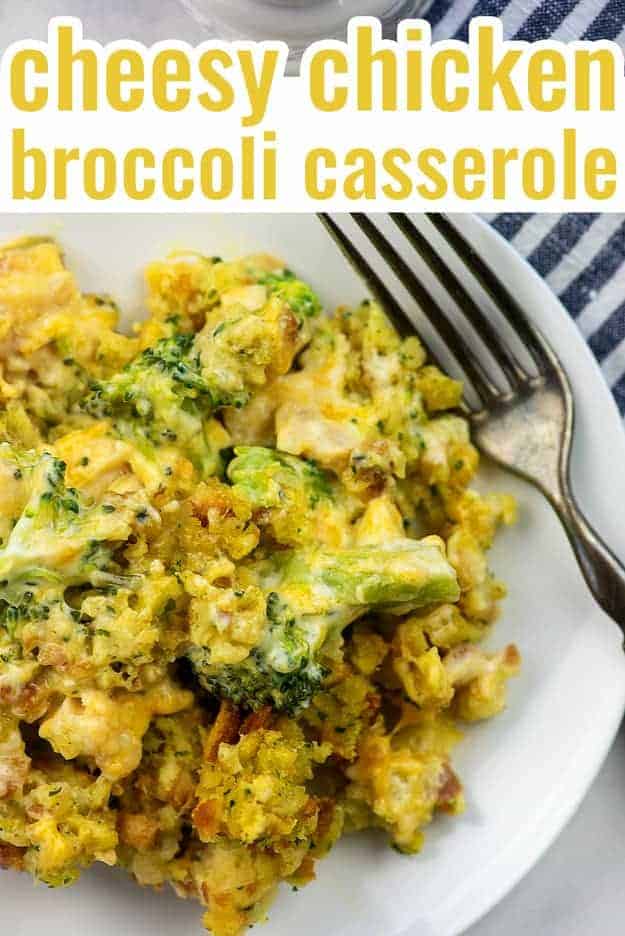 Okay, I'm going to admit something to all of you and I'm probably going to get a lot of weird looks.
Here goes…
One of my all time favorite breakfast foods (yes, breakfast) is Stove Top Stuffing, cooked in the microwave with a slice of orange American cheese, and a drizzle of Frank's hot sauce.
Yeah.
I started eating that for breakfast in high school and my parents were appalled.
It's weird and not exactly health food, but I would happily eat that for breakfast every day of my life. I don't, mostly because my husband gives me a major look of disgust when he sees it happening, but whatever.
This cheesy chicken broccoli stuffing casserole satisfies my urge for cheesy stove top stuffing and it adds in broccoli (nutrients!) and chicken (protein!), so now it's suddenly perfectly acceptable food. 😉
Tell me what weird food combos you love!
Ingredient Notes:
This post contains affiliate links. As an Amazon associate and member of other qualifying programs, I earn from qualifying purchases.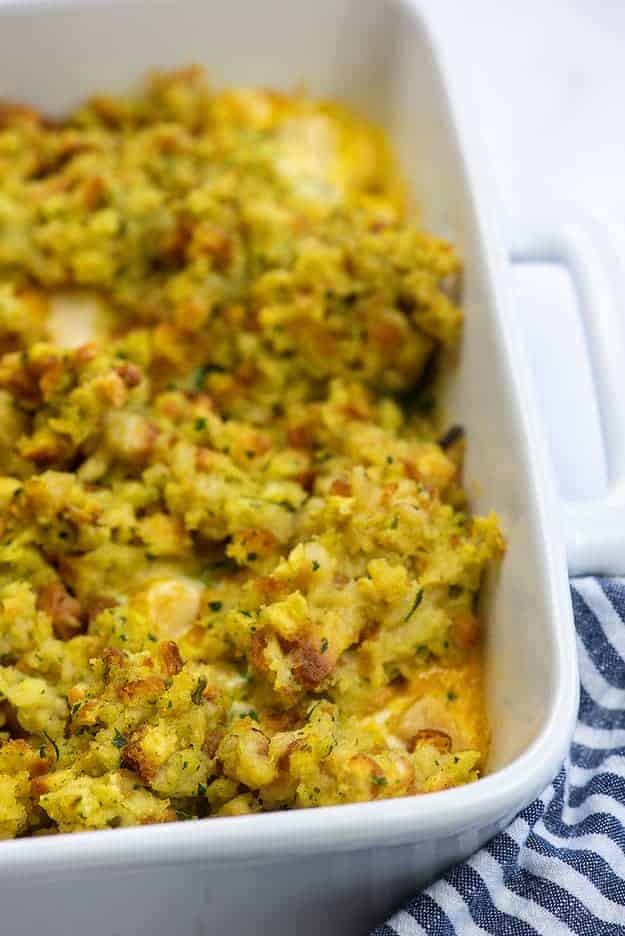 Cooked Chicken – You'll need some cooked chicken for this recipe. Follow the link to try out my easy crockpot shredded chicken. It's great for making ahead of time for recipes like this or even for freezing!
Broccoli – I'd recommend using freshly chopped broccoli florets in this chicken broccoli casserole. To use frozen broccoli in place of fresh broccoli, thaw the broccoli in a bowl of warm water first and then drain well.
Stove Top Stuffing – This recipe calls for 12 oz. of the stuffing which is actually two packets, or two boxes if you are using the 6 oz. box. They also sell a twin pack which includes two packets in one box. Be sure to use the right amount or your chicken broccoli stuffing casserole won't quite turn out.
Cream of Chicken Soup – You can use the canned kind or try out my substitute recipe by following the link! It tastes better and is healthier than the canned cream of chicken soup! Our substitute for cream of mushroom soup would work well too!
Shredded Cheddar – Lots of cheddar for all that extra cheesy goodness! We like freshly shredded better than the bag of pre-shredded cheddar. It melts nicer.
Sour Cream – This will add some flavor and most of all moisture to the casserole which will help to keep it from drying out.
What Readers are Saying!
"I make this once a week because my family can't get enough! So easy and so delicious!" – Courtney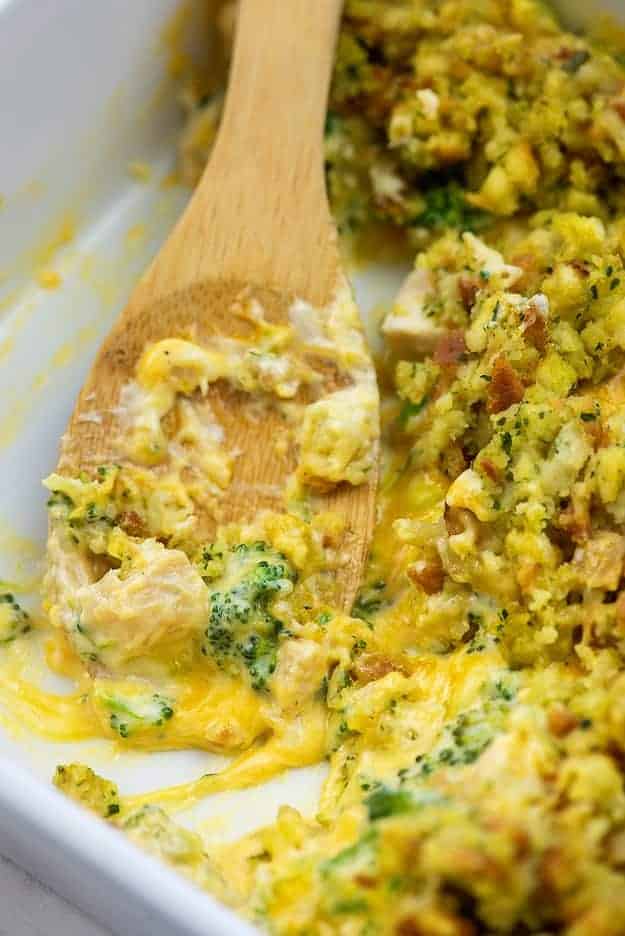 How to Make Chicken Broccoli Cheese Casserole:
Broccoli: I like to use fresh broccoli when I'm cooking, because my family actually LIKES broccoli when it's been cooked from fresh. Of course, you can use frozen if that's what you like or have on hand.
Chop up the broccoli florets and add them to a large microwave save bowl with about a 1/4 cup of water. Cover it tightly with plastic wrap and microwave for 5 minutes, then let it stand covered for another 5 minutes to quickly and easily steam the broccoli!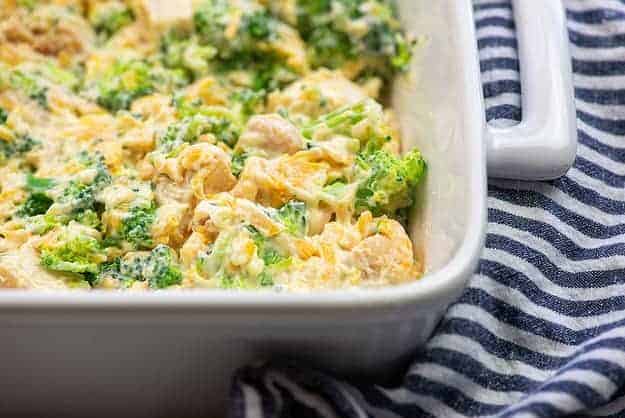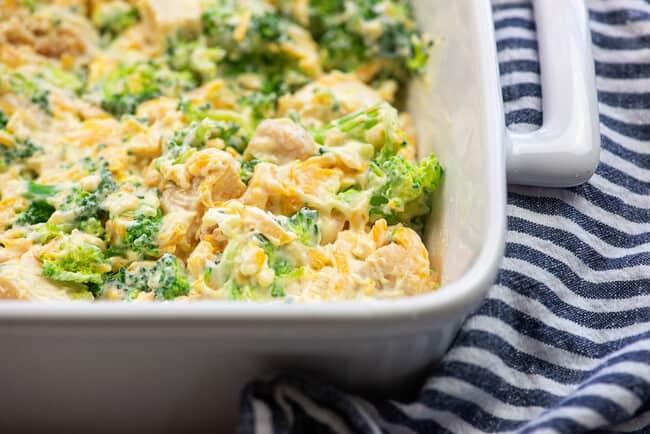 Mix: Drain the water from the broccoli and then add in the cooked chicken! The cheese sauce is extra creamy and it's made with cream of chicken soup, sour cream, and shredded cheddar with a little salt and pepper.
Once everything is stirred together, spread the cheesy broccoli and chicken mixture into a 9×13 baking dish and move on to the stuffing!
Stove Top Stuffing: You're making two packets (12 ounces) of stuffing, so you'll need 3 cups of water. Follow the instructions to cook the stuffing and then when it is ready you can start spooning it right over the top of the casserole!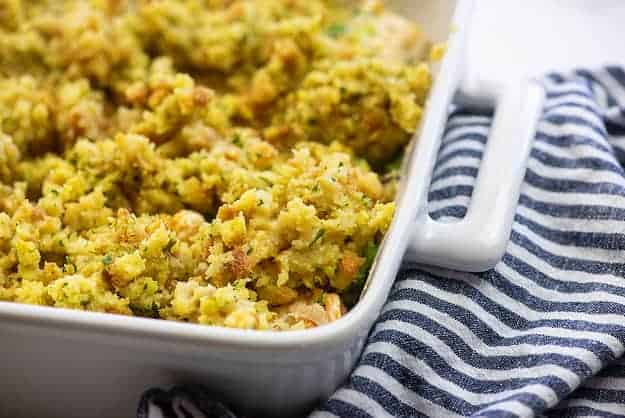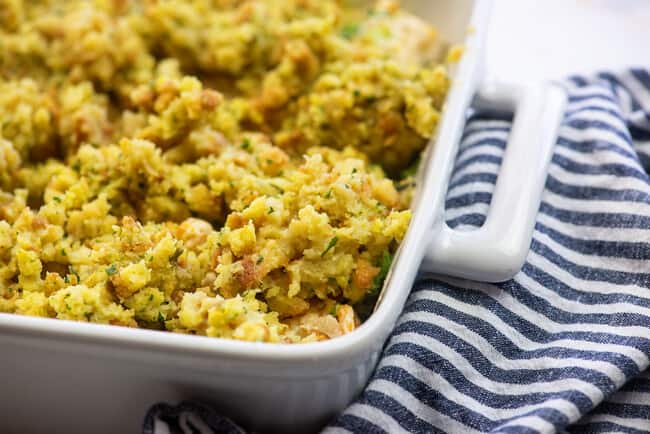 Bake: When you've finished assembling the cheesy chicken and broccoli casserole cover the baking dish tightly with foil and bake for 25 minutes before removing the foil and baking uncovered for another 15 minutes.
That's it!! This chicken and broccoli casserole is quick, easy, and even the kids love it thanks to that creamy cheese sauce!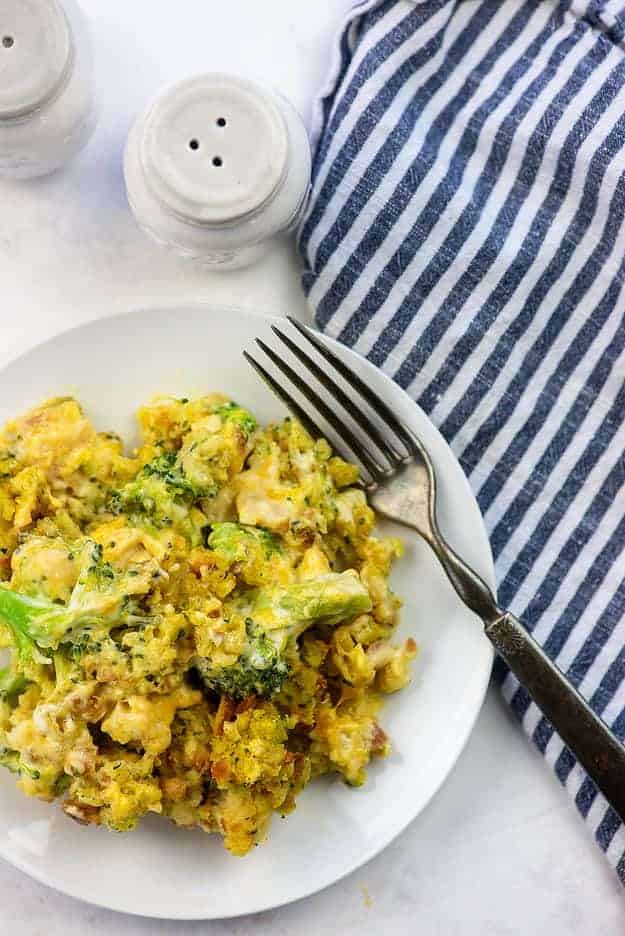 FAQs:
How to store Chicken Broccoli Casserole?
You can keep this cheesy chicken broccoli casserole in the refrigerator for about 3 to 4 days if it is well covered. You can reheat it in the oven or the microwave in smaller portions.
Can I freeze this casserole?
I have not tried freezing this chicken broccoli casserole recipe but I think it would be fine based on similar recipes. The broccoli could get a little mushy after reheating though. I wouldn't freeze it for more than a couple of months.
What flavor of stuffing to use?
Stove Top Stuffing comes in chicken flavor and a few others, like sage. I used the chicken flavor in this recipe, but I think any would be fine!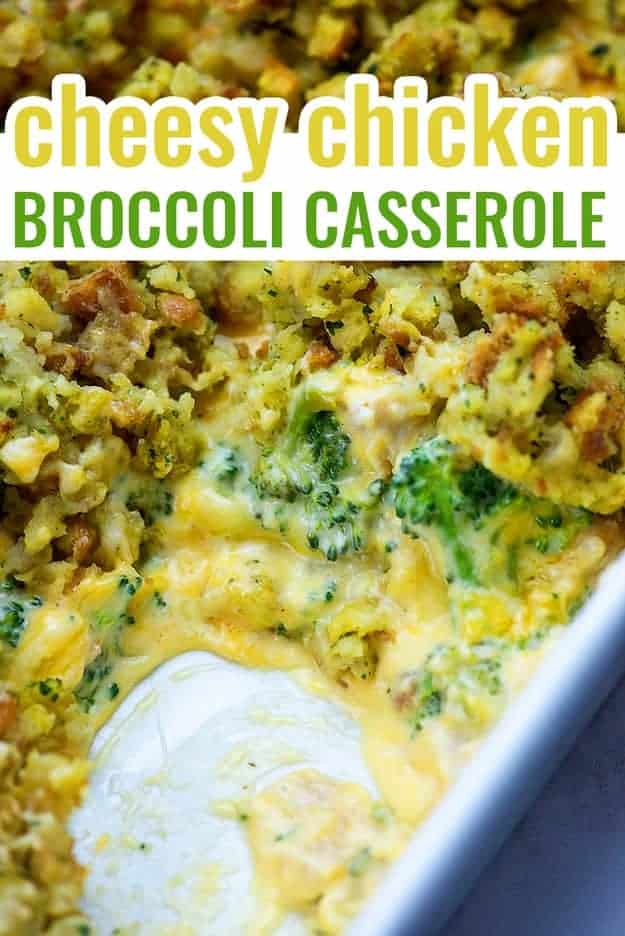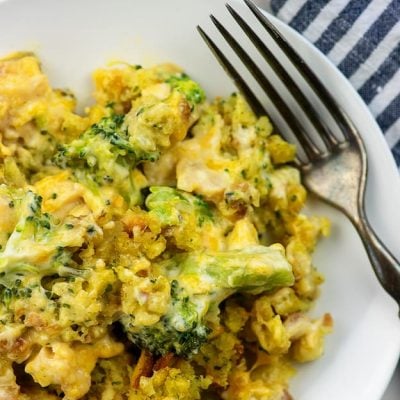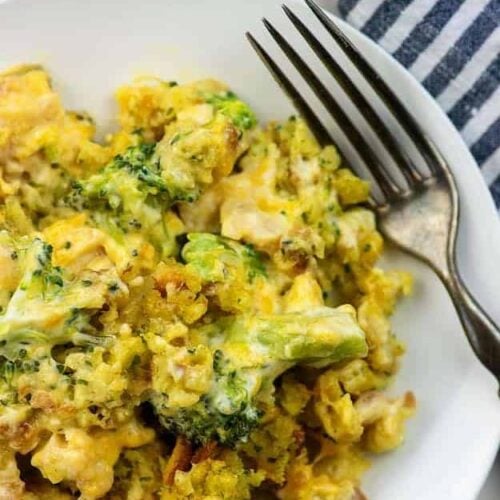 Cheesy Chicken Broccoli Casserole
This comforting casserole is made with juicy chicken, tender broccoli, and the creamiest cheese sauce! Plus, it's all topped off with stuffing.
Prep15 minutes
Cook40 minutes
Total55 minutes
Ingredients
3 cups chopped broccoli
1 ½ cups cooked, chopped chicken
2 cups shredded cheddar
10 ounces cream of chicken soup
1 cup sour cream
1 teaspoon salt
1/2 teaspoon cracked pepper
4 tablespoons butter
12 ounces Stove Top Stuffing
Instructions
Preheat oven to 350 degrees. Spray a 9×13 baking dish with non-stick spray.

Add the broccoli to a large microwave safe bowl along with ¼ cup of water. Cover tightly with plastic wrap and microwave for 5 minutes. Let stand, covered, for 5 minutes.

Carefully remove the plastic wrap and drain the liquid.

Add the chicken, cheddar, cream of chicken soup, sour cream, salt, and pepper to the bowl with the broccoli and stir well to combine.

Pour broccoli mixture into prepared baking dish.

Add 3 cups of water and the butter to a large sauce pan and bring to a boil.

Stir in the stuffing mix, cover, and remove from the heat. Let stand for 5 minutes.

Fluff stuffing with a fork and then spoon the stuffing over the casserole.

Cover the casserole dish tightly with foil and bake for 25 minutes.

Carefully remove the foil and continue baking for 15 minutes.

Serve immediately.
Tips & Notes:
To use frozen broccoli in place of fresh broccoli, thaw the broccoli in a bowl of warm water. Drain the water and continue with step 4.
Nutrition Information:
Calories: 509kcal (25%)| Carbohydrates: 20g (7%)| Protein: 25g (50%)| Fat: 37g (57%)| Saturated Fat: 19g (119%)| Cholesterol: 113mg (38%)| Sodium: 1363mg (59%)| Potassium: 389mg (11%)| Fiber: 3g (13%)| Sugar: 4g (4%)| Vitamin A: 1396IU (28%)| Vitamin C: 41mg (50%)| Calcium: 367mg (37%)| Iron: 2mg (11%)