This easy blueberry bread recipe will quickly become a family favorite. Serve warm with butter for a quick breakfast!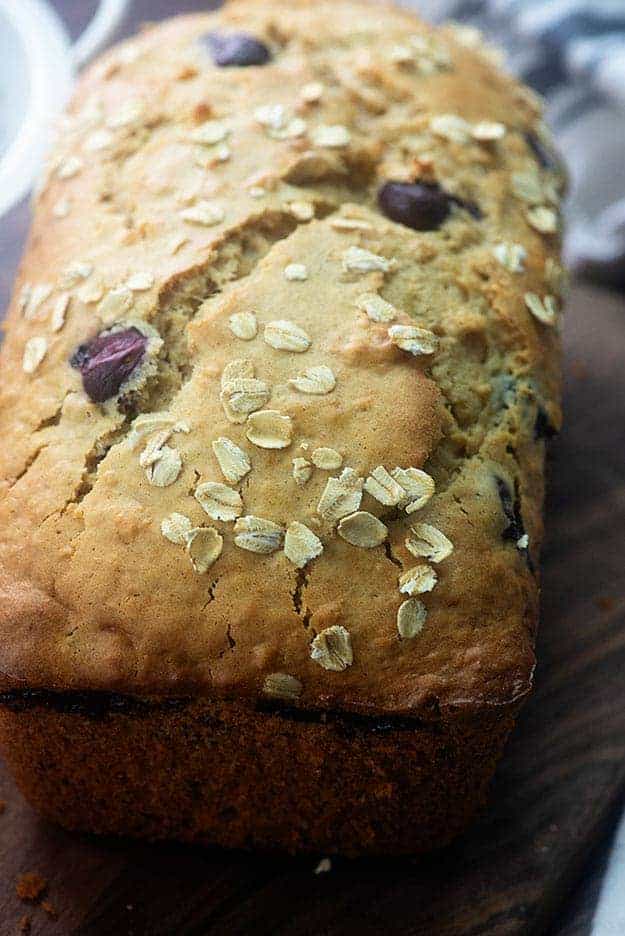 I've been on a bread baking kick lately and my newest venture has been blueberry bread.
There is something so amazing about warm bread with little dots of blueberries and a pool of melting butter on top.
I slice this up for breakfast, but it makes a fabulous afternoon snack as well.
This is a quick bread recipe, which means there is no yeast! It's beyond simple to throw together and we absolutely love it.
Unlike my chocolate banana bread and zucchini pineapple bread, this blueberry bread itself really isn't sweet. Just little hints of sweetness from the berries.
Our Blueberry Banana Bread is another fan favorite!
Blueberry Quick Bread Ingredients:
This post contains affiliate links. As an Amazon associate and member of other qualifying programs, I earn from qualifying purchases.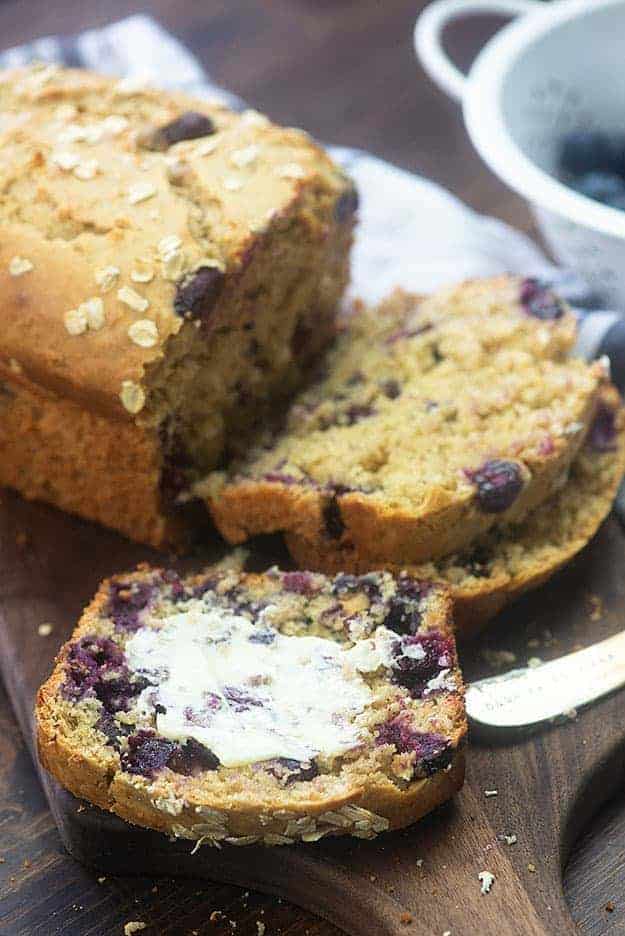 Dry Ingredients – This blueberry oatmeal bread starts with a few simple ingredients including healthy white whole wheat flour, rolled oats, packed brown sugar, baking powder, cinnamon, and salt.
Wet Ingredients – You'll also need a couple of large eggs, some milk, applesauce, and canola oil. The applesauce adds flavor and it helps to keep the bread moist and prevent it from becoming too dry or crumbly.
Fresh Blueberries – I really prefer to use fresh blueberries in this oatmeal bread recipe but you could use frozen blueberries if that's what you've got.
What Readers are Saying!
"Made this with blueberries and it was great, then I made it with blackberries and nutmeg instead of cinnamon and it was even more better-er!" – Maggie M.
What We Love About BLUEBERRY BREAD:
Blueberries: This one is kind of obvious but the blueberries are the star ingredient here. The little pops of sweetness just add the perfect touch to this bread.
Healthy: This blueberry loaf is actually rather healthy compared to many other recipes. The blueberries are nutritious and loaded with antioxidants, and the whole wheat flour and oats are also nutritious.
Texture: The rolled oats add a nice chewy texture to the bread that goes well with the soft blueberries and moist bread.
Special Tools Needed:
Loaf Pan: I use these gorgeous ceramic loaf pans, but any loaf pan will do.
Mixer: Not strictly necessary as you can mix this by hand, but a mixer always makes it easier!
Mixing Bowls: If you ask me, you can never have enough mixing bowls! These are my favorite.
How to Make Healthy Blueberry Bread Recipe:
Wet Ingredients: This bread is pretty simple and you can mix it by hand, with a hand mixer, or in a stand mixer. Whatever you have will work!
You'll add all of your wet ingredients to a mixing bowl and stir them together. I'm using a combination of oil and applesauce to cut down on the fat and calories and up the moist goodness.
Dry Ingredients: Mix in the dry ingredients. I like to use white whole wheat flour, but regular white flour works well too. I also add in some rolled oats and cinnamon. So good!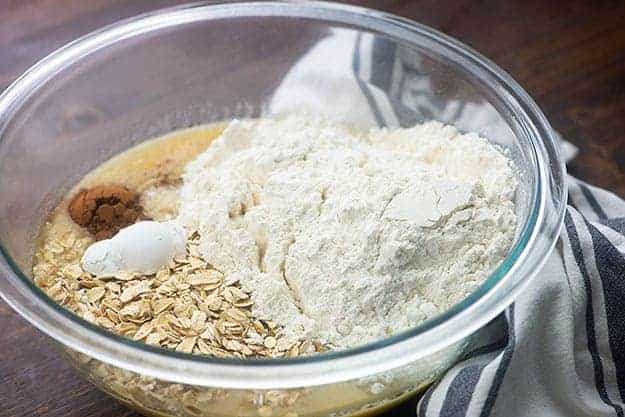 Blueberries: Once you've gotten your batter stirred together, it's time to grab the blueberries.
You'll just fold those in gently.
I prefer fresh blueberries in this recipe, but frozen should work as well.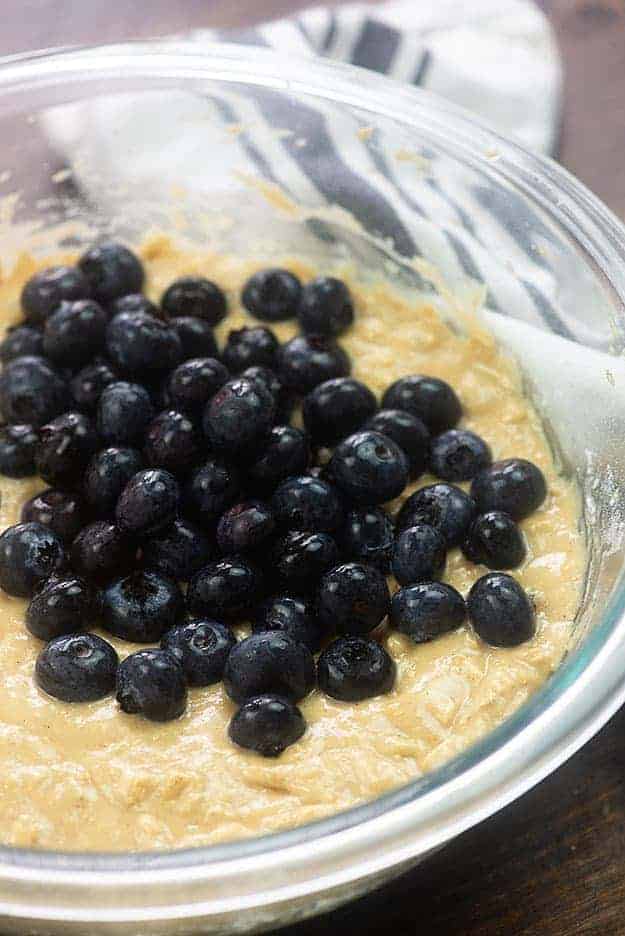 Bake & Serve: Spread your batter into a 9×5 loaf pan and sprinkle the top with just a few oats. It makes the bread look so hearty and delicious. You really can't resist this one!
Bake the blueberry loaf for 45 to 55 minutes or until a tester comes out clean. Be sure to let your bread cool a bit before slicing.
I rewarm the bread in the microwave or toaster just before slathering it with butter. Nothing better than warm bread and loads of melty butter, right?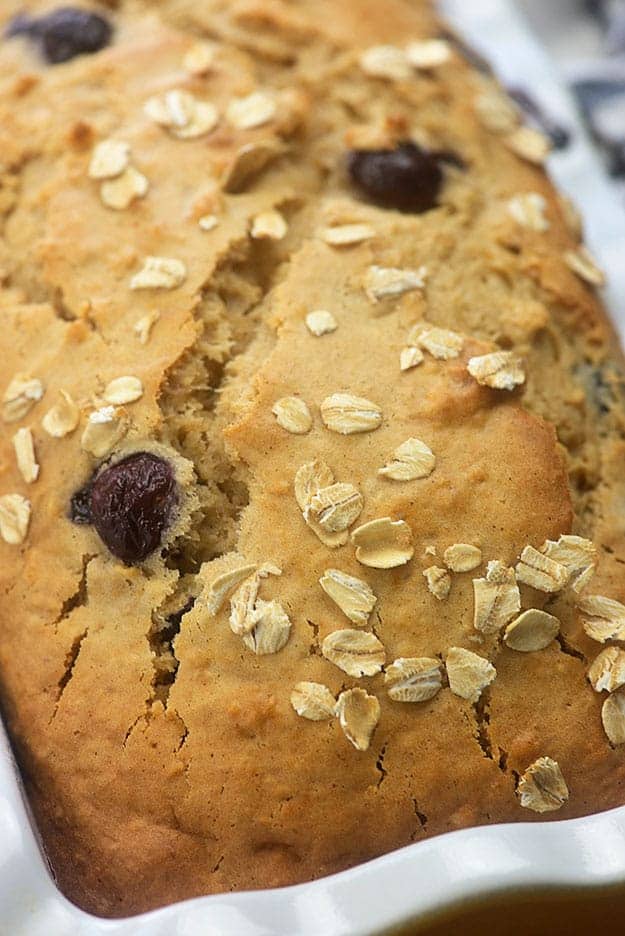 Helpful TipS FOR THE BEST BLUEBERRY BREAD!
Blueberries: I prefer fresh blueberries but frozen will work too. Do not thaw them first if using frozen. You'll also want to be gentle when folding in the blueberries, especially if fresh, so as not to break them.
Oats: I'd recommend using old fashioned rolled oats in this oatmeal bread.
Mixing: Don't overmix the batter and make sure you are using the correct amount of flour or it could make the texture of the bread dense and tough, dry, or crumbly.
How to Store Blueberry Bread:
This blueberry quick bread can be stored at room temperature for about 2 to 3 days in an airtight container or well wrapped in plastic. It will last longer, up to a week, if you refrigerate it!
You can also freeze this blueberry bread recipe. Just wrap the bread tightly in plastic wrap and then store in a freezer safe bag or container for up to a few months. Let it thaw completely before serving.
FAQ's:
Why is there applesauce in this blueberry bread?
We're using a combination of oil and applesauce to make this bread moist and flavorful. Applesauce is a great, healthy swap for oil in many baking recipes, reducing the fat and calories in the final product.
Can I use frozen blueberries?
I prefer fresh blueberries in this recipe for blueberry quick bread, but you can use frozen blueberries. I would not thaw them first. It may also help to toss them in a bit of the flour before adding them. That'll help soak up any excess moisture.
Are blueberries healthy?
Yes! Blueberries are full of antioxidants, low in calories and fats, and high in fiber, vitamins, and minerals.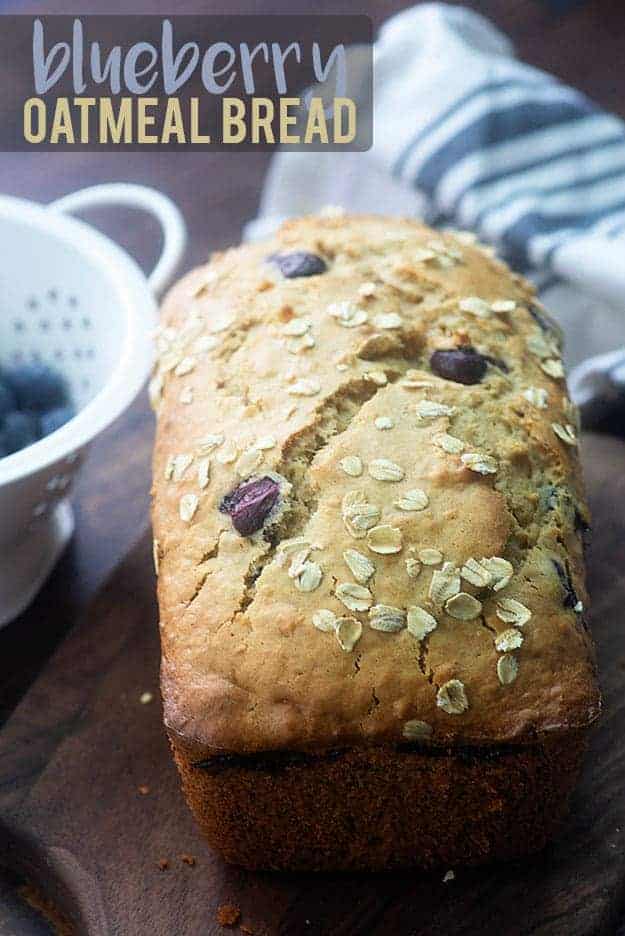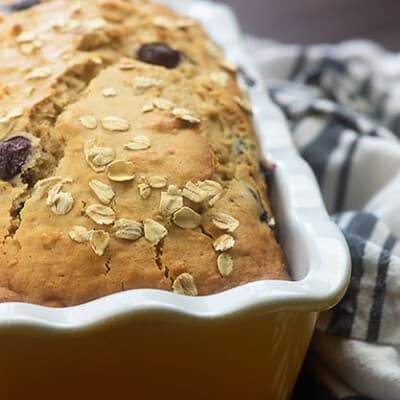 Blueberry Bread
This blueberry bread recipe is so perfect warm with a little butter. My kids love this recipe!

Prep10 minutes
Cook55 minutes
Total1 hour 5 minutes
Ingredients
2/3 cup packed brown sugar
2 large eggs
3/4 cup milk
1/4 cup applesauce
1/4 cup canola oil
2 1/4 cups white whole wheat flour
1 cup rolled oats
3 teaspoons baking powder
1 teaspoon cinnamon
1/4 teaspoon salt
1 cup fresh blueberries
Instructions
Heat oven to 350 degrees and grease a 9×5 inch loaf pan.

In the bowl of your stand mixer, add sugar, milk, applesauce, oil, and eggs. Mix well.

Mix in the remaining ingredients except for the blueberries and mix until combined.

Gently fold in the blueberries.

Pour in the loaf pan and bake for 45-55 minutes or until a tester comes out clean.

Cool in pan for 10 minutes and then remove from the pan and finish cooling on a wire rack.
Tips & Notes:
Add chopped walnuts or pecans, if desired. adapted from Betty Crocker
Nutrition Information:
Serving: 1slice| Calories: 284kcal (14%)| Carbohydrates: 37g (12%)| Protein: 7g (14%)| Fat: 13g (20%)| Saturated Fat: 1g (6%)| Cholesterol: 32mg (11%)| Sodium: 72mg (3%)| Potassium: 279mg (8%)| Fiber: 4g (17%)| Sugar: 14g (16%)| Vitamin A: 75IU (2%)| Vitamin C: 1.3mg (2%)| Calcium: 116mg (12%)| Iron: 1.5mg (8%)
This recipe was originally published in March 2010. It was updated in April 2019 with new text and photos.