These banana bread cookies are soft and moist…just like biting into your favorite loaf of banana bread!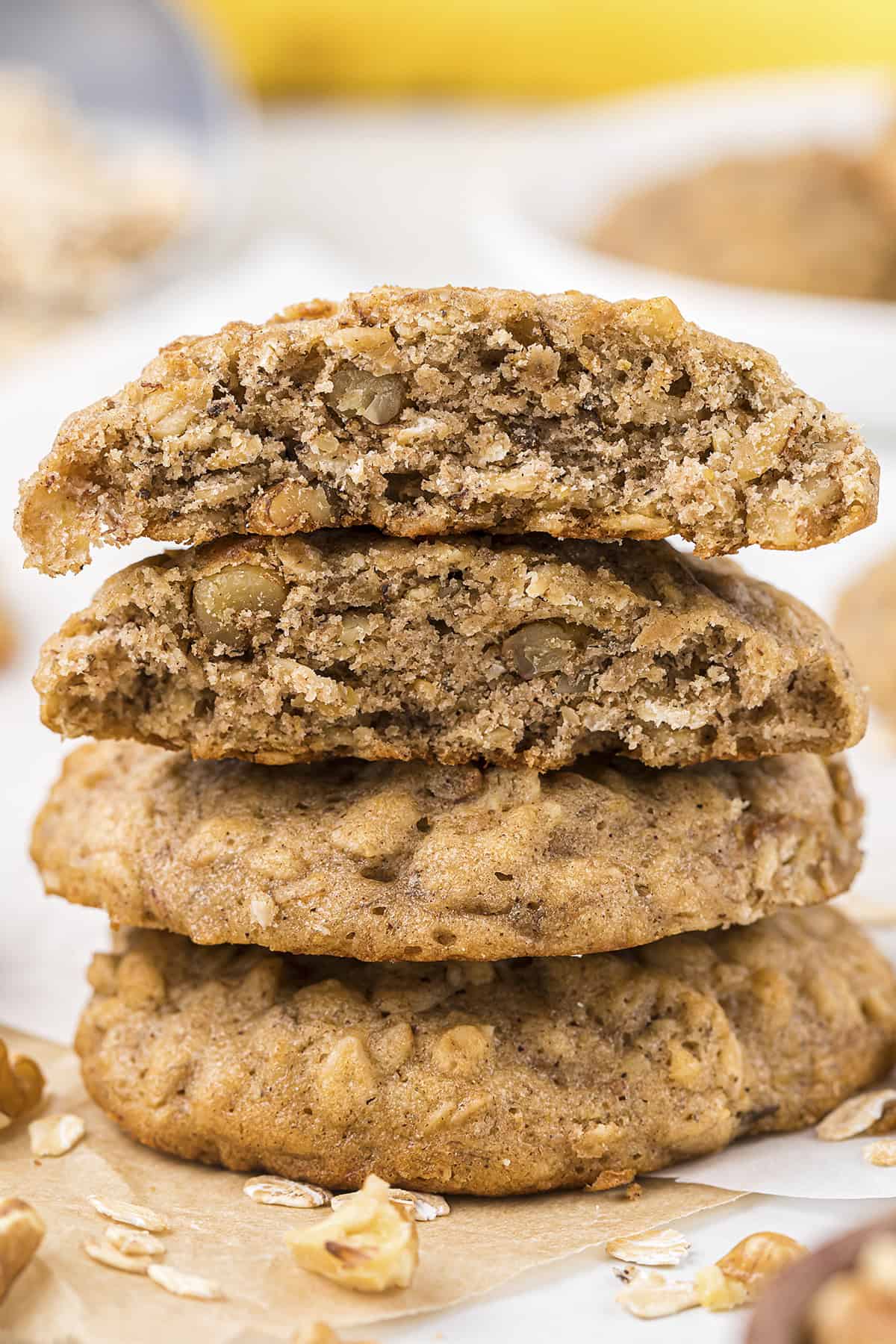 Pin It
Winter is coming and what do you do in winter? You hibernate. It's officially Fall now, which means that it is time to start preparing for winter. How do you prepare for winter and hibernation? You eat a lot of desserts. It's the law, okay? I don't make the laws, I just abide by them.
I should probably go ahead and apologize for the abundance of chocolate and oats recipes that I've been posting lately, but there is just something about the combination that makes me happy. I, obviously, have an addictive personality. I find something that I like and I make it until I can't stand the thought of eating it ever again. Just ask my husband. The poor man has lived through a sloppy joe phase, a meat loaf phase, a Hamburger Helper phase (what is my obsession with ground beef?), and now he is trying to survive the current chocolate and oats phase. To be perfectly honest, I think this is his favorite obsession of mine so far. He just better pray that I don't start adding the chocolate and oats to ground beef. Chocolate chip meat loaf, anyone?
These banana bread cookies satisfy both my need for chocolate and my new obsession with oats. With three whole bananas and two cups of oats, these little guys have at least some nutritional value, so quit glaring at me for making you fat.
My son, a true banana bread connoisseur, devoured half of these in the time it took me to shout at him to save one for his mama. To say he liked them is putting it mildly. I'm inclined to agree with him, these are so moist and flavorful, but be warned, you must have a nice tall glass of icy cold milk nearby. It's another one of those laws I keep talking about.
I'm not sure if you can tell from the above photo, but the texture of these really is like banana bread. The flavor of the bananas is subtle, but it's there and it's delicious. If you're one of those crazy people who enjoy nuts in their cookies, then I imagine these would be just divine with some diced walnuts thrown in the mix.
Try these. Fatten yourself up. It's almost winter, after all.
Banana Bread Cookies
These banana bread cookies are soft and moist…just like biting into your favorite loaf of banana bread!

Prep10 minutes

Cook10 minutes

Total20 minutes
Ingredients
1/2 cup white sugar
1/2 cup brown sugar
1 cup butter softened
2 large eggs
1 teaspoon vanilla extract
2 cups all-purpose flour
1 teaspoon baking soda
1/2 teaspoon ground cloves
1 teaspoon ground cinnamon
3 ripe bananas mashed
2 cups rolled oats
1 cup semisweet chocolate chips
Instructions
In the bowl of your mixer cream together the butter and sugars until creamy.

Beat in the eggs and vanilla.

In a separate bowl stir together the flour, baking soda, cloves, and cinnamon.

Add to the creamed mixture and mix well.

Mix in the mashed bananas, oats, and chocolate chips until well incorporated.

Drop by rounded spoonful (I used my cookie scoop) onto a greased or parchment lined cookie sheet and bake in a pre-heated 375 degree oven for 10 to 12 minutes.

Cool on a wire rack.
Nutrition Information:
Calories: 228kcal (11%)| Carbohydrates: 28g (9%)| Protein: 3g (6%)| Fat: 11g (17%)| Saturated Fat: 6g (38%)| Cholesterol: 36mg (12%)| Sodium: 122mg (5%)| Potassium: 145mg (4%)| Fiber: 2g (8%)| Sugar: 13g (14%)| Vitamin A: 270IU (5%)| Vitamin C: 1.3mg (2%)| Calcium: 20mg (2%)| Iron: 1.4mg (8%)


adapted from allrecipes.com