These applesauce muffins are simply divine! So moist, full of apple flavor, and just the perfect apple muffin recipe!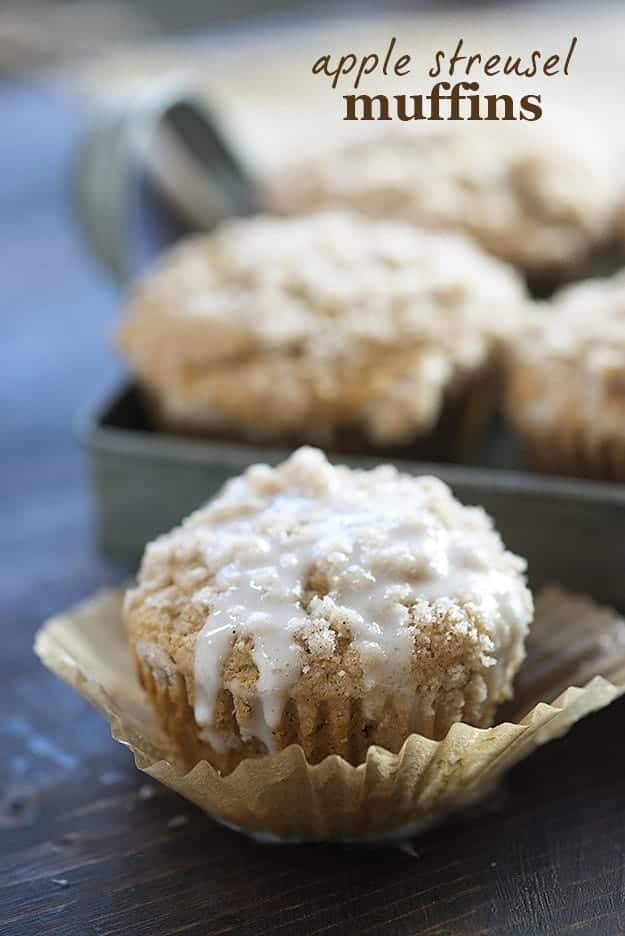 Every year I promise myself that I'm not going to skip over apple season during what I can only describe as intense pumpkin mania.
And every year? Without fail? I do not do the apple recipes justice. You get one or two apple recipes a season and then it's pumpkin, pumpkin, pumpkin. This might have something to do with the fact that I bake with pumpkin all year long, because I'm obsessed, but save the recipes up for fall so that I look like a normal person.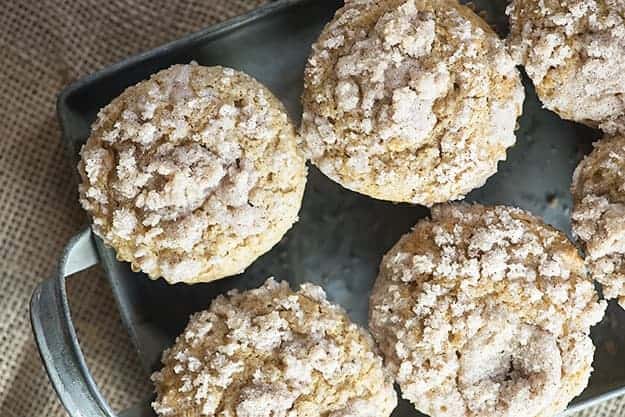 And don't get me wrong! I eat a lot of apples all year too. Between the caramel apple cheesecake dip, the most amazing fruit dip recipe made with Butterfingers, and my mini caramel apple crisps, apples get eaten around these parts. It's just that I don't tend to do a whole lot of experimenting and recipe development with them.
This fall, I'm enjoying these apple muffins as much as possible.
So, this year I'm behind again. I don't have an onslaught of apple recipes, the way I do with pumpkin recipes. Speaking of, my pumpkin crunch cake and pumpkin coffee cake are currently going insane. Have you guys tried them yet? They're getting rave reviews!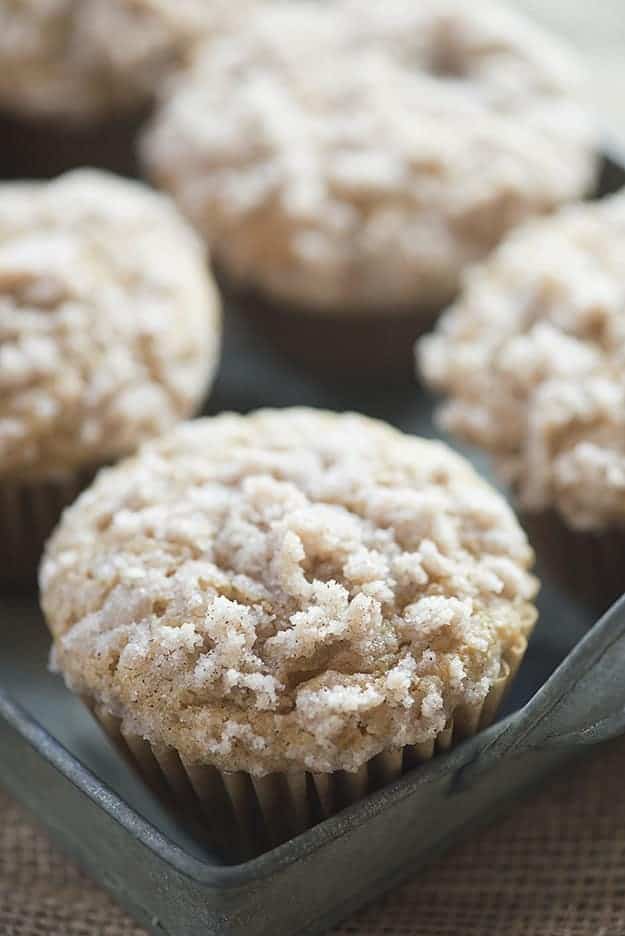 Anyway, I didn't completely fail you. I have this one recipe and I figured that even if I only share ONE apple recipe this year, it's okay, because this one is simply divine. My kids declared these their new favorite apple muffins. I can't say I blame them. They're light, airy, and full of cinnamon applesauce.
The streusel topping? Heaven. Pure heaven. It won't melt into your muffins and disappear like streusel sometimes does. This one sticks around and lets you enjoy every bite.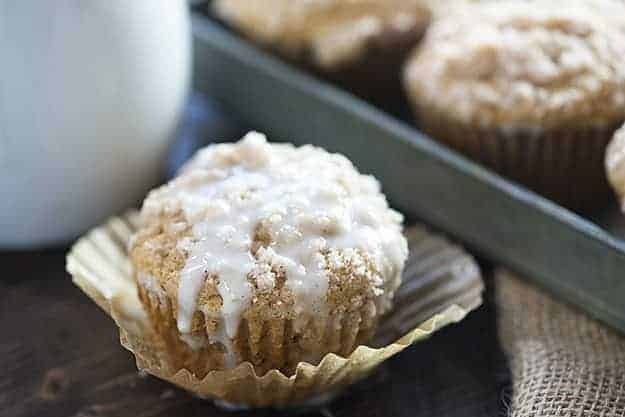 I topped these applesauce muffins with a simple powdered sugar glaze, though mostly that was just because it's pretty. I mean, don't get me wrong, glaze makes everything better! But, if you want to keep these a little healthier, skip it. You won't even miss it. Well, at least not much.
I hope you'll give these a try and let me know what you think! I love hearing from you guys!
Apple Streusel Muffins
Apple streusel muffins are such a tasty little treat for breakfast - especially in the fall!
Prep20 minutes
Cook22 minutes
Total42 minutes
Ingredients
For the muffins:
1/2 cup butter
1 cup brown sugar
1 egg
1 teaspoon vanilla extract
1 cup cinnamon applesauce
2 cups flour
1/2 teaspoon baking soda
For the streusel:
1/2 cup sugar
1/3 cup flour
1 teaspoon cinnamon
1/4 cup softened butter
For the glaze:
1/2 cup powdered sugar
1 tablespoon milk
Instructions
Preheat oven to 350 degrees. Line muffin tin with papers.

Add butter and sugar to a large mixing bowl and beat until light and fluffy.

Beat in the egg and vanilla.

Stir in the applesauce.

Beat in the flour and baking soda until just combined.

Spoon mixture into the prepared muffin tin, filling 2/3 of the way full.

To prepare the streusel, add the sugar, flour, and cinnamon to a medium bowl and stir to combine.

Add the butter and use a fork or pastry cutter to cut the butter into the flour until the mixture is made of coarse crumbs.

Sprinkle the mixture evenly over all of the muffins.

Bake for 22 minutes or until a tester comes out clean.

When muffins are cool, whisk together the powdered sugar and milk and drizzle over the tops.
Nutrition Information:
Serving: 1muffin| Calories: 304kcal (15%)| Carbohydrates: 46g (15%)| Protein: 3g (6%)| Fat: 12g (18%)| Saturated Fat: 7g (44%)| Cholesterol: 44mg (15%)| Sodium: 64mg (3%)| Fiber: 1g (4%)| Sugar: 27g (30%)