This easy apple crisp recipe is fun to make and fun to eat! Your whole family will love these caramel apple crisps!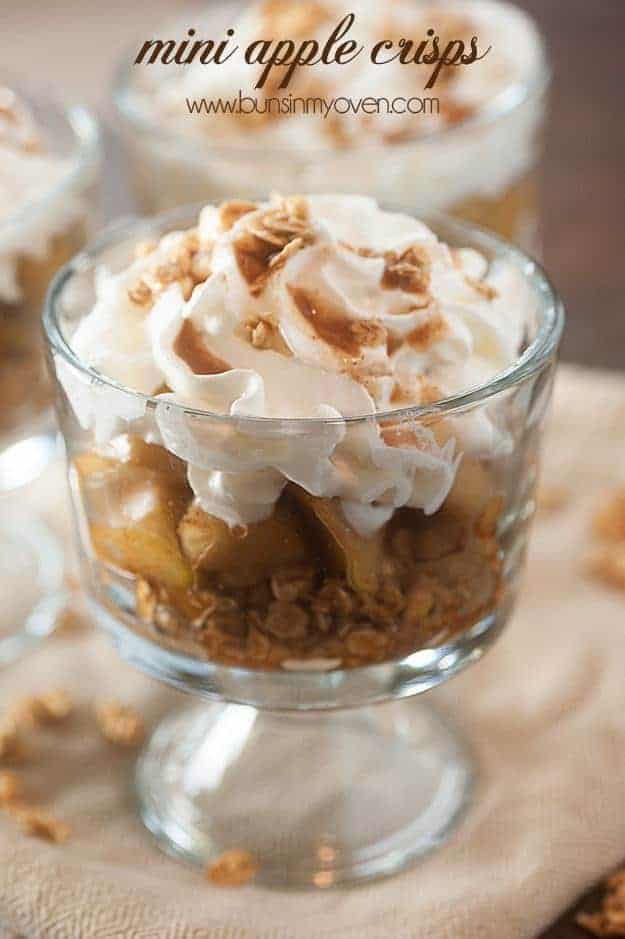 Am I the only one thoroughly smitten with miniature things?
I mean, my parents once brought me souvenirs from their Mexico trip and those souvenirs were mini bottles of ketchup and mustard from room keeping. I was thrilled. They also brought me more Mexican-y stuff so that was nice, too.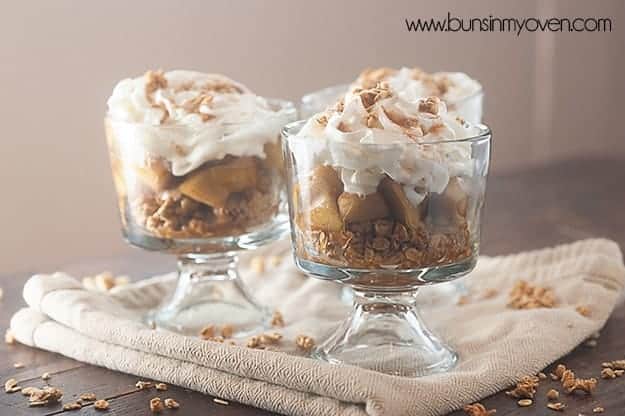 Anyway, while a big apple crisp might be delicious, a few mini apple crisps are delightful in so many more ways.

This recipe comes straight from my friend Glory's book, Glorious Layered Desserts. You guys know Glory and follow her blog, Glorious Treats, right? You should. She takes gorgeous photos and shares amazing recipes. Also, she wrote this amazing book and I'm in love with it. It's full of layered recipes like trifles, parfaits, and cheesecakes. The flavors are fun and you can serve them in individual cups like I've done here or you could layer them up in one big serving dish. Either way, the whole book is full of some really creative recipes.
I bought Glory's book for my mama for Mother's Day this year too, because she kept flipping through my copy and oohing and aahing over it while she visited. It's perfect for her, because she can make a couple of small layered treats for just her and my dad instead of making something huge that they'll never be able to finish.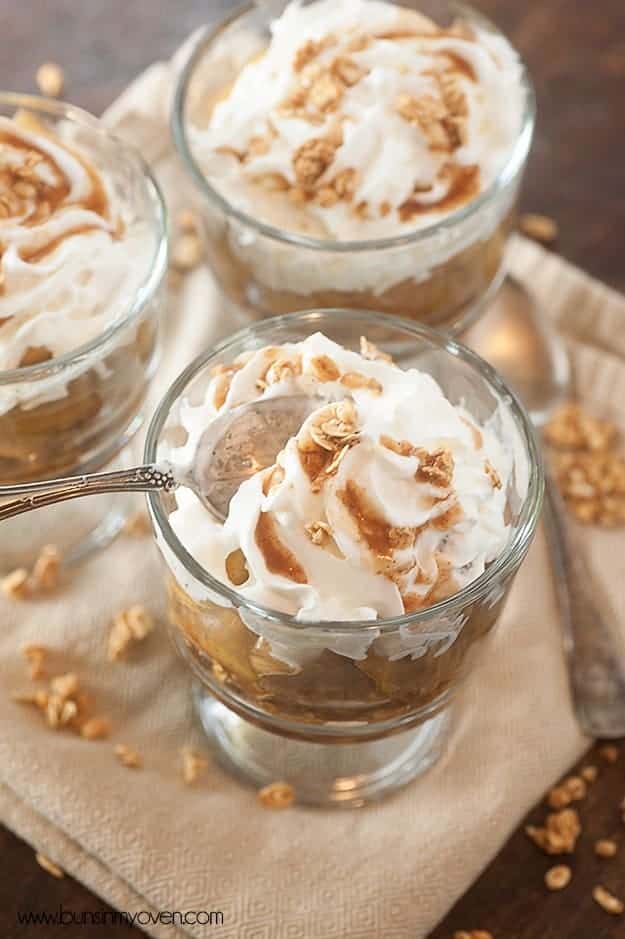 Anyway, this apple crisp is really, really good! I love how quick it was to prepare and how, even though it's not baked, it tastes every bit as good as your favorite apple crisp that bakes up all bubbly in the oven. I wouldn't hesitate to serve these little treats at a dinner party, to my kids for dessert, or, yeah…maybe even for breakfast. Maybe switch out the whipped cream with yogurt if you're going the breakfast route, though. 😉
The oatmeal nut crumble listed below is fabulous, but if you're short on time, store bought granola works well!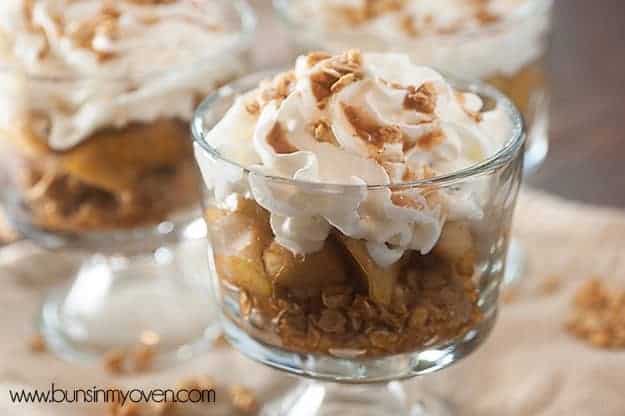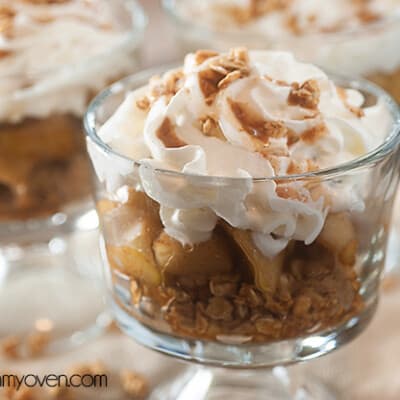 Mini Caramel Apple Crisps
This easy apple crisp recipe is fun to make and fun to eat! Your whole family will love these caramel apple crisps!

Prep20 minutes
Cook10 minutes
Total30 minutes
Ingredients
For the Oatmeal Nut Crumble:
1/2 cup butter melted
1 cup old fashioned oats
3/4 cup chopped pecans
1/2 cup flour
1/2 cup brown sugar
1/4 teaspoon salt
1/4 teaspoon cinnamon
1/8 teaspoon nutmeg
For the Cinnamon Apples:
3 medium Granny Smith apples
1/4 cup butter
3 tablespoons brown sugar
1/2 teaspoon cinnamon
Whipped cream, ice cream, or vanilla yogurt for serving
Instructions
To prepare the oatmeal crumble, preheat the oven to 350 degrees.

Add the oats, pecans, flour, brown sugar, salt, cinnamon, and nutmeg to a large bowl. Pour the butter over the mixture and stir until well combined.

Spread the mixture onto a baking sheet and bake for 10 minutes.

Allow to cool before using.

To make the apples, peel and dice the apples into bite sized pieces.

Add the apples, butter, brown sugar, and cinnamon to a medium skillet and cook, stirring often to coat the apples in the sauce, for 5 minutes over medium low heat.

Remove from heat and cool a bit before assembling the dessert.

Add a generous layer of oatmeal crumble to the bottom of each dish (2-3 tablespoons) and top with the cinnamon apples.

Top with a layer of whipped cream, ice cream, or vanilla yogurt. Sprinkle on a bit more of the crumble and drizzle any of the remaining caramel sauce from the pan of apples over the top.

Serve immediately.
Nutrition Information:
Calories: 527kcal (26%)| Carbohydrates: 55g (18%)| Protein: 4g (8%)| Fat: 33g (51%)| Saturated Fat: 15g (94%)| Cholesterol: 61mg (20%)| Sodium: 308mg (13%)| Potassium: 245mg (7%)| Fiber: 5g (21%)| Sugar: 33g (37%)| Vitamin A: 760IU (15%)| Vitamin C: 4.4mg (5%)| Calcium: 49mg (5%)| Iron: 1.7mg (9%)