This apple galette is a bit simpler than a traditional pie and it makes for such a pretty presentation!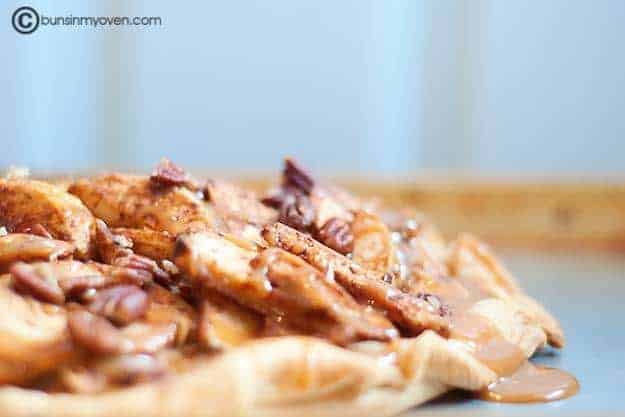 I popped in to the kitchen this afternoon to put a frozen pizza in the oven. I clearly lead a glamorous life.
While I was waiting for the oven to preheat I noticed the big bag of nice green apples on my kitchen counter and I just couldn't resist whipping up this amazing Apple Galette.
If I'm going to cook frozen pizza for lunch, then darn it, I'm makin' a fancy dessert. Because I am sophisticated and refined and classy. Also, I like apple pie.
This "pie" is really a galette, but only because I discovered that I only had one pie crust in the fridge. I wasn't in the mood to make my own, so I just went with the flow and used what I had on hand.
I peeled the apples (mostly…I'm a notoriously bad peeler) and sliced them very thin. I grabbed a large bowl and tossed them in some brown sugar, cinnamon, a bit of flour, and a dash of salt. I would have squeezed on some lemon juice if I'd had any on hand, but I didn't.
About the time I had those apples covered in the cinnamon mixture I started snacking. And snacking. And snacking some more. This always happen when I make apple desserts.
I should just learn to peel and slice an extra apple for me to eat. I just can't help myself. I'm a mad woman. An apple slice stealing mad woman.
There are worse things one could be.
Of course, an apple galette is delicious on it's own, but I drowned mine in caramel sauce. It seemed like the right thing to do. I sprinkled on some pecans, too. Pecans and caramel…yum.
I had this whipped up and ready to pop in the oven in the time it took my frozen pizza to bake. I think you'd better go make this right now. I'm pretty sure you'll never forgive yourself if you don't.
Apple Galette with Caramel Sauce
This apple galette is a bit simpler than a traditional pie and it makes for such a pretty presentation!

Prep15 minutes
Cook35 minutes
Total55 minutes
Ingredients
4 cups peeled and thinly sliced tart apples
3 tablespoons brown sugar
1 tablespoon all purpose flour
2 teaspoons cinnamon
Dash of salt
1 teaspoon lemon juice
1 pie crust store bought or homemade
1/4 to 1/2 cup pecans or walnuts optional
3 tablespoons butter
25 caramel candies
3 tablespoons milk
Instructions
Toss the apples in the brown sugar, flour, cinnamon, salt, and lemon juice.

Lay out the pie crust on a large baking sheet.

Pile the apple slices in the center, leaving a inch border around the edge.

Fold the crust up over the side of apples, folding it over on itself every inch or so.

Dot the apples with small pieces of butter.

Bake in a 350 degree preheated oven for 35 minutes or until the apples are tender and the crust is done.

Cool 15 minutes.

Heat candies and milk over low heat in a heavy sauce pan, stirring occasionaly.

When the caramels are completely melted pour over the warm galette and sprinkle with nuts.

Serve immediately.
Nutrition Information:
Calories: 311kcal (16%)| Carbohydrates: 48g (16%)| Protein: 3g (6%)| Fat: 12g (18%)| Saturated Fat: 5g (31%)| Cholesterol: 14mg (5%)| Sodium: 205mg (9%)| Potassium: 167mg (5%)| Fiber: 2g (8%)| Sugar: 31g (34%)| Vitamin A: 185IU (4%)| Vitamin C: 3.2mg (4%)| Calcium: 67mg (7%)| Iron: 0.8mg (4%)