August 8, 2018
Homemade Apple Pie Pop-Tarts
These apple pie bites are desert served as a breakfast.  Nothing wrong with that right?

You know pie crust? That delicious, crusty thing holding all the good stuff together in a pie? I used to hate that stuff.
It's bland, it's boring, and it's always kicked my butt every time I tried to make it.
Guess what?
I just mastered pie crusts. Delicious, tender, unbelievably flaky pie crust.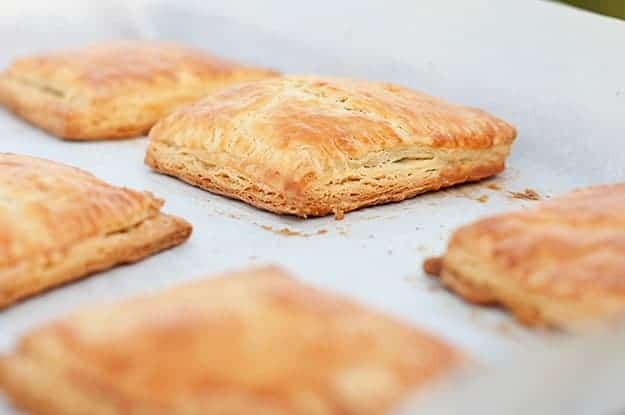 You're going to master it, too, the minute you make this recipe. I seriously was so impressed with how simple the dough was to whip up.
I went with an apple pie filling this time around. The flaky, beautiful, tender dough was just screaming for some fresh apples and cinnamon sugar. Screaming for it, I tell you.
If you don't want apple pie bites for breakfast (who wouldn't) add some ice cream to make it desert!
Now, if you are like me and don't buy your kids Pop-tarts for breakfast because 1.) it's fun to make them cry and 2.) it's basically lard rolled in high fructose corn syrup and then called breakfast, now is your chance to be the kind of mama they always wanted. The kind of mama that serves them pie at 7am and calls it breakfast because it's a rectangular pocket of pie instead of a big wedge of pie.
No high fructose corn syrup, no weird preservatives, no icky anything. Just pie. For breakfast. The way God intended.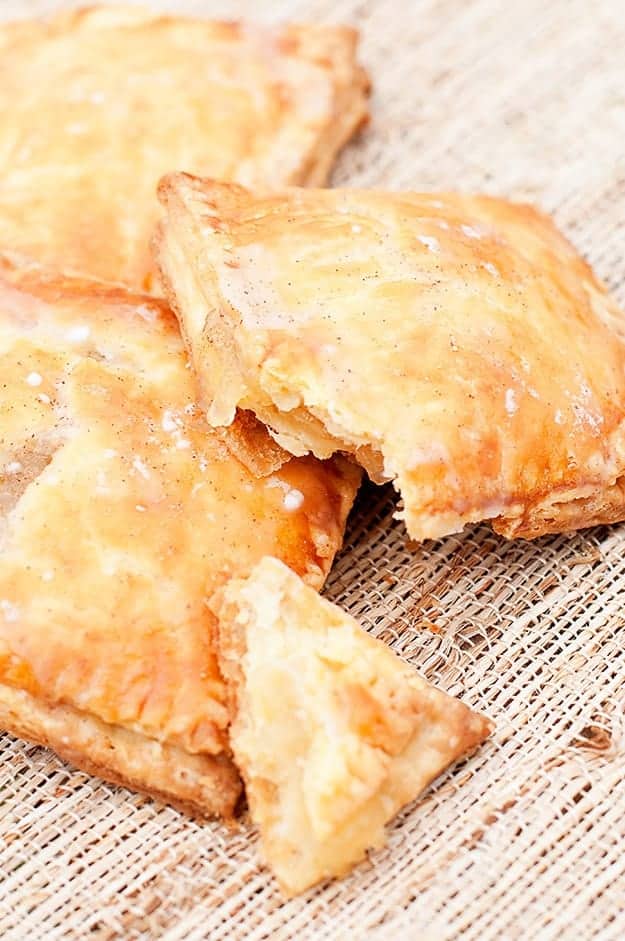 Homemade Apple Pie Pop-Tarts
Skip the packaged pop-tarts, because this homemade version is way better!
Ingredients
For the dough:
1 1/2 cups all-purpose unbleached flour
1 tablespoon sugar
1 teaspoon kosher salt
1 cup cold unsalted butter, cut into 12 pieces
2 egg yolks
3 tablespoons cold milk
For the filling:
3 tablespoons unsalted butter
2 Granny Smith apples peeled, cored, and thinly sliced
1/2 cup packed light brown sugar
1 egg lightly beaten
1/2 teaspoon ground cinnamon
1/8 teaspoon kosher salt
1/2 cup unbleached all purpose flour
For the Cinnamon Glaze:
1 cup confectioners sugar
2 tablespoons plus 2 teaspoons water
1/2 teaspoon ground cinnamon
To assemble the Pop-tarts:
Instructions
For the dough:
Using a stand mixer fitted with the paddle attachment, mix together the flour, sugar, and salt for 10 to 15 seconds. Scatter the butter over the top. Mix on low speed for 1 to 1 1/2 minutes, or just until the flour is no longer bright white and holds together when you clump it. Lumps of butter the size of pecans should be visible throughout the dough.

In a small bowl, whisk together the egg yolks and milk until blended. Add to the flour mixture all at once. Mix on low speed for about 30 seconds or until the dough just barely comes together. It will be a shaggy mess.

Dump the dough onto an unfloured surface and gather it into a tight mound. Using your palm and starting on one side of the mound, smear the dough bit by bit, starting at the top and sliding your palm down the side and along the work surface. Do this once or twice on each part of the dough, moving through the mound until the whole mess has been smeared into a cohesive dough with streaks of butter throughout.

Gather up the dough, wrap tightly in plastic wrap, and press down into a disc about 1 inch thick. Refrigerate for at least 4 hours before using. The dough will keep for up to 4 days in the fridge or 1 month in the freezer.
For the filling:
Melt the butter over high heat in a medium sauce pan. Add the apples and stir until they just start to soften, about 2 or 3 minutes. Add the sugar and continue stirring for another 3 to 4 minutes or until the sugar has melted and mixed with the apples. Remove from the heat and transfer the apple mixture to a bowl. Cool for 30 minutes. Add the egg, cinnamon, salt, and flour to the apples and mix with a spatula until they are thoroughly and evenly incorporated. Cool completely before using.
For the cinnamon glaze:
Whisk together all ingredients in a small bowl until smooth.
To assemble the pop-tarts:
Preheat the oven to 350 degrees.

Remove the dough from the refrigerator and divide it in half. On a lightly floured surface roll the first half of the dough into a 28x11 inch rectangle. Using a paring knife or pizza cutter, cut the dough into eight 3 1/2 x 5 1/2 inch rectangles (about the size of an index card). Brush four of the rectangles with the egg.

Spoon 2 tablespoons of the filling on top of each of the 4 egg washed dough rectangles. Top with the remaining 4 rectangles of dough. Use a fork to lightly press the edges together and seal them together. Place each Pop-tart on a parchment lined baking sheet about 2 inches apart.

Repeat the same process with the remaining half of the dough.

Bake for 40 to 45 minutes or until the tops of the pastries are golden brown. Let cool on the baking sheet on a wire rack for about 30 minutes.

Brush the tops with the glaze. Let stand for 10 to 15 minutes to allow the glaze to set before serving.

Store in an airtight container at room temperature for up to 2 days.
Nutrition Disclaimer: All information presented on this site is intended for informational purposes only. I am not a certified nutritionist and any nutritional information shared on bunsinmyoven.com should only be used as a general guideline.
recipe from Flour Bakery