Our Homemade Apple Cobbler recipe starts with tart apples and a simple, buttery topping. Everyone raves about this dessert and begs for the recipe! Don't forget to add a scoop of vanilla on top. 🙂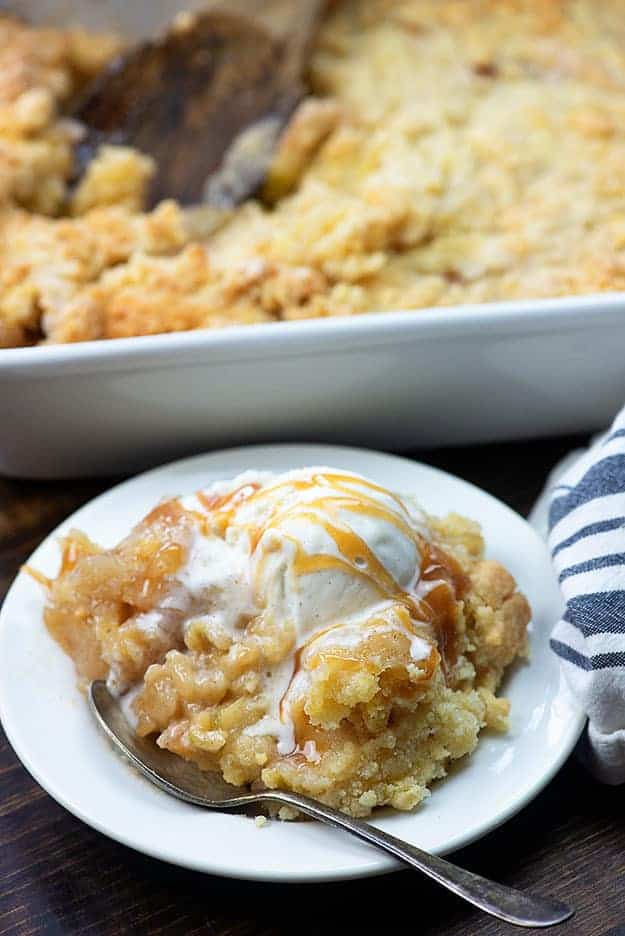 Quick question.
Is it too soon to start with the fall inspired apple recipes?
I mean, I love summer just as much as the next guy, but I made the mistake of searching Pinterest for fall decorations and, well, here we are with this easy apple cobbler recipe.
I'm pretty sure that once you get a taste of our homemade apple cobbler, you'll agree that this is an all year long dessert!
The tender apples are bursting with cinnamon, the crisp buttery topping begs you to pick off little bits every time you walk by, and the way a cold scoop of vanilla melts into the warm cobbler makes me cry actual tears of happiness.
If you're not sobbing in joy when you eat dessert, are you even living?
This recipe for apple cobbler is a major family favorite, and a definite contender against the fan fav fresh apple cake!
Another apple favorite is our Snicker's Apple Salad. It seriously can't be beat!
Next up you'll find me in the kitchen making our apple butter. I love this time of year.
Ingredient Notes:
This post contains affiliate links. As an Amazon associate and member of other qualifying programs, I earn from qualifying purchases.
Apple Filling – Tart apples work best for this cobbler, and I use Granny Smith. You can use whichever variety you prefer! They'll get mixed up with cinnamon and sugar. You may need to adjust the amount of sugar you are using if the apples are sweeter.
Topping – Basic ingredients like flour, sugar, baking powder, salt, and eggs get stirred together and then and a generous amount of melted butter gets drizzled over the top. Couldn't be simpler.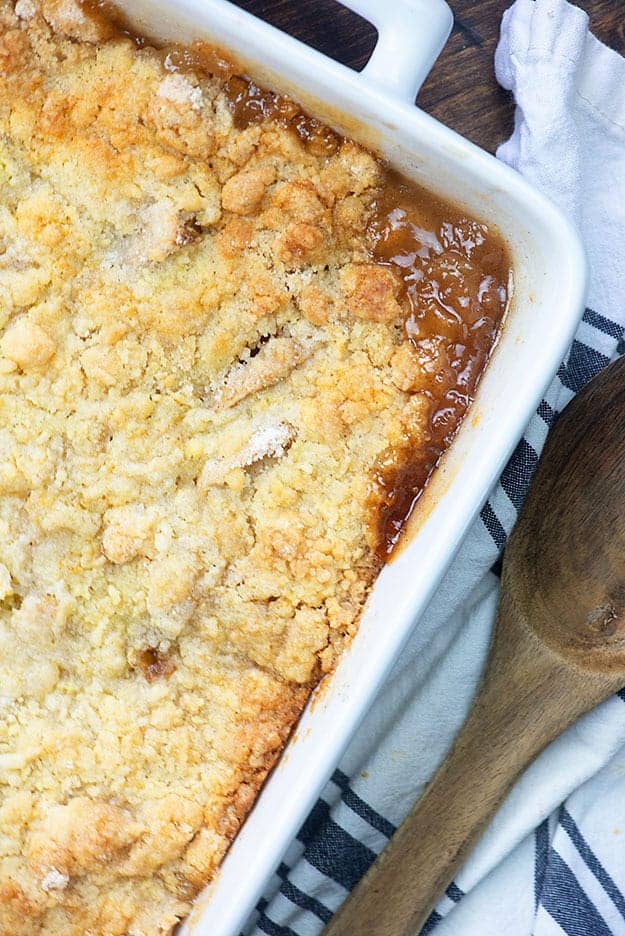 What Readers are Saying!
"Perfect apple cobbler. My guests loved everything about this. Served with vanilla ice cream. yummy!" – Terry
How to Make Our Apple Cobbler Recipe:
Apples: This recipe for apple cobbler starts with Granny Smith apples. They're nice and tart which keeps this apple cobbler from getting too sweet.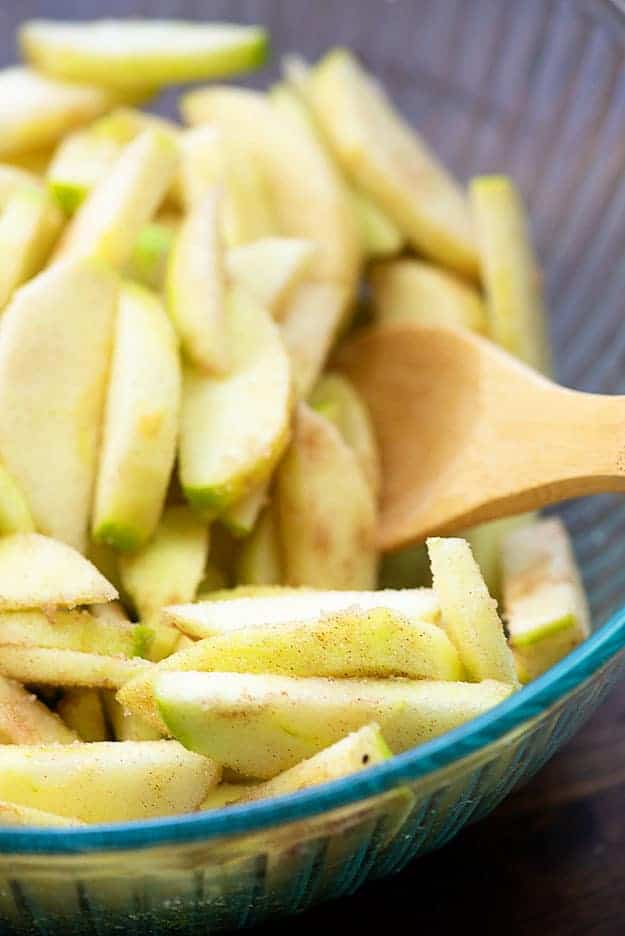 Peel and slice your apples and then toss them in some sugar and cinnamon. I'm using a 1/2 cup of sugar, but I recommend tasting your apples before you add the sugar. You can absolutely reduce or increase it based on how sweet/tart your apples are. And keep in mind that the topping is sweet too, so don't overdo the sugar. 🙂
Add your apples to a 9×13 baking dish and then you'll make the easy apple cobbler topping in the next step!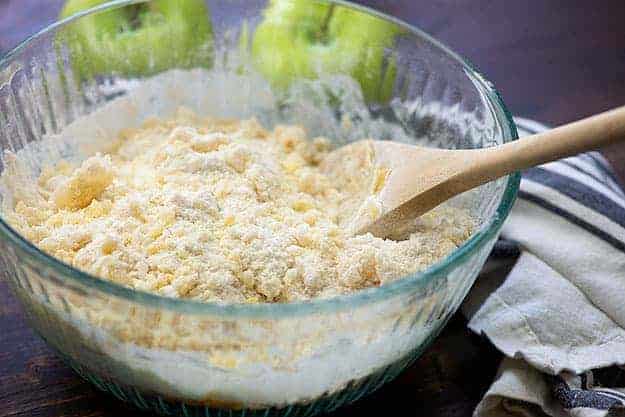 Topping: This simple apple cobbler topping is made with just flour, sugar, baking powder, salt, and eggs. You'll stir everything together until the mixture resembles coarse crumbs.
Pour the topping over the apples – it's a lot of topping because I believe the topping is the best part. 😉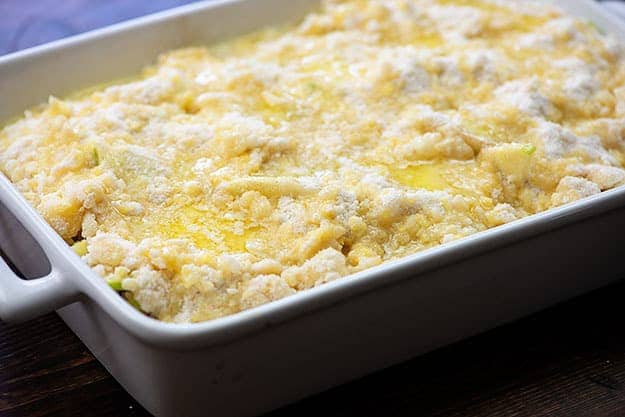 Butter – Next, you'll drizzle melted butter over the top of everything. Butter makes this nice and rich and allows the topping to bake up crispy, crunchy, and golden brown.
Bake: It'll only take about 45 minutes to an hour to bake – you want the cobbler topping to be golden brown.
I let this cool for about 10 minutes before scooping out a big portion and topping it off with some vanilla ice cream!
A drizzle of caramel sauce certainly won't hurt things either.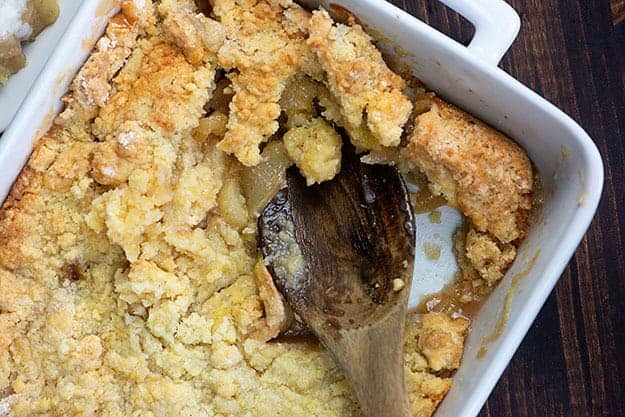 FAQ's:
What kind of apple are best for cobbler?
You'll want a tart, crisp variety that holds up well to baking, such as Granny Smith or Honey Crisp. You can adjust the sugar to account for sweeter or more tart apples quite easily.
Does apple cobbler need to be refrigerated?
According to the USDA, fruit pies and cobblers can stay out at room temperature for up to 2 days. That said, we think the cobbler lasts longer and tastes fresher if it's been refrigerated. It's easy to warm in the microwave before serving.
Should you peel the apple?
Leaving the peel on will add some texture to the apple cobbler, so feel free to leave it if you like that We prefer apples to be peeled in fruit desserts.
Difference between Apple Cobbler and Apple Crisp:
Apple cobbler and apple crisp are two fall favorites, ranking right up there alongside homemade apple pie!
The difference in apple cobbler and apple crisp all comes down to the topping.
Our apple cobbler recipe has more of a biscuit consistency, made with flour, sugar, eggs, baking powder, and melted butter. It is a crumbly mixture when it goes in the oven, but it comes out as a more uniform topping.
Our apple crisp recipe (a must try!) is made with cinnamon sugar apples topped off with a sweet, crumbly oat mixture.
Both are a delicious way to enjoy the fall season.
Our apple crumble is another huge favorite!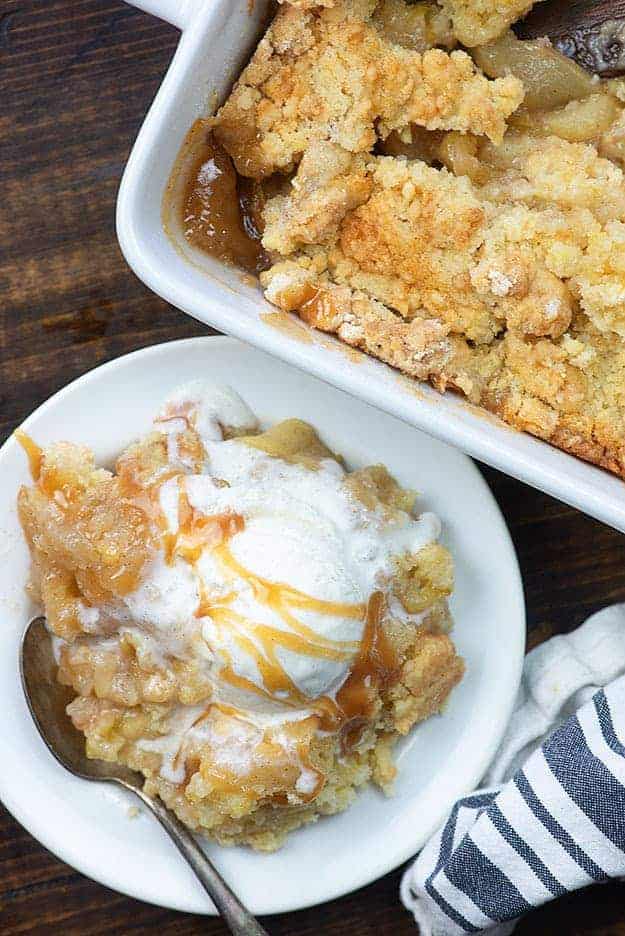 For more recipes like this easy apple cobbler, be sure to follow me on Pinterest!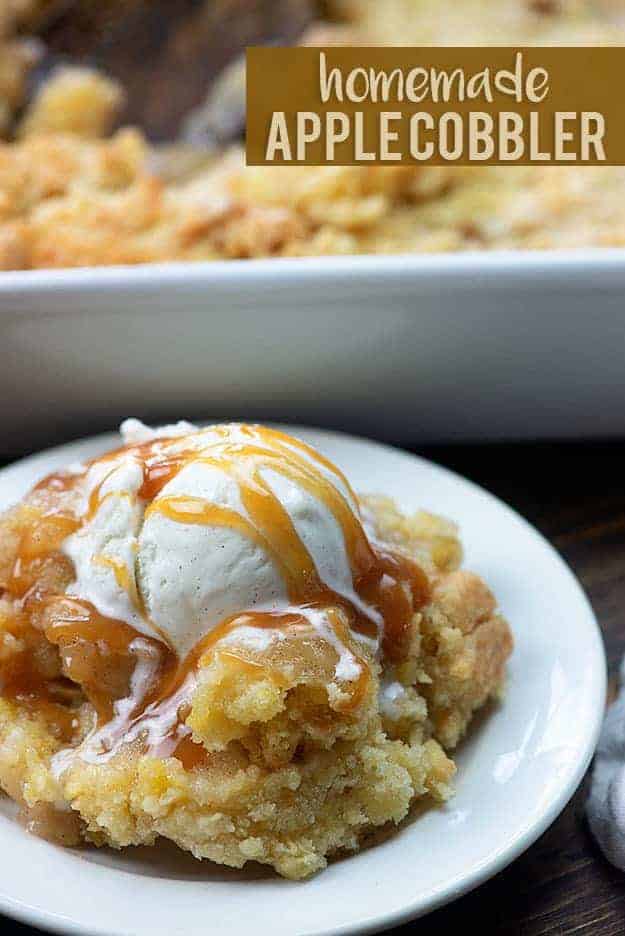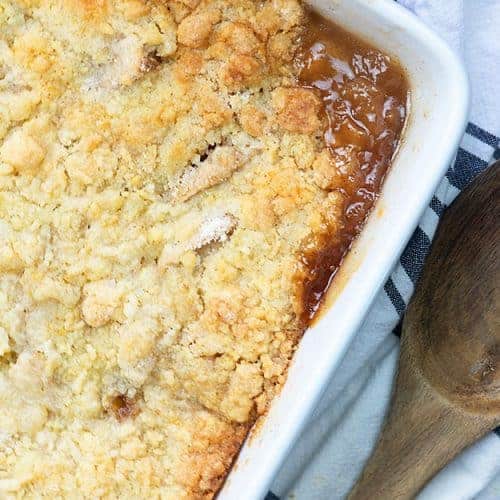 Apple Cobbler
This easy apple cobbler recipe just takes a handful of ingredients. Serve warm with vanilla ice cream and a drizzle of caramel sauce.
Prep10 minutes
Cook45 minutes
Total55 minutes
Ingredients
For the apple filling
8 large Granny Smith apples
1/2 cup sugar to taste
1 teaspoon ground cinnamon
For the topping
2 cups flour
2 cups sugar
2 teaspoons baking powder
3/4 teaspoon salt
2 large eggs
2/3 cup melted butter
Instructions
Preheat oven to 350 degrees.

Peel and slice the apples into 1/4 inch thick slices.

Add the apples to a large mixing bowl and toss with the 1/2 cup of sugar and cinnamon. Taste and add more sugar as needed if apples are very tart.

Pour apples into a 9×13 baking dish and set aside.

Stir together the flour, sugar, baking powder, salt, and eggs in a medium mixing bowl until the mixture resembles coarse crumbs.

Pour the crumbs over the apples to cover.

Drizzle the melted butter evenly over the crumb mixture.

Bake for 45-60 minutes or until the topping is golden brown.

Cool 10 minutes before serving.
Tips & Notes:
Serve with ice cream and caramel sauce, if desired.
Nutrition Information:
Calories: 626kcal (31%)| Carbohydrates: 117g (39%)| Protein: 5g (10%)| Fat: 17g (26%)| Saturated Fat: 10g (63%)| Cholesterol: 87mg (29%)| Sodium: 375mg (16%)| Potassium: 394mg (11%)| Fiber: 6g (25%)| Sugar: 85g (94%)| Vitamin A: 660IU (13%)| Vitamin C: 10.2mg (12%)| Calcium: 75mg (8%)| Iron: 2mg (11%)