These crispy air fryer Brussels sprouts are tossed in a honey, garlic, and soy sauce mix with a little red pepper for a kick!
Ah, Brussels sprouts. The green vegetable that everyone loves to hate on…
I'm fairly certain that Brussels sprouts got a bad rap because people often boil them and then just…eat them. Gross. Please don't do that.
Instead, let's make roasty toasty Brussels sprouts in the air fryer! And we'll season them into something delicious with things like honey, garlic, lemon, and soy sauce!
While roasting is a classic method for preparing Brussels sprouts, using an air fryer is a quick and easy way to get that same crispy, flavorful result.
No air fryer? That's fine – check out these other options that use the oven, like our Maple Bacon Brussels Sprouts, Honey Balsamic Brussels Sprouts, or everyone's favorite Bacon Wrapped Brussels Sprouts!
Ingredient Notes:
This post contains affiliate links. As an Amazon associate and member of other qualifying programs, I earn from qualifying purchases.
Brussels Sprouts – You'll need fresh, not frozen, Brussels sprouts for this recipe. Trim off the stems and peel away any damaged leaves.
Honey Garlic Sauce – You'll prepare a simple but flavorful sauce using honey, soy sauce, minced garlic, olive oil, lemon juice, red pepper flakes, salt, and pepper. You can omit the red pepper if you don't like the spice, or add more!
Lemon Zest – It's perfect for garnishing the sprouts just before serving. Plus, you need some lemon juice for the sauce so you'll want a fresh lemon for this recipe.
What We Love About This Recipe:
Brussels sprouts are a nutritious veggie, but not a very popular one. When you air fry them in the honey garlic sauce though? Even the kids will enjoy them!
I love that you can pair sprouts easily with so many other dishes, especially the meaty kind. See below for some serving suggestions.
The crispy edges make these Brussels sprouts snack worthy – yes, it's true, they're so good you might want to munch on them FOR FUN.
Helpful Tools:
Air Fryer – If you don't already have one, I've linked to my favorite air fryer. We've tested many and this is our favorite – plus it has thousands of 5 star reviews on Amazon!
Citrus Squeezer – This will make squeezing that fresh lemon a whole lot easier!
How To Air Fry Brussels Sprouts:
Prepare: To get started you'll want to trim the sprouts, rinse, and dry them.
Sauce: We're going to add some flavor to these Brussels sprouts by tossing them in an easy honey garlic sauce. Place the sprouts in a mixing bowl and then add all the sauce ingredients in with them.
Toss the bowl a few times to mix up the ingredients and to coat the sprouts in the sauce.
Air Fry: You can now add the sauced up Brussels sprouts to your air fryer basket. Set the temperature to 380 degrees and air fry for 12 minutes.
Important: About halfway through cooking remove the basket and shake it well to move the sprouts around. This will help them cook evenly and prevent them from burning.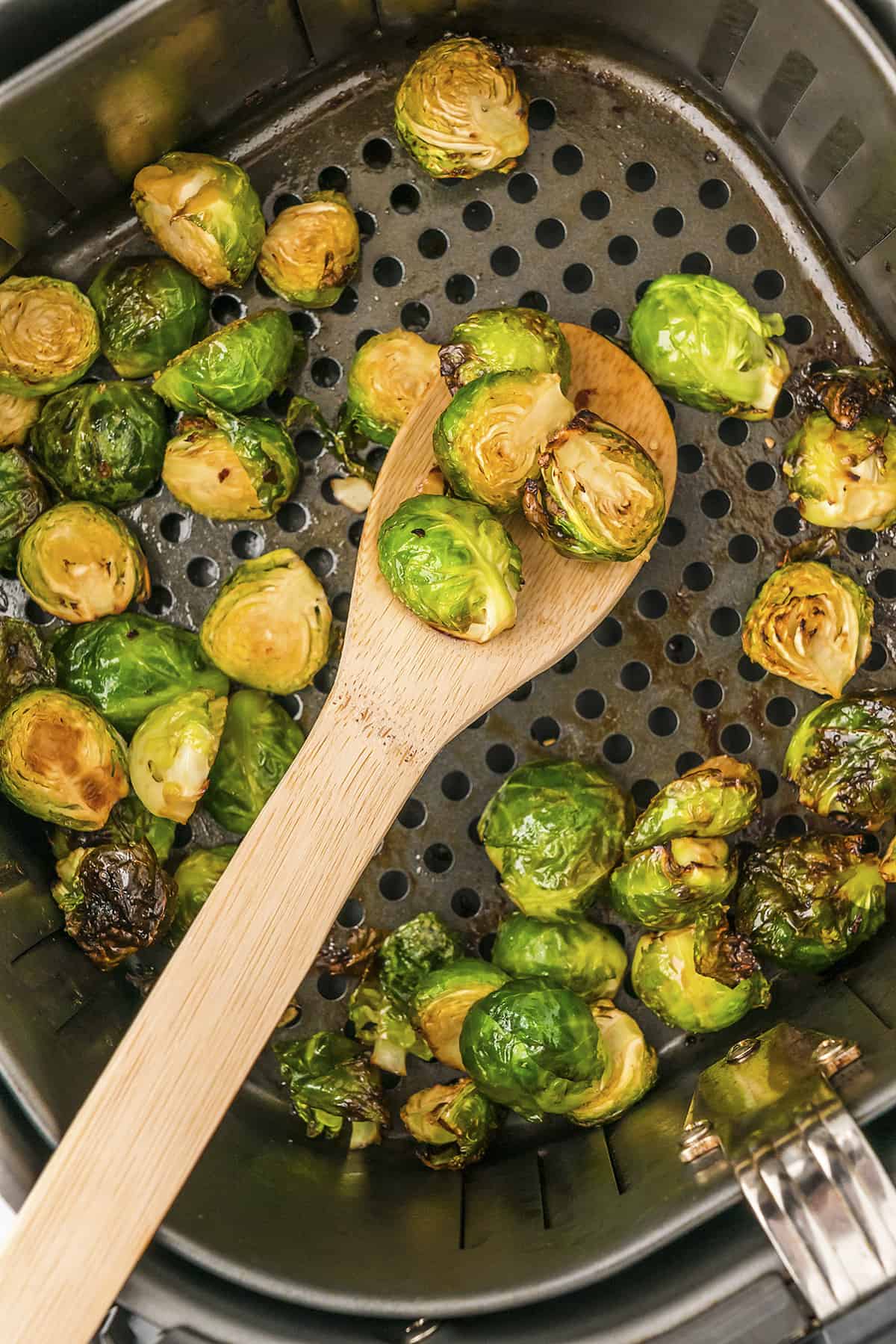 Serve: When the air fryer Brussels sprouts have finished cooking transfer them to a serving bowl and garnish with some lemon zest and fresh parsley.
Helpful Tip!
Trimming Brussels Sprouts
Use a sharp knife to cut the woody, dried tip off the end of the Brussels sprouts.
Remove any damaged, dried, spotted leaves from the outside of the Brussels sprouts.
Cut the sprouts in half to create more surface area. More surface area equals more roast, toasty, crispy edges.
What To Serve With Brussels Sprouts:
These air fryer Brussels sprouts make a great side dish to go with just about any meal, but we especially like to serve it alongside some kind of meat dish. Here are some good recipes to pair with these sprouts:
FAQs:
How to store leftover Brussels sprouts?
Store leftover brussels sprouts in an airtight container for 3-4 days.
They will not be as crispy but will still be tasty. Reheat in the air fryer for 2-3 minutes.
Do you need to soak Brussels sprouts before cooking?
No, cooking the Brussels sprouts in the air fryer without soaking will still produce a soft center and crispy outer leaves.
Why did my Brussels sprouts burn in the air fryer?
If you don't shake the basket halfway through cooking then the sprouts may burn. Don't forget to shake them up a bit so they cook evenly.
Can I use frozen Brussels sprouts in the air fryer?
We always prefer fresh vegetables, but the air fryer is quite good at making frozen veggies taste fresh! If you're using frozen Brussels sprouts with this recipe, keep an eye on the cook time as it may vary a bit.
MORE Family Friendly Veggie Recipes:
Air Fryer Brussel Sprouts
These crispy roasted Brussels sprouts cook in just 10 minutes in the air fryer. The honey garlic sauce really makes them special!
Prep10 minutes
Cook12 minutes
Total22 minutes
Ingredients
1 pound Brussels sprouts
1 tablespoon soy sauce
1 tablespoon honey
1 tablespoon olive oil
2 teaspoons lemon juice
2 cloves garlic minced
¼ teaspoon red pepper flakes see notes
¼ teaspoon salt
¼ teaspoon pepper
½ teaspoon lemon zest
2 teaspoons fresh parsley optional
Instructions
Use a sharp knife to trim the stem end from the brussels sprouts and remove any discolored leaves. Wash the brussels sprouts in a colander under cold water. Pat dry with a kitchen towel.

Add the brussels sprouts to a mixing bowl. Add the soy sauce, honey, olive oil, lemon juice, chopped garlic, red pepper flakes, salt and pepper to the bowl. Toss to coat the brussels sprouts.

Add brussels sprouts to the basket of the air fryer. Set the temperature to 380 degrees and air fry for 12 minutes.

Remove the basket at the halfway point to shake the brussels sprouts around to help them cook evenly.

When finished cooking, transfer brussels sprouts to a serving bowl and garnish with lemon zest and fresh parsley. Serve immediately while Brussels sprouts are still crispy and fresh.
Tips & Notes:
Reduce the red pepper flakes (or omit) if you want less heat. As is, these just have a little kick but aren't overly spicy. Store leftover brussels sprouts in an airtight container for 3-4 days. They will not be as crispy but will still be tasty. Reheat in the air fryer for 2-3 minutes.
Nutrition Information:
Calories: 102kcal (5%)| Carbohydrates: 16g (5%)| Protein: 4g (8%)| Fat: 4g (6%)| Saturated Fat: 1g (6%)| Polyunsaturated Fat: 1g| Monounsaturated Fat: 3g| Sodium: 320mg (14%)| Potassium: 471mg (13%)| Fiber: 4g (17%)| Sugar: 7g (8%)| Vitamin A: 897IU (18%)| Vitamin C: 98mg (119%)| Calcium: 54mg (5%)| Iron: 2mg (11%)