Bacon Wrapped Brussels Sprouts, topped off with a little maple syrup and a sprinkling of cayenne pepper, make the perfect holiday appetizer or side dish.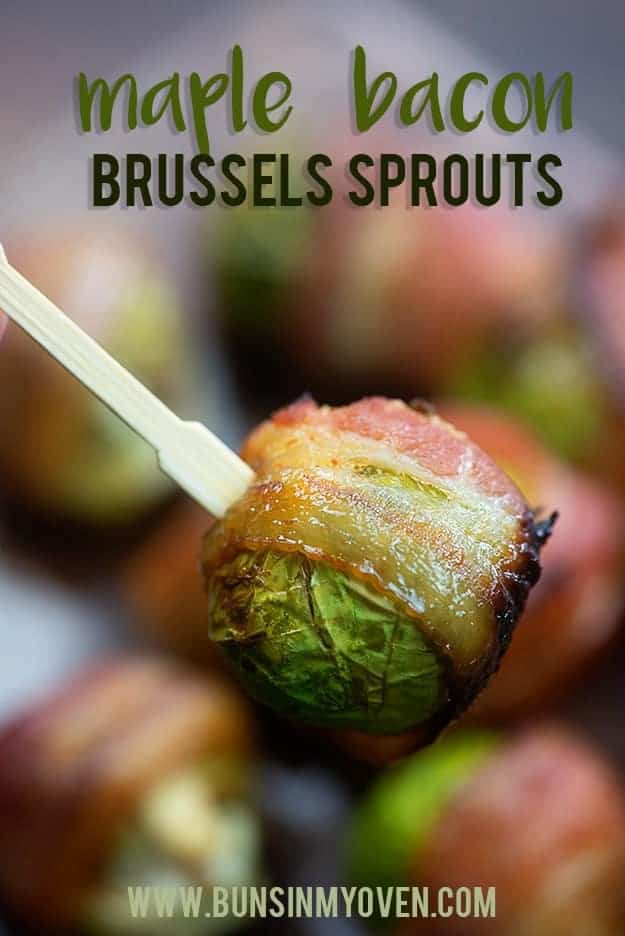 Well, that's it. It's game over for me. I'm clearly a very old person.
You see, I served Brussels sprouts as an appetizer to guests and I was excited about it.
Back in the day, I served my guests things like the best spinach artichoke dip or grape jelly meatballs.
Up until about 10 minutes ago, Brussels sprouts were a thing that my grandma served at dinner and my mom made me choke down with her deathly mom glare.
Now, suddenly, I'm the woman serving children Brussels sprouts.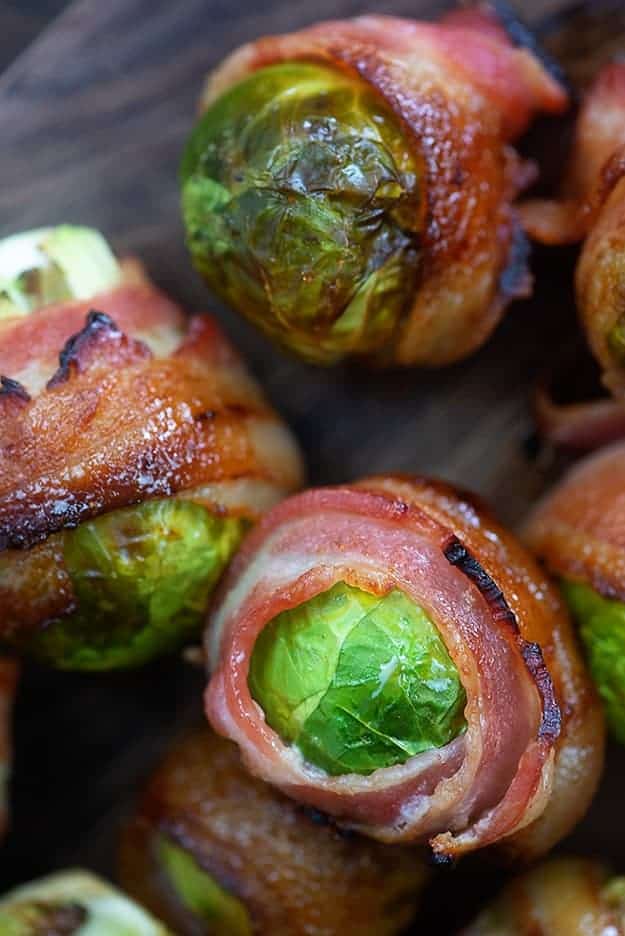 The funny thing is, these were actually DELICIOUS. Probably thanks to the fact that I did not boil the Brussels sprouts (seriously, grandma, how could you?) and also I wrapped these guys in bacon.
Bacon wrapped Brussels sprouts. Even my kids ate them.
Ingredient Notes:
This post contains affiliate links. As an Amazon associate and member of other qualifying programs, I earn from qualifying purchases.
Brussels Sprouts – They're really not as bad as everyone makes them out to be, so long as you cook them properly. Use fresh Brussels sprouts in this recipe for best results.
Bacon –We used a regular cut bacon – thick cut may not cook through. Maple flavored bacon might also be delicious here, but we just did a traditional smoked bacon.
Maple Syrup – Real organic maple syrup, please. Pancake syrup will probably work in a pinch, but pure maple syrup is always best.
Cayenne Pepper – We're just using a pinch to give these some depth of flavor. They aren't spicy, but you could always add more if you want extra heat.
What We Love About This Recipe!
A lot of people have pretty strong opinions about Brussels sprouts, and that includes my children. But when you wrap them in bacon and coat them in maple syrup they stop caring about the green stuff, and so will most people!
How to Make:
Prepare: To start, trim the ends off of your sprouts and peel off the outer layers. Don't get too carried away peeling away the outer leaves – just peel off what comes easily. You'll also need to prepare the bacon by cutting the slices in half. You'll use one half slice for these bacon wrapped Brussels sprouts.
Wrap: Now you can start wrapping up all the Brussels sprouts with a half slice of bacon.

If the sprouts are smaller than average you can use less than half a slice of bacon.
If they are larger than average, consider cutting the sprouts in half before wrapping them.

Place the bacon wrapped Brussels sprouts on a baking sheet and move on to the next step.
Brush: Next, grab some real maple syrup and brush it over all of your bacon wrapped sprouts!
I also like to sprinkle just a bit of cayenne pepper over the maple bacon wrapped Brussels sprouts. I love the sweet and spicy vibe going on here! You can use as much or as little as you like!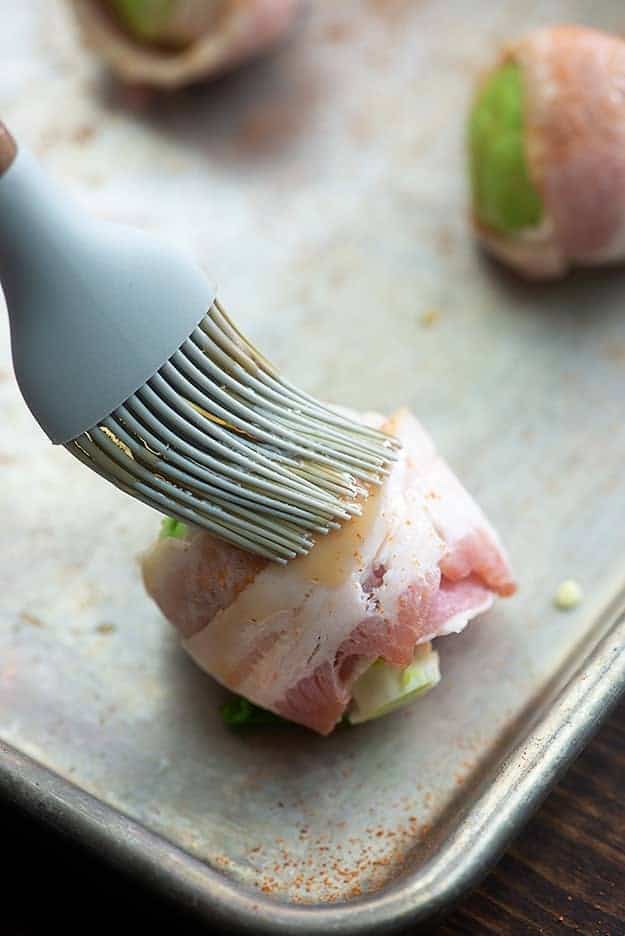 Helpful TipS!
If you really enjoy the maple flavor you can brush the Brussels sprouts with the syrup first and then wrap them in bacon. And then brush them with more syrup!
The bacon should hold in place pretty well, but it helps to place them with the seam side down.
Roast: Pop these into a hot oven and let the Brussels sprouts soften up a bit and the bacon get crisp. They'll take about 30 minutes or so depending on the size of the sprouts and the thickness of the bacon.
These make a great appetizer, especially during the holiday season. Pop a toothpick in each sprout and let your guests discover how much they love a properly cooked Brussels sprout. I bet that even the sprout haters will convert over into sprout lovers by the time you're through with them.
Low Carb Bacon Wrapped Brussels Sprouts:
Looking for a lower carb option? Just use your favorite maple syrup replacement.
We use and love Lakanto products and their maple flavored syrup works well here.
FAQs:
Can I make bacon wrapped Brussels sprouts ahead of time?
To make ahead, wrap the sprouts in bacon and place in the refrigerator until ready to bake. Brush with maple syrup just before baking.
Can dogs have Brussels sprouts?
Yes! Brussels sprouts make a healthy treat, but always in moderation. No more than 1 or 2 depending on the size of your dog. They'll love the bacon and won't even notice the healthy green stuff. Leave the maple and cayenne off a few, if you plan to share with your pup.
MORE APPETIZER RECIPES!
Veggie Pizza: This cold pizza appetizer is a must at all parties and get-togethers in my house!
Asian Brussels Sprouts: This is another great Brussels sprouts recipe with Asian flavors that is easily made in the air fryer!
Bacon Ranch Cheese Ball: All of my favorite flavors rolled up in one cheese ball!
Baked Pimento Cheese Dip: Warm, gooey, and just waiting for your cracker.
Mexican Cheese Dip: 3 ingredients and no Velveeta!
Marinated Cheese & Olives: Nothing makes me feel more fancy than this little snack and it's ALWAYS the hit of the party.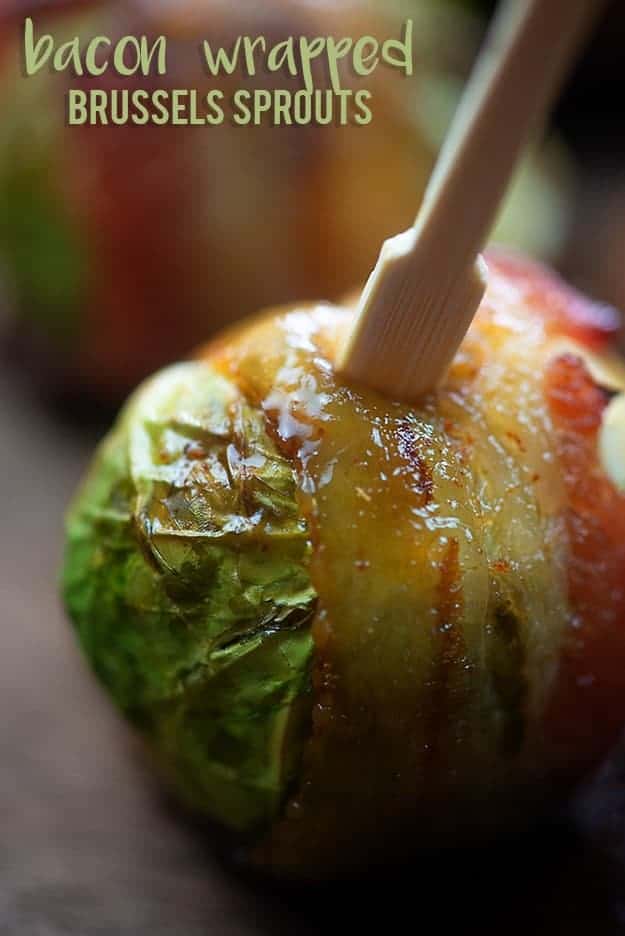 Bacon Wrapped Brussels Sprouts
Brussels sprouts wrapped in bacon and roasted until crisp!
Prep5 minutes
Cook30 minutes
Total35 minutes
Serves 16 Brussels sprouts
Ingredients
16 Brussels sprouts
8 slices bacon
2 tablespoons maple syrup
1/2 teaspoon cayenne pepper
Instructions
Preheat oven to 400 degrees. Spray a rimmed sheet pan with non-stick spray.

Trim the ends off the Brussels sprouts and remove the outer leaves.

Cut the bacon slices in half.

Wrap one half slice of bacon around each Brussels sprout and place on the prepared baking sheet.

Brush the tops with maple syrup and sprinkle with cayenne pepper, to taste.

Bake for 30 minutes or until sprouts are tender and bacon is crisp.

Serve hot or at room temperature.
Tips & Notes:
Add more or less cayenne pepper to taste. To make these low carb, use your favorite maple syrup replacement. We like Lakanto.
Nutrition Information:
Serving: 1Brussels sprout| Calories: 60kcal (3%)| Carbohydrates: 3g (1%)| Protein: 2g (4%)| Fat: 4g (6%)| Saturated Fat: 1g (6%)| Cholesterol: 7mg (2%)| Sodium: 77mg (3%)| Potassium: 101mg (3%)| Sugar: 1g (1%)| Vitamin A: 175IU (4%)| Vitamin C: 16.2mg (20%)| Calcium: 11mg (1%)| Iron: 0.3mg (2%)