August 11, 2017
Crock Pot Chicken and Stuffing
This crock pot chicken and stuffing is the easiest comfort food you'll ever make! Toss everything into the slow cooker and let the magic happen!

Alright, so I don't want to alarm anyone, but I often eat a bowl of Stove Top Stuffing for breakfast.
Hold up. Don't leave me. I swear I'm not insane.
It's just, as a kid, I never liked or ate oatmeal, but some days I needed something warm and hearty and…Stove Top Stuffing was there for me, man. And I never outgrew the habit.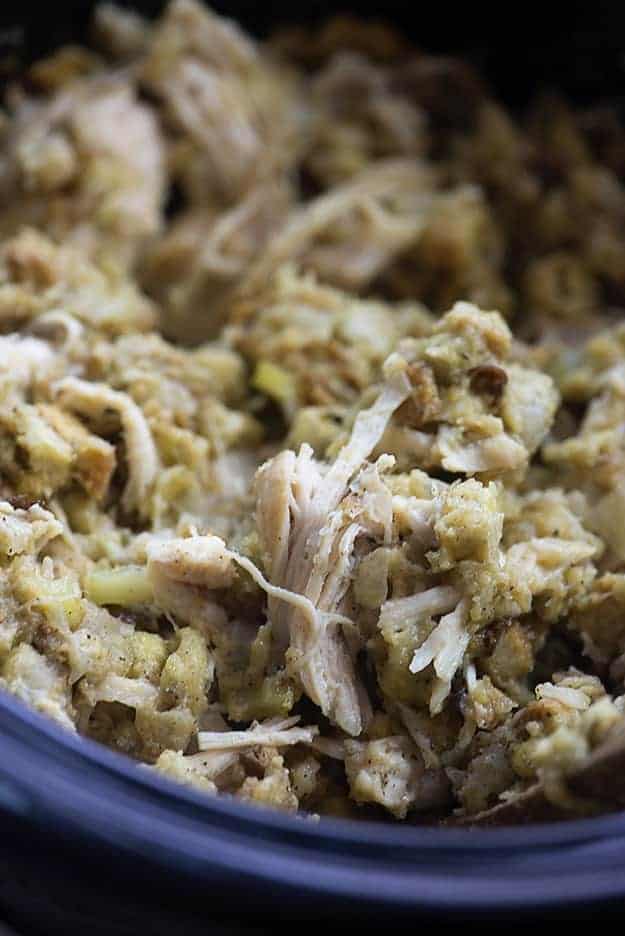 I'm going to really freak you out when I say this, but I always melt a piece of the weird plastic-y orange American cheese over the top of it and stir it all together. I KNOW. I am weird. Please do not be frightened.
Annnnnnyway. Let's forget I said anything and instead talk about this Crock Pot Chicken and Stuffing, which I swear is really good and totally normal and even though I eat weird things sometimes, you can totally trust me.
Also, don't lie. You have some weird food secret that you've never shared with the Internet before. I dare you to share it in the comments. It'll be like a little support group down there, all of us sharing our weirdness and coming together to stop the hate.
So, back to this slow cooker chicken and stuffing. It's pure comfort food and it's tossed together in a flash.
I started with a bag of dry stuffing cubes, stirred in some chopped celery and onion, mixed that all up with some cream of chicken (try my cream of chicken soup substitute, if you like!), a tiny bit of broth, and then seasoned it with a little sage. I plopped a couple chicken breasts on top of all that and let the slow cooker do it's magic! Easy peasy.
This recipe takes about 4 1/2 hours in the slow cooker and it's going to taste like a slow cooker full of Thanksgiving goodness that you can eat any time of the year. I recommend that you make this a whole big feast and serve it with my roasted sweet potatoes and pumpkin crunch cake to really bring home that Thanksgiving at random times of the year feel. Or just be normal and eat it with a salad. Whatevs.
Hope you guys enjoy!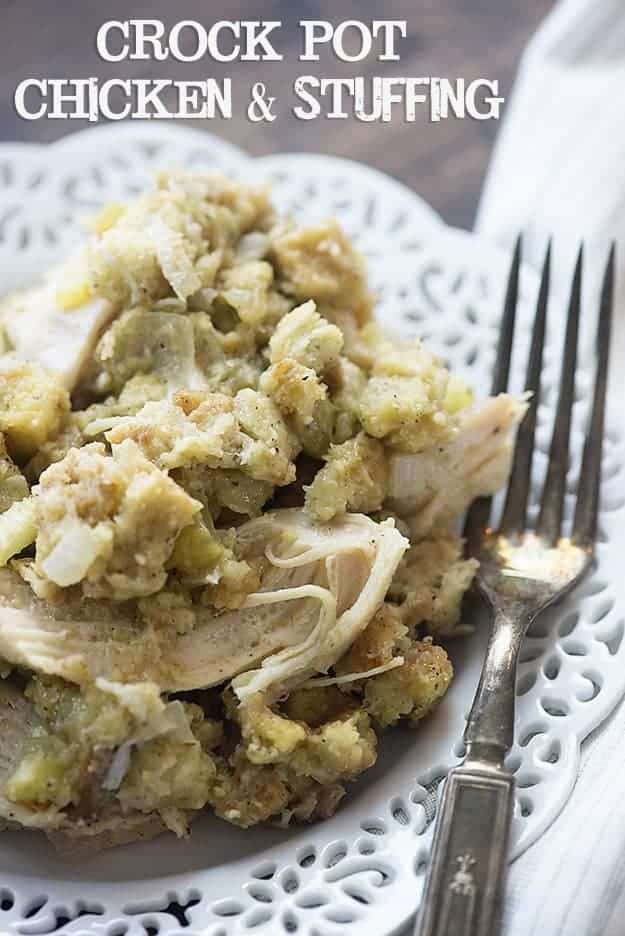 Crock Pot Chicken and Stuffing
Ingredients:
14 ounce bag dried seasoned stuffing mix
1 sweet onion, diced
1/2 cup diced celery
2 cans (10 ounces each) cream of chicken soup
1/2 cup chicken broth
1/2 teaspoon ground sage
1 1/2 pounds boneless skinless chicken breasts
1/4 teaspoon salt
1/4 teaspoon pepper
Directions:
Spray a slow cooker with non-stick spray.
Add the stuffing mix, onion, celery, cream of chicken soup, and chicken broth to the slow cooker and stir to combine.
Sprinkle the sage over the top.
Lay the chicken breasts on top of the stuffing mixture and season with salt and pepper.
Cover and cook on low for 4 hours 30 minutes or until chicken cooks through.
Shred the chicken with two forks or remove to a cutting board and slice into small pieces.
Stir everything together and serve.
Share this: