January 6, 2013
Chocolate Chip Cookie Dough Dip
Yeah. You read that right. Chocolate. Chip. Cookie. Dough. Dip.
You should probably just go get your fat pants on right now.
I made this a few weeks ago for a game night with my brother-in-law and his girlfriend. We devoured it.
Then I made it for another game night with my other brother-in-law and his wife. We devoured it again.
Now? My children ask for it every day. They want it for lunch, please.
This dip is super easy to whip up and it really does take like a chocolate chip cookie. The brown sugar and vanilla are so yummy.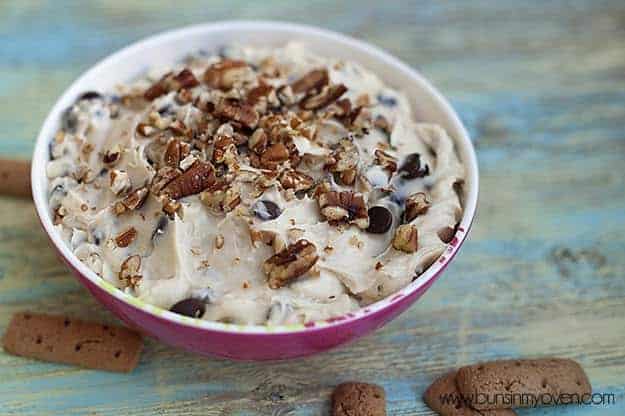 Chocolate Chip Cookie Dough Dip
Ingredients:
8 ounces cream cheese, softened
1/2 cup butter, softened
1/4 teaspoon vanilla extract
3/4 cup confectioners' sugar
1/4 cup brown sugar
3/4 cup miniature semisweet or milk chocolate chips
3/4 cup finely chopped pecans, optional
Graham crackers or sticks, for dipping
Directions:
In the bowl of your stand mixer, beat together the cream cheese and butter until light and fluffy. Gradually add in both sugars until just combined. Stir in the chocolate chips and nuts.
Refrigerate for 30 minutes (or longer) before serving.
Serve with graham sticks or crackers. Apples would also make a good vehicle for this dip!
adapted from Taste of Home
Don't forget to check out my review of Monterey Gourmet Foods and enter to win a $100 gift card!

Share this: