November 19, 2012
Ranger Cookies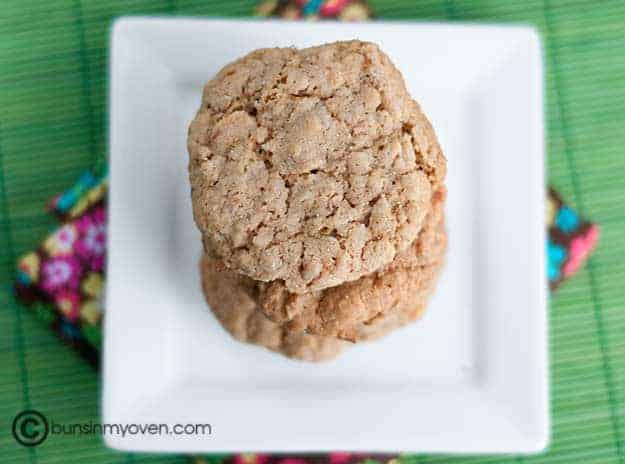 I don't know about y'all, but I think cookies are pretty darn yummy. My kids love them, my husband eats them for breakfast, and I like to eat the cookie dough before it makes it to the oven. Don't tell anyone I said that last part though, okay?
These cookies aren't as good for eating raw because of all the oats, but once they are baked up they are just delicious. They have a more "grown up" taste…not too sickly sweet like a lot of cookies can be. That being said, my kids were happy to eat a handful of cookies each in one sitting. I didn't mind too much because these really are chock full of good things. Sure, there's sugar and butter and a sprinkling of chocolate chips, but there is also oats, peanuts, whole wheat flour, and (Have you had your) Wheaties (today?). Healthy cookies! Hallelujah!
You see how my little cookie dough balls are all pretty uniform in size? Well, that's because I use a cookie scoop and let me be honest for one second here: The cookie scoop is one of my most favorite gadgets in the kitchen. True story.
When I was younger my mama used to tell me (repeatedly) to make sure the cookies were all the same size. I hated that rule, because sometimes you just want a couple of extra large cookies mixed in there for you and your little brother to fight over. Also, it's kinda hard to get all that dough into the same sized ball! My mama wasn't having it, though. I thought she was just mean, so when I first baked cookies on my own I made them all sorts of different sizes. I was rebelling. I was going to TEACH HER A LESSON.
Turns out my mama knew what she was talking about and I was left with a bunch of undercooked and overcooked cookies.
You don't even want to know the things I shouted when I pulled those cookies out of the oven.
Sorry I've been MIA for the last couple of weeks. We close on our new house this Friday, so things may be a little slower around here than usual for the next week or two. I promise to be back with lots of recipes just as soon as things settle down, though. Oh, and I just bought a convection oven for the new house. Just had to share with people that might be as excited about that as I am. Most of the people that do not live inside my computer have just been looking at me like I'm nuts and asking what a confectionery oven is. 😉
Ranger Cookies
2 cups packed brown sugar
1 cup butter, softened
1 tsp vanilla
2 eggs
2 cups whole wheat flour
2 cups rolled oats (I used old fashioned, but quick oats work well, too)
1 tsp baking powder
1 tsp baking soda
1 1/2 cups Wheaties cereal
1 cup salted peanuts
1 cup milk chocolate chips (optional)
Preheat oven to 350 degrees. Cream together the butter and sugar. Beat in the eggs and vanilla. Stir in the flour, oats, baking powder, and baking soda. When well combined, mix in the Wheaties, peanuts, and chocolate chips.
Place rounded teaspoonfuls of dough (or be like me and use a cookie scoop!) on an ungreased cookie sheet. Place dough balls about 2 inches apart. Flatten each cookie slightly with a glass bottom dipped in sugar.
Bake 10-12 minutes, cool on cookie sheet for 1 minute and then remove to cooling rack. Makes about 3 dozen cookies.
Share this: