December 1, 2015
Cinnamon Sugar Blondies
These blonde brownies are perfectly chewy, ready in less than 30 minutes, and topped with crackly cinnamon and sugar!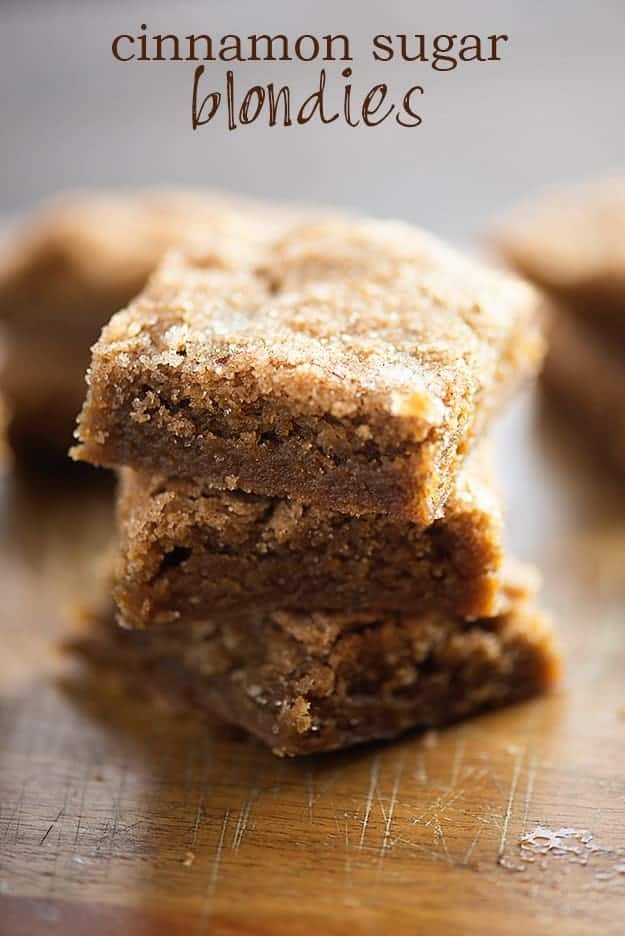 Hello, friends.
I'm here today with something new and exciting and maybe a little terrifying.
I made a video. Of food. For you to watch.
My hands and arms (lots of arms, because I'm sorry, this was my first attempt at video and I didn't realize how arm-y I was until I had already finished) are making their big debut. I hope you're ready for it.
So, the video should hopefully show you how to make these cinnamon sugar blondies. You actually don't really need a video, because they are the easiest things in the world to make, but that's why I chose them for my first video. Because I'm a chicken and I didn't want to do hard things.

Also, at the :46 mark you'll see the spoon fly out of my hands and if I hadn't strategically muted myself in the video, you'd hear me say bad words and wonder aloud whether or not anyone would trust a food blogger who can't even hold on to a godforsaken wooden spoon.
Please also note the flour that I fling everywhere.
Don't be like me.
Anyway, that's enough video talk. Watch it or don't, but I'll shut up about it now.
I will not, however, shut up about these blondies. I used Mark Bittman's base recipe from his book, How To Cook Everything. They are the best dang blondies I've ever eaten and they are beyond easy. One bowl, no mixer, ready in less than 30 minutes. I love how exceptionally chewy these blondies are, especially when you pair them with a crackly cinnamon sugar topping! Beyond delicious and perfect for adding to your holiday cookie trays.
Now go subscribe to my YouTube channel! I might just make another video one of these days!
Cinnamon Sugar Blondies
Ingredients:
1/2 cup butter, melted
1 cup brown sugar
1 egg, beaten
1 teaspoon vanilla extract
1 cup flour
pinch of salt
5 teaspoons sugar
1 teaspoon cinnamon
Directions:
Preheat oven to 350 degrees. Line an 8x8 baking dish with parchment.
Add the butter and brown sugar to a medium mixing bowl and stir to combine.
Stir in the egg and vanilla.
Stir in the flour and salt until well combined.
Spread into the prepared pan. Combine sugar and cinnamon and sprinkle over the batter.
Bake for 22 minutes or until a tester comes out mostly clean.
Cool before cutting.
Share this: