Get the kids excited for Halloween with our Spooky Spaghetti & Eyeballs! This is just the sort of main dish you'd want to serve up at your next Halloween party! The meatballs are tender and flavorful with a spooky flair that everyone loves!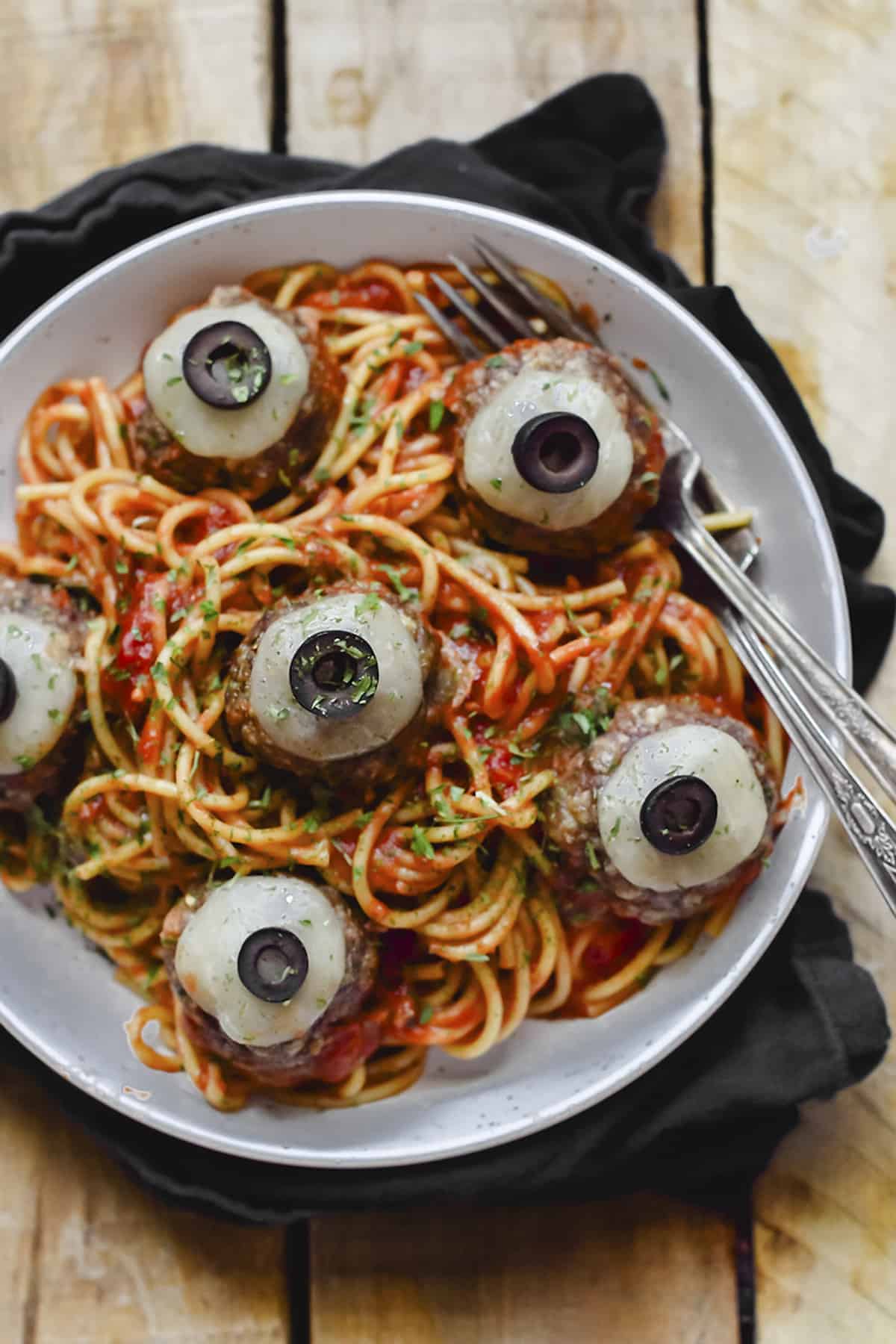 My kids are technically (barely) adults at this point, but let's be real…they'll always be my babies and they still definitely love my weird concoctions that I serve up to get them excited for holidays.
Take this little spin on spaghetti and meatballs…took me about 5 extra minutes to turn those meatballs into eyeballs and serve my "babies" a fun meal that had them acting like little kids again.
This recipe is easy to double if you'd like to feed a whole lotta monsters at once and it reheats well too!
We think our Spooky Spaghetti and Eyeballs is just the right kind of savory dish to counter all those sweet Halloween treats you'll probably be serving up too. I figure if I fill up on spaghetti I won't eat too much candy.
But…I'm always saving room for our favorite Halloween treats, like Halloween Brownies and Pumpkin Rice Krispies Treats!
Ingredient Notes:
This post contains affiliate links. As an Amazon associate and member of other qualifying programs, I earn from qualifying purchases.
For the spaghetti:
Spaghetti – Any brand of dried spaghetti noodles will work for this recipe. Whatever you like best!
Marinara – You can use any brand of marinara sauce you like but we'd highly recommend our favorite: Rao's Marinara. If you've never tried it, you've been missing out!
For the eyeballs:
Ground Beef & Pork – I'm using a mixture of ground beef and ground pork. You can use more or less of either, or just all beef or all pork! You could even use ground chicken or ground turkey instead.
Breadcrumbs – Either plain breadcrumbs or Italian style breadcrumbs make a great binding for the spooky Halloween meatball eyes.
Eggs – Along with the breadcrumbs the egg will help bind all the ingredients and keep its shape.
Olive Oil – It'll help keep the meatballs from drying out, and it adds flavor.
Seasoning – Some dried (or fresh) parsley, garlic powder, onion powder, salt, and pepper are about all you need to season these.
Provolone Cheese – You'll cut the slices of provolone into small circles to create the whites of the eyes. Mozzarella would work here too.
Black Olives – Sliced black olives are great for making the iris/pupil! Sliced green olives with or without the pimento work too.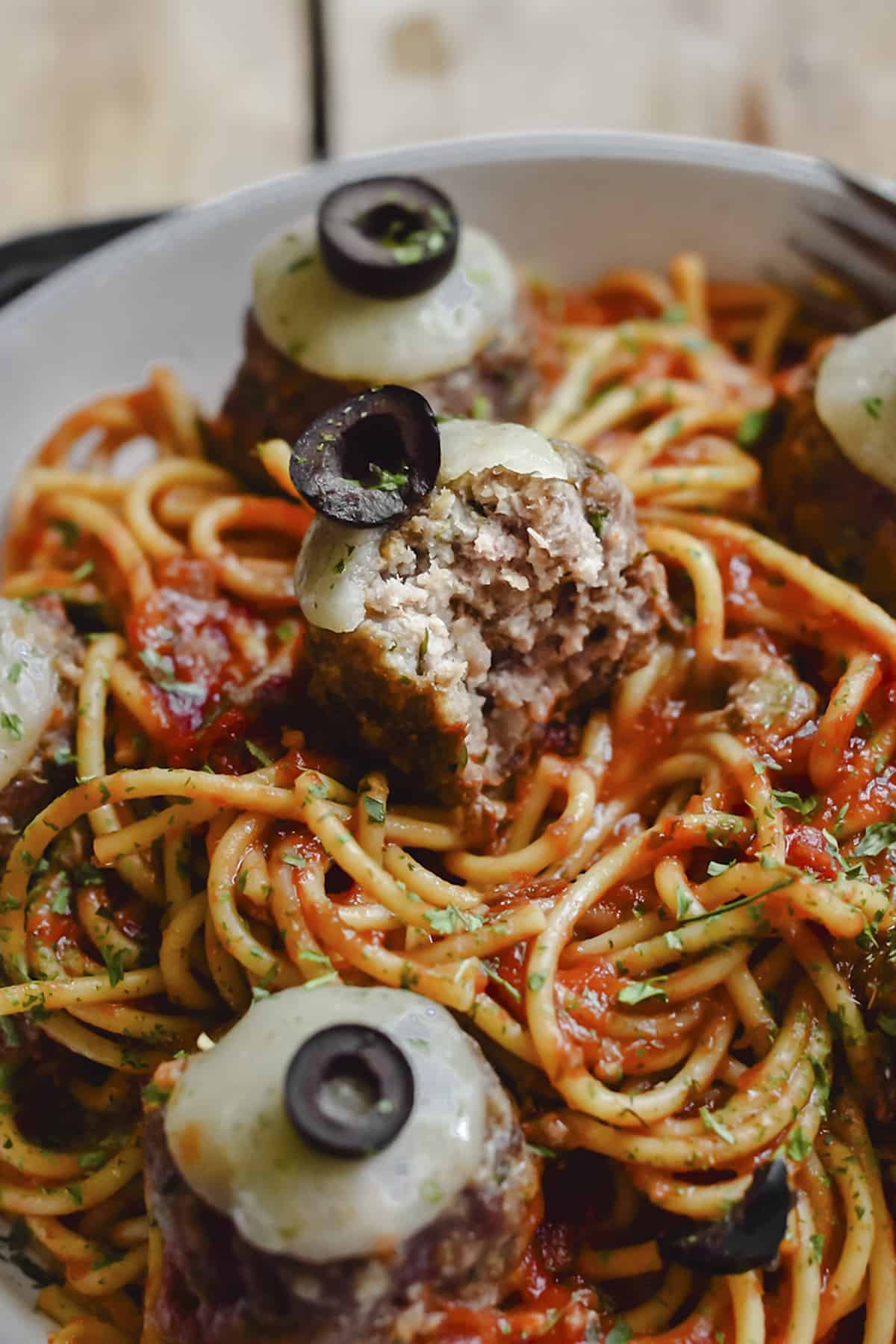 What We Love About This Recipe:
It's so easy to make! Just a slice of cheese and sliced black olives turns regular spaghetti and meatballs into spooky spaghetti and eyeballs!
You can prepare the meatballs with a number of different ingredients and seasonings if you'd like to switch things up.
We start with a jar of sauce to keep this recipe simple, but you can certainly use your homemade sauce here!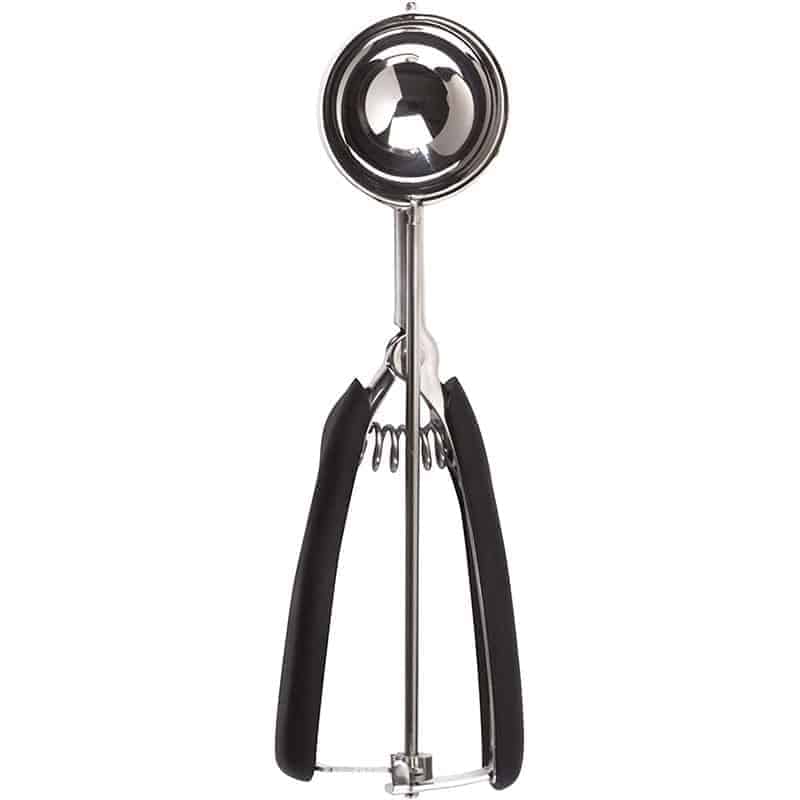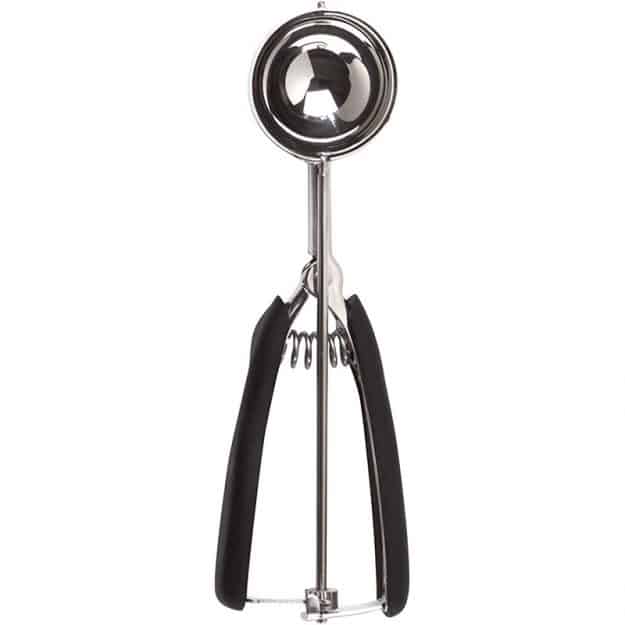 Whether you're scooping cookie dough or making spooky eyeballs, a scoop is a useful tool in the kitchen!
How To Make Meatballs/Eyeballs:
Mix: While your oven preheats you can start making the spooky meatball eyes! Add the ground meat to a large mixing bowl with the breadcrumbs, eggs, olive oil, and seasonings. Mix all that together until it is well combined!
Shape: Now to turn the mixture into meatballs! I'd recommend using a cookie scoop here to get perfectly even portions, but you don't have to. Try to make them about 2″ wide and keep them close in size.
Bake: Place the meatballs onto a foil or parchment lined baking sheet about a half inch apart and place in the oven to bake for 18 to 20 minutes, or until they're golden brown on top and fully cooked in the middle!
Note: You can start preparing the spaghetti and marinara while the meatballs are baking!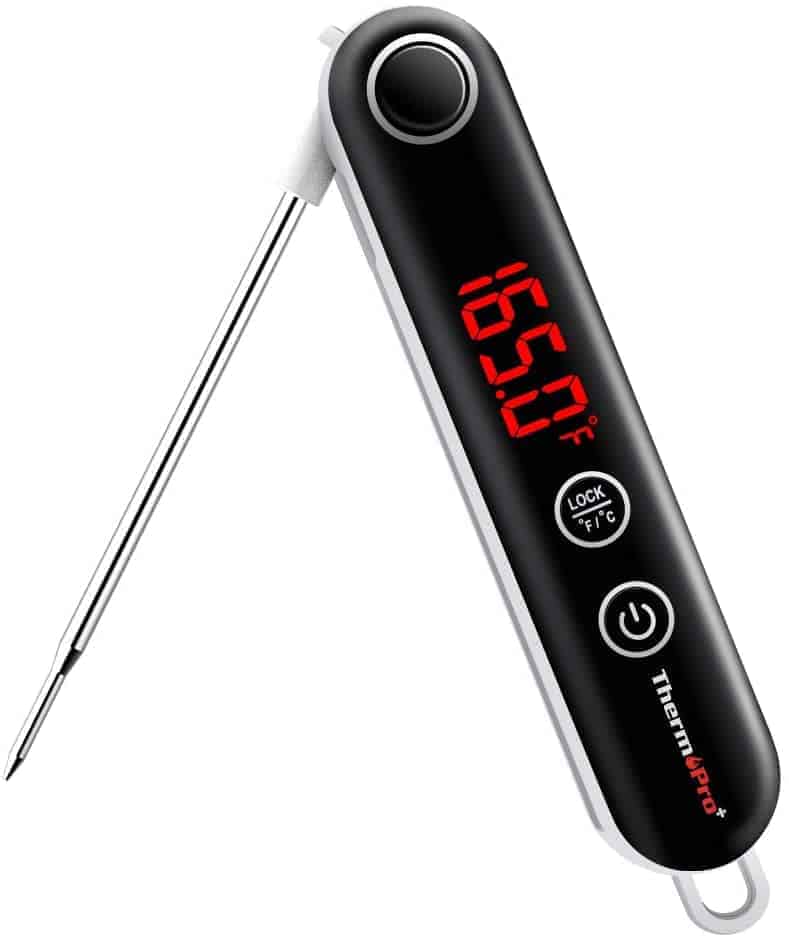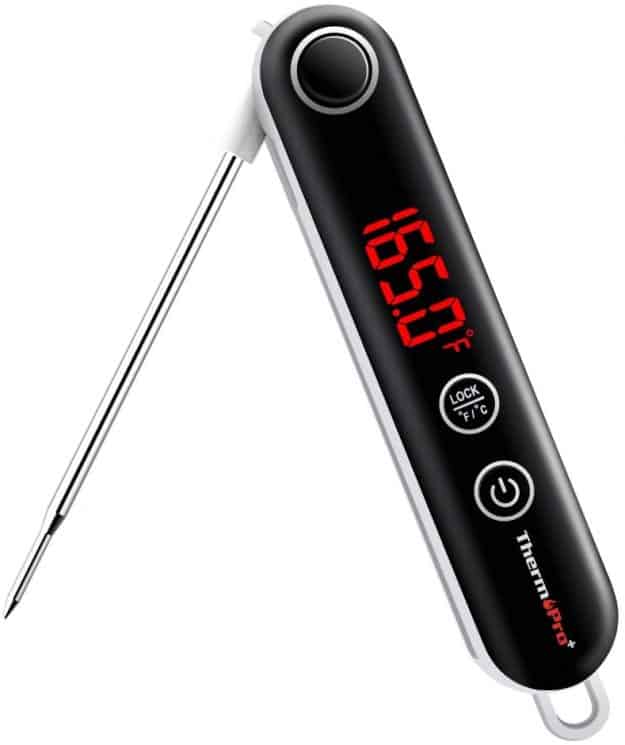 I love using this meat thermometer for making sure the meat is fully cooked! Easy for beginners & absolutely worth the low cost.
Eyeballs: Now to turn the meatballs into spooky eyeballs! When they've finished baking place a circle cut slice (about 1″) of provolone atop each of the meatballs to create the whites of the eyes.
Finally, place a slice of black olive over each provolone circle to create the iris/pupil, and then return the meatballs to the oven for 2-3 minutes or until the cheese has slightly melted.
Combine: Toss the cooked spaghetti in the marinara sauce to coat and then arrange the eyeballs in with the pasta. Time to dig in!
Leftover Hack!
Leftover spaghetti? You can put it to good use the next day with this spaghetti sliders recipe! It's perfect for leftovers.
FAQ's:
How to store leftovers?
You can keep any leftovers in an airtight container for about 5 days in the fridge. Reheat in the microwave.
Can I make the meatballs ahead of time?
Sure! You could make the meatball mixture ahead of time and bake it later, or bake the meatballs ahead of time and wait to add the cheese and olive before reheating in the oven and serving!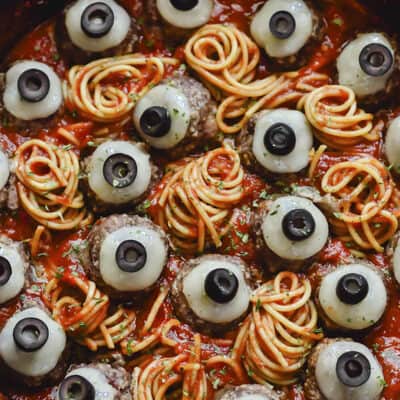 Spooky Spaghetti & Eyeballs
We turned traditional spaghetti and meatballs into a spooky meal for the kids. The 'eyeballs' are made with a combo of beef and pork for maximum flavor and they're so easy to whip up!
Prep20 minutes
Cook20 minutes
Total40 minutes
Ingredients
1 pound ground beef
1 pound ground pork
1 cup breadcrumbs
2 large eggs
1 tablespoon olive oil
1 tablespoon parsley flakes
2 teaspoons garlic powder
2 teaspoons onion powder
½ teaspoon salt
¼ teaspoon black pepper
8 ounces sliced provolone cheese
2.25 ounces canned sliced black olives
16 ounces dried spaghetti
16 ounces marinara
Instructions
Preheat your oven to 400°F and line a baking sheet with aluminum foil or parchment, then set aside.

In a large mixing bowl, mix together the ground beef and pork, breadcrumbs, eggs, olive oil, parsley, garlic and onion powders, salt, and pepper until thoroughly combined.

Roll the mixture into 2-inch wide balls and place them onto your prepared baking sheet, leaving about ½ inch of space in between each meatball.

Bake the meatballs for 18-20 minutes, or until they are golden brown on top and fully cooked in the middle.

Meanwhile, cut the sliced provolone into 1-inch circles. A small cookie cutter works best for this.

Remove the meatballs from the oven, and place one circle of provolone atop each meatball to create the whites of the eyeballs.

Place one slice of black olive atop each provolone circle to create the irises/pupils of the eyes.

Return the meatballs to the oven for 2-3 minutes or until the provolone has just slightly melted, then remove them from the oven again and set aside.

While the meatballs are cooking, boil the spaghetti in a pot on the stove according to the package instructions.

Heat the marinara sauce in the pot and stir in the spaghetti once warmed through.

Use tongs to scoop out a serving of spaghetti onto each plate and nestle the meatballs over the top.

Top with additional parsley, if desired, and serve.
Tips & Notes:
We use and love Rao's marinara, but any brand of spaghetti sauce will work fine here. You can swap the provolone for sliced mozzarella if preferred. My kids prefer the taste of black olives, but green olives also work well. In a hurry? Start with frozen meatballs. Bake as directed and then top with the cheese and olives.
Nutrition Information:
Calories: 718kcal (36%)| Carbohydrates: 57g (19%)| Protein: 38g (76%)| Fat: 37g (57%)| Saturated Fat: 15g (94%)| Polyunsaturated Fat: 3g| Monounsaturated Fat: 15g| Trans Fat: 1g| Cholesterol: 142mg (47%)| Sodium: 934mg (41%)| Potassium: 716mg (20%)| Fiber: 4g (17%)| Sugar: 5g (6%)| Vitamin A: 595IU (12%)| Vitamin C: 5mg (6%)| Calcium: 293mg (29%)| Iron: 4mg (22%)