This vegetarian enchilada recipe is divine! I just could not get enough of it.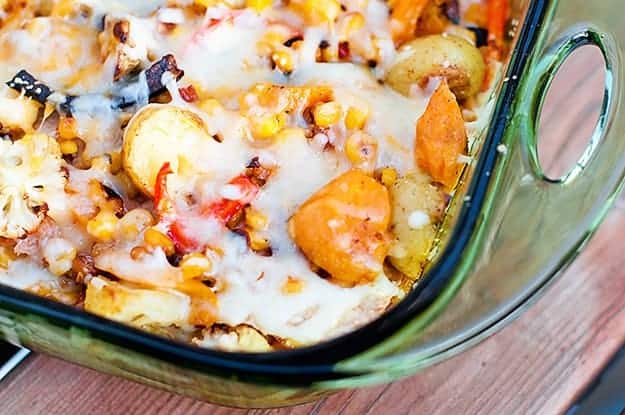 Hi.
Have we met before?
I mean, you feel like you kinda sorta know me, right?
So you understand that the fact that I just ordered this cookbook that features pretty much nothing but vegetables is kind of odd for me, yeah?
I mean, it's a book. About those things that grow in the ground. That often taste like adult-food. Adult food…bleh.
Well, let me tell you what, I saw these Roasted Veggie Enchiladas over at Miss Natalie's blog (who, by the way, I have a teensy crush on) and my whole world was flipped upside down.
Vegetables. That I wanted to eat.
Roasted veggie enchiladas have become one of my favorite Mexican dishes!
These enchiladas were so simple and just seriously out of this world delicious.
The true test was my family though. They like corn (which, I know – it's a grain, not a veggie – let me pretend, kay?) and 2 of them like green beans, 2 like broccoli, and 1 likes peas as long as they are hidden in mashed potatoes. Oh and one kid likes cooked carrots, but not raw, and the other likes raw but not cooked. My husband? He'll suffer through most veggies if the kids are watching, but he glares at me the whole time.
Getting veggies in my kids and husband is difficult.
Anyway, these enchiladas were going to ROCK THEIR WORLD. I was so sure of it. My son loved them. My daughter picked out the acceptable bits (which mostly consisted of the whole grain tortillas, corn, and cheese) and my husband took three bites and asked me to grill him a PB&J.
I honestly could not believe they didn't love these. They were so flavorful, so life changingly good that I just don't understand how they could not love them. Roasting vegetables just completely changes them from something that your mom begs you to eat to something that you'd be happy to have for dessert, in my opinion.
I hope you'll ignore my dumb picky family and give these a try yourself. If they were good enough to make me order an entire cookbook about roasted veggies, then, dang it, they weren't just good…they were amazing.
Try my chicken enchilada casserole too! My taco lasagna is also a hit. 🙂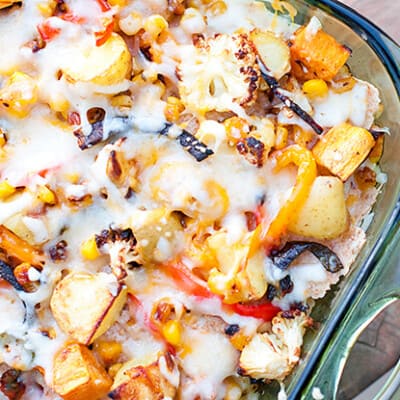 Roasted Vegetable Enchiladas
Roasted Vegetable Enchiladas are a healthy, vegetarian twist on Mexican night!
Prep20 minutes
Cook50 minutes
Total1 hour 10 minutes
Ingredients
1 poblano chile, cut into matchsticks
1 red bell pepper, cut into matchsticks
1 orange bell pepper, cut into matchsticks
1 small head of cauliflower, cut into 1/2 inch chunks
1 small sweet potato, peeled and cut into 1/2 inch chunks
1 baking potato, peeled and cut into 1/2 inch chunks (I used a handful of tiny new potatoes and left them whole with the skin on.)
1 medium onion, diced
1 cup corn kernels
3 tablespoons olive oil
1 tablespoon ground cumin
2 teaspoons minced garlic
1/2 teaspoon salt
1/2 cup chopped fresh cilantro
2 cups salsa
2 cups baby spinach leaves
10 corn tortillas, torn into pieces
2 cups shredded cheese
sour cream and scallions for garnishing if desired
Instructions
Preheat the oven to 425 degrees and lightly oil a large rimmed cookie sheet.

Place poblano, bell peppers, cauliflower, sweet potato, potatoes, onion, and corn on the cookie sheet. Drizzle with the olive oil and sprinkle the cumin, garlic, and salt and pepper on top. Toss to coat. Spread the vegetables out in the pan in a single layer.

Roast for 30 minutes or until the vegetables are tender and beginning to brown. Stir or shake the pan every 10 minutes for even roasting. Remove the pan from the oven and reduce heat to 350 degrees. Good luck not eating the roasted vegetables right from the pan at this point.

Prepare an 8x8x2 or 9x9x2 baking dish with nonstick spray.

In a small bowl, stir the cilantro into the salsa. Spread 1/4 cup of the salsa on the bottom of the baking dish. Add a layer of torn tortilla pieces, then a layer of vegetables, a layer of spinach, and top with a layer of cheese. Repeat the layers two times, ending with the cheese.

Cover with foil and bake for 20 minutes. Remove foil and bake for another 10 minutes or until the cheese is melted and everything is heated through.

Let sit for 5 minutes and then cut into squares. Serve with sour cream and scallions, if desired.
Nutrition Information:
Calories: 585kcal (29%)| Carbohydrates: 70g (23%)| Protein: 23g (46%)| Fat: 26g (40%)| Saturated Fat: 9g (56%)| Cholesterol: 44mg (15%)| Sodium: 1715mg (75%)| Potassium: 1338mg (38%)| Fiber: 12g (50%)| Sugar: 13g (14%)| Vitamin A: 9165IU (183%)| Vitamin C: 130mg (158%)| Calcium: 447mg (45%)| Iron: 5.7mg (32%)
recipe from Perry's Plate