This pork tenderloin sandwich is perfectly crispy and crunchy, but the best part is that it's fried right in your oven for easy clean up. This post is sponsored by Smithfield. Thank you for supporting the brands that support this blog!
Look. I know I share a lot of Mexican food around here, but if the fact that I sometimes use biscuits in my enchiladas did not alert you to this fact, let me say it clearly: I am from the Midwest.
I have a thing for Mexican cuisine, both the real kind and my Americanized Midwestern version of it, but the fact is that my people eat a lot of fried food. We also eat a whole heck of a lot of corn. And casseroles. And you know what? Our restaurants only recently started serving salads made of weeds instead of iceberg lettuce. I miss the iceberg days, if we're being honest.
Anyway, the pork tenderloin sandwich is a true Midwestern treat. Some say that it originates in Indiana, others say Iowa. I'm smack in the middle of those two states here in Illinois, so I don't really care where it comes from. I'm just happy that so many restaurants around here serve these.

When you find a pork tenderloin sandwich in a restaurant, it's almost always the size of your head. Like, literally, the piece of meat is as big as the dinner plate and it's held together with a tiny little no-frills white hamburger bun. They are a sight to see, that is for sure.
I love serving these when we have guests in from out of town. They make a quick lunch and are a regional thing that not everyone has tried! This holiday season give these quick sandwiches a try for an easy lunch and I bet your guests will love it!
I used a Smithfield pork tenderloin to make more reasonable sized tenderloin sandwiches for dinner the other night and, dare I say it, these are even better than the ones I can find in all the restaurants. Also, I did not fry these in oil on the stove. Nope. I wanted a 30 minute dinner and I knew it would take forever to fry these things in batches. When you're entertaining, you really want things quick and easy, right?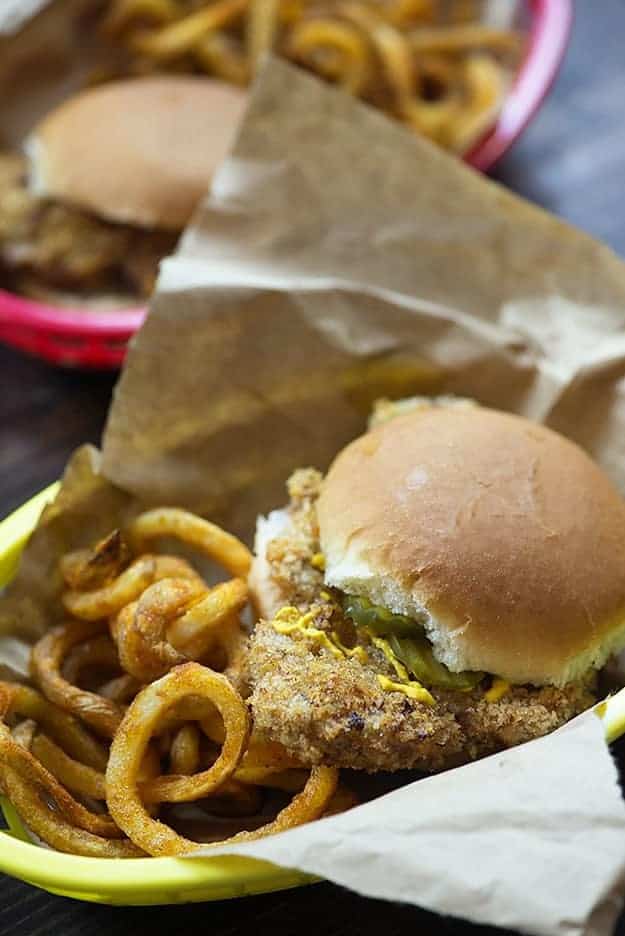 I stole the idea from my oven fried chicken tenders and just breaded these guys and baked them in a hot oven in a pan full of melted butter. They are crispy and crunchy. They're buttery. They taste fried. You will love them. Forever and ever Amen.
I used a Smithfield Hardwood Smoked Bacon & Cracked Black Pepper Marinated Fresh Pork Tenderloin for this recipe. I cut the tenderloin into 6 equal sized hunks of meat and then pounded them thin with a mallet. Perfectly sized tenderloins!
After that I dredged these guys in flour, egg, and Panko. The panko really helps give these that fried texture, so I highly recommend Panko over traditional bread crumbs. After that it's a cookie sheet full of melted butter and a hot oven!
I like my sandwich with tons and tons of dill pickles and a squirt of mustard. Onion is nice too!
Since the meat comes perfectly seasoned and marinated, there is no need to add any seasonings. I love it!
Be sure to also check out this pork with sweet balsamic glaze and filet mignon pork with buttery mushrooms!
Pork Tenderloin Sandwiches
These pork tenderloin sandwiches taste fried, but they're baked instead. So easy and so crispy.
Prep15 minutes
Cook15 minutes
Total30 minutes
Ingredients
1 package Smithfield Hardwood Smoked Bacon & Cracked Black Pepper Marinated Fresh Pork Tenderloin
1 cup flour
2 eggs
1 tablespoon water
2 1/2 cups panko
1/2 cup butter
6 sandwich buns
pickles onions, ketchup, mustard as desired
Instructions
Preheat oven to 425 degrees.

Slice the tenderloin into 6 even sized pieces. Place each piece between a layer of plastic wrap and use a mallet to pound it very thin - about 1/4 inch thick.

Whisk the eggs and water together in a shallow dish.

Dredge the pork in the flour, then eggs, then panko to coat.

Melt the butter and pour onto a large rimmed baking sheet.

Place each of the coated tenderloins in the butter and bake for 8 minutes.

Flip and continue baking for 7 more minutes.

Serve on buns with the condiments of your choice.
Nutrition Information:
Calories: 587kcal (29%)| Carbohydrates: 64g (21%)| Protein: 30g (60%)| Fat: 23g (35%)| Saturated Fat: 12g (75%)| Cholesterol: 149mg (50%)| Sodium: 413mg (18%)| Fiber: 3g (13%)| Sugar: 2g (2%)