This pork tenderloin sandwich is perfectly crispy and crunchy, but the best part is that it's fried right in your oven for easy clean up.
Look. I know I share a lot of Mexican food around here, but if the fact that I sometimes use biscuits in my enchiladas did not alert you to this fact, let me say it clearly: I am from the Midwest.
I have a thing for Mexican cuisine, both the real kind and my Americanized Midwestern version of it.
The fact is, though, that my people eat a lot of fried food.
We also eat a whole heck of a lot of corn. And casseroles. And you know what? Our restaurants only recently started serving salads made of weeds instead of iceberg lettuce. I miss the iceberg days, if we're being honest.
Anyway, the pork tenderloin sandwich is a true Midwestern treat.
Some say that it originates in Indiana, others say Iowa.
I'm smack in the middle of those two states here in Illinois, so I don't really care where it comes from. I'm just happy that so many restaurants around here serve these.
When you find a pork tenderloin sandwich in a restaurant, it's almost always the size of your head. Like, literally, the piece of meat is as big as the dinner plate and it's held together with a tiny little no-frills white hamburger bun. They are a sight to see, that is for sure.
I love serving these when we have guests in from out of town. They make a quick lunch and are a regional thing that not everyone has tried!
I used a more reasonable sized tenderloin for dinner the other night and, dare I say it, these are even better than the ones I can find in all the restaurants.
Plus, they're oven-fried which means they're easy to cook and easy to clean up after! Not to mention, they're a bit healthier too!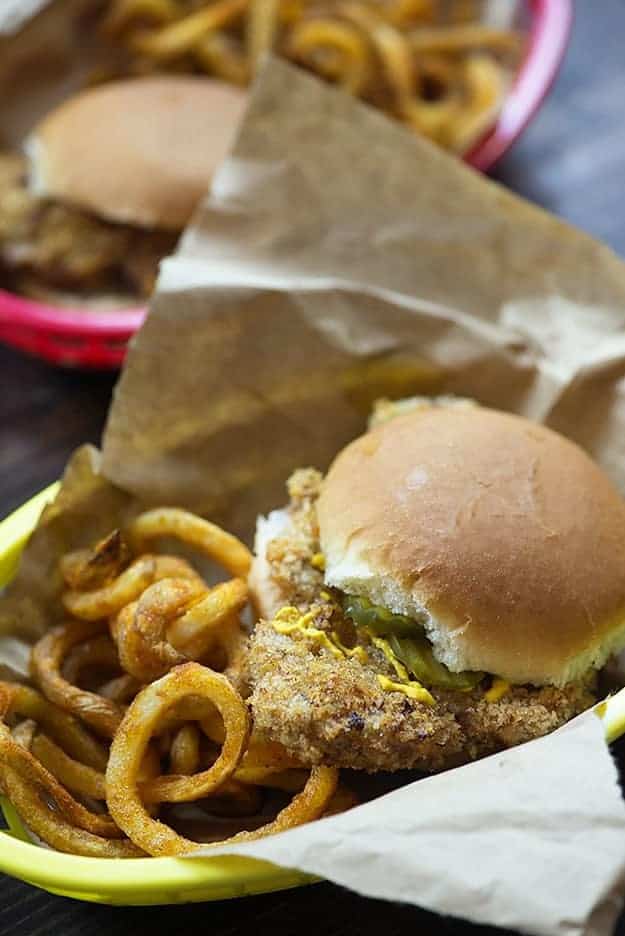 How to make the pork tenderloin:
Cut a pork tenderloin into 6 equal sized chunks of meat and then pound them out with a meat mallet. They should be about 1/4 inch thick when you're done.
Next add eggs and water to a shallow bowl and beat them together until combined.
Put the panko in a separate shallow bowl and the flour and seasonings in a third bowl.
Dredge your pork pieces in the flour first, then the egg, and finally the panko.
Melt your butter and pour it evenly accross a large rimmed baking sheet.
Bake for 8 minutes at 425 degrees F.
Flip and bake for 7 more minutes.
Serve on buns with your favorite condiments!
I like my sandwich with tons and tons of dill pickles and a squirt of mustard. Onion is nice too!
Some of our local restaurants get crazy and make taco tenderloin sandwiches (Hi, I told you we like to go crazy with the weird taco combos) or chili cheese tenderloins. I prefer the classic with pickles and mustard, but you do you!
Try our other sandwich favorites:
Pork Tenderloin Sandwiches
These pork tenderloin sandwiches taste fried, but they're baked instead. So easy and so crispy.
Prep15 minutes
Cook15 minutes
Total30 minutes
Ingredients
For the pork:
1 1/2 pounds fresh pork tenderloin
1 teaspoon onion powder
1 teaspoon garlic powder
1 teaspoon salt
1 teaspoon cracked pepper
For the breading:
1 cup flour
1 teaspoon seasoned salt
2 large eggs
1 tablespoon water
2 1/2 cups panko
For assembly:
1/2 cup butter
6 sandwich buns
pickles onions, ketchup, mustard as desired
Instructions
For the pork:
Preheat oven to 425 degrees.

Slice the tenderloin into 6 even sized pieces. Place each piece between a layer of plastic wrap and use a mallet to pound it out to 1/4 inch thickness.

Add the onion powder, garlic powder, salt, and pepper to a small bowl and stir to combine.

Season both sides of the pork.
For the breading:
Add the flour and seasoned salt to a second shallow dish and stir to combine.

Whisk the eggs and water together in a shallow dish.

Add the panko to a third shallow dish.

Dredge each piece of pork in first the flour, then egg, then panko, making sure the pork is fully coated in the breading.
For baking and serving:
Melt the butter and pour onto a large rimmed baking sheet.

Place each of the breaded tenderloins in the butter and bake for 8 minutes.

Flip and continue baking for 7 more minutes.

Serve on buns with the condiments of your choice.
Tips & Notes:
These may also be fried on the stove in 1/4 inch of oil. We top our tenderloins with dill pickles, onion slices, and mustard.
Nutrition Information:
Serving: 1sandwich| Calories: 587kcal (29%)| Carbohydrates: 64g (21%)| Protein: 30g (60%)| Fat: 23g (35%)| Saturated Fat: 12g (75%)| Cholesterol: 149mg (50%)| Sodium: 413mg (18%)| Fiber: 3g (13%)| Sugar: 2g (2%)