My whole family gets excited when they see this Homemade Hamburger Helper recipe on the menu for the week! All the flavors of the popular box mix, but made from scratch!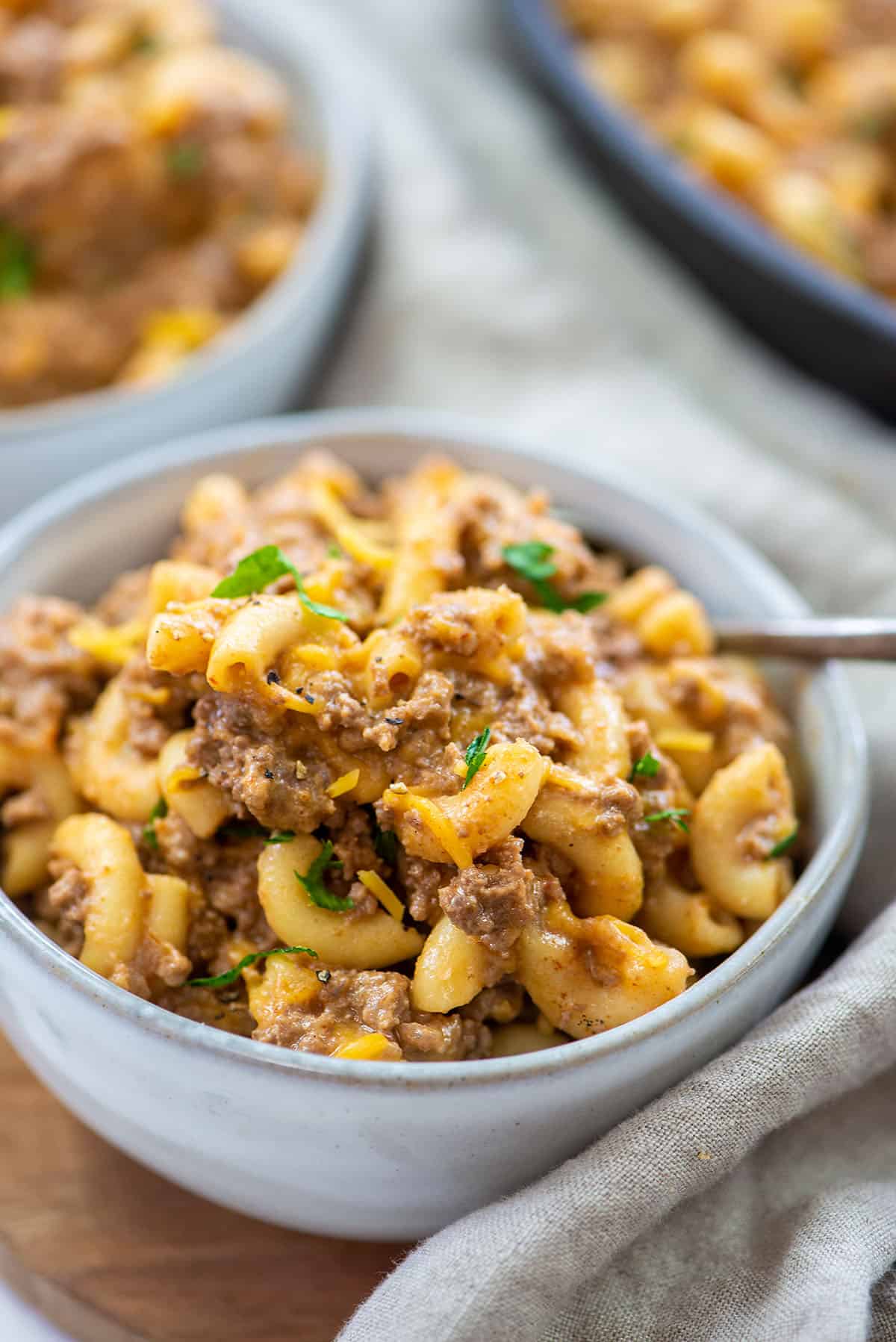 You know, my kids get awfully bossy around lunch time every day.
Everything is fine, they're doing school (we're homeschoolers), they're leaving me alone, I'm getting some work done. Life is good.
And then they both come barging into my office and, before they even say a word, I know what they want. Food. Lots of it. Right this minute.
I can only fend them off for so long before I'm forced to come up with some sort of lunch plan. We do my Dorito chicken casserole more than I should admit. My pizza rolls are a total staple. This chili mac recipe is always a hit. Of course, I always try to have some homemade brownies on hand for dessert.
Of course, this Homemade Hamburger Helper is high up there on their list of demands. 😉
This is a one pan meal, which means that there aren't a ton of dirty dishes to clean up and prep work is minimal. You're going to love this one!
Ingredient Notes:
Ground Beef – We prefer lean ground beef, but ground chicken or turkey would also work fine.
Macaroni – We like large elbows, but regular sized are also acceptable.
Tomato Paste – We buy this in a tube and keep it in the fridge. It's very handy and packs in loads of flavor.
Seasoning – You'll need a mix of salt, black pepper, sugar, paprika, onion powder, garlic powder, and mustard powder.
Liquids – Some hot water, two cups of milk, and a tablespoon of apple cider vinegar. The liquid will reduce as it cooks, leaving lots of flavor!
Cheese – A whole cup of shredded cheddar cheese will add just the right amount of cheesiness to this hamburger helper recipe.
Corn Starch – It'll help to thicken up the liquids and coat the macaroni and ground beef in all the cheesy goodness!
What Readers are Saying!
"Wow! Just made this and it's absolutely wonderful! It's nice to have a new ground beef recipe, and I'm glad I found yours! Thank you." – Carol B.
How to Make Hamburger Helper:
Hamburger: Brown the beef and drain off excess fat.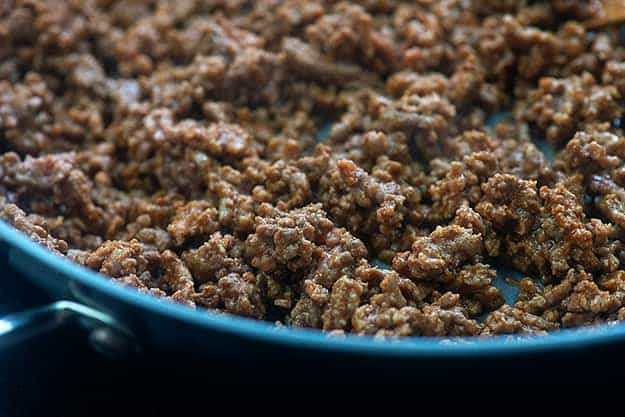 Macaroni: Add the hot water, milk, and vinegar to the pan with the macaroni.
Season: Add in the tomato paste and the seasoning. Stir to combine.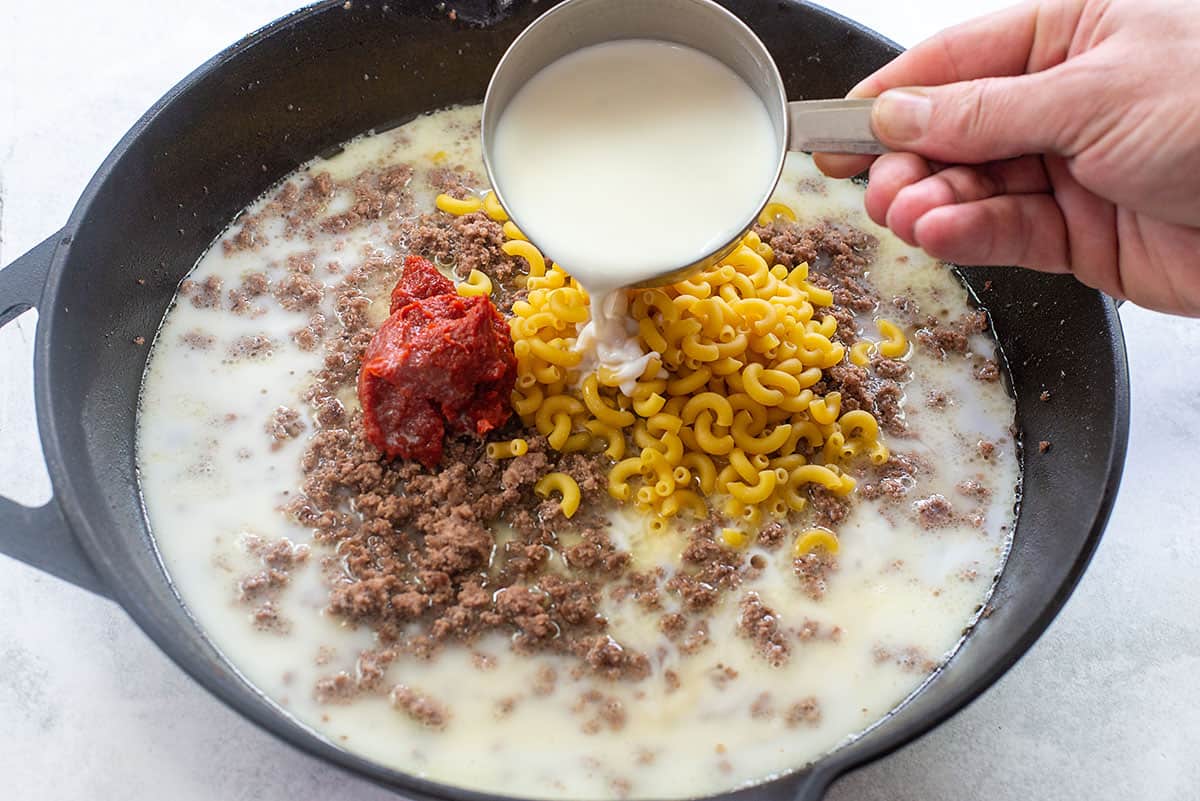 Cook: When the hamburger helper seasoning is mixed up well with the other ingredients you can bring the liquid to a boil and reduce the heat to a simmer. Cover and let it cook and the liquid reduce for 12 minutes.
Helpful Tip!
If it seems like the sauce is too thin or watery you may need to either cook it a little longer with the lid off. Also keep in mind that it will thicken up nicely when you add the cheese.
Cheese: Remove the skillet from the heat and then stir in the cheddar cheese. Cover the skillet back up after adding in the cheese and let it melt for a couple of minutes.
Serve: Finally after the cheese has melted, give it a stri and sprinkle with some fresh parsley and then dish it up.
Homemade Hamburger Helper Seasoning:
We've based this recipe off the Cheeseburger Macaroni flavor. It's the most popular Hamburger Helper flavor and the one we love most. Our seasoning blend does a nice job of mimicking those flavors.
FAQs:
How to store hamburger helper?
Keep it stored in the refrigerator in an airtight container for up to 5 days. Reheat in the microwave.
What is hamburger helper?
If you've never had the store bought boxed mix, you've been missing out! It's pretty much just a seasoned, cheesy mixture that you cook with macaroni and hamburger. This homemade hamburger helper is a great copycat recipe!
Is hamburger helper healthy?
While this is beef, pasta, and cheese, our version of Hamburger Helper does contain less sodium and preservatives than the boxed mix, so we consider this to be a healthier option.
MORE EASY WEEKNIGHT DINNER RECIPES!
Homemade Hamburger Helper
My whole family gets excited when they see this cheeseburger casserole recipe on the menu for the week! We love this version of homemade hamburger helper with all the flavors of a juicy cheeseburger.
Prep2 minutes
Cook20 minutes
Total22 minutes
Ingredients
1 pound lean ground beef
1 tablespoon tomato paste
3/4 cup dry macaroni
1 cup hot water
2 cups milk
1 tablespoon apple cider vinegar
1 tablespoon corn starch
2 teaspoons paprika
2 teaspoons onion powder
2 teaspoons garlic powder
1 teaspoon salt
1 teaspoon sugar
1 teaspoon mustard powder
1/2 teaspoon ground black pepper
1 cup shredded cheddar cheese
1 tablespoon minced parsley for garnish
Instructions
Brown ground beef in a 12 inch skillet over medium heat, crumbling it as it cooks. Drain grease.

Add all of the remaining ingredients to the skillet with the beef, except for the cheese. Stir well.

Bring to a boil, reduce to a simmer, and cover. Cook for 12 minutes.

Remove from the heat, stir in the cheddar cheese, and cover for 2 minutes.

Stir well, sprinkle with parsley, and serve.
Tips & Notes:
The sugar in this recipe doesn't make the dish sweet, but does help this taste more like the box mix. You can leave it out if you prefer, but we do recommend it. This recipe always works well with ground turkey or chicken.
Nutrition Information:
Calories: 447kcal (22%)| Carbohydrates: 27g (9%)| Protein: 38g (76%)| Fat: 20g (31%)| Saturated Fat: 10g (63%)| Polyunsaturated Fat: 1g| Monounsaturated Fat: 6g| Trans Fat: 1g| Cholesterol: 113mg (38%)| Sodium: 926mg (40%)| Potassium: 748mg (21%)| Fiber: 2g (8%)| Sugar: 8g (9%)| Vitamin A: 1120IU (22%)| Vitamin C: 3mg (4%)| Calcium: 379mg (38%)| Iron: 4mg (22%)
This post was updated in May 2022. Original photo below: