If you love the Olive Garden Alfredo sauce, you're going to need to learn my secrets for how to make homemade alfredo sauce. It's even better than the restaurant and unbelievably easy!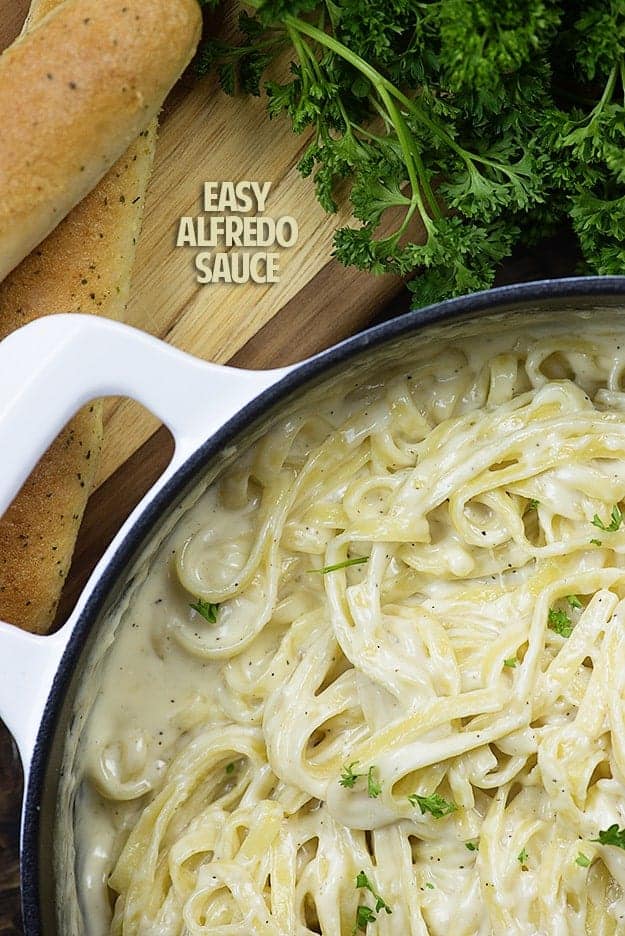 I was an adult the first time I ever had chicken Alfredo, which is really sad because that means I missed out on years of this creamy cheese sauce coating my pasta.
I'll never forget the first time I tried Alfredo sauce.
I was at Olive Garden with some friends and they ordered a side of Alfredo for dipping their breadsticks in. I was so hesitant to try it, but once I did, I was hooked.
I mean…can you blame me?
Homemade Alfredo sauce tastes like creamy, cheesy heaven. How could anyone not like this rich, flavorful sauce?
It wasn't long after I first tried it that I googled how to make Alfredo sauce at home.
Y'all. The recipe that I stumbled on was a nightmare of ingredients. Flour and cream cheese and a whole bunch of other garbage that just does not belong in authentic Alfredo sauce.
That recipe also required 30 minutes of non-stop stirring. I swore I'd never make that recipe again and I haven't!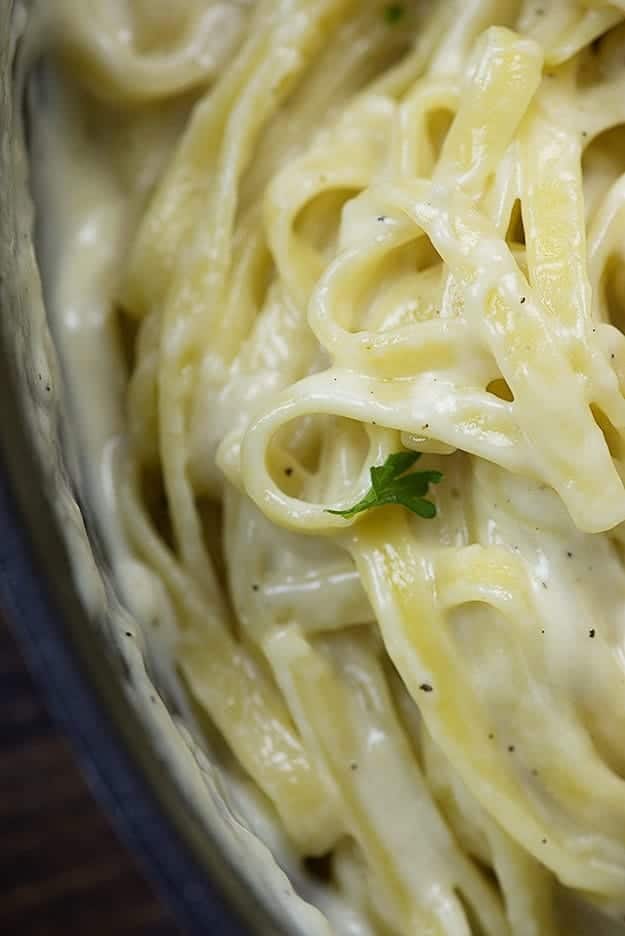 How To Make Alfredo Sauce:
This recipe for Alfredo sauce has just a few ingredients – nothing weird or strange or hard to find.
Aflredo sauce is made of just heavy cream, butter, and grated Parmesan cheese.
You'll just melt the butter and cream together, remove from the heat, and stir in the Parmesan cheese until it's thick and creamy.
You can stir in any additional seasonings you'd like. Nutmeg is nice. Salt is necessary. Black or white pepper is a must.
I do a garlic Alfredo sauce by adding in a teaspoon of minced garlic to the butter and cream while it's heating. The garlic flavor is perfect with this creamy sauce!
This is a gluten-free alfredo sauce, because flour does not belong here. It's unnecessary.
But how do you thicken your alfredo sauce without flour, you ask? Cheese, y'all. Just cheese.
I find this recipe to be perfectly thick on it's own, but you're welcome to stir in more Parmesan cheese if you'd prefer a thicker sauce.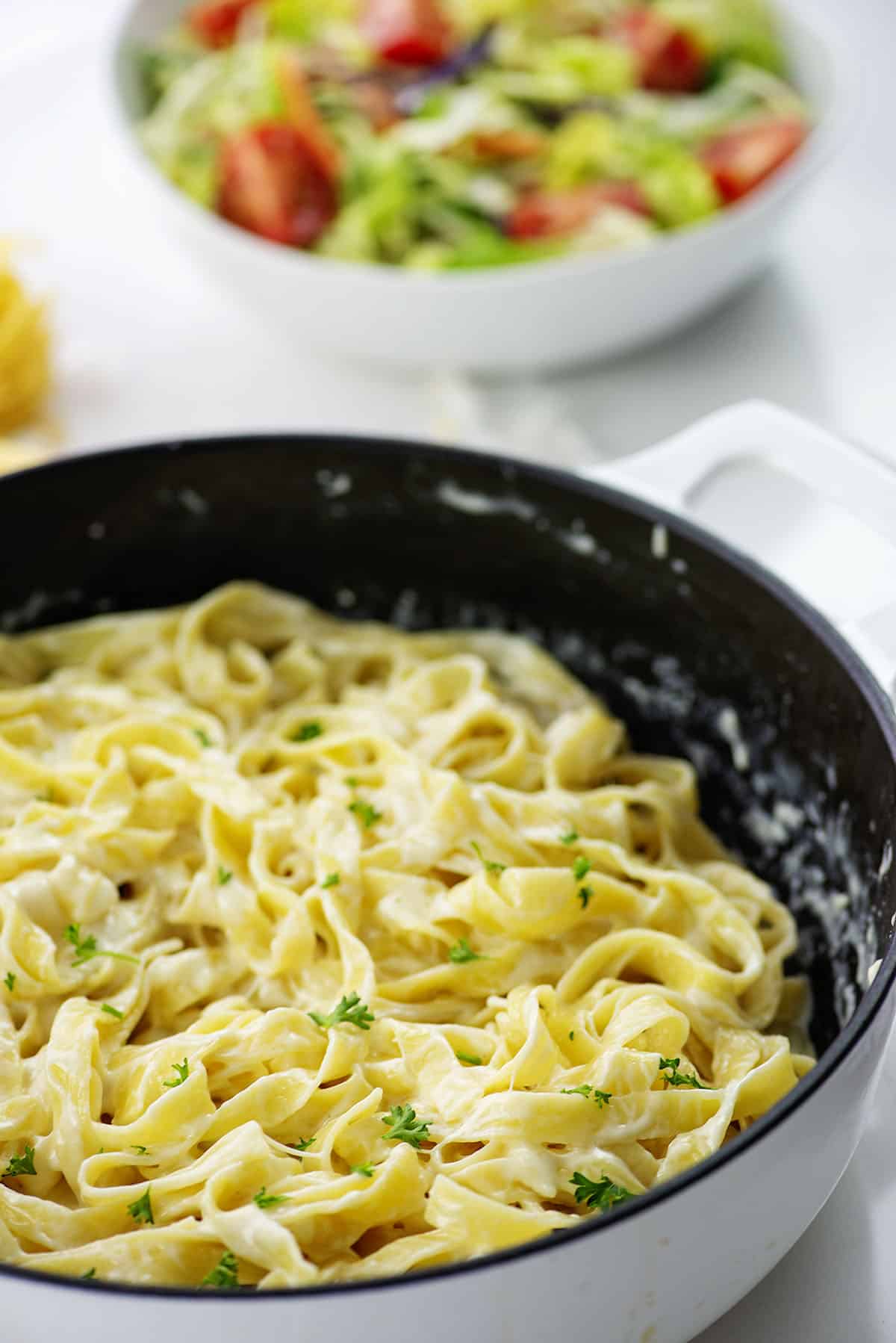 Keto Alfredo Sauce:
And, since this is flour-free, that makes this a keto Alfredo sauce, which is happy news for those of you following a low carb diet!
But, not to worry – I didn't do anything weird to make this low carb. It's just naturally low in carbs – that's the way it's supposed to be! 🙂
This easy alfredo sauce makes enough for one pound of pasta, if you like your pasta heavily dressed. We usually reserve a bit for dipping our breadsticks in or for drizzling over chicken.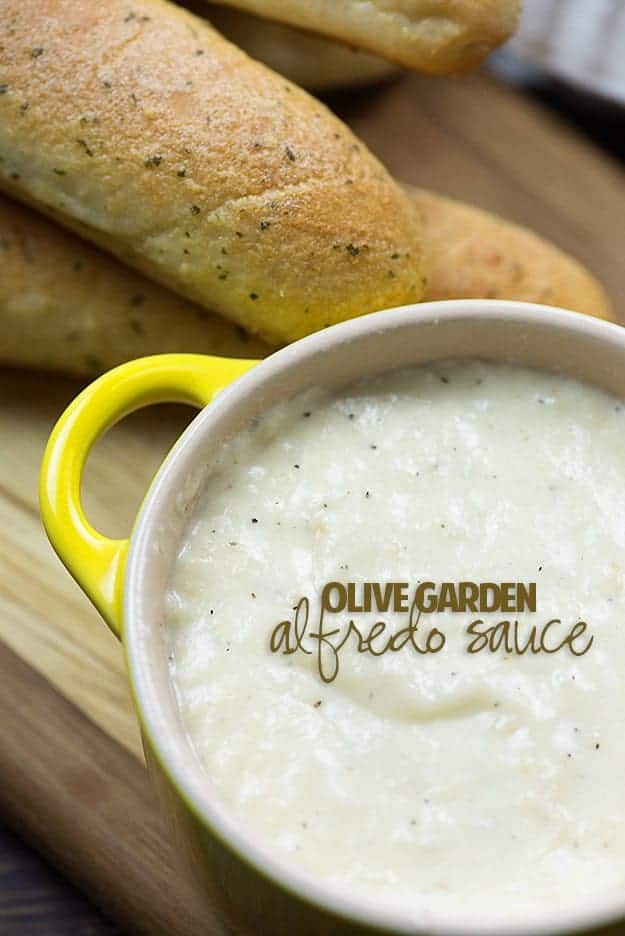 Unfortunately, Alfredo sauce really doesn't reheat very well. It tends to separate and get a bit oily. Luckily, it's a totally simple recipe to make and only takes a couple of minutes.
If you make this homemade Alfredo sauce, snap a pic and share it with me! Tag the picture #bunsinmyoven on Instagram so I'm sure to see it, or share it in my Facebook group!
Try my Cajun Alfredo and penne Alfredo too! My one pot spaghetti is always a hit too. 🙂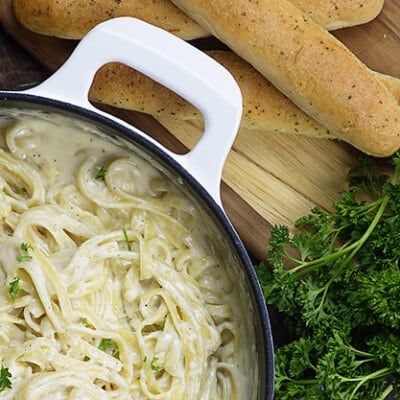 Homemade Alfredo Sauce
This easy Alfredo sauce calls for just a handful of ingredients and comes together in about 5 minutes. Toss fettucine in this sauce or drizzle over chicken.
Prep1 minute
Cook5 minutes
Total6 minutes
Ingredients
1 cup heavy whipping cream
1/2 cup butter
1 teaspoon minced garlic
2 cups shredded Parmesan cheese
1/2 teaspoon salt
1/2 teaspoon ground black pepper
Instructions
Add the cream and butter to a sauce pan over medium heat and bring to a simmer.

Whisk in the garlic and simmer for 30 seconds.

Turn off the heat and whisk in the Parmesan cheese, salt, and pepper.

Continue whisking until cheese has fully melted and sauce is smooth and creamy.

Serve immediately.
Tips & Notes:
This sauce makes enough to generously coat 1 pound of pasta. Do not use the powdery Parmesan cheese in this recipe.
Nutrition Information:
Calories: 312kcal (16%)| Carbohydrates: 2g (1%)| Protein: 10g (20%)| Fat: 29g (45%)| Saturated Fat: 18g (113%)| Cholesterol: 93mg (31%)| Sodium: 640mg (28%)| Potassium: 53mg (2%)| Vitamin A: 1010IU (20%)| Vitamin C: 0.3mg| Calcium: 300mg (30%)| Iron: 0.2mg (1%)