These HOMEMADE GRANOLA BARS are a total hit with my kids and I love that I know exactly what goes into them. They're easy to whip up and they always disappear quick. Soft, chewy, and loaded with goodness.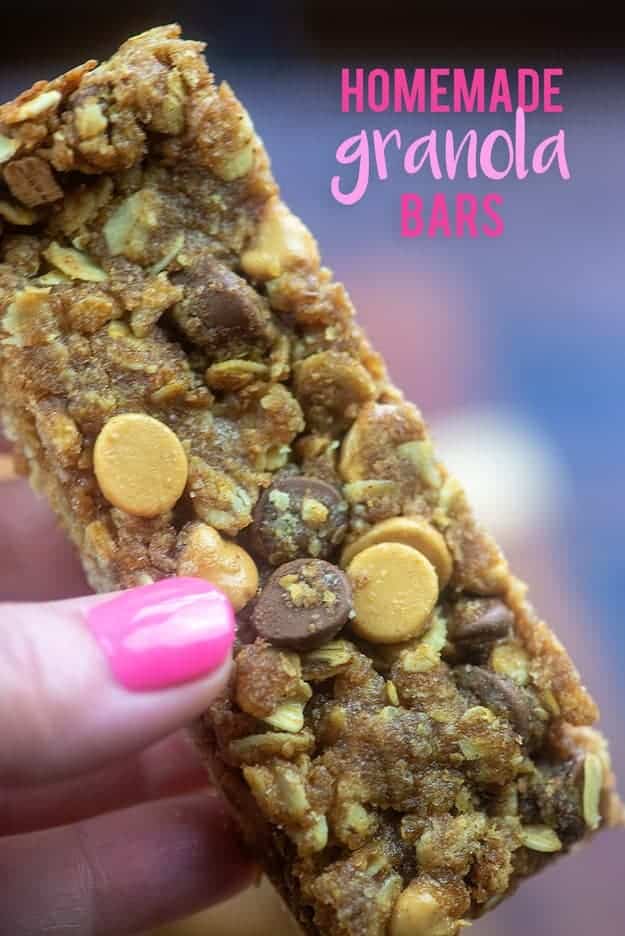 If you've been reading for any length of time, you know that my kiddos are homeschooled…well, my daughter is, but my son just started college. They wouldn't let me homeschool him through that. 😉
Anyway, lunch time and snack time are honestly my biggest challenge with homeschooling. Feeding these kids every dang meal every dang day gets overwhelming and tedious. No one wants to cook three full meals a day seven days a week.
We resort to cereal and sandwiches quite a big, so I like keeping healthier snacks and homemade treats on hand so I don't start feeling too guilty. 😉
This chewy granola bar recipe is one of those that we keep on hand quite a bit. Plus, it's easy enough for my daughter to make on her own. I love recipes like that!
How to make granola bars:
Gather up your ingredients. You'll need: rolled oats, whole wheat flour, wheat germ, brown sugar, chocolate chips, peanut butter chips, cinnamon, and salt to start.
Whisk all of that together.
Stir together some honey, avocado oil (or oil of your choice), vanilla, and an egg.
Add the wet mixture to the dry and stir well to combine.
Press your granola into a foil lined 9×13 baking dish and pop the mixture in the oven.
For chewy granola bars, bake for 15-20 minutes, until the edges are beginning to brown. For crunchy granola bars, bake for 25-30 minutes.
Let your granola bars cool for about 5 minutes before removing the foil from the pan and slicing your bars. Finish cooling completely before handling or your homemade granola bars will fall apart.
Healthy Granola Bars:
Not feeling the chocolate and peanut butter chips? You can totally swap in healthier options.
Add in some dried fruits or sunflower seeds in place of the chips.
Dried apples + slivered almonds would be great for fall. Sprinkle in a little nutmeg too!
Raisins and sunflower seeds add sweetness and crunch.
Dried cranberries + white chocolate chips would make a festive treat during the holiday season.
How to store homemade granola bars:
To store homemade granola bars, wrap them individually in plastic wrap or place them in individual plastic bags. As long as they are wrapped well, the granola bars should last 2-3 weeks at room temperature.
For longer storage, wrap granola bars individually with plastic wrap or in baggies and then place in a freezer proof zip top bag. Freeze for up to 6 months. Thaw on the counter the night before you'd like to eat the granola bars.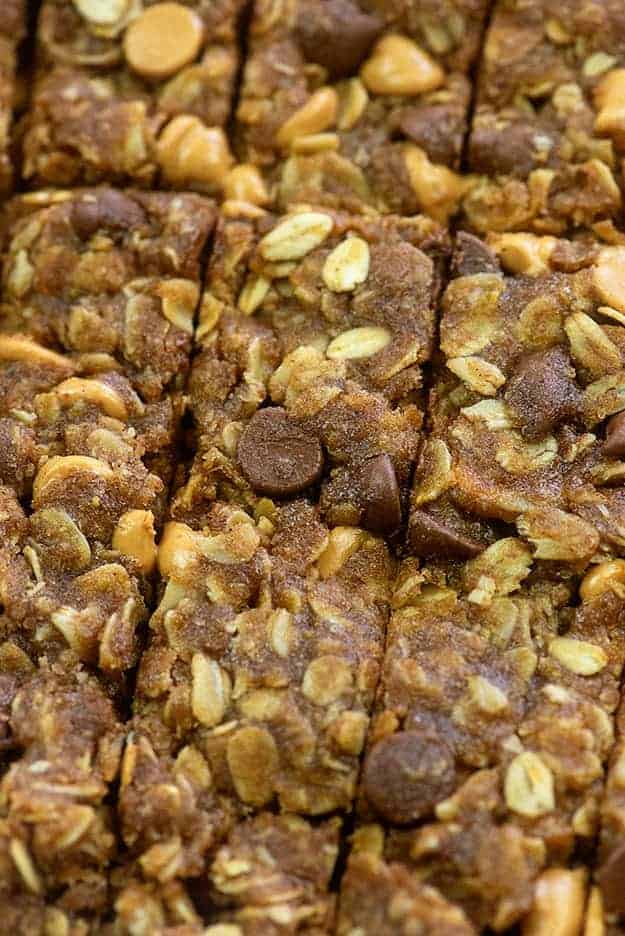 Whole wheat vs. white flour:
You may use whatever flour you have on hand. I always have both, so I grab the whole wheat for this granola bar recipe, but white flour works just as well.
More kid friendly snacks to try:
Butterfinger Fruit Dip: Pair with apples and you're in heaven.
Fruit Pizza: I skip the cookie base and use crescent roll dough instead.
Bold Chex Mix: This makes a big batch so it's nice to keep on hand!
Restaurant Style Salsa: Add chips and you've got my favorite snack!
Sweet Chex Mix: Made with cinnamon and sugar for a sweet treat!
Homemade Pizza Rolls: My kids make these for a quick lunch or a hearty snack.
Homemade Granola Bars Recipe:
Homemade Granola Bars
These chewy granola bars are studded with chocolate chips and peanut butter chips for a fun afternoon snack!
Prep10 minutes
Cook20 minutes
Total30 minutes
Ingredients
2 cups rolled oats
1 cup whole wheat flour
1/2 cup wheat germ
1/2 cup chocolate chips
1/2 cup peanut butter chips
1/4 cup brown sugar
1 teaspoon cinnamon
1/2 teaspoon salt
1 large egg beaten
1/2 cup honey
1/2 cup neutral oil
2 teaspoons vanilla extract
Instructions
Pre-heat oven to 350 degrees. Line a 9 x 13 baking pan with foil and spray with cooking spray.

Mix the dry ingredients in a large bowl. In a small bowl, mix together the wet ingredients. Pour the wet mixture into the dry and mix well.

Press the granola mixture into the prepared baking dish.

Bake for 15-20 minutes for chewy granola bars. The edges should just start to turn brown. For crunchier granola bars, bake until golden brown, about 25-30 minutes.

Cool in the pan for 5 minutes before removing from the pan with the foil. Cut into 18 bars.

Cool completely before handling the bars or they will fall apart.

Store individually wrapped and air-tight for 2-3 weeks at room temperature.
Nutrition Information:
Serving: 1bar| Calories: 220kcal (11%)| Carbohydrates: 29g (10%)| Protein: 4g (8%)| Fat: 10g (15%)| Saturated Fat: 3g (19%)| Cholesterol: 13mg (4%)| Sodium: 84mg (4%)| Potassium: 99mg (3%)| Fiber: 2g (8%)| Sugar: 16g (18%)| Vitamin A: 30IU (1%)| Vitamin C: 0.1mg| Calcium: 20mg (2%)| Iron: 1.1mg (6%)
This granola bar recipe was originally published April 2010. It was updated May 2019 with new photos and a video. Original photo below.