August 8, 2018
Granola Bars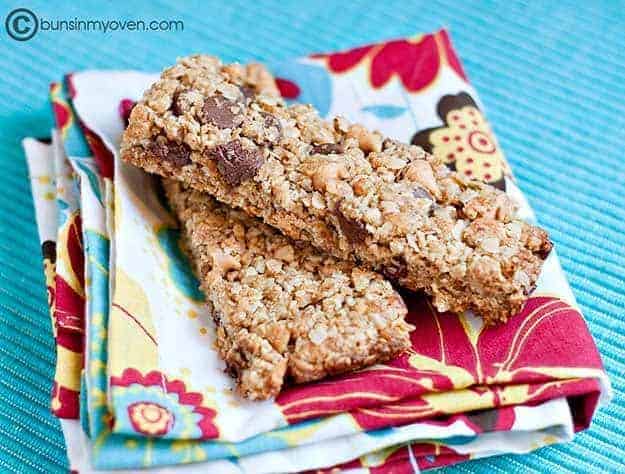 Grocery shopping can be such a pain in the butt some days, but I generally have a pretty good time when it comes time to pay for my goods. I know, the paying part is usually what people hate the most, but I stay occupied by judging the people in front of me and behind me in line. If they have a cart full of fresh veggies they win! If their cart is full of boxes of "food" filled with high fructose corn syrup and unpronounceable ingredients, they lose!
I've been trying hard to be a winner lately, but sometimes I have a bad day and I'm the one with the cart full of icky stuff.
On the days when my cart is full of fresh vegetables and fruits I proudly line those produce bags up on the conveyor belt and I sneak the few processed foods that I must buy in under the bags of fresh produce. Some days I have nowhere to hide the processed foods, so I just hang my head in shame and hope that no one else is playing my little game.
When my son used to go to public school (he's homeschooled now) I used to play a version of this little game in my head each morning as I packed his lunch. If his bag was full of good, healthy foods then I would imagine the teacher nodding her head in approval at my superior mothering skills. On the days when we were out of the good stuff and I had to pack him sugary fruit snacks, sugary juices, and sugary granola bars with a side of deep fried potato chips, I imagined her shaking her head and clucking her tongue at me in disappointment.
I have issues.
If you have similar issues, allow me to help you out. You can now put one less box of processed food in your grocery cart and you no longer have to be concerned about the school thinking you are an unfit parent. These homemade granola bars are perfect. They are full of good things like whole wheat flour, wheat germ, and oats. I made this batch with chocolate and peanut butter chips, but I also use raisins or other dried fruits on days when I feel like behaving like a good girl. Your kids will love these and you don't have to feel guilty about serving them.
Homemade Granola Bars
2 cups rolled oats
1 cup whole wheat flour
1/2 cup chocolate chips (can sub dried fruits for the chocolate and peanut butter chips)
1/2 cup peanut butter chips
1/2 cup brown sugar
1/2 cup wheat germ
1 tsp cinnamon
1/2 tsp salt
1 egg, beaten
1/2 cup honey
1/2 cup canola oil
2 tsp vanilla extract
Pre-heat oven to 350 degrees. Line a 9 x 13 baking pan with foil and spray with cooking spray.
Mix the dry ingredients in a large bowl. In a small bowl, mix together the wet ingredients. Pour the wet mixture into the dry and mix well (it's easiest to just use your hands). Pat the mixture out into the foil lined pan.
Bake for about 15-20 minutes if you want chewy granola bars or for 20-25 minutes for crunchy granola bars. When the edges start to brown, remove from the oven and let cool for a couple of minutes. Use a pizza roller to slice into bars. Finish cooling completely before removing from the pan or they will break apart.