These fresh and flavorful Chicken Caesar Wraps are the portable, handheld way to enjoy the healthy goodness of a Caesar salad! Made with our homemade Caesar dressing for max flavor, loaded with seasoned chicken and crispy croutons, and always a crowd pleaser!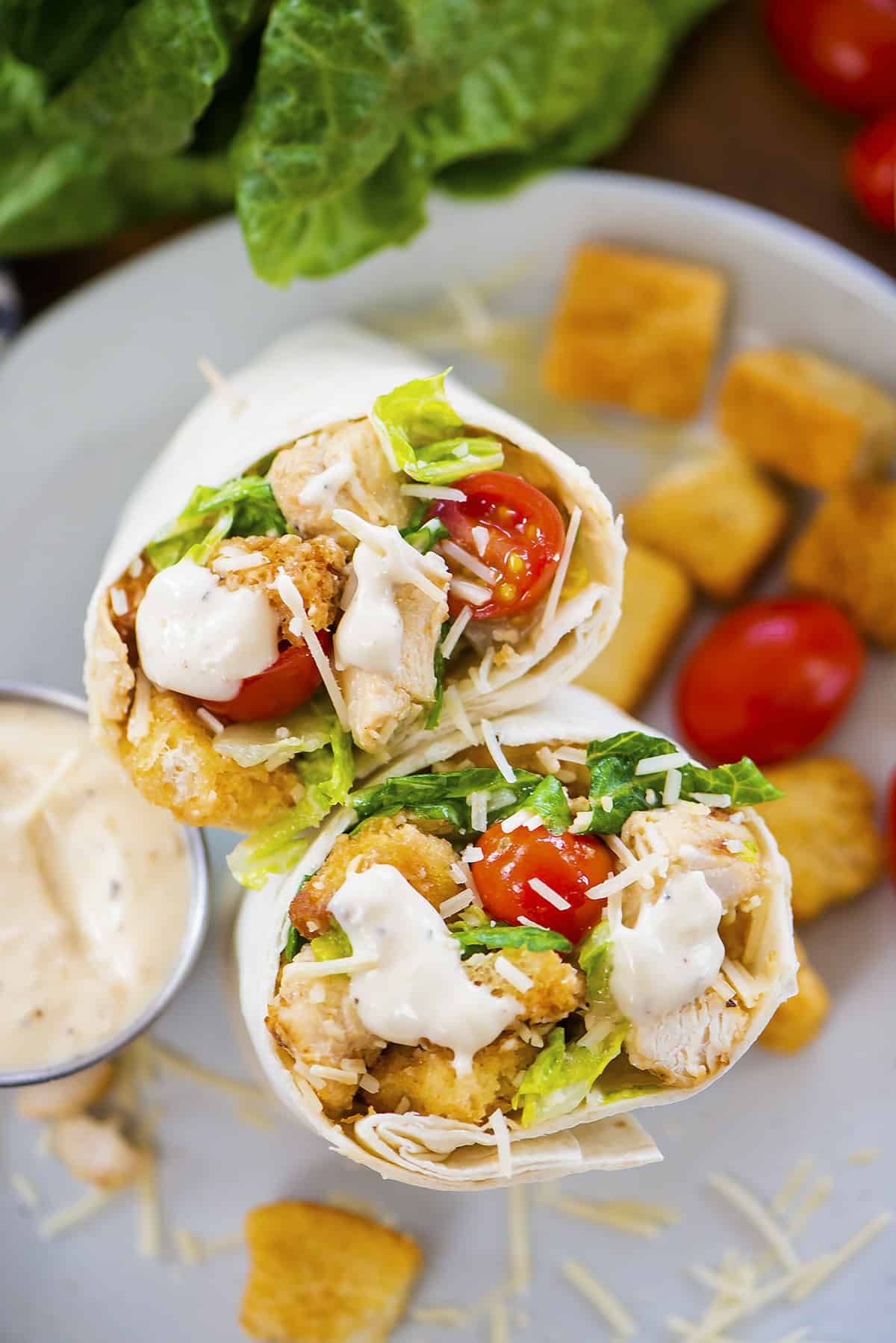 There are a couple of ways to get me excited about a salad and one of those ways is to add loads of crispy, crunchy croutons to the salad. I mean, obviously.
The other way is to turn the salad into a sandwich or a wrap so that I can eat with my hands!
These Chicken Caesar Wraps are basically the best dang caesar salad, loaded with chunks of tender chicken, plenty of croutons (seriously, we would never skimp here), and tossed in our keto Caesar dressing (which is just regular, homemade Caesar dressing – it's just happens to be naturally low carb).
We really think the homemade dressing takes these Caesar wraps over the top, but you can feel free to use a bottle of dressing if you're in a rush. I won't judge! 🙂
And, while traditional Caesar salad doesn't have tomatoes, we did add a few in our wraps. They just add the perfect little pop of flavor and color. We love them!
Love wraps? Try these hummus wraps too!
Ingredient Notes:
This post contains affiliate links. As an Amazon associate and member of other qualifying programs, I earn from qualifying purchases.
Romaine Hearts – Grab a knife and chop your romaine hearts into small pieces. We wash our lettuce with our salad spinner – makes it so easy!
Cooked & Chopped Chicken – You'll need pre-cooked and chopped chicken for these wraps. We marinate and grill chicken breasts (see below for more info!) to get the most flavor, but you could also use shredded chicken.
Cherry Tomatoes – These aren't usually found in Caesar salad, but we love the juicy pop of flavor and color that they add to these wraps. Leave them out if you're a traditionalist.
Parmesan – We like to load these chicken Caesar wraps with plenty of shredded Parmesan cheese! Shaved Parmesan would be tasty too.
Croutons – Try out some easy air fryer croutons! We love to use them for salad recipes and they'd go great in wraps too. Or feel free to use any store bought brand you like! Store bought just tends to be more crunchy than crisp and airy.
Caesar Dressing – Our homemade Caesar dressing recipe is fab, but you can also pick up your favorite brand of creamy Caesar dressing from the store!
Flour Tortillas – We're using large flour tortillas for these wraps. You can use whatever you like for a wrap.
What We Love About This Recipe:
If you've already got pre-cooked chicken this recipe is so simple! The wraps make a perfect quick snack.
You can make lots of these for parties or gatherings. The recipe doubles and triples so easily.
These are bursting with fresh, crisp ingredients and tossed in creamy dressing.
Turning your salad into a wrap makes it feel a little more substantial. Perfect for a quick dinner on a busy night!
It's so easy to customize these to suit your tastes! We went classic Caesar (plus tomatoes), but feel free to add any salad toppers you like.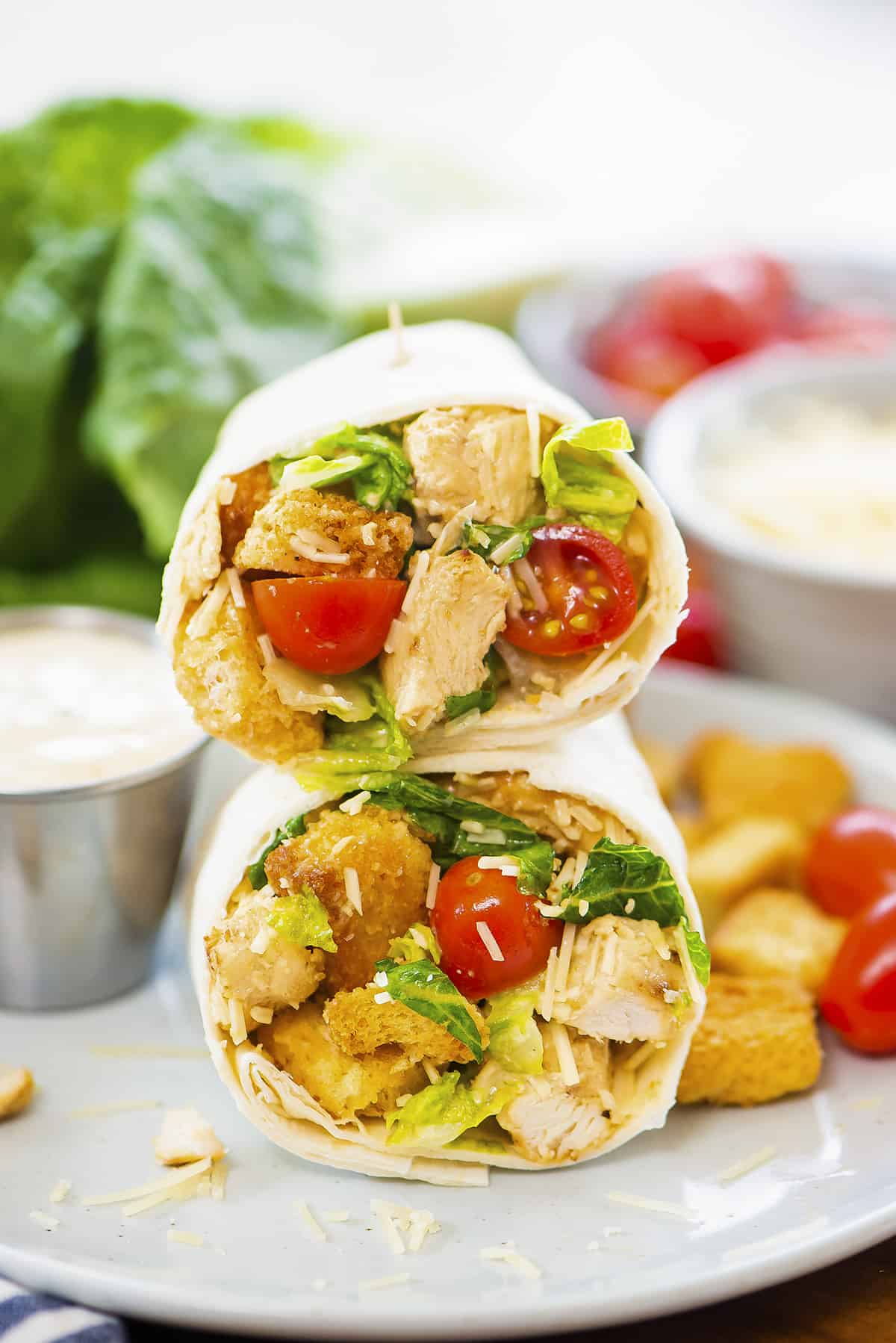 Marinade for Chicken:
You can use just about type of chicken you'd like in this. We prefer to use marinated and grilled chicken breast!
We're already using Caesar dressing in this recipe so we mixed it up with some of our favorite Dijon mustard. Use a 1/2 cup of dressing with 2 tablespoons of Dijon for each pound of chicken. Marinate for 2-4 hours and then grill.
If you have pre-cooked chicken that works too! Rotisserie chicken is another tasty and easy option. You could also use chicken thighs.
Want more crunch? Whip up a batch of frozen chicken strips in the air fryer and chop those into chunks.
How to Make Chicken Caesar Wraps:
Salad: To begin you'll prepare a salad from the chopped romaine hearts, chicken, cherry tomatoes, shredded Parmesan, and croutons. Add all that to a large bowl.
Dressing: Now for the Caesar dressing! Pour it over the salad ingredients and use some tongs to toss it all together to coat the salad in the dressing.
Tortillas: To soften up the tortillas, microwave them between two damp paper towels for 15 seconds. When ready, divide the chicken Caesar salad mixture evenly and place it into the center of each tortilla.
Finish: All that's left to finish assembling these chicken Caesar wraps is to fold in the sides of the tortilla and roll it up. Cut each one in half and use a toothpick to secure them if necessary.
We like to serve these wraps with some extra Caesar dressing for dipping or drizzling over each bite!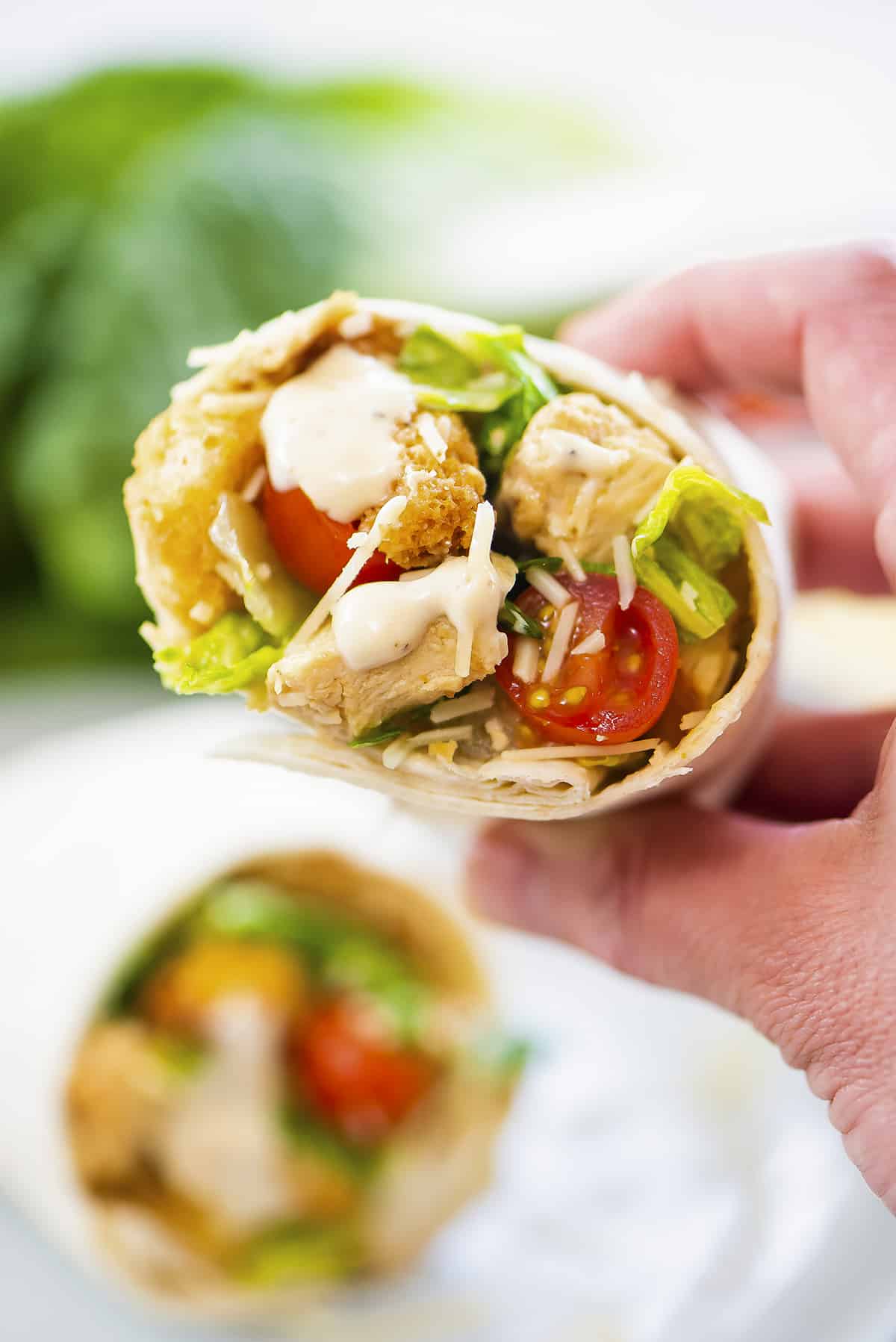 FAQ's:
What is a chicken Caesar wrap?
It's pretty much everything that you'd find in your standard chicken Caesar salad including the dressing all wrapped up in a flour tortilla!
Can you make these chicken wraps ahead of time?
Yes, you can, however they are best made fresh. These wraps are perfect for gatherings or parties. We recommend making these up to 2-4 hours in advance – the lettuce and croutons will start to go soggy after sitting in the fridge with the dressing.
MORE EASY CHICKEN RECIPES!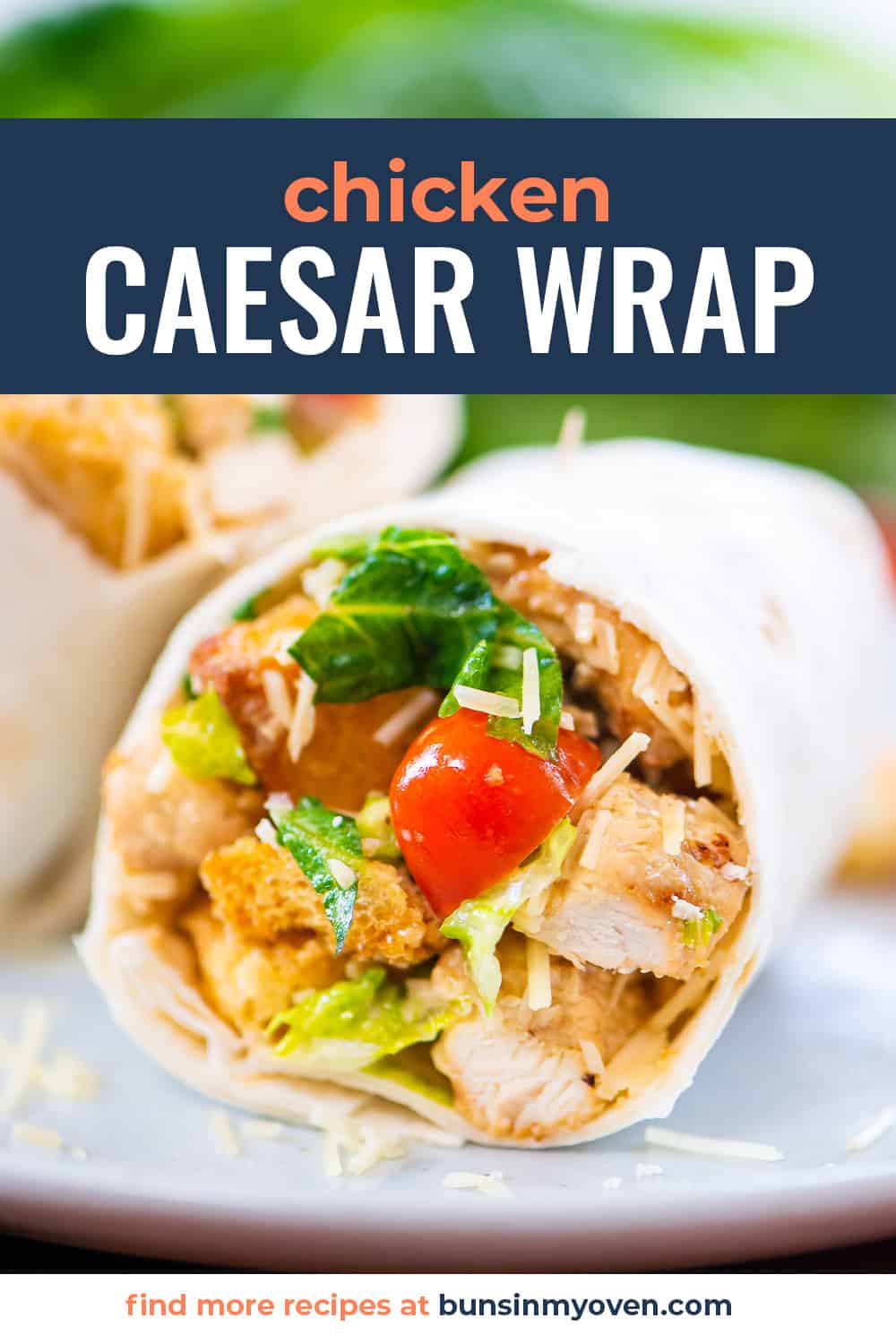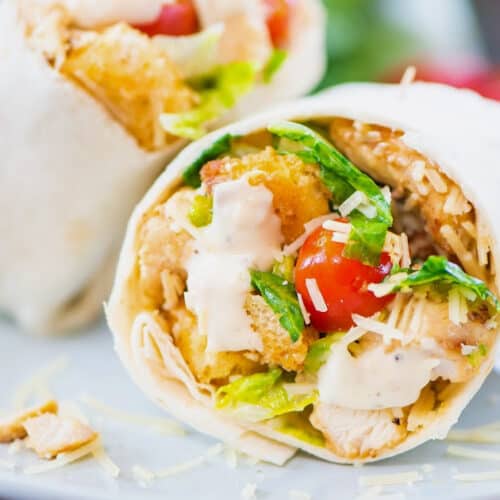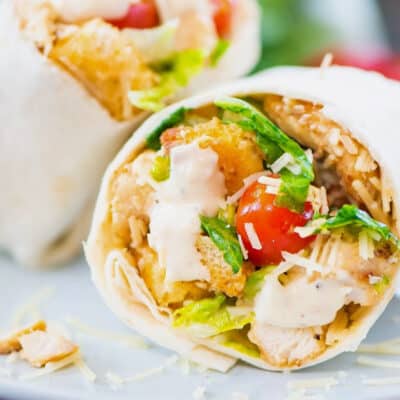 Chicken Caesar Wraps
These chicken Caesar wraps have everything we love about a Caesar salad (crisp romaine, crunchy croutons, shreds of Parmesan, and loads of dressing), all wrapped up in a tortilla for a portable, handheld meal!
Prep15 minutes
Total15 minutes
Ingredients
2 1/2 cups chopped romaine hearts
2 cups cooked, chopped chicken see notes
½ cup halved cherry tomatoes
½ cup shredded Parmesan
½ cup croutons
½ cup caesar dressing more for dipping
4 large flour tortillas
Instructions
Add the romaine, chicken, tomatoes, Parmesan, and croutons to a large bowl.

Drizzle with the dressing and use tongs to toss together to coat the salad in the dressing.

Microwave the tortillas between 2 damp paper towels for 15 seconds to soften them up and make them pliable.

Divide the salad mixture evenly between each tortilla, placing it in the center. Fold in the sides and roll up the tortilla to close.

Cut each tortilla in half, secure with toothpicks, if needed, and serve with extra caesar dressing on the side for dipping.
Tips & Notes:
We like to marinate chicken breasts in a combination of caesar dressing and dijon mustard and then grill it. It makes a tasty dinner and the leftovers are perfect in these wraps. We use ½ cup dressing + 2 tablespoons dijon per pound of chicken breasts.
Nutrition Information:
Serving: 1wrap| Calories: 442kcal (22%)| Carbohydrates: 21g (7%)| Protein: 30g (60%)| Fat: 26g (40%)| Saturated Fat: 6g (38%)| Polyunsaturated Fat: 11g| Monounsaturated Fat: 6g| Cholesterol: 79mg (26%)| Sodium: 860mg (37%)| Potassium: 393mg (11%)| Fiber: 2g (8%)| Sugar: 3g (3%)| Vitamin A: 4133IU (83%)| Vitamin C: 6mg (7%)| Calcium: 236mg (24%)| Iron: 3mg (17%)