September 13, 2018
Chicken and Dumplings
Southern chicken and dumplings is another name for the Cracker Barrel chicken and dumplings recipe.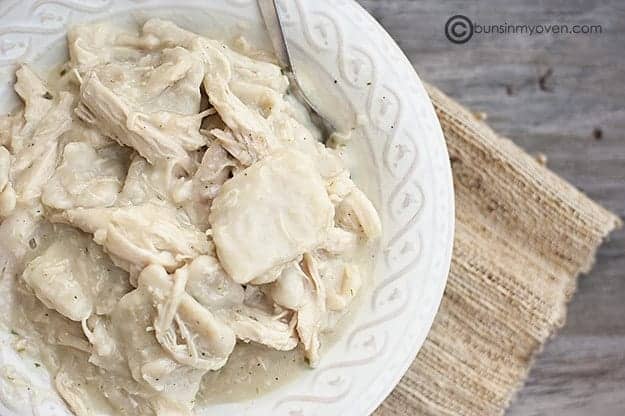 Pin It
I'm not sure what part of the country (or really even what country) it is you're from, but let me tell you something.
Chicken & Dumplings are not just for Southerners or country grandmas to cook.
They are pretty much the most delicious form of comfort food one could make. They are better than mashed potatoes and gravy. Better than macaroni and cheese. Yes, better than plain old chicken noodle soup. These things are like a magical mixture of crack and fairy dust. They're just as addicting, too.
In the past I've been known to use canned biscuit dough for my dumplings. No. No, no, no. This was wrong. And bad. I should be punished. Spank me?  There are plenty of good things to make with canned biscuit dough, especially sloppy joe pot pie.  But for these dumplings, made from scratch is the way to go.
From now on I promise to make my own dumplings from scratch, because let's face it, they are ridiculously easy and they blow the biscuit variety of dumplings right out of the water chicken stock.
Cracker Barrel chicken and dumplings recipe
For those of you with southern grandmas, you know what I'm talking about. If you aren't lucky enough to have a southern granny, you've maybe tasted this chicken and dumplings recipe at Cracker Barrel. And, if you are unfortunate enough to have never had chicken and dumplings like this, please make it your New Year's Resolution to give these a try.
Try my chicken gnocchi soup too! 🙂
This is my new favorite dinner, y'all. It's cheap (less than $8 for a family of four), doesn't require a lot of hands on time, and everyone in my house loved these chicken and dumplings. I served them with a big salad and a side of roasted broccoli. All hail the chicken and dumplings.
Chicken and Dumplings
Servings: 8 servings
Course: Main Course
Cuisine: American
Keyword: classic recipes, comfort food, easy dinner recipes
Calories: 477 kcal
Southern chicken and dumplings is another name for the Cracker Barrel chicken and dumplings recipe.

Ingredients
1 fryer chicken 4-5 lbs., neck and gizzards removed
1 large onion peeled and cut in half
3 carrots peeled and cut into large pieces
3 stalks celery cut into large pieces
Salt and pepper to taste
3 cups flour
3/4 teaspoon baking powder
3/4 teaspoon salt
4 1/2 tablespoons shortening
1 cup milk
Instructions
Place the chicken, onion, carrots, celery, and a teaspoon of salt and pepper in a large stock pot and add enough water to cover the chicken.

Bring to a boil and reduce the heat to a simmer. Simmer for 1 to 1 1/2 hours.

About 45 minutes before the chicken is done boiling, prepare the dumplings by stirring together the flour, baking powder, and salt.

Cut in the shortening using a pastry cutter, two knives, or your fingers.

Slowly stir in the milk, 1/4 cup at a time, just until a shaggy dough forms. You may not need the full cup of milk. Do not over mix the dough.

Dump the dough out onto a floured surface and roll out to 1/4 inch thick. Use a pizza cutter to cut in long 1-inch wide strips. Cut the dough the other direction into 1-inch squares.

Place dumplings on a parchment lined baking sheet to dry for 30 minutes.

When the chicken is finished cooking (it should be falling off the bone) remove it to a large dish and, when cool enough to handle (or use forks), strip the meat from the bones and into small chunks.

Pour the broth from the stock pot through a fine mesh sieve into a large bowl. Discard the vegetables. Return 6 cups of broth to the stock pot and refrigerate or freeze the remaining stock for another use.

Bring the stock to a simmer and add the dumplings, one at a time so they do not stick together. Cook for 6-7 minutes.

Add the chicken back to the stock pot and stir to combine. Continue cooking for 20 minutes. The broth should thicken.

Add more salt and pepper as needed and dig in.
Nutrition Facts
Chicken and Dumplings
Amount Per Serving
Calories 477 Calories from Fat 207
% Daily Value*
Fat 23g35%
Saturated Fat 6g38%
Cholesterol 74mg25%
Sodium 327mg14%
Potassium 447mg13%
Carbohydrates 41g14%
Fiber 2g8%
Sugar 3g3%
Protein 24g48%
Vitamin A 4070IU81%
Vitamin C 4.7mg6%
Calcium 86mg9%
Iron 3.2mg18%
* Percent Daily Values are based on a 2000 calorie diet.
Nutrition Disclaimer: All information presented on this site is intended for informational purposes only. I am not a certified nutritionist and any nutritional information shared on bunsinmyoven.com should only be used as a general guideline.
recipe from Back to the Cutting Board