Wait until you try a bite of this banana cake recipe! It's loaded with banana flavor and has the best extra thick layer of streusel on top!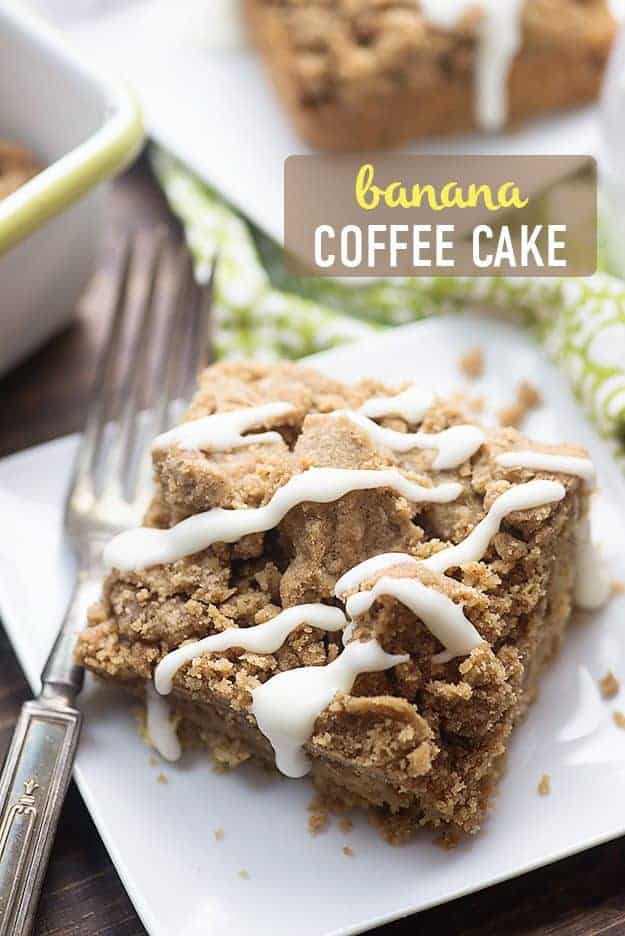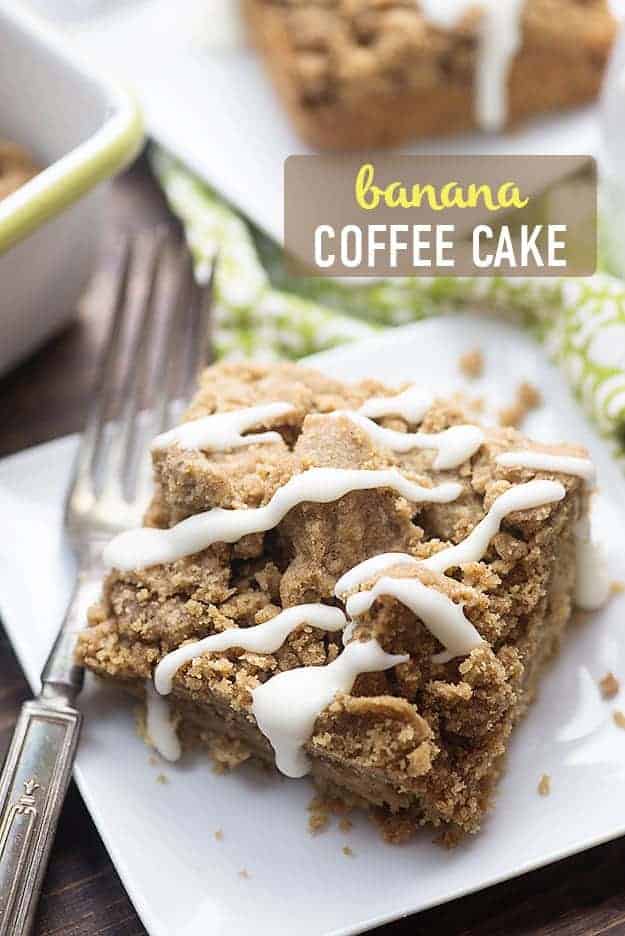 I feel like I'm about to break some serious rules right now.
I'm sharing a banana recipe. In October.
I mean, you guys. This is PUMPKIN EVERYTHING season and here I sit. With a bunch of bananas.

So, if you really can't handle this, go ahead and skip on over to my pumpkin coffee cake. It's fine. I get it. That cake is one of the best, so I won't complain.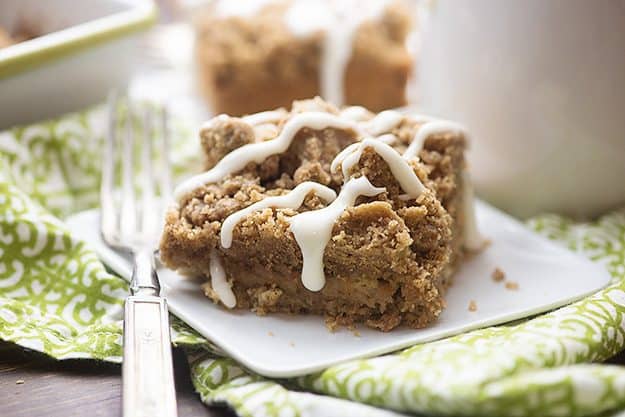 Buttttt, if you're just the tiniest bit tired of pumpkin and are maybe looking for something a little different, but still totally perfect for this time of year – I present you with this banana cake recipe.
This banana coffee cake has a nice thick layer of streusel on top, because who cares if there is cake, just give me the streusel. 😉
My kids fought me for this one, you guys. I had to double wrap it in plastic wrap and threaten them with bodily harm or they totally would have ate the whole cake in one sitting. Then there was me…trying to sneak a piece of streusel off the top every time I went into the kitchen. Which was nearly impossible because I had double wrapped the cake to keep myself from doing just that very thing. I know me so well sometimes. Dang it.
This banana cake recipe packs in as many bananas as possible!
Anyway! We all need an easy coffee cake recipe in our lives and this banana coffee cake is it! Trust me on that.
Please note that this is definitely not a light and airy sort of cake. This is more dense because I packed in as much banana as possible. If you're having banana cake, then have some dang banana cake. 😉
I topped this off with a super simple vanilla glaze, but it isn't totally necessary. It makes things pretty and fancy, but the cake is just as delicious without, so you do you.
For more banana goodness, check out my AMAZING banana bread recipe, banana ice cream, and my banana pound cake! They are to die for and totally worthy of waiting on your bananas to turn brown.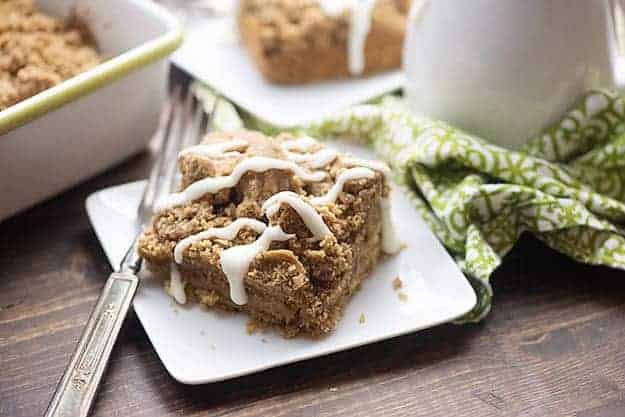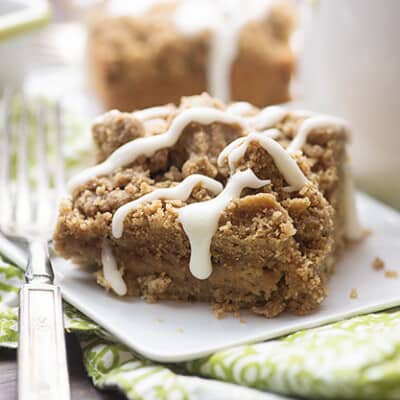 Banana Coffee Cake
Wait until you try a bite of this banana cake recipe! It's loaded with banana flavor and has the best extra thick layer of streusel on top!

Prep15 minutes

Cook25 minutes

Total35 minutes
Ingredients
For the streusel:
1/2 cup brown sugar
1/4 cup granulated sugar
1/4 teaspoon salt
1 tablespoons cinnamon
1/2 cup butter melted
1 1/4 cups flour
For the cake:
1 1/2 cups all-purpose flour
3/4 teaspoons baking soda
3/4 teaspoons baking powder
2 teaspoons cinnamon
1/4 teaspoon salt
1/2 cup brown sugar
1/4 cup granulated sugar
1 /2 cup butter, room temperature 1 stick
1 large egg
3 overripe bananas about 12 ounces
Powdered sugar for topping
Instructions
Preheat oven to 350 degrees. Spray a 9x9 baking dish with non-stick spray.

To prepare the streusel, stir together the sugars, cinnamon, salt, and melted butter in a medium mixing bowl until well combined.

Stir in the flour. Set aside while you prepare the cake batter.

Add the flour, baking soda, baking powder, cinnamon, and salt to a large mixing bowl and whisk to combine.

Add the sugars and butter to a medium mixing bowl and beat with a mixer until light and fluffy.

Mash the bananas until smooth with a fork. Add to the sugar and butter along with the egg and stir until just combined.

Add the banana mixture to the flour mixture and stir until just combined.

Spread cake batter into prepared pan.

Take the streusel topping in your hands and press together to form large crumbs. Top the cake with the streusel. It will seem like too much, but use it all for the best streusel experience.

Bake for 25 minutes or until a tester inserted in the middle comes out mostly clean.

Cool completely.

Sprinkle the top with powdered sugar before serving.
Nutrition Information:
Calories: 308kcal (15%)| Carbohydrates: 55g (18%)| Protein: 3g (6%)| Fat: 8g (12%)| Saturated Fat: 5g (31%)| Cholesterol: 35mg (12%)| Sodium: 245mg (11%)| Potassium: 191mg (5%)| Fiber: 2g (8%)| Sugar: 29g (32%)| Vitamin A: 280IU (6%)| Vitamin C: 2.6mg (3%)| Calcium: 46mg (5%)| Iron: 1.7mg (9%)