September 7, 2017
Fried Cabbage with Sausage
I can't wait for you guys to give this fried cabbage recipe a try! It's such a great way to get dinner on the table quickly and, if you've ever wondered how to fry cabbage, you'll see just easy it is!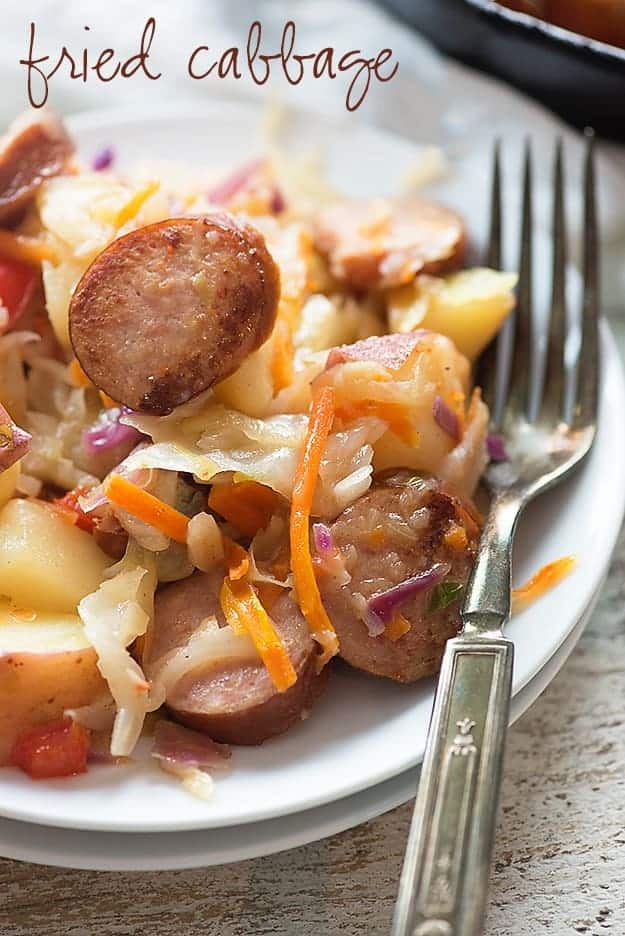 Lately I've been having this weird love affair with smoked sausage. I think I mentioned that when I shared this sun-dried tomato pasta and this pressure cooker mac and cheese. Both of those have smoked sausage in them, which makes the recipes super quick and easy for busy weeknights!
This fried cabbage is totally easy to throw together and it cooks quickly too!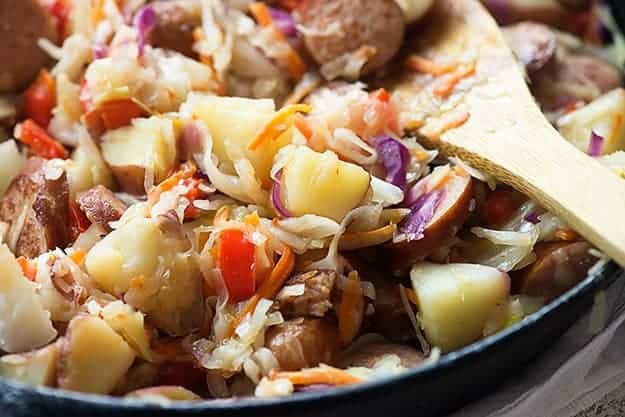 My youngest, like a lot of kids, is pretty picky about her vegetables. The kid doesn't like too many of them. I mean, I can get her to eat zucchini pretty easily. Lightly steamed broccoli is always met with a sigh, but that's a total improvement of the usual dramatics of basically every other vegetable in the world. So. That's my life.
She does, however, eat this fried cabbage and that's something of a miracle. She doesn't generally like cabbage, but it's pretty hard to resist this one. Bites of juicy sausage, tender potatoes, and this tangy sauce that's poured over the whole thing.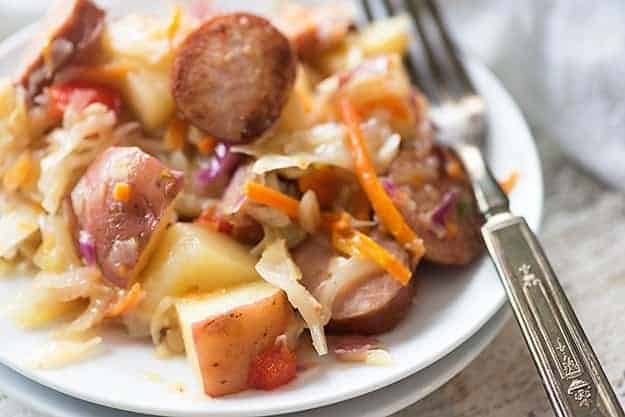 You wanted to know how to make fried cabbage? Now you know. This way is divine. 🙂
I hope you guys give this quick recipe a try and let me know what you think! Do you have a favorite way to eat cabbage? I'd love to experiment with it a bit more! I know y'all loved my eggroll in a bowl, so I'm guessing you're fans of cabbage. 🙂
Give this cabbage and sausage a try and let me know how you like it!
Fried Cabbage With Sausage
Ingredients:
1 tablespoon olive oil
1 package (14 ounces) smoked sausage, cut into thin slices
3 small red potatoes, cut into 1/2-inch cubes
1/2 cup diced sweet onion
1/2 cup diced bell pepper, any color
1/2 cup chicken broth
1 package (14 ounces) coleslaw mix
1/4 cup apple cider vinegar
1 tablespoon honey
1 teaspoon Dijon mustard
2 teaspoons cornstarch
Directions:
Heat oil in a large deep skillet over medium heat. Add the sausage and cook until lightly browned on one side.
Add the potatoes, onions, and peppers and continue cooking, stirring often, until onions begin to soften, about 3 minutes.
Add chicken stock and bring to a boil. Reduce to a simmer, cover, and cook for 8 minutes or until potatoes are almost fork tender.
Add coleslaw mix and stir well. Cover and cook for 5 minutes more or until cabbage has wilted and potatoes are cooked through.
Add the vinegar, honey, mustard, and cornstarch to a small bowl and whisk well to combine.
Pour vinegar mixture over the cabbage and stir to combine. Bring to a boil and cook, stirring often, for 2 more minutes.
Serve immediately.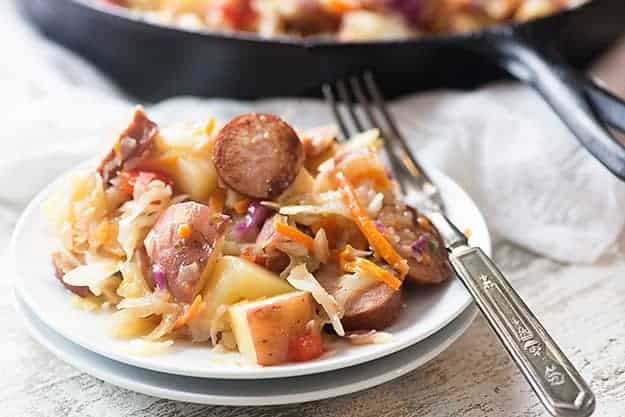 Share this: