Haluski is a traditional Polish dish made of fried cabbage and egg noodles. It bakes up into a dish of buttery comfort food.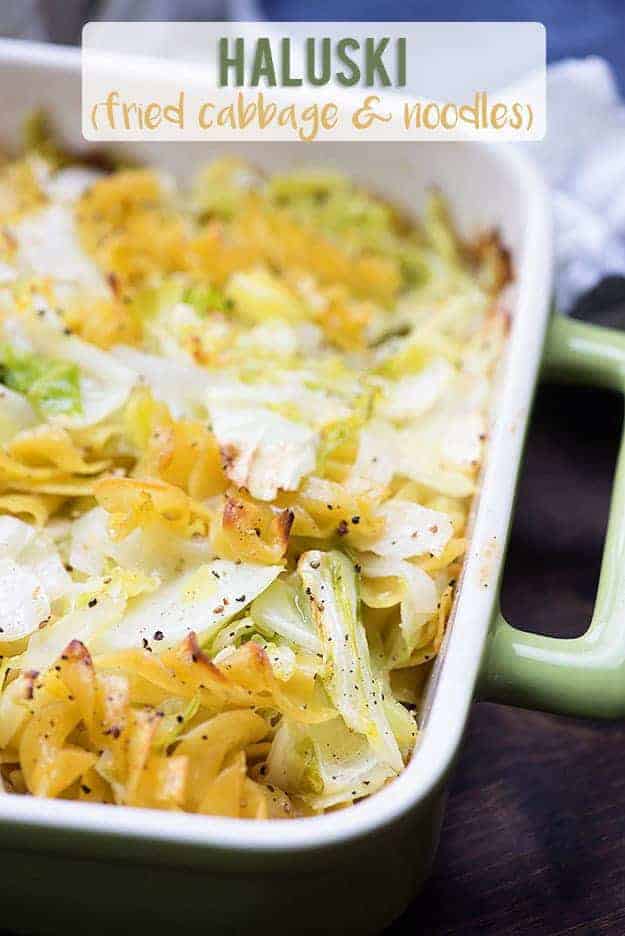 My children, like most, are straight up obsessed with noodles.
I swear, they would eat pasta every night of the week if I weren't around to veto their dinner ideas.
Don't get me wrong, though. We eat plenty of pasta. I don't veto them ALL the time. I'm only human and noodles are life.
Buttered noodles (an Amish recipe, so you know it's good) are a favorite side in this house.
Crockpot beef and noodles are always a hit with my kiddos, too.
And, obviously, my one pot spaghetti recipe is to die for.

But this haluski recipe? Oh yeah. It's a completely new twist on pasta for us and we all LOVE it!
You don't have to feel quite so guilty eating it, because there is cabbage mixed in. Yeah, it's all buttery and delicious, but it's not just straight carbs, so that makes it okay in mind. Right??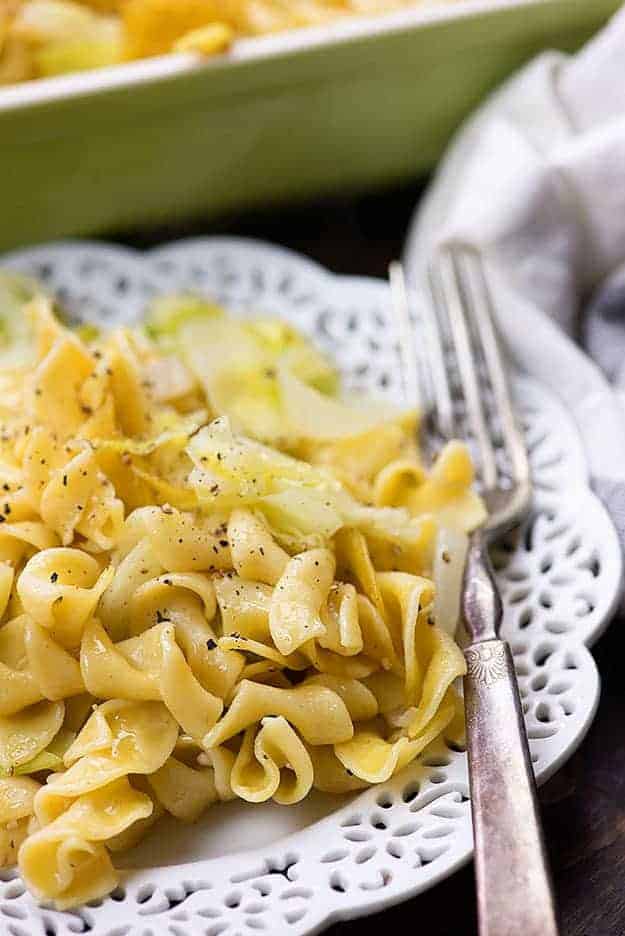 How to make haluski:
First up, you're going to want to boil some egg noodles. I've just used the traditional curly looking egg noodles that you buy in the dried pasta aisle. No need to get fancy here.
Next, you'll chop up some cabbage. I like to keep the cabbage around the same size as the noodle, so that everything combines together nicely.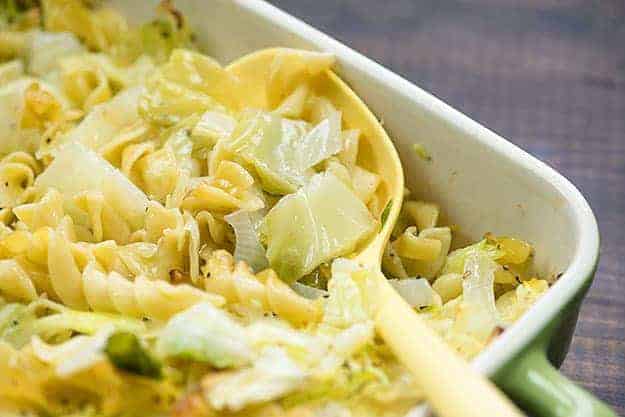 Add some sliced onions to a pot with melted butter and cook them until they're nice and soft. Stir in a little garlic for good measure.
Add a little more butter to the pot along with the cabbage. Cook that up until it's nice and soft.
Stir the cabbage and onion mixture into the cooked egg noodles and season. I like quite a bit of salt and pepper on mine.
Spread everything into a large baking dish and then cook at 300 degrees for about 30 minutes.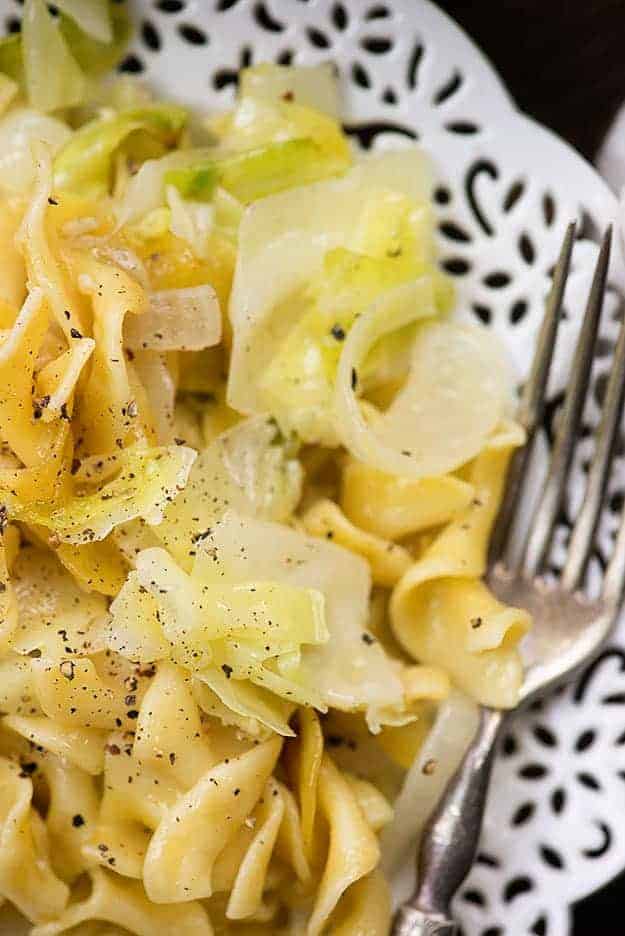 This fried cabbage and noodles recipe is such a simple dish, but for some reason it just works. I don't generally think of cabbage when I think of comfort food, but it's all so buttery and tasty and warm and just downright good. I bet you'll love it!
Fry up some keilbasa to serve with this and you've got a great easy meal! It also goes great with ham.
Be sure to use a large pot when cooking your onions and cabbage. There's a lot of it and, while it cooks down nicely, it starts out as quite a lot. I used my 5 quart dutch oven for this recipe. (That's an affiliate link.)
Fried cabbage and egg noodles recipe video: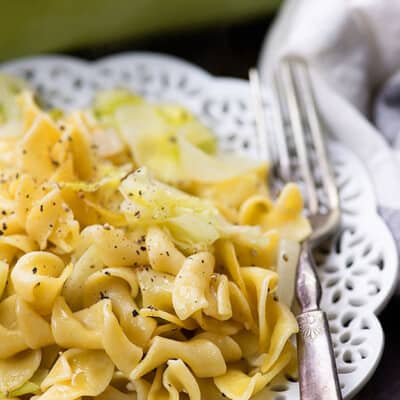 Haluski
Haluski is a traditional Polish dish made of fried cabbage and noodles. It's comfort food at it's finest!
Prep15 minutes
Cook45 minutes
Total1 hour
Ingredients
8 ounces wide egg noodles
1 large sweet onion
3/4 cup butter divided
1 teaspoon minced garlic
1 large head cabbage
1 teaspoon salt
1 teaspoon freshly ground pepper
Instructions
Preheat oven to 300 degrees.

Bring a large pot of salted water to a boil and cook egg noodles according to package directions until al dente. Drain noodles and set aside.

Add 1/2 cup of butter to a large dutch oven or deep pot over medium heat and cook until melted. Slice the onion and add to the butter. Cook, stirring occasionally, until onions are translucent, about 5-10 minutes.

Add the remaining 1/4 cup of butter to the pot and melt.

Chop the cabbage into bite-sized pieces and add to the pot.

Cook, stirring often, for 5-10 minutes or until cabbage has softened. Add the garlic and cook for 30 seconds more.

Stir the cooked egg noodles into the cabbage mixture. Season well with salt and pepper.

Transfer to a 9x13 buttered baking dish and bake at 300 degrees for 30 minutes or until the top is golden brown.
Nutrition Information:
Calories: 301kcal (15%)| Carbohydrates: 29g (10%)| Protein: 6g (12%)| Fat: 18g (28%)| Saturated Fat: 11g (69%)| Cholesterol: 69mg (23%)| Sodium: 476mg (21%)| Potassium: 339mg (10%)| Fiber: 4g (17%)| Sugar: 5g (6%)| Vitamin A: 700IU (14%)| Vitamin C: 57.2mg (69%)| Calcium: 77mg (8%)| Iron: 1.3mg (7%)