Our Dutch oven corned beef and cabbage is the perfect way to celebrate both New Year's Day and St. Patrick's Day! This dish is fairly simple to make and is always a crowd pleaser!
I've always associated corned beef and cabbage with Ireland, but did you know that it's not actually a traditional Irish dish at all? It originated in America by Irish immigrants! So, Irish, but also American! Crazy, right?
Either way, corned beef and cabbage is a must for St. Patrick's Day here in America and this version is so simple.
We're simmering our corned beef and cabbage in a Dutch oven until the meat is tender and the cabbage is soft and then we dig in. We also toss potatoes and carrots in the pot.
Obviously, this Irish soda bread is a must to serve alongside it!
And for dessert, our chocolate mint cookies are a good choice!
Ingredient Notes:
Corned Beef – You can find corned beef brisket at most grocery stores, and they usually will include a packet of seasoning with it, which you'll definitely want to make use of!
Veggies – This corned beef and cabbage recipe also includes Yukon Gold potatoes and some carrots! And of course, you'll need a head of cabbage.
Beer – This is an optional ingredient. It's not completely traditional either, but if you want to keep the Irish theme going use some Guinness or Irish Stout! It'll make for a flavorful rich sauce that the corned beef and veggies will simmer in. Water or broth may be used in place of beer, if preferred.
What Readers are Saying!
"Both my boys loved the corned beef and cabbage. Thank you for the recipe Karly!" – Maddy
How to Make Corned Beef and Cabbage:
Beef: We're going to start by adding a corned beef to a Dutch oven along with some water and beer. The beer is completely optional and probably not super traditional, but it's how we like it! Replace the beer with water if that's your style. Add the spice packet and let the corned beef simmer for a few hours.
This heavy duty Dutch oven is made with enameled cast iron in classic white. It's held up to years of abuse in my home and still looks brand new. Plus, it's a lot more economical than some of the more well known brands!
Veggies: Add some carrots and potatoes to the pot and let those cook until tender while you chop up the cabbage into small pieces. Add those in and use a spoon to submerge the cabbage in the liquid to cook.
Serve: Once the vegetables are cooked through, your Dutch oven corned beef and cabbage is ready to serve!
Slice the beef across the grain and place on a serving platter with the vegetables.
Such a simple recipe and it's perfect for celebrating St. Patrick's Day!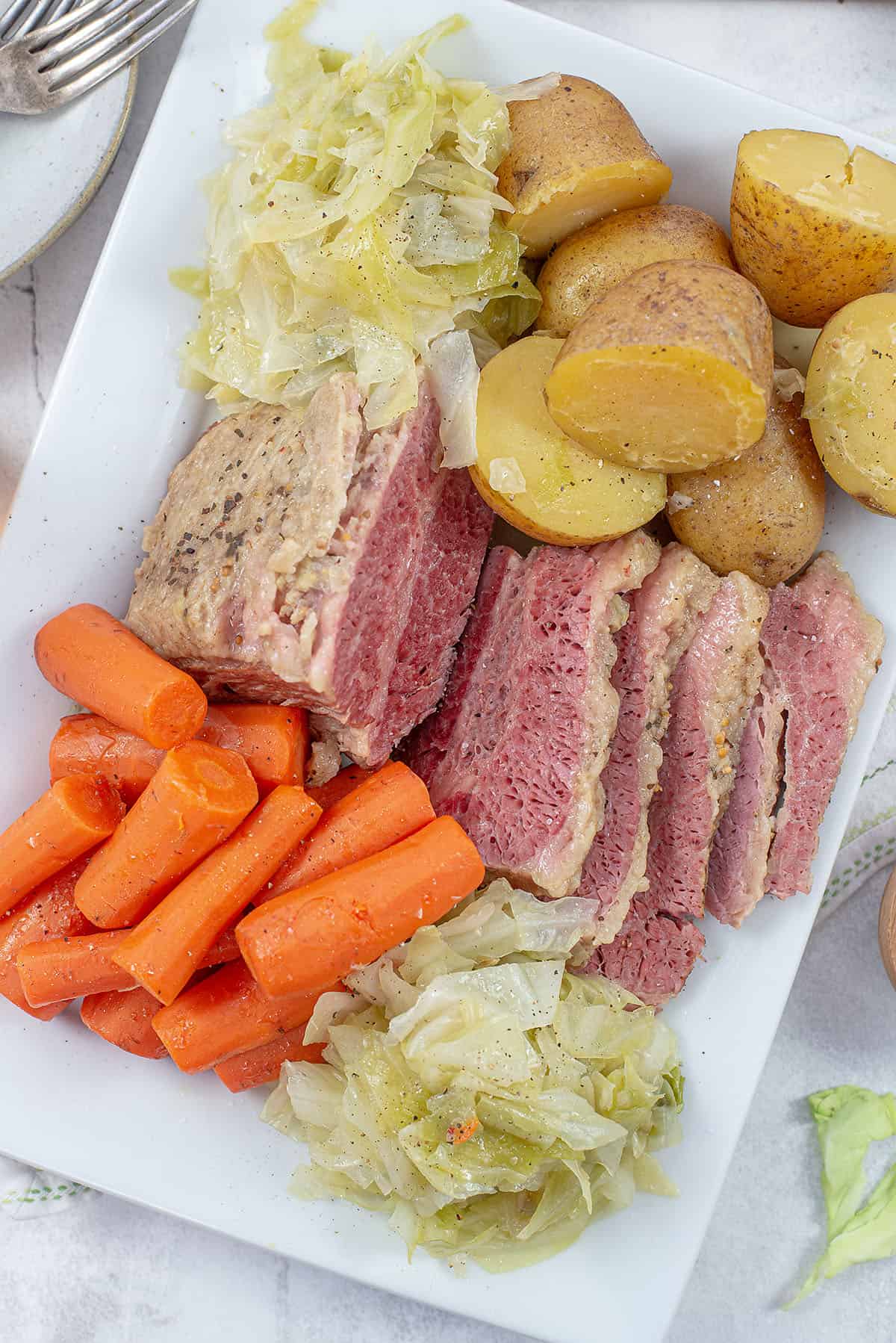 FAQs:
What is corned beef?
Corned beef is beef brisket that has been salt cured! The salt curing helps tenderize the meat and preserve it. It's also why it has that pinkish color!
How to store corned beef & cabbage?
You can keep this in the refrigerator, well covered, for 3 to 4 days. You can freeze any leftover corned beef, though the vegetables may not hold up quite as well in the freezer.
Corned Beef and Cabbage
Traditionally served on or around St. Patrick's Day, but this dish is really good all year!
Prep15 minutes
Cook3 hours
Total3 hours 15 minutes
Ingredients
3 pounds corned beef brisket
3 cloves garlic minced
12 ounces beer
Water to cover
8 yukon gold potatoes halved
5 carrots peeled and cut in 3 inch pieces
1 large head cabbage
Instructions
Add the brisket, seasoning packet that comes with the meat, minced garlic, and beer to a 6 quart dutch oven. Add enough water to cover the meat.

Bring to a boil over medium heat, reduce to a simmer, and cover the pan. Simmer for 2 hours and 30 minutes.

Add the potatoes and carrots to the pot with the meat and continue simmering for 20 minutes.

Chop the cabbage into small pieces and add to the pot with the meat and vegetables. Use a spoon to press the cabbage down into the liquid. to cook. Continue simmering for 15 minutes.

Remove the vegetables to a serving platter. Remove the brisket from the pan and slice across the grain into 1/2 inch thick slices.

Drizzle the meat and vegetables with broth from the pot before serving.
Tips & Notes:
Swap the beer for water or broth, if preferred. Corned beef should be tender enough to slice easily, but not quite falling apart.
Nutrition Information:
Serving: 1| Calories: 679kcal (34%)| Carbohydrates: 47g (16%)| Protein: 42g (84%)| Fat: 34g (52%)| Saturated Fat: 10g (63%)| Cholesterol: 122mg (41%)| Sodium: 1857mg (81%)| Potassium: 2147mg (61%)| Fiber: 12g (50%)| Sugar: 9g (10%)| Vitamin A: 8695IU (174%)| Vitamin C: 166.7mg (202%)| Calcium: 189mg (19%)| Iron: 12.3mg (68%)