September 7, 2017
Creamy French Onion Chicken and Rice Casserole
This chicken and rice casserole is serious comfort food! My whole family loves how flavorful it is, and I love that it's super simple to throw together for busy nights!
I'm so excited to share this chicken and rice casserole with you guys!
I have this weird new food obsession.
Rice.
Seriously. Rice. It seems so random. I mean, I've always liked rice just fine, it's just not something that I ever really craved or cooked, unless it was my Bacon Fried Rice.
Lately, though, I'm obsessed. I think it has something to do with white rice made in my Instant Pot. It's the most perfect rice I've ever had. Shall I share my recipe sometime?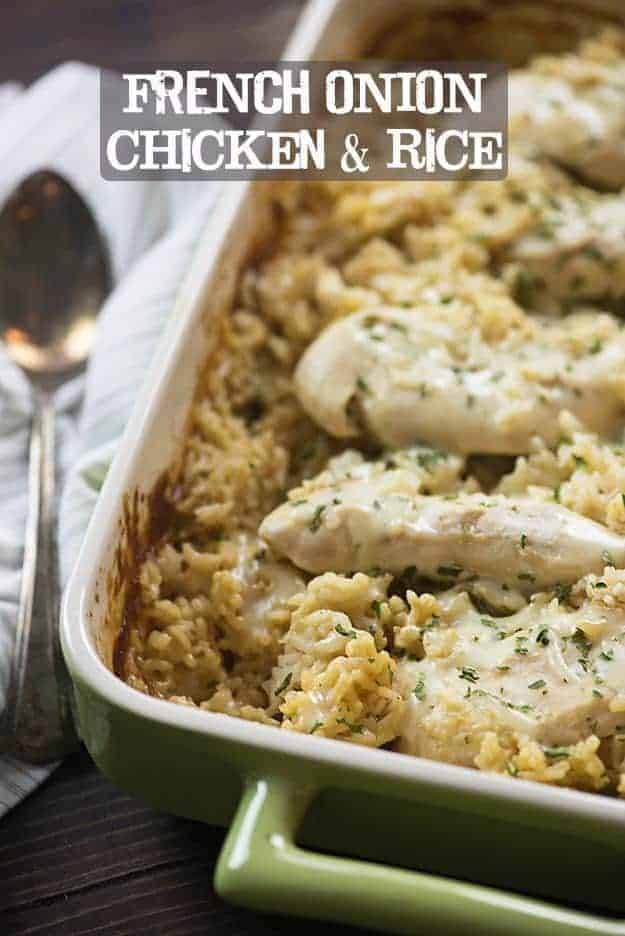 Anyway, my family is getting sick of plain white rice, so I thought I'd continue my obsession and create something with a little more excitement and flavor. Enter the casserole – my favorite way to serve dinner. 😉
This chicken and rice recipe is pure comfort food and it's totally simple to throw together.
I seasoned this with my favorite little packet of onion soup mix. What is it about those onion soup mixes that are so yummy? I love using them. Check out my French Onion Soup Sliders for a tasty burger.
Anyway, this chicken rice casserole comes together with just a handful of ingredients that you probably already have in your pantry. I think you're going to love this one just as much as we did. Total comfort food and perfect for a chilly day.
Enjoy!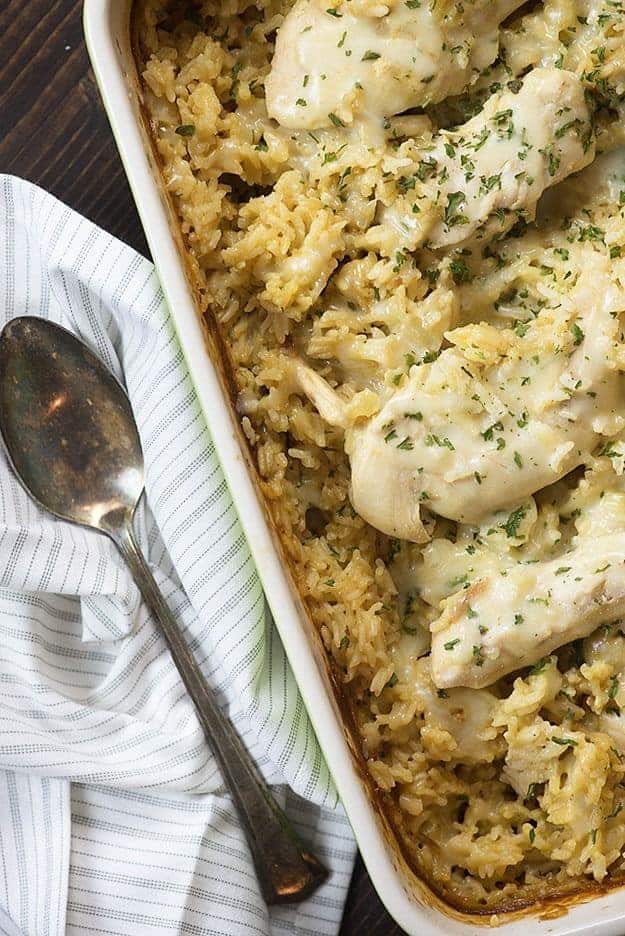 French Onion Chicken and Rice
PLEASE NOTE: The rice will not cook through in the allotted time if the foil is not tightly sealed during baking. The chicken should not dry out as it's nestled down in the rice mixture and sealed tightly with foil, keeping in the steam. If, after the full 75 minutes of cooking, the rice is still not quite tender, keep it covered tightly with foil outside of the oven for an extra ten minutes. The steam inside the dish will finish off the rice.
Ingredients:
2 cups uncooked long grain white rice
2 cups milk
2 10 ounce cans cream of chicken soup (or try my homemade cream of chicken soup substitute)
1 packet Onion Soup mix
1 pound chicken tenderloins
1/2 cup grated Gruyere cheese
1 teaspoon parsley
Directions:
Preheat oven to 350 degrees. Spray a 9x13 baking dish with non-stick spray.
Add the rice, milk, cream of chicken soup, and soup mix to a bowl and stir well to combine.
Pour rice mixture into the baking dish and place chicken tenderloins over the top.
Cover tightly with foil and bake for 60 minutes, stirring once halfway through cooking.
Remove the foil and top with the grated cheese. Cover and return to oven for 15 minutes or until rice is tender.
Sprinkle with parsley just before serving.
Share this: