February 27, 2017
Mama's Coleslaw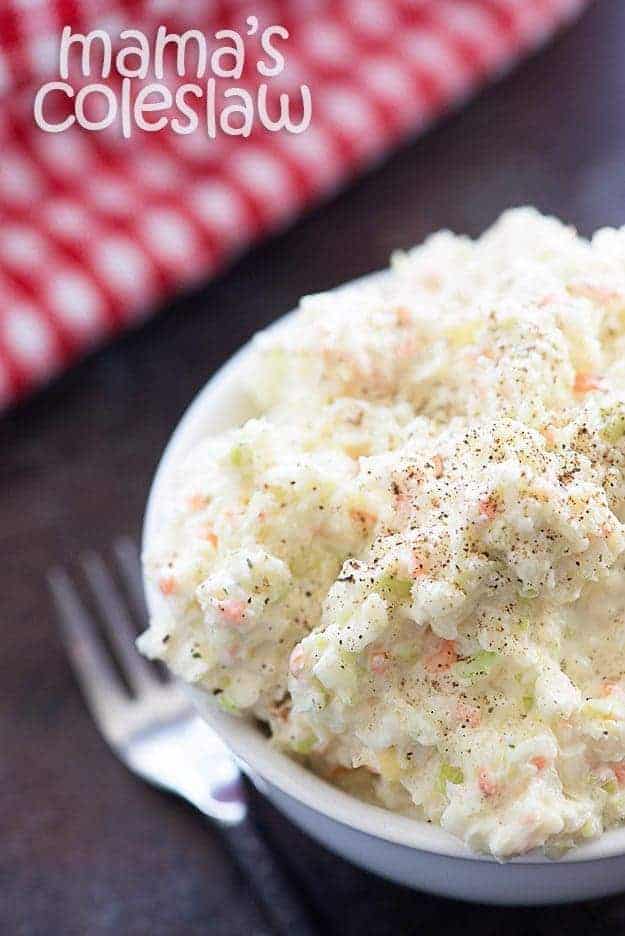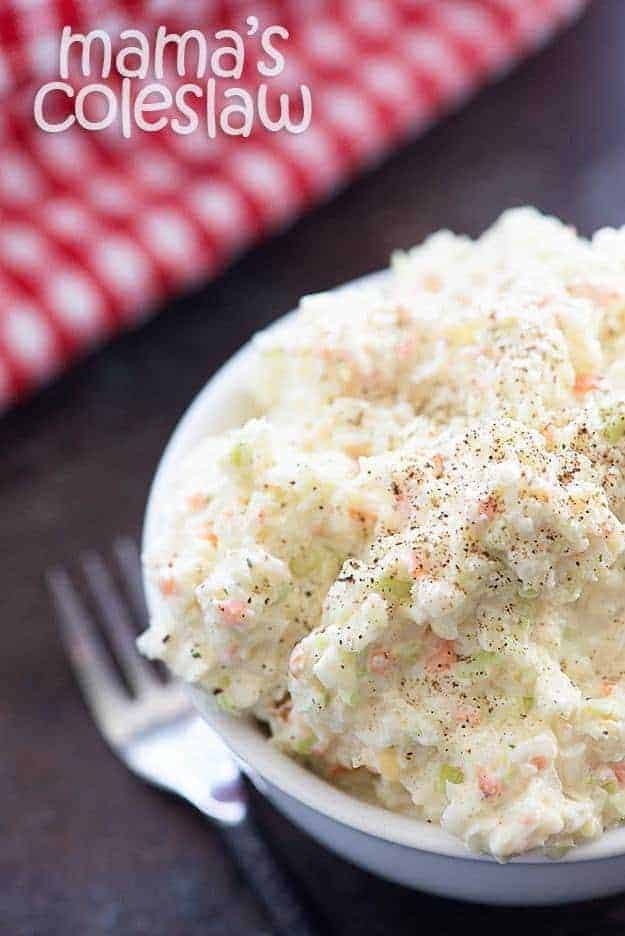 Okay, guys. I have a treat for you today! My mama's easy coleslaw recipe! You're going to love it.
Just about every time we have any sort of get-together, my mama brings her famous coleslaw and everyone goes nuts for it. It always gets rave reviews and people are always asking for the recipe.
I figured it was high time I got around to sharing it with all of you! I just know you're going to make this one again and again.
You know the KFC coleslaw recipe that everyone loves? Well, this is similar, because the cabbage is chopped up really fine. In fact, it's chopped up smaller than the KFC coleslaw, which makes it even better in my opinion!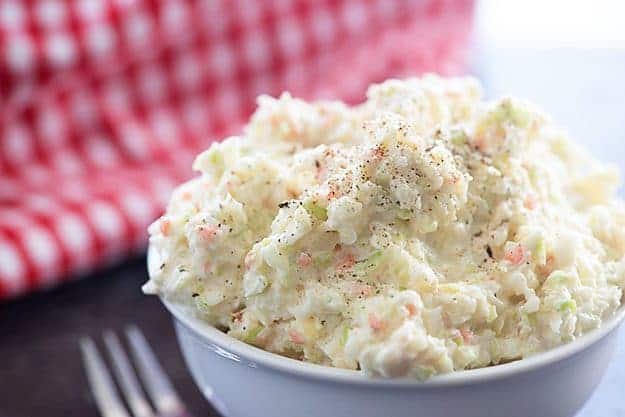 It's really just the simplest recipe and takes about no time to prepare. You will want a food processor to chop your cabbage. My mama starts with a bag of the traditional coleslaw mix – not the angel hair kind, because that kind doesn't have any carrots in it. Grab the chunkier cut kind.
You just pop the mix in a food processor and stir in some mayo, cream, and a few seasonings. It's seriously such an easy coleslaw recipe and it's ready in minutes!
I like to serve this with my turkey meatloaf, alongside my homemade hamburger helper, and it's divine served on top of my pulled pork with Carolina barbecue sauce! I mean, really. It goes great with just about anything!
Mama's Classic Coleslaw
Ingredients:
14 ounce bag coleslaw mix
1 cup mayonnaise
2 tablespoons heavy cream
1 teaspoon prepared yellow mustard
1 teaspoon garlic salt
1 teaspoon black pepper
Directions:
Add all of the ingredients to the bowl of a food processor and process in short bursts until finely ground.
Chill for 1 hour before serving.
Disclaimer: I am not a certified nutrtionist. All information is calculated from a variety of free web-based nutrition calculators and is not guaranteed to be accurate.
Nutrition Facts
Serving Size
Servings Per Container 10
---
Amount Per Serving
Calories 157 Calories from Fat 153
% Daily Value*
Total Fat 17g 26%
Saturated Fat 3g 15%
Trans Fat g
Cholesterol 12mg 4%
Sodium 249mg 10%
Total Carbohydrate 1g 0%
Dietary Fiber 0g 0%
Sugars 0g
Protein 0g 0%
---
*Percent Daily Values are based on a 2,000 calorie diet. Your daily values may be higher or lower depending on your calorie needs.
Share this: