November 19, 2012
Cilantro Lime Rice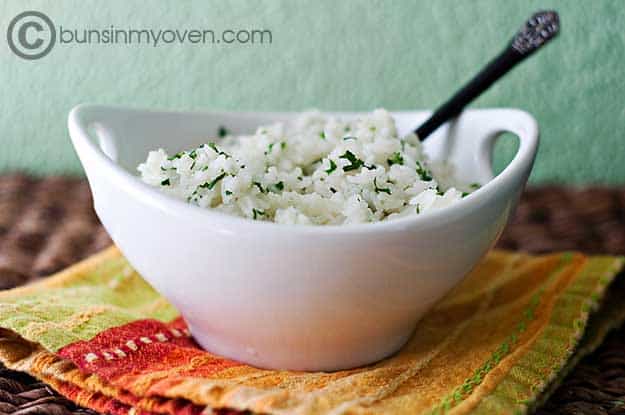 I mentioned last week that I have a bit of a thing for Mexican food. I wasn't lying. I love it. I love cooking it and I love eating it and I love thinking about it.
I also love going to Chipotle, but the closest one to me is a good 45 minutes away. I don't cry about it too much though. I just recreate my favorite dishes from there at home. Take, for example, this cilantro lime rice. It's a Chipotle favorite of mine.
This rice is good served as a side with tacos, but it's really good served inside the taco. Or inside the burrito. Or in a burrito bowl. Or on chocolate cake.
What?
Just making sure you were paying attention.
Cilantro Lime Rice
1 cup extra long grain white rice
2 cups water
2 tbsp olive oil
1 lime
1/4 cup chopped cilantro (or more, to taste)
salt, to taste
Pour the rice, water, and 1 tbsp of the olive oil into a small sauce pan. Bring to a boil and continue boiling over medium heat until the water just skims the top of the rice. Reduce heat to low, cover the pan, and continue cooking for 15 minutes. Turn the heat off after 15 minutes and keep covered for 5 more minutes. Remove lid and transfer the rice to a large bowl. Add the remaining tablespoon of olive oil, the juice of the lime, and the finely chopped cilantro to the rice. Mix well and salt to taste.
Share this: