Wondering how to make a moist turkey burger? I've got you covered with this amazing recipe that tastes like a straight up Thanksgiving dinner!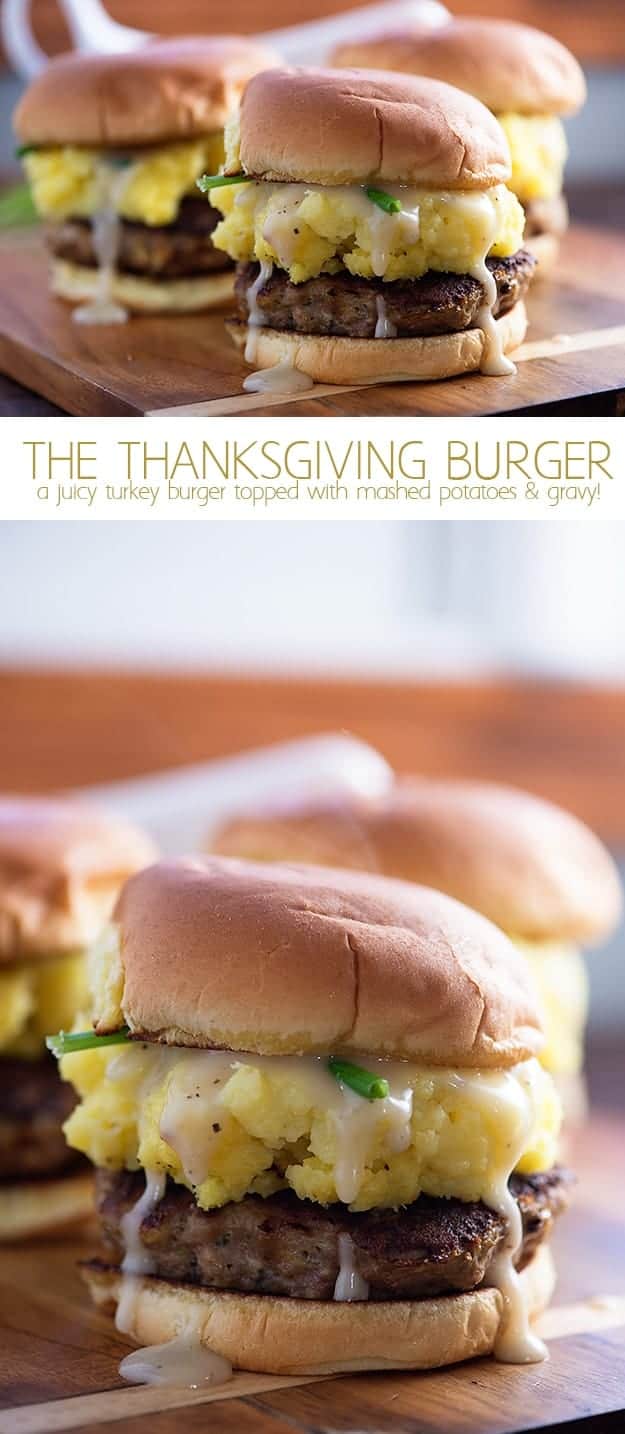 Okay, friends. I love Thanksgiving. Like, a lot. I mean, obviously.
I'm kind of food obsessed. I think about it all the time, trying to come up with crazy new recipes, . Anytime we visit a new city, I'm scouting the restaurant scene. If you tell me about some amazing brownie recipe you made, I'm asking for that recipe. I love foooooooood.
So, Thanksgiving is my jam. It's all about being thankful, of course. But, it's also all about the food. And the eating of the food. And the falling into a coma afterwards.

One of my favorite things to do is create all of the flavors of the big meal without all of the work or dishes! These turkey burgers deliver exactly that.
You'll seriously be amazed at the way these taste like a Thanksgiving meal! They're so good and absolutely easy enough to make any night of the week! I expected these turn out good – I mean a burger topped with mashed potatoes and gravy couldn't be bad – but I was blown away by how much we all enjoyed these burgers.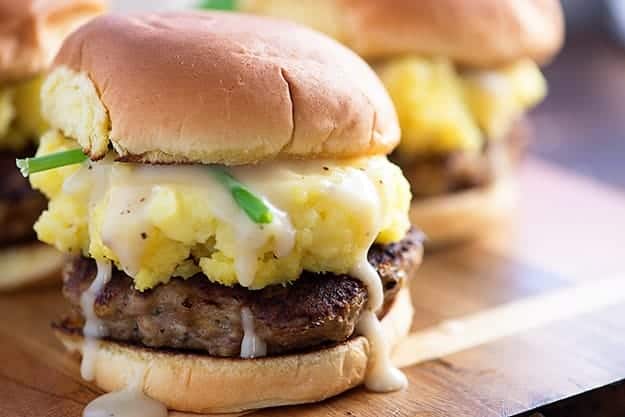 Turkey burgers sometimes get a bad rap. They're dry or they fall apart during cooking or they're just plain lacking in flavor. Not these burgers! These moist turkey burgers are juicy and packed with flavor from the thyme, rosemary, and dry stuffing. <– Yes, dry stuffing. I used it in place of bread crumbs and it was pretty genius if you ask me!
Topping these burgers with my creamy best mashed potatoes and rich gravy might seem a little odd, but I promise you, it's so much better than your standard slice of cheese. You're going to want a napkin to wipe up the dribbles, but it'll be worth it!
If you're super Thanksgiving-y, add a little bit of homemade cranberry sauce or green bean casserole with bacon!
I hope you guys give these a try and report back how you like them. Because I'm not exaggerating at all when I say that these are our new favorite burger recipe of all time!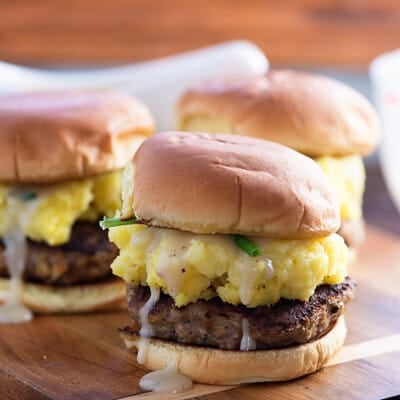 The Thanksgiving Burger
Wondering how to make a moist turkey burger? I've got you covered with this amazing recipe that tastes like a straight up Thanksgiving dinner!

Prep10 minutes
Cook20 minutes
Total30 minutes
Ingredients
For the turkey burgers:
1 pound ground turkey
1/4 cup Stove Top Stuffing dry mix
1 large egg
1 tablespoon chopped parsley
1 teaspoon onion powder
1 teaspoon garlic salt
1/4 teaspoon thyme
1/4 teaspoon rosemary
2 tablespoons butter
For the gravy:
2 tablespoons butter
2 tablespoons flour
3/4 cup chicken stock
1 teaspoon ground black pepper
Instructions
To prepare the burgers: Add the ground beef, stuffing, egg, parsley, and seasonings to a medium bowl. Use your hands to combine and form into 4 equal sized patties.

Heat a large skillet over medium heat. Melt 1 tablespoons of butter in the skillet and add the turkey patties.

Cook for 6 minutes before flipping. After flipping, chop the remaining tablespoon of butter into 4 small pieces and top each burger with a piece of butter.

Continue cooking for 6 more minutes or until a thermometer reads 160 degrees.

To prepare the gravy: While the burgers are cooking, melt the butter in a small sauce pan. Whisk in the flour and cook for 1 minute.

Whisk in the chicken stock, stirring constantly, until mixture thickens and gravy is smooth. Turn off heat.

To serve: Heat a large skillet over medium heat and melt the butter on the skillet.

Place the buns, cut side down, on the skillet to toast.

Top each bun with a turkey burger, scoop of mashed potatoes, chopped chives, and hefty drizzle of gravy. Top with bun and serve.
Nutrition Information:
Calories: 640kcal (32%)| Carbohydrates: 55g (18%)| Protein: 38g (76%)| Fat: 29g (45%)| Saturated Fat: 15g (94%)| Cholesterol: 170mg (57%)| Sodium: 1397mg (61%)| Potassium: 651mg (19%)| Fiber: 2g (8%)| Sugar: 3g (3%)| Vitamin A: 880IU (18%)| Vitamin C: 13.4mg (16%)| Calcium: 82mg (8%)| Iron: 3.9mg (22%)
More Thanksgiving recipes below: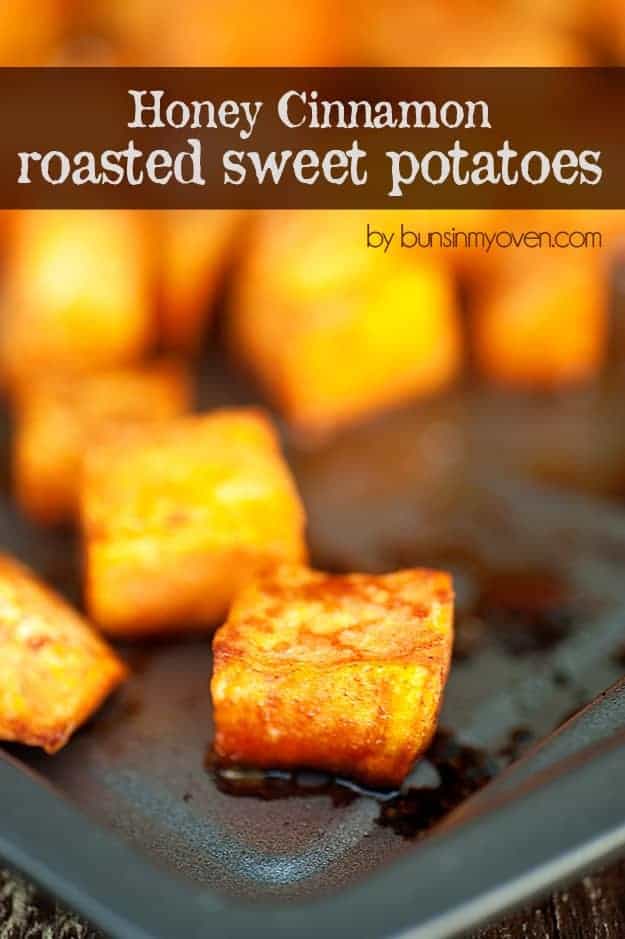 Honey and Cinnamon Roasted Sweet Potatoes