We stuffed as much peanut butter as possible into these thick, chewy peanut butter cookies – and then we filled the centers with strawberry jelly! Our Peanut Butter and Jelly Cookies look and taste like they came from a fancy bakery, but you can easily make them at home.
*Warning* These cookies are for PB&J lovers only. I'm talking the type of people that still enjoy a classic peanut butter and jelly sandwich (on white bread, please, this is not the time to be healthy), a glass of milk, and maybe even a cartoon on the TV in the background. You know – adults pretending to be kids. These cookies are for you.
It was only a matter of time before I took my peanut butter stuffed cookies (a delicious Crumbl copycat!) and swapped out that peanut butter center for gooey strawberry jelly!
This cookie dough comes together easily with a mixer and bakes up into a soft, chewy cookie that is on peanut butter overload. We seriously added as much PB as possible to to the dough to get the max flavor we could.
Basically, my motto in life: If some is good, then more is better. That's how I rolled with the PB in these cookies.
Then, after perfecting the dough, we scooped a little strawberry jelly right into the center of each cookie (a little tedious maybe, but not difficult!), sealed it in, rolled the dough in sugar, and baked until the cookies were set, but not crunchy or crispy – soft, chewy, warm, delightful, gooey.
These are magical and I insist you try them immediately.
Ingredient Notes:
This post contains affiliate links. As an Amazon associate and member of other qualifying programs, I earn from qualifying purchases.
Dry Cookie Dough Ingredients – You'll need white sugar, brown sugar, flour, baking powder, salt, and baking soda. Standard ingredients.
Wet Cookie Dough Ingredients – Butter and peanut butter are the fat, the egg adds structure, and the pure vanilla extract adds flavor.
Peanut Butter – I'd definitely recommend using a creamy peanut butter for these stuffed cookies! Use a processed peanut butter – not one that you have to stir together.
Jelly – I'm using strawberry jelly in this recipe because it's my favorite but don't let that stop you from using any flavor you like! Grape or raspberry are also great choices.
What We Love About This Recipe:
Childhood Favorite: Relive the classic childhood favorite in cookie form!
Indulgent: These bake up thick and chewy, loaded with rich peanut butter flavor, and stuffed with the perfect little bits of jelly. These are BIG cookies that look and taste like they came from a fancy bakery.
Peanut Butter Overload: We tested this dough by adding more peanut butter each time to get the absolute max we could stuff into these cookies. More PB equals more flavor! Plus it makes for a soft and chewy cookie – never dry or crumbly.
Surprise Center: These look like a traditional cookie, but the surprise jelly filling is so delightful!
Customizable: Whether you prefer grape, strawberry, or even raspberry jelly, these cookies work out just perfect either way. You could even skip the jelly and try Nutella!
Tips & Tricks for Perfect Peanut Butter And Jelly Cookies:
Mixer: Use a hand mixer or stand mixer and really cream together the butter and sugar until it's light and fluffy. The sugar should melt into the butter when it's creamed properly.
It's so easy to whip up dessert with this cute hand mixer. It doesn't take up much space and is a must for any kitchen!
Peanut Butter: You'll want to use a processed peanut butter here. The natural peanut butter where the oil separates and it needs to be stirred back together doesn't always work great for baking. We like Jif and Skippy for baking.
Chill: You're going to need to let the dough chill for at least an hour. This will help prevent your cookies from spreading during baking. It also makes filling the cookies with the jelly a little easier.
Scoop: Use a cookie scoop to get perfectly sized cookies every time. We use a large, size 20 cookie scoop for the perfect size here.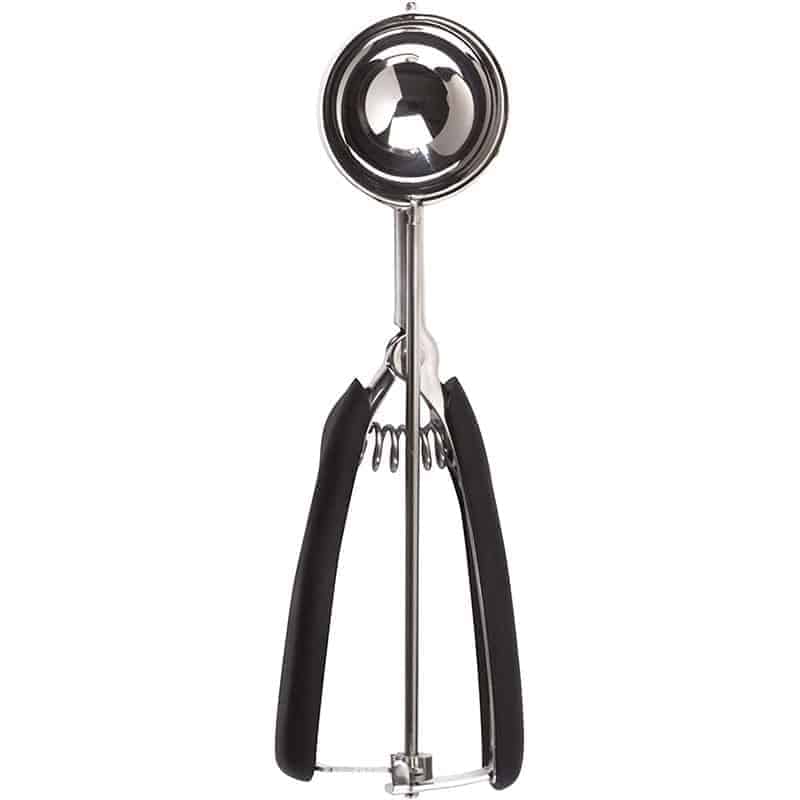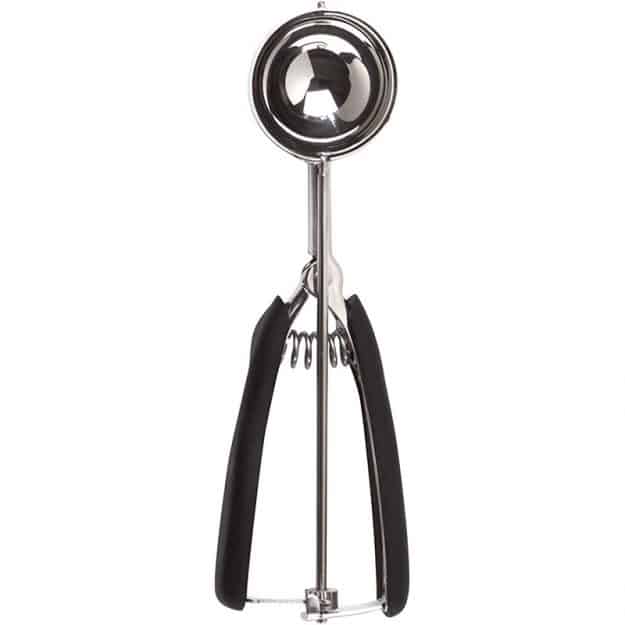 We use cookie scoops for everything from baking cookies to scooping meatballs to easily filling muffin tins.
Stuff: Flatten each of the balls of dough into a patty and then place about a teaspoon of the jelly into the center of the dough. You can use more or less of the jelly as you like but be sure not to add too much! Carefully fold the edges of the dough around the jelly to completely seal it in. If necessary press in small pieces of extra dough to fix any gaps.
Bake: Arrange each of the balls of cookie dough about one to two inches apart on the prepared baking sheet. The cookies will spread just as a bit as they bake, so don't overcrowd the pan. Don't overbake these guys, we want them soft and chewy!
FAQ's:
How should I store peanut butter and jelly cookies?
You can store these peanut butter and jelly stuffed cookies at room temperature in an airtight container for about 4-5 days. They will last longer if you store them in the refrigerator, about a week or so.
Do I have to chill the cookie dough?
Not all cookie dough recipes need to be chilled, but we do recommend it for this recipe. This dough is pretty soft due to all of the peanut butter, so chilling it will make it much easier to work with and will also prevent the cookies from spreading too much while baking.
MORE HOMEMADE COOKIE RECIPES!
Peanut Butter & Jelly Cookies
We stuffed as much peanut butter as possible into this cookie dough, making for irresisitbly soft and rich cookies. The centers are filled with jelly for a fun surprise that takes you right back to childhood.
Prep20 minutes
Cook13 minutes
Chill Time1 hour
Total1 hour 33 minutes
Ingredients
1 cup butter room temperature
1 ½ cups granulated sugar divided
¾ cup brown sugar
1 1/2 cups creamy peanut butter
2 large eggs
2 teaspoons vanilla extract
3 cups flour
1 teaspoon baking powder
1 teaspoon salt
½ teaspoon baking soda
½ cup jelly any variety
Instructions
Add the butter, 1 cup of granulated sugar, and brown sugar to a mixing bowl and beat on medium speed until light and fluffy.

Beat in the peanut butter, eggs, and vanilla until smooth and combined, scraping down the sides of the bowl as needed.

Add the flour, baking powder, baking soda, and salt to the bowl and mix on low speed until the dough is fully combined.

Cover the bowl with plastic wrap and refrigerate for 1 hour.

After the dough has chilled, preheat the oven to 350 degrees. Line a baking sheet with parchment paper.

Use a large cookie scoop to scoop out the dough.

Flatten the dough into a patty and place about a teaspoon of jelly in the center of the dough. You may not use the full batch of jelly, depending on how heavily you fill the cookies. Carefully fold up the edges around the jelly. Completely seal the jelly in the dough. If needed, press small pieces of extra dough around any spaces where the jelly is peeking out. Roll the dough into a ball.

Place the remaining ½ cup of granulated sugar on a plate or in a shallow bowl and roll each cookie through the sugar to coat.

Arrange cookies on the prepared baking sheet, leaving space between the cookies for dough to spread. Don't overcrowd the pan.

Bake for 13 minutes or lightly browned around the edges. Do not overbake.

Let cool for 15 minutes on the baking sheet before transferring to a wire rack to finish cooling.
Tips & Notes:
These are a bit larger than the average cookie, but we love them! For even larger cookies, reminiscent of the popular Crumbl cookies, use 2 large scoops of dough per cookie. Flatten one into a patty, place jelly in the center, and flatten the second ball of dough into a patty. Place it over the top, seal the edges, and shape into a ball. These cookies are HUGE, but super fun. You'll get one dozen extra large cookies and you'll need to bake them for 15 minutes. We prefer strawberry jelly in this recipe, but you can use any variety that you like.
Nutrition Information:
Serving: 1cookie| Calories: 322kcal (16%)| Carbohydrates: 40g (13%)| Protein: 6g (12%)| Fat: 17g (26%)| Saturated Fat: 7g (44%)| Polyunsaturated Fat: 2g| Monounsaturated Fat: 6g| Trans Fat: 0.3g| Cholesterol: 36mg (12%)| Sodium: 260mg (11%)| Potassium: 148mg (4%)| Fiber: 1g (4%)| Sugar: 24g (27%)| Vitamin A: 259IU (5%)| Vitamin C: 1mg (1%)| Calcium: 29mg (3%)| Iron: 1mg (6%)