November 19, 2018
Honey Cinnamon Roasted Sweet Potatoes
These roasted sweet potatoes are tossed in cinnamon and honey for an easy fall side dish that's full of flavor.
My husband was out of town last week so we basically ate pizza, McDonalds, and cold sandwiches alllllll week long. It was delicious and gross all at the same time.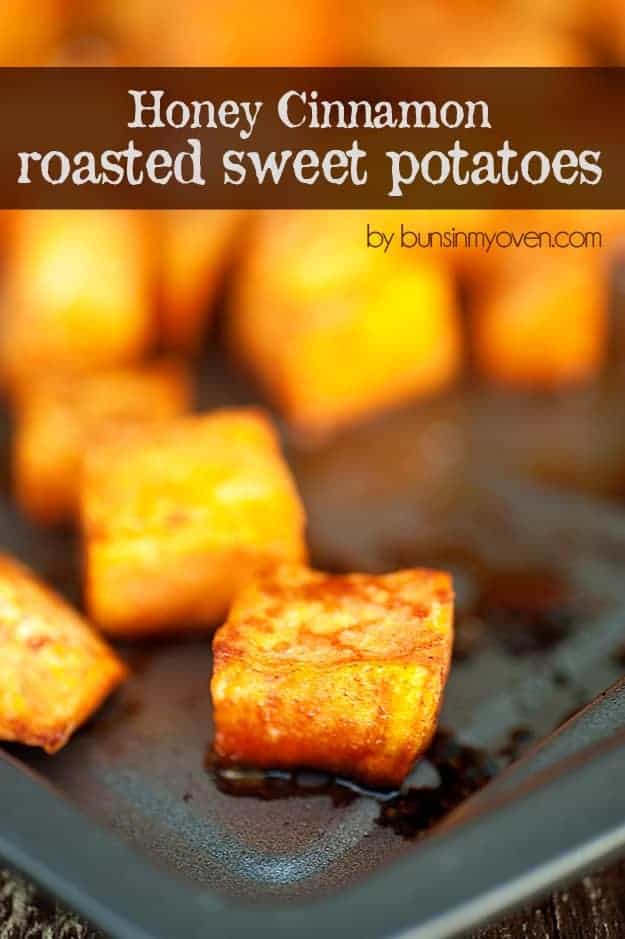 The minute he came home I was back to serving real food with actual vegetables.
I'm not sure why, because the man doesn't really like vegetables.
He's basically an overgrown child when it comes to dinner time.
He wants meat and potatoes and cheese and more meat and maybe a side of corn. In the last couple of years I've convinced him that broccoli is his favorite veggie and he eats that regularly. Other veggies? Not so much.
These roasted sweet potatoes are tossed in honey and cinnamon to really amp up the flavor!
I don't even know how a person can not like sweet potatoes.  I mean, they taste like dessert. Especially since I've tossed them in honey and cinnamon.
These roasted sweet potatoes aren't overly sweet and they work perfectly as a side dish, but still. I think of sweet potatoes (and carrots!) as dessert vegetables.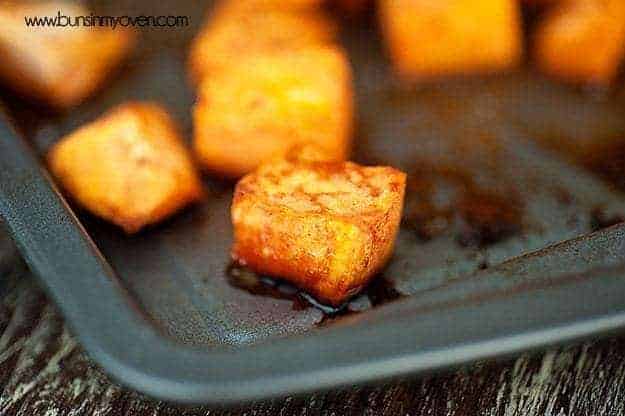 I used this organic raw honey from Amazon. Have you tried raw honey yet? It's NOTHING like the processed stuff you're buying at the grocery store. It's thick and creamy, almost like butter. I sometimes eat it with a spoon.
So, like I was saying, my husband hated these which meant that I only had to share these roasted sweet potato cubes the kids. Sometimes I don't even care that he's not eating anything healthy because it means more sweet potatoes for me!
These make a great side dish at Thanksgiving, right along side my favorite sausage dressing  and the creamiest mashed potatoes you'll ever eat. 
How to cook sweet potatoes:
Honey Cinnamon Roasted Sweet Potatoes
Servings: 4 servings
Course: Side Dish
Cuisine: American
Keyword: autumn recipes, easy side dish recipes, easy Thanksgiving recipes
Calories: 95 kcal
These roasted sweet potatoes are tossed in cinnamon and honey for an easy fall side dish that's full of flavor.
Ingredients
2 large sweet potatoes peeled and cut into 1 inch cubes
2 tablespoons honey
2 tablespoons olive oil
1 teaspoon cinnamon
1/2 teaspoon salt
1/4 teaspoon pepper
Instructions
Preheat oven to 375 degrees.

In a large bowl, combine the honey, olive oil, cinnamon, salt, and pepper. Add the sweet potatoes and toss to coat.

Dump potatoes onto a large rimmed baking sheet. Roast for 25-30 minutes, stirring halfway through cooking.
Nutrition Facts
Honey Cinnamon Roasted Sweet Potatoes
Amount Per Serving
Calories 95 Calories from Fat 63
% Daily Value*
Fat 7g11%
Sodium 291mg13%
Carbohydrates 9g3%
Sugar 8g9%
Vitamin A 70IU1%
Calcium 5mg1%
* Percent Daily Values are based on a 2000 calorie diet.
Nutrition Disclaimer: All information presented on this site is intended for informational purposes only. I am not a certified nutritionist and any nutritional information shared on bunsinmyoven.com should only be used as a general guideline.
Lovin' my sweet potato recipes?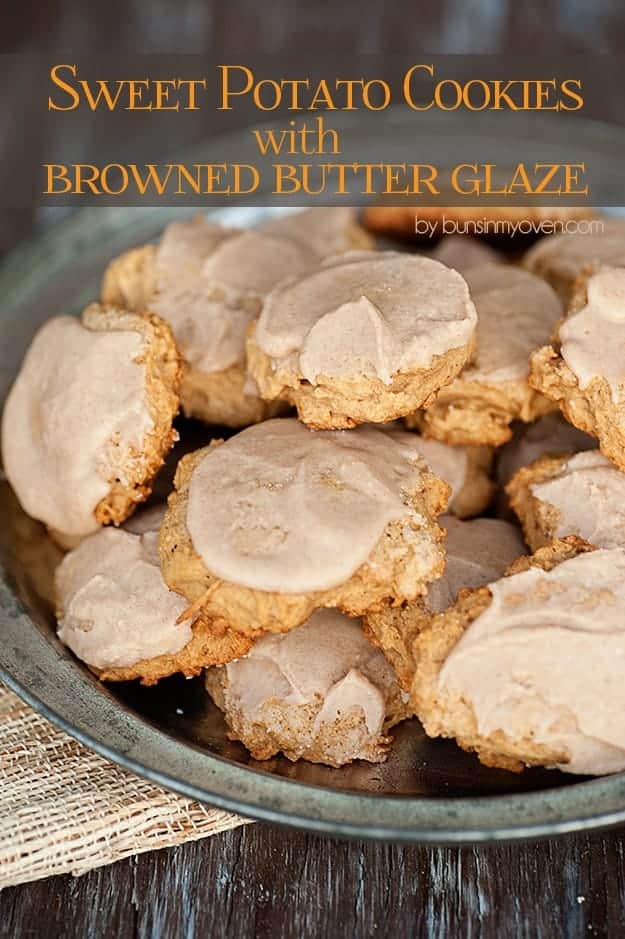 Check out these sweet potato cookies!
I also made some SKINNY sweet potato donuts…they sure don't look or taste skinny, though!
Be sure to follow along on Pinterest! I pin good stuff all day long!