This chocolate peanut butter cake has a peanut butter cheesecake right in the center and is topped with lots of thick peanut butter frosting and rich chocolate ganache.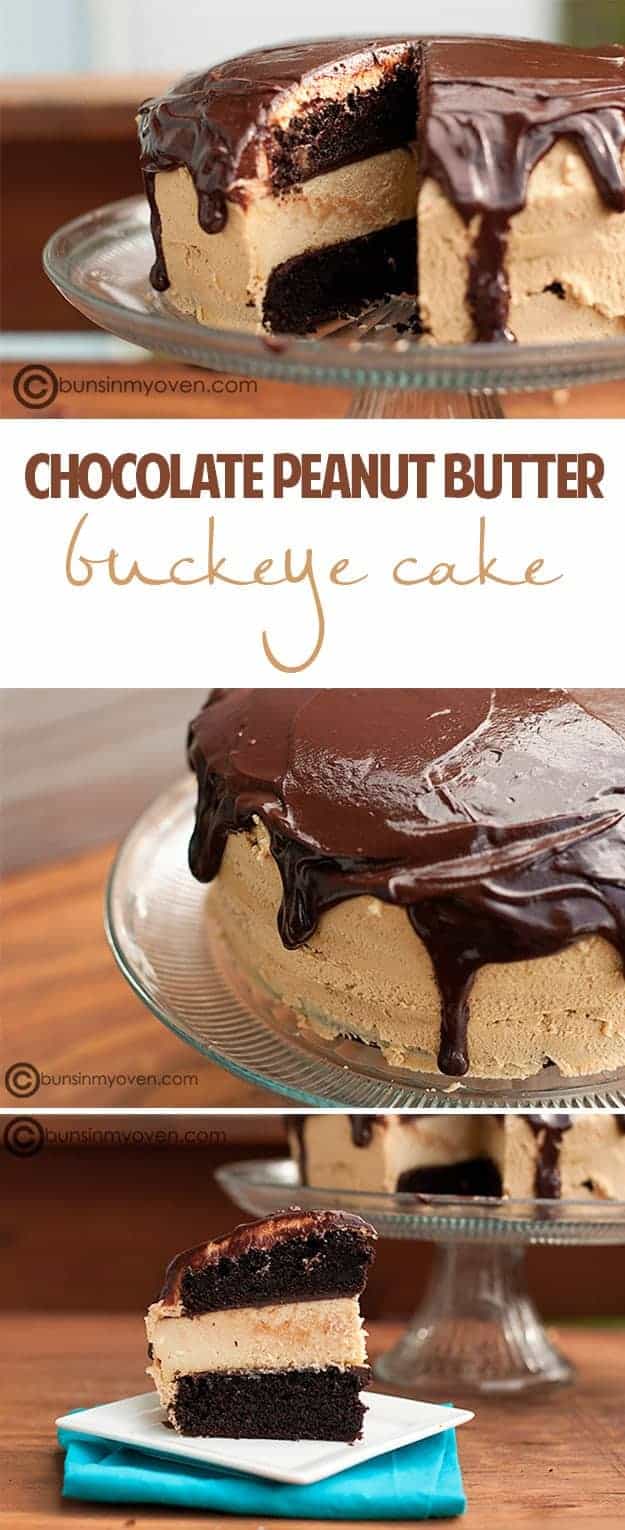 Be sure to pin this recipe for later, so you don't lose it!
Have y'all ever heard of or eaten a Buckeye? Yes, right? Please say yes.
For those of you who don't know what a buckeye is, it's just a peanut butter ball dipped partially in chocolate to resemble a buckeye. They are outrageously delicious and I can't believe I don't have a recipe for them on this site. I'm a mean blogger.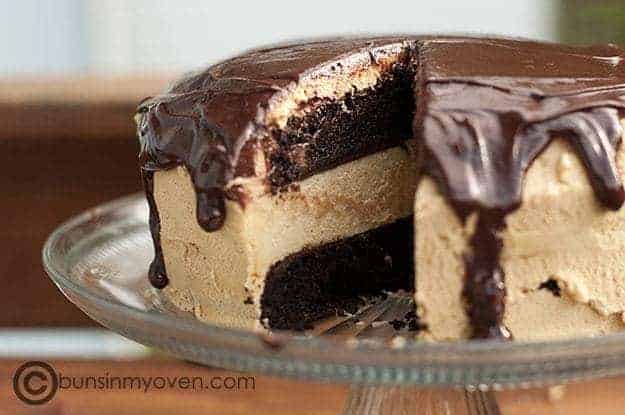 Anyway, Buckeye candies are amazing, but yesterday I wasn't in the mood for candy. I wanted cake. So I played around and created this chocolate peanut butter cake. I'm sorry. Please forgive me.
Chocolate peanut butter anything is my fav.
This cake is momentous both because it is INSANE and because I don't bake cake. I can't bake cake. They just never turn out right. Like, ever.
This one, though, this one turned out to be kind of…shall we say…deadly. In a good way. A really ridiculous good way.
What you're drooling over is a layer of chocolate cake, a layer of chocolate peanut butter glaze, a layer of peanut butter cheesecake, another layer of the chocolate peanut butter glaze, another layer of chocolate cake, a layer of peanut butter frosting (that tastes EXACTLY like a peanut butter ball) and more of the chocolate peanut butter glaze.
This chocolate peanut butter Buckeye Cake is so good you will die. True story.
If you LOVE chocolate and peanut butter, be sure to check out the entire category I have devoted to chocolate and peanut butter treats! It's bursting at the seams with delicious things your family and friends will go nuts over!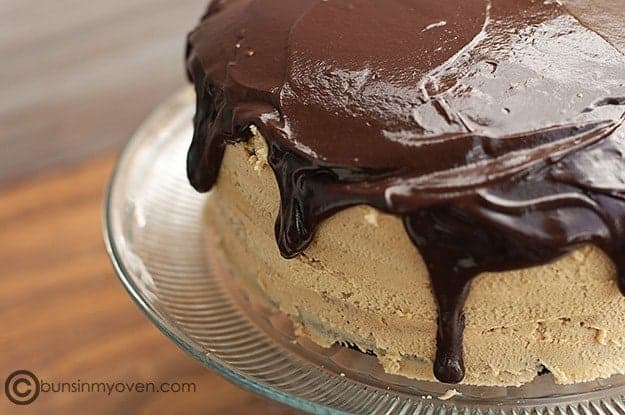 Buckeye Cake
With layers of chocolate cake and peanut butter cheesecake topped with a delicious peanut butter frosting and chocolate glaze, this cake tastes even better than Buckeye candies! Pure chocolate peanut butter heaven.
Prep30 minutes
Cook1 hour 30 minutes
Total2 hours
Ingredients
For the Peanut Butter Cheesecake:
2 8 ounce packages cream cheese softened
1 cup white sugar
1/2 cup creamy peanut butter
3 tablespoons all-purpose flour
4 eggs
1/2 cup milk I used 1%, but 2% or whole milk would be great too
For the chocolate cake:
1 box chocolate cake mix prepared according to package directions (homemade works too, if you're feeling adventurous) and baked in 2 9 inch round cake pans
For the Peanut Butter Frosting
For the chocolate peanut butter glaze
8 ounces semi-sweet chocolate chips
3 tablespoons creamy peanut butter
2 tablespoons light corn syrup
1/2 cup heavy whipping cream
Instructions
For the Peanut Butter Cheesecake:
Bake the cheesecake one day in advance so that it has plenty of time to chill in the fridge before layering with the chocolate cake!

Preheat oven to 325 degrees.

Beat together the cream cheese, peanut butter, sugar, and flour until light and smooth and creamy. Beat in the eggs one at a time. Stir in the milk.

Grease a 9-inch round springform pan VERY WELL. There is no crust on this cheesecake, so it is imperative that you really grease the pan so that the cheesecake will release from it easily.

Pour batter into the greased pan.

Bake for 10 minutes at 325 degrees.

Reduce heat to 260 and bake for 50 minutes or until just the center is slightly jiggly.

Cool on the counter for 2 hours. Transfer to a refrigerator to chill overnight.
For the chocolate cake:
Prepare the cake mix according to the package or use a recipe for homemade cake.

Bake in 2 9-inch round, well greased cake pans. Cool completely.
For the peanut butter frosting:
Cream together the butter and peanut butter until light and fluffy. Add half of the powdered sugar and mix well. Beat in half of the cream. Add the remaining powdered sugar and continue mixing until combined. Beat in the remaining cream.
For the chocolate peanut butter glaze:
In a double boiler or a bowl set over a pot of simmering water, melt the chocolate, peanut butter, and corn syrup. When melted remove from heat and whisk in the cream until it is a smooth, creamy consistency.
To assemble:
Place one layer of chocolate cake on your cake stand and top with 1/4 of the chocolate peanut butter glaze. Spread to the edges.

Very carefully remove the sides of your springform pan and place the entire cheesecake upside down on the chocolate cake layer. The bottom of the springform pan should now be on top of the cheesecake. Carefully slide a knife in between the cheesecake and pan bottom to loosen. If you greased your pan well this should be fairly simple and the pan bottom will easily lift off.

Pour another 1/4 of the chocolate glaze over the cheesecake and spread to the edges.

Top this with the second layer of chocolate cake.

Place the whole cake in the refrigerator for 15 minutes to harden up a bit.

Cover the top and sides of the cake with the peanut butter frosting. Smooth it out as best you can.

Microwave the chocolate glaze for about 5-10 seconds to soften it back up. Whisk well and then pour over the top center of the cake. Use an offset spatula to spread the glaze to the edges, letting it drip down in some areas.

Store in the refrigerator.
Nutrition Information:
Serving: 1slice| Calories: 946kcal (47%)| Carbohydrates: 106g (35%)| Protein: 16g (32%)| Fat: 54g (83%)| Saturated Fat: 23g (144%)| Cholesterol: 125mg (42%)| Sodium: 643mg (28%)| Potassium: 539mg (15%)| Fiber: 4g (17%)| Sugar: 83g (92%)| Vitamin A: 900IU (18%)| Calcium: 137mg (14%)| Iron: 3.9mg (22%)
Check out some of my other popular recipes below!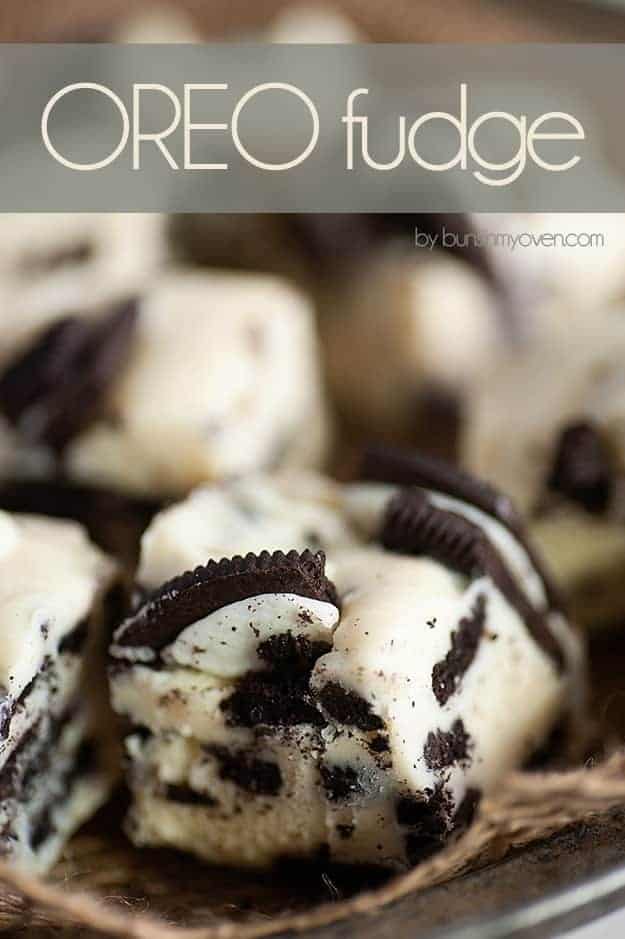 This Oreo Fudge is an easy fudge recipe with all of that cookies and cream flavor people love!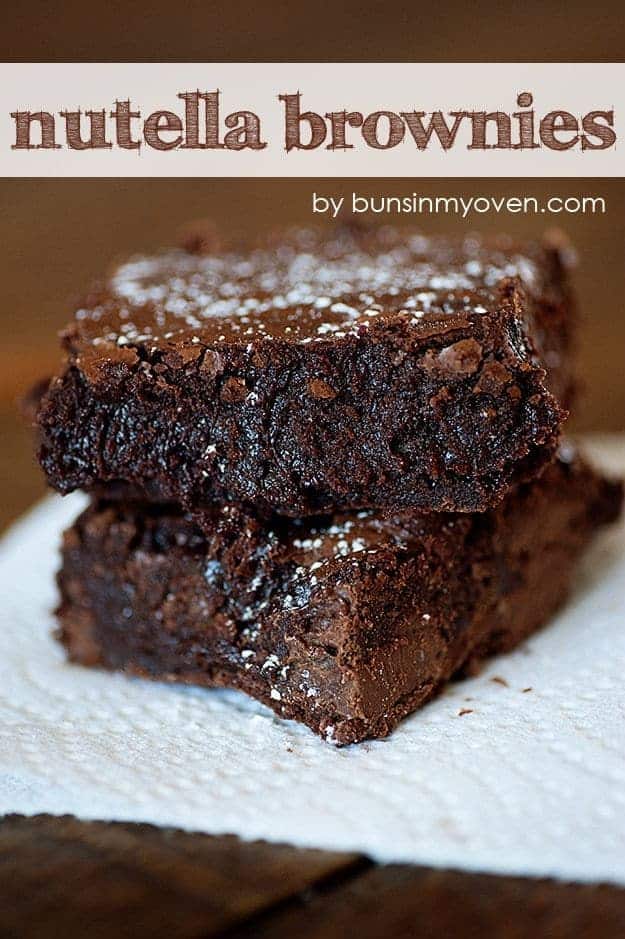 My Nutella Brownies are popular all over the world!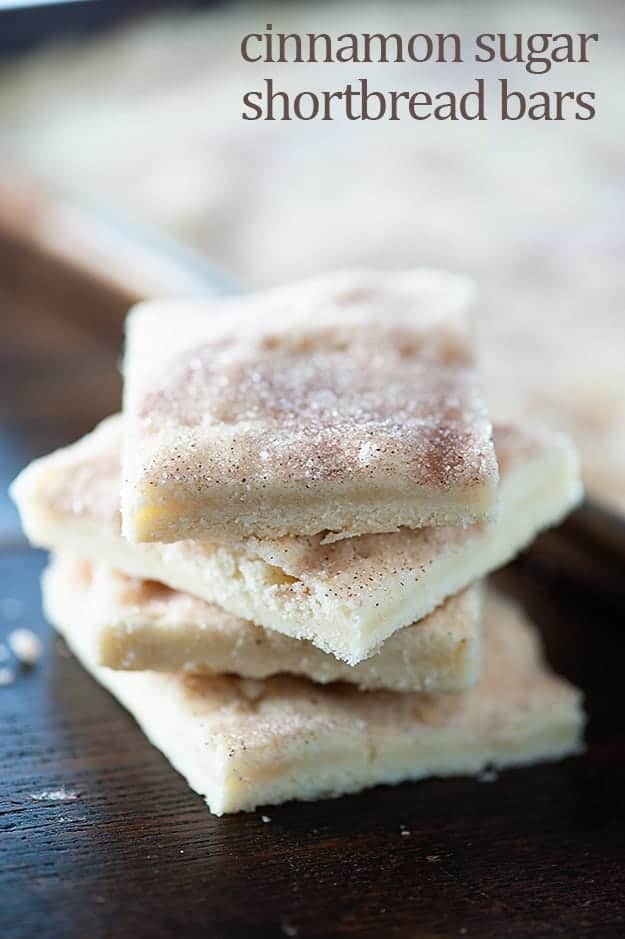 These Cinnamon Sugar Shortbread Bars are super easy and everyone loves them.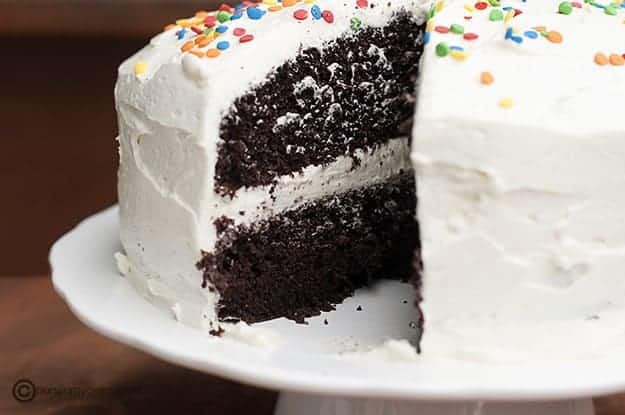 If you love the grocery store whipped frosting, check out my whipped frosting recipe!