August 27, 2018
Cheesy Broccoli and Cauliflower
This cheesy broccoli and cauliflower recipe takes just minutes to throw together and it's loaded with cheese and heavy cream for an easy gratin recipe that you'll love!
You know, it's the holidays and I feel like maybe my kids could take it easy on me? Spread some holiday cheer, quit annoying each other for sport, and maaaaaaaybe stop begging me to play the horror video game Five Nights at Freddy's. Have you guys heard of that game?
I mean, I like scary movies. If my husband is home, of course. I don't watch them all alone like a mad woman or anything.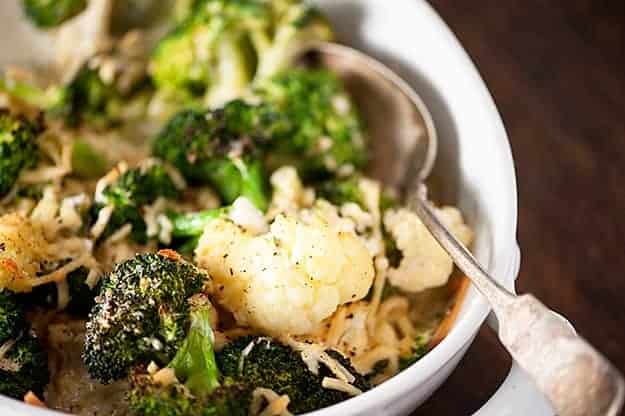 But, this video game that they beg me to play all the time is terrifying. They just pooled together their money to buy Five Nights at Freddy's 2 and it's even worse than the first.
I played a few minutes ago and now my heart is pounding and I'm all hot and sweaty. I'm in flight mode and setting here trying to type up this blog post is difficult. Creepy things are coming for me, I'm sure of it.
Basically, I'd like to ask for a refund on my children. They're defective. Instead of singing me Christmas carols and baking me cookies, they're plotting my murder with video games. Someone send help.
In the meantime, I'll just be over here comforting myself with a big dish of vegetables. <—Yeah, I just said that.
I lightly steamed broccoli and cauliflower and then tossed it in a dish with some heavy cream and Kerrygold Dubliner cheese. You guys. I can't even handle the cheesy perfection of this broccoli recipe. I love broccoli. Did you know that the first time I ever tasted it I was an adult? I was like, an adult adult. I was a mother the first time I tasted broccoli.
I'm making up for lost time now, because it's my favorite veggie and it's one that even my kids will eat. I usually just serve it steamed with a sprinkle of salt, but every now and then you've got to go all out.
The cream and cheese just add this sweet nuttiness that is only enhanced by the crispy parts of the broccoli that get roasted in the oven. I'm a sucker for roasted broccoli. I've been on a low carb kick lately, and this is one of my staples.
We also love this easy squash casserole and these oven roasted potatoes!
Broccoli and Cauliflower Gratin
Servings: 4 servings
Course: Side Dish
Cuisine: American
Keyword: comfort food, easy side dish recipes, holiday recipes
Calories: 438 kcal
This cheesy broccoli and cauliflower recipe takes just minutes to throw together and it's loaded with cheese and heavy cream for an easy gratin recipe that you'll love!

Ingredients
8 ounces fresh broccoli florets
8 ounces fresh cauliflower florets
1 cup heavy whipping cream
7 ounces Dubliner cheese freshly grated
Salt and pepper to taste
Instructions
Preheat oven to 350 degrees.

Pour an inch of water into a small stockpot and bring to a boil.

Add a steamer basket to the pan and steam the vegetables for 3 minutes or until vibrant and colorful, but not too tender.

Pour the vegetables into a 1.5 quart baking dish.

Top with the cheese and toss to mix the cheese in well.

Pour the cream over the top and sprinkle with salt and pepper.

Bake for 15 minutes. The cream should be bubbly and the cheese should be melted.

Serve hot.
Nutrition Facts
Broccoli and Cauliflower Gratin
Amount Per Serving
Calories 438 Calories from Fat 342
% Daily Value*
Fat 38g58%
Saturated Fat 24g150%
Cholesterol 133mg44%
Sodium 366mg16%
Potassium 441mg13%
Carbohydrates 8g3%
Fiber 2g8%
Sugar 2g2%
Protein 16g32%
Vitamin A 1725IU35%
Vitamin C 78.3mg95%
Calcium 436mg44%
Iron 1mg6%
* Percent Daily Values are based on a 2000 calorie diet.
Nutrition Disclaimer: All information presented on this site is intended for informational purposes only. I am not a certified nutritionist and any nutritional information shared on bunsinmyoven.com should only be used as a general guideline.