November 7, 2017
Low Carb Bacon Cheeseburger Casserole
If you've been on the hunt for a low carb cheeseburger casserole, this is the recipe for you! Only 2 net carbs per serving and it's so filling and delicious!
Okay, friends, I have a good one for you today!
You know how sometimes you just really need a big, fat, juicy bacon cheeseburger? Happens to me daily, if we're being honest.
Extra cheese on mine, please!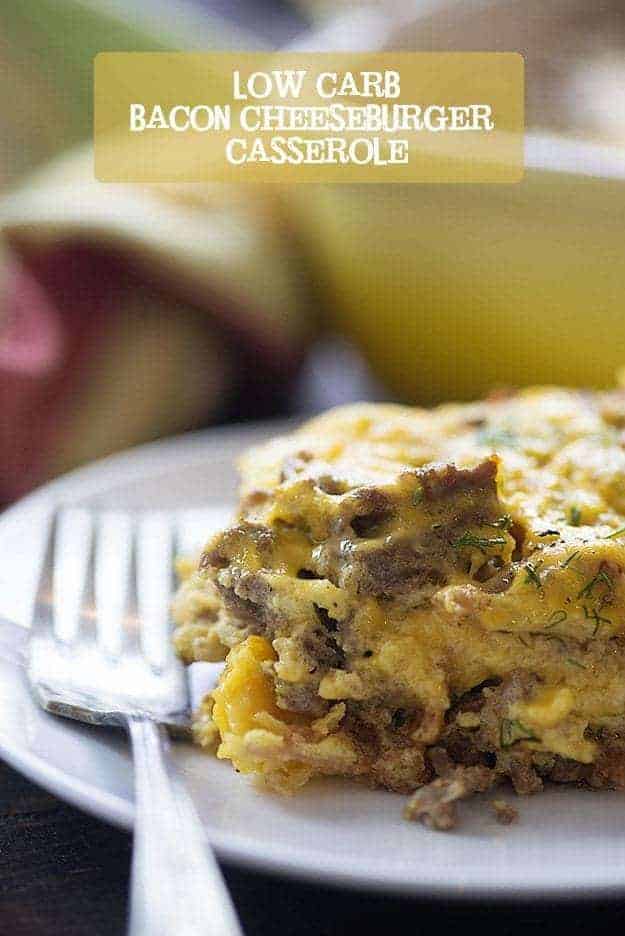 I'm back on the low carb bandwagon again and one of those burger cravings hit. Of course, my bacon cheeseburger salad is always nice, but I'm getting a little sick of salad, to be honest.
Since this recipe has been such a hit, I created a taco version too! Check out my low carb casseroles!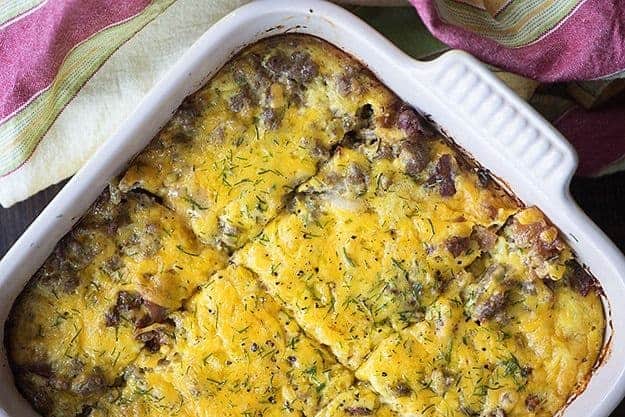 Soooo, I decided to whip up one of my new favorite low carb ground beef recipes. Now, the whole reason I need to be eating low carb recipest is because of casseroles. I'm obsessed with them and I eat them all too often. So, a low carb version is basically heaven, if you ask me!
This low carb cheeseburger casserole is super filling, totally easy, and you're not going to believe it, but it only has 2 net carbs per serving.
Like woah. I served it with some cauliflower rice. My whole meal was only 5 net carbs and I was stuffed! Love dinners like that!
Anyway, this is basically a crustless quiche, except not. I mean, I personally have never seen a quiche packed with so much meat in my life, but the premise is the same.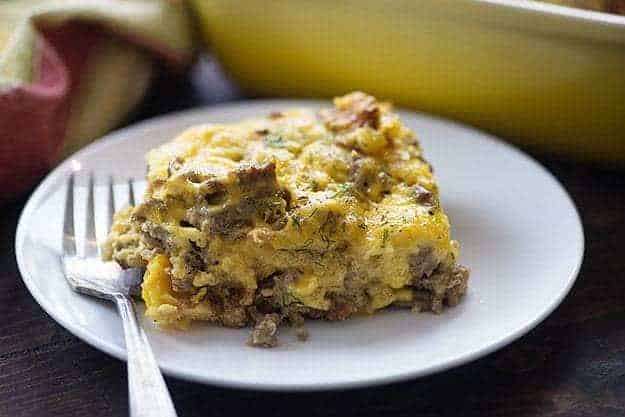 I've seen similar versions of this recipe all over the place, but I created this one with ingredients I always have on hand and to have as few carbs as possible while maximizing flavor. You can save on carbs by omitting the onion and Worcestershire, but I think the flavor they add is totally worth it. Especially considering there are only 2 net carbs per serving!
I really think you guys are going to looooove this recipe! Give it a try and report back!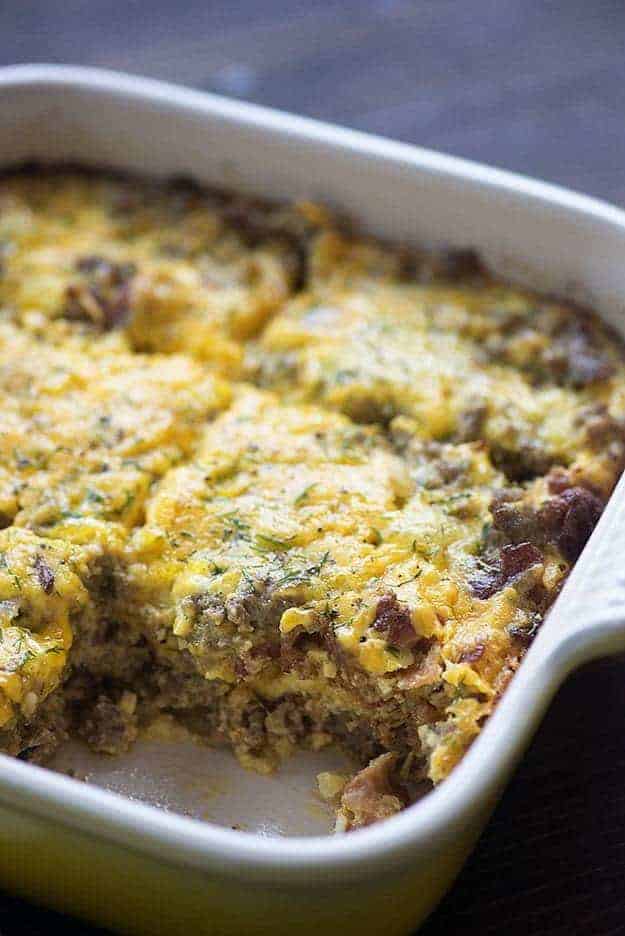 Low Carb Bacon Cheeseburger Casserole
Ingredients
1/2 pound bacon
1 pound ground beef
1/2 sweet onion
1 clove garlic
4 tablespoons cream cheese
2 tablespoons reduced sugar ketchup
1 tablespoon yellow mustard
1 tablespoon Worcestershire sauce
1 teaspoon seasoned salt
4 large eggs
1/4 cup heavy cream
1 teaspoon ground pepper
1 teaspoon hot sauce
8 ounces grated cheddar
1 teaspoon fresh dill
Instructions
Dice the bacon into small pieces and place in a large skillet over medium heat. Cook, stirring often, until crisp. Remove bacon from pan and set aside. Drain grease from pan.
Add the ground beef to the skillet and cook until browned, crumbling as it cooks. Drain fat.
Add the onion and garlic to the skillet with the beef and cook until translucent, about 5 minutes.
Add the cream cheese, ketchup, mustard, Worcestershire sauce, and seasoned salt to the skillet and cook over low heat, stirring constantly, until combined.
Spread the beef mixture into a greased 8x8 baking dish. Top with the cooked bacon.
Crack the eggs into a medium bowl and whisk together with the heavy cream until combined. Stir in the pepper and hot sauce.
Pour the egg mixture over the beef and bacon.
Top with the cheddar cheese.
Bake at 350 degrees for 30 minutes or until set and golden on top. Sprinkle with dill before serving.
Disclaimer: The nutrition information presented below is not guaranteed to be accurate.

Affiliate Links: This blog contains affiliate links.
Disclaimer: I am not a certified nutrtionist. All information is calculated from a variety of free web-based nutrition calculators and is not guaranteed to be accurate. 
Nutrition Facts
Serving Size
Servings Per Container 6
---
Amount Per Serving
Calories 582 Calories from Fat 387
% Daily Value*
Total Fat 43g 66%
Saturated Fat 22g 110%
Trans Fat 0g
Cholesterol 237mg 79%
Sodium 1891mg 79%
Total Carbohydrate 2g 1%
Dietary Fiber 0g 0%
Sugars 1g
Protein 43g 86%
---
*Percent Daily Values are based on a 2,000 calorie diet. Your daily values may be higher or lower depending on your calorie needs.
Share this: