September 18, 2017
Homemade Hamburger Helper
My whole family gets excited when they see this cheeseburger casserole recipe on the menu for the week! We love this version of homemade hamburger helper with all the flavors of a juicy cheeseburger.
You know, my kids get awfully bossy around lunch time every day.
Everything is fine, they're doing school (we're homeschoolers), they're leaving me alone, I'm getting some work done. Life is good.
And then they both come barging into my office and, before they even say a word, I know what they want. Food. Lots of it. Right this minute.
I can only fend them off for so long before I'm forced to come up with some sort of lunch plan. We do my Dorito chicken casserole more than I should admit. My pizza rolls are a total staple. This chili mac recipe is always a hit. Of course, I always try to have some homemade brownies on hand for dessert.

This homemade hamburger helper is a lunch and dinner staple in my house!
Sometimes, though, the youngest gets up the nerve to ask me for food that comes from a box. I mean, look. I'm not above hamburger helper. I happen to love Cheeseburger Macaroni with a passion that some might consider ridiculous and over the top. It's just…I write a food blog. I develop recipes for a living. I can not be cooking boxed meals all that often or I lose my credibility. Someone might see me with a cart full of Hamburger Helper in the grocery store and that'd be the end of me.
Soooo, I did what any completely normal and sane person would do and I created my own homemade cheeseburger macaroni. That's right. Homemade hamburger helper. You guys are going to want this one in your life, I promise.
Quick question: am I the only one who turns my hamburger helper into a sandwich? I love it best in a hot dog bun, but it's really good on white bread too. I've even got the kids doing it! Weird or not weird? You be the judge.
But, if you answer weird, I insist that you actually go try this homemade hamburger helper on some white bread. Not wheat. White.  I mean, you may as well go all out. And then you come back and tell me if you still think I'm weird. 😉
Anyway, this is a warm and cozy cheeseburger casserole recipe that literally comes together in about 20 minutes. It's a total kid pleaser too. Serve with a green side salad or some maple glazed carrots so you don't feel too bad about your choices.
Let me know what you think of my hamburger helper recipe!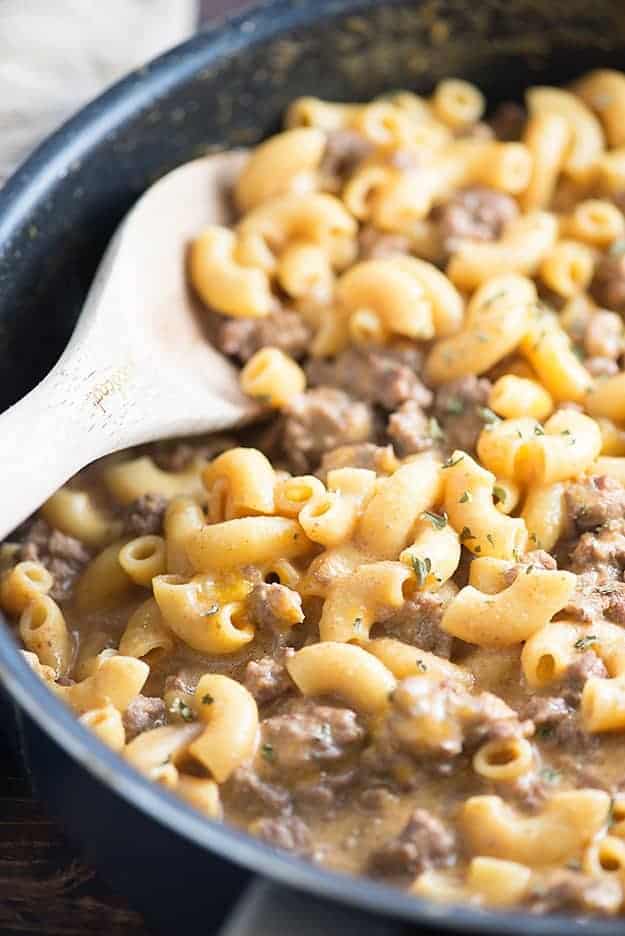 Homemade Hamburger Helper
Ingredients:
1 pound ground beef
3/4 cup dry macaroni
1 cup hot water
2 cups milk
1 tablespoon corn starch
1 tablespoon paprika
2 teaspoons onion powder
2 teaspoons garlic powder
1 teaspoon salt
1/2 teaspoon ground black pepper
1 teaspoon sugar
1 teaspoon mustard powder
1 cup grated cheddar cheese
Directions:
Brown ground beef in a 12 inch skillet over medium heat, crumbling it as it cooks. Drain grease.
Add all of the remaining ingredients to the skillet with the beef, except for the grated cheese. Stir well.
Bring to a boil, reduce to a simmer, and cover. Cook for 12 minutes.
Remove from the heat, stir in the cheddar cheese, and cover for 2 minutes.
Stir well and serve.
Share this: