April 10, 2014
Blueberry Cream Scones with Meyer Lemon Glaze
Is it just me or does eating a scone make you feel all fancy?
Like, maybe you should take off that over-sized sweatshirt and those saggy yoga pants and put on some real clothes? Maybe even a pair of earrings or something?
Also, definitely talk in your best British accent, because scones deserve only the finest treatment.

My favorite scones are soft and tender, not at all crunchy and most certainly not dry. So, you know, it's really no surprise that my favorite scone recipe uses two full cups of heavy cream, right? I just adapted that recipe a bit to make it all Spring-y!
Don't be intimidated by this recipe! It's beyond easy and actually really fun to make. I love my stand mixer and generally mix everything possible with it, but this recipe is perfect for getting your hands a little dirty. There is just something so relaxing about mixing a dough by hand. I should really do it more often! It makes me feel vintage.
Anyway, these scones are loaded with fresh blueberries and topped with a simple Meyer lemon glaze! Meyer lemons are only in season for a short time, so go ahead and swap in a regular lemon if that's all you can find.
Blueberry Cream Scones with Meyer Lemon Glaze
Ingredients:
For the scones:
3 1/4 cups all-purpose flour
1/2 cup granulated sugar
1 tablespoon plus 1 teaspoon baking powder
1/4 teaspoon salt
2 cups cold whipping cream
2 cups fresh or frozen blueberries
For the glaze:
2 tablespoon Meyer lemon juice
1/2 cup powdered sugar
Directions:
Preheat oven to 375 degrees. Line a baking sheet with parchment paper.
In a large bowl, combine the flour, sugar, baking powder, and salt. Stir in the blueberries.
Gently stir in the whipping cream to moisten the flour, being careful not to break the berries. Turn dough out onto a floured surface and knead gently with your hands just until the dough comes together.
Separate dough into 4 balls and flatten with your hands to form a disc about 5 inches in diameter. Use a pizza cutter or sharp knife to cut each disc into 8 triangles. Place on prepared baking sheets and bake for 12-15 minutes or until lightly browned and cooked through.
Let cool for 10 minutes before glazing.
To make the glaze, whisk together the lemon juice and powdered sugar. Spoon over the scones.
To freeze the scones, before baking and glazing place the scones on a baking sheet and freeze for one hour. Remove to a freezer bag and freeze until ready to use. Bake straight from the freezer at 350 degrees for 20-25 minutes or until lightly browned and cooked through. Make the glaze the day of baking.
More scones? Sure thing!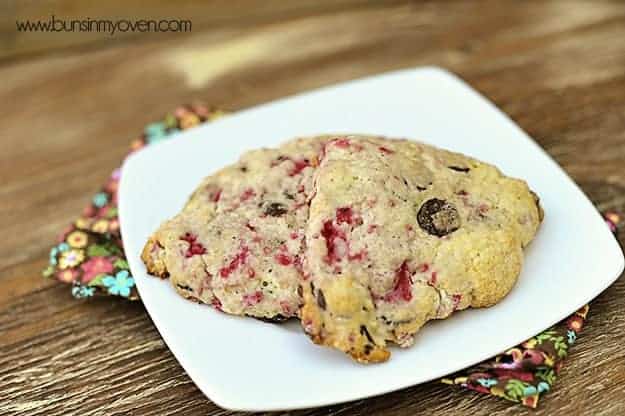 Dark Chocolate Raspberry Scones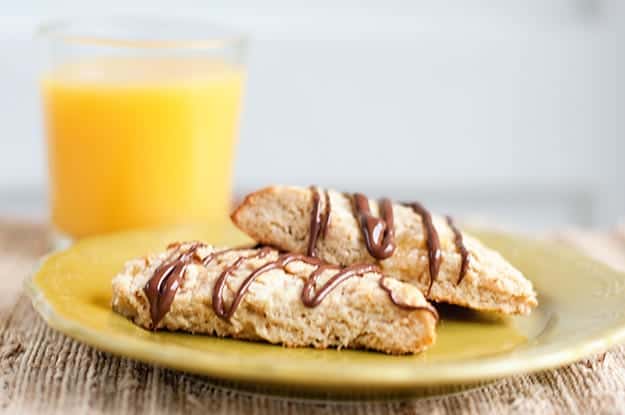 Share this: