November 19, 2012
Puffy Chocolate Chip Cookies – Levain Copycat Recipe
Have y'all ever heard of Levain Bakery in New York? They make the biggest, fattest, puffiest cookies around. They're a bit expensive and hard to get if you don't live near their bakery. Sure, you could order online, but I'm not one to shell out $22.00 for four cookies. I'll just make my own, thankyouverymuch.
One of the most impressive things about Levain's cookies are their size. They're 6 ounces each and rather than spreading into a big flat circle they bake up into a fat puff of a cookie. I'm pretty sure their recipe contains magic fairy dust, but they don't share their secret recipe, so that's just a guess.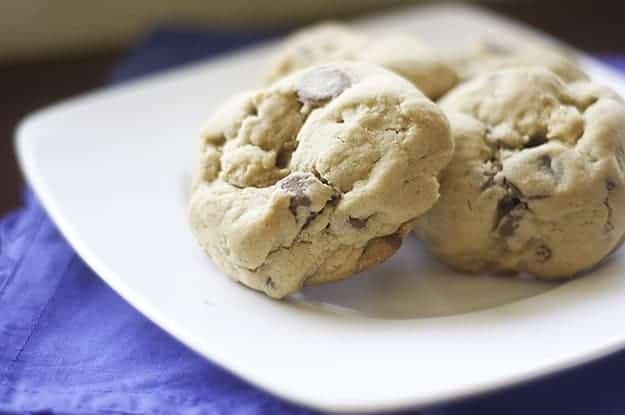 I've never had a Levain cookie, so I don't know how these compare. I don't really care at this point. I'm happy with this recipe. It makes me smile. It makes me laugh. It makes me feel proud. It completes me.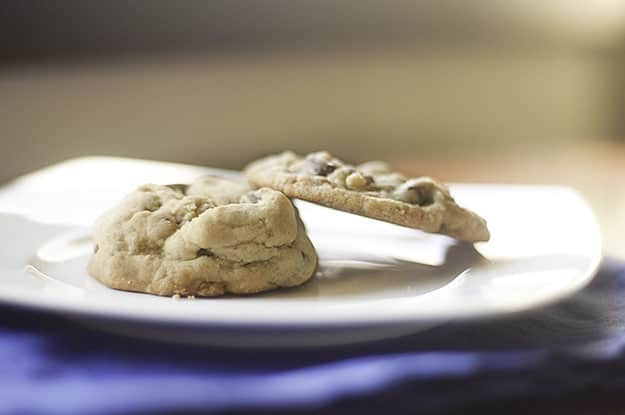 Do you want puffy or do you want flat? Both are tasty, but one certainly looks prettier than the other. However, the flat cookie will always be my favorite. The puffy cookies are good, excellent even, but the flat cookie has my heart. I'll share my recipe with you later this week. In the meantime, go surprise someone with these humongous cookies. You'll make their day.
Puffy Chocolate Chip Cookies – Levain Copycat Recipe
Ingredients
8 tbsp cold butter, cut into small cubes
3/4 cup brown sugar
1 large egg, cold
1 tsp vanilla extract
1 3/4 cup all-purpose flour
1/2 tsp baking powder
1/4 tsp baking soda
1/4 tsp kosher salt
1 cup semi-sweet chocolate chips
1/2 cup toasted walnuts (optional)
Instructions
Preheat oven to 350 degrees. Line a baking sheet with parchment paper.
In the bowl of your stand mixer, beat together the cold butter and sugar until barely combined, about 1 minute on lowest speed. Do not beat until creamed or fluffy! Add the egg and vanilla and continue to beat until combined.
Mix together the dry ingredients and add them to the butter and sugar mixture. You should have a very stiff, lightly sticky dough. If needed, add another tablespoon of flour. Add the chocolate chips and nuts and mix until combined.
Measure out the dough in equal portions depending on the size you want them. Levain Bakery makes 6oz cookies, I made 3oz cookies. Place the cookies on your baking sheet and place the baking sheet in the refrigerator for 5 minutes to chill the dough again. This will help prevent the cookies from spreading.
Bake for 11-13 minutes or until the outsides are lightly browned and the insides are mostly done. Cool on a wire rack.
https://www.bunsinmyoven.com/2010/11/28/puffy-chocolate-chip-cookies-levain-copycat-recipe/

lightly adapted from Judy's Kitchen
Share this: