This peanut butter dip is loaded with toffee. It's perfect for dipping apples or graham crackers and makes a great afterschool snack!

I don't know about you, but my favorite part about a holiday is the dip. Okay, fine, also presents. I love presents.
Let me break it down: Holidays mean there will be family. Family means there will be food. Food means there will be dip. Holidays = dip.
See? I'm really good at math, right?
Sweet dips are a fun way to change things up. This chocolate chip cookie dough dip is one of my favorite things ever. It's one of my family's favorites, too. My kids ask to have game night for the sole purpose of eating that dip, because errbody knows that game night = snacks.
I made some the other night for our Secret Family Game Night (my daughter named it, and it's secret because no one else was invited but our immediately family) and while I was in the kitchen, I thought I'd do a little experimenting. This peanut butter toffee apple dip was born.
Even my husband, the fruit hater, got in on the apple dipping action. This dip would work just as well with graham crackers, though. And my son? He dipped an Oreo in it and declared it delicious. So. Dip all the things. You can't go wrong.
Also, why isn't cookie dip a thing? We have fruit dip and chip dip. I think we should all thank my son for thinking up cookie dip! He's kind of a genius.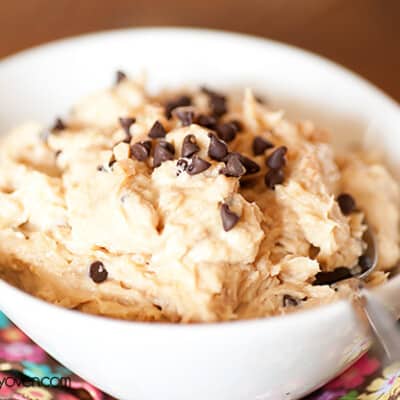 Peanut Butter Toffee Dip
Sweet dips are always fun and a bit unexpected! Serve this with apples, graham crackers, or some Nilla Wafers.
Prep2 minutes
Cook3 minutes
Total5 minutes
Ingredients
8 ounces cream cheese room temperature
1/2 cup peanut butter
1/2 cup powdered sugar
1 teaspoon vanilla
1/2 cup toffee chips Heath or Skor bits
1/4 cup mini chocolate chips optional
1 tablespoon milk as needed, for texture
Instructions
In the bowl of a stand mixer fitted with the paddle attachment, beat together the cream cheese and peanut butter until combined.

Stir in the powdered sugar and vanilla and beat until well combined.

Add the toffee chips and chocolate chips and stir until just combined.

If the dip is too thick for your liking, add milk, a little at a time to get it to the consistency you prefer.
Nutrition Information:
Calories: 170kcal (9%)| Carbohydrates: 10g (3%)| Protein: 4g (8%)| Fat: 12g (18%)| Saturated Fat: 5g (31%)| Cholesterol: 21mg (7%)| Sodium: 113mg (5%)| Potassium: 95mg (3%)| Sugar: 9g (10%)| Vitamin A: 270IU (5%)| Calcium: 29mg (3%)| Iron: 0.3mg (2%)
If you're looking for more dip recipes, check out my dill pickle dip and my hot ham and cheese dip! They're both so good and perfect for football games or single lady dinners. Come on, now. Don't act like y'all don't eat like college students when you're home alone. 😉