These peanut butter blondies are little squares of chewy peanut butter perfection! You won't even need a mixer to make these easy treats!

I want to jump right in and start talking to you all about how amazing these gooey peanut butter blondies are, but I can't.
I want to tell you how even though I'm never one to choose a blondie over a brownie (I mean, no. That's ridiculous.), I would probably go ahead and choose THIS blondie over a brownie any day, but I can't do that either.
The reason I can't do that is because my puppy is laying next to me and she is sound asleep. I wouldn't know she was asleep if it weren't for the weird yips she makes when she's dreaming. You see, this dog of mine, this adorable, fluffy, too cute for her own good dog, likes to sleep with her eyes open.
It's terrifying. Have you ever been eyeballed by a sleeping dog? I hope not. It's not pleasant.
Half the time I could swear she is dead, except that fat little tummy is bouncing up and down as she dreams. And, yeah, sometimes she snores louder than my husband.
Dogs are weird.
There. I just woke her up and now her eyes are closed. Seems legit.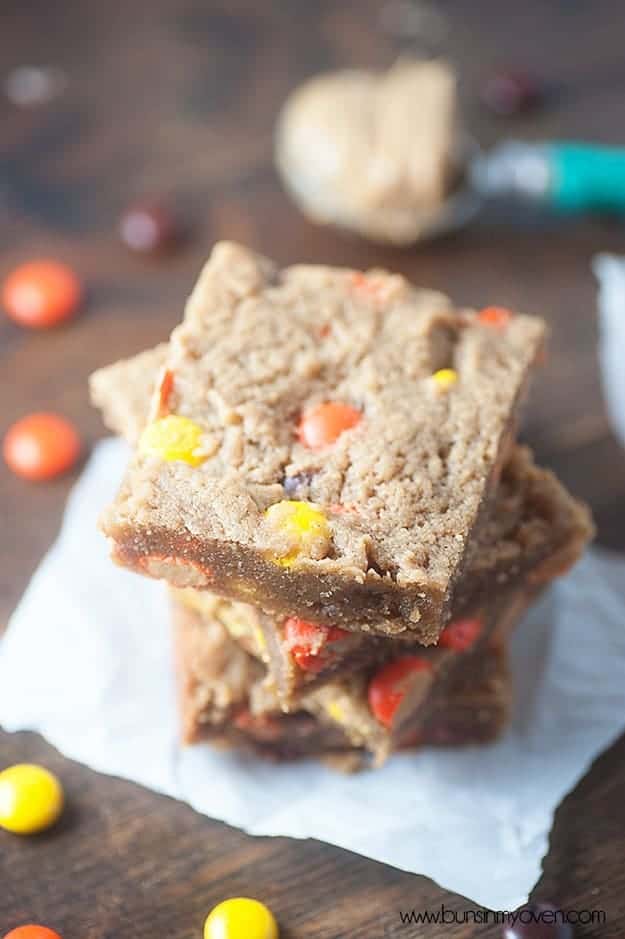 Now I'm free to tell you all about these blondies! Oh, you guys. They are perfectly peanut butter-y and so, so soft. If you're a peanut butter lover, then these are the bars for you!
I stuffed them with some peanut butter m&m candies, because that's how I roll. You could use chocolate chips or peanut butter chips or chopped peanuts or nothing at all. Whatevs. It's all good.
I used Mark Bittman's one bowl perfect blondie base as a jumping off point for this recipe from his book, How To Cook Everything. I'm pretty obsessed with that recipe and have been tweaking it here and there in all manner of over the top ways. I'll be sure to share more soon!
In the meantime, these peanut butter frosted brownies are looking good if you need a chocolate fix. Or good night, how about some chocolate peanut butter pretzel bars? I swear I eat dessert that doesn't contain peanut butter, but I try not to make a habit of it. Heh.

This peanut butter blondies recipe originally appeared on Food Fanatic.