This honey wheat bread makes the perfect sandwich bread!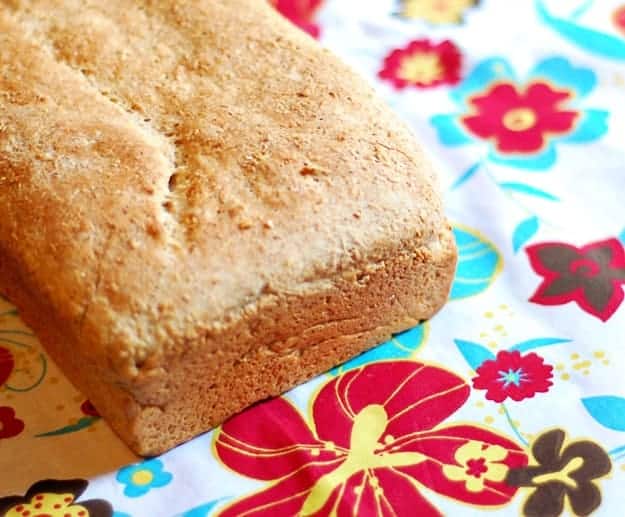 It's kind of odd that I named my blog Buns In My Oven. I don't often make buns or bread or any other delicious yeasty goods.
Every time I do, though, I remember.
I remember that oh, yes, it absolutely is worth the time and oh, it most certainly is worth the effort.
And, who am I kidding here, effort? I put the ingredients in my stand mixer, attach the dough hook, and flip the switch on. Baking bread is easy! Why don't I do it more?
I don't suppose I'll be allowed to buy sliced sandwich bread that often anymore after letting my son get a taste of this Honey Wheat Bread. He's addicted.
Poor thing, only nine years old and already he needs an intervention.
This is, of course, totally delicious for making sandwiches. But, let's take it a step further and toast this with a little butter (okay a lot of butter) and plenty of jam.
I mean, sandwiches are good, but toast and jam is where it's at, you know?
I like that you can feel good about eating this honey wheat bread. Whole wheat! Honey instead of sugar! And it's homemade.
Nobody can deny that this stuff is better than a loaf of bread from the store.
If you do try this recipe, be sure to report back. I'm curious to know how you like and what your favorite use for homemade bread is!
My homemade biscuits and banana bread recipe are big hits in this house too. Give those a try while you're in the kitchen next time!
Honey Whole Wheat Bread
This honey wheat bread makes the perfect sandwich bread!

Prep1 hour
Cook30 minutes
Total1 hour 30 minutes
Ingredients
1 cup warm water around 110 degrees faFahrenheit
2 teaspoons active dry yeast
3 tablespoons honey
3 tablespoons vegetable oil
1 1/2 cups whole wheat flour
1/2 tsp salt
2 cups all-purpose flour
Instructions
Dissolve yeast in warm water and add honey. Let sit for 5 minutes.

Using the dough hook on your stand mixer (or do this the old fashioned way) stir in the whole wheat flour, vegetable oil and salt.

Slowly add in half of the all purpose flour. Knead the dough for a few minutes adding more flour as needed until it all comes together. You may not need to use the entire two cups of all purpose flour (or you may need to use more, depending on The Bread Baking Gods, also known as The Weather.)

The dough should form a ball and be slightly sticky to the touch. Place in a greased bowl and allow to rise until doubled, about 60 minutes.

Punch down dough and shape into a loaf. Place in well greased 9x5 loaf pan and allow to rise until the dough is about 1 inch above the pan, about 60 minutes.

Bake at 375 degrees for 25-30 minutes.

Cool completely before removing from pan and slicing.
Nutrition Information:
Calories: 215kcal (11%)| Carbohydrates: 38g (13%)| Protein: 5g (10%)| Fat: 5g (8%)| Saturated Fat: 3g (19%)| Sodium: 119mg (5%)| Potassium: 115mg (3%)| Fiber: 3g (13%)| Sugar: 5g (6%)| Calcium: 10mg (1%)| Iron: 1.9mg (11%)