I decided that we needed one last Christmas treat this year right about the time I saw this yummy chocolatey, peanut buttery, toffee bark on Tastespotting. I knew that there was no way I could not make it, so make it I did.
I enlisted the help of my daughter to line a baking pan with saltine crackers for me while I heated up the toffee mixture. That's right…saltine crackers. Sounds kinda funky, but oh my word, this stuff is so yummy. It's also really addicting, so watch out for that. You don't want to be like me, sneaking pieces of this bark in the middle of the night after waking up to go pee.
I'm sorry. I just said pee on my food blog. Heaven help us, but it's about to get worse…
After the toffee had boiled for three minutes and turned a delicious amber color, I poured it over the saltine crackers. My daughter, my sweet, innocent, adorable little princess of a daughter…
…let out a squeal and shouted, "Ewwwww! Poop juice!"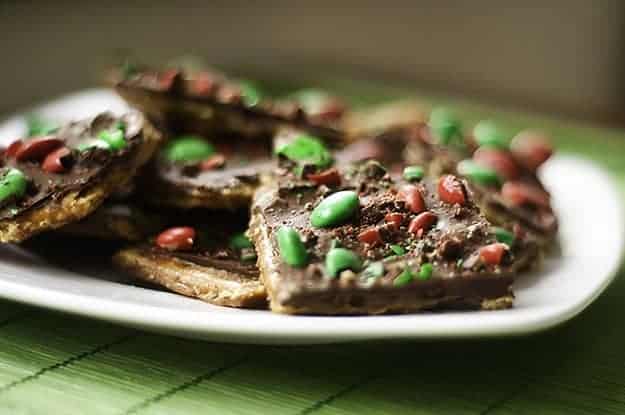 Apparently she didn't find the toffee quite as appetizing as I did.
I didn't let her protests stop me though. I covered the crackers in the toffee, then in peanut butter, then in chocolate, and then, finally, in red and green M&Ms.
This is some darn good holiday candy, poop juice and all.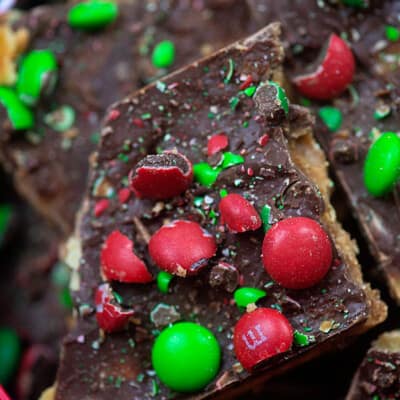 Christmas Crack
A holiday classic made with saltine crackers, peanut butter, and an easy homemade toffee.
Prep10 minutes
Cook15 minutes
Chill Time1 hour
Total25 minutes
Ingredients
1/4 pound salted saltine crackers (about one sleeve)
1 cup brown sugar
1 cup butter
1/3 cup peanut butter
1 1/2 cups semi-sweet chocolate chips
1/2 cup m&m candies chopped
Instructions
Preheat the oven to 400 degrees. Line a 18x13 baking sheet with parchment paper. Place all of the saltines salt side up on the baking sheet in an even layer.

Add the sugar, butter, and peanut butter to a medium sauce pan and bring to a boil over medium heat, stirring occasionally. When the mixture is fully boiling, stop stirring and allow to boil for three minutes.

Carefully pour the boiling mixture over the crackers and put in the oven for five minutes.

Remove from the oven and sprinkle with the chocolate chips. Return to the oven for 1 minute.

Spread the chocolate chips out into an even layer and sprinkle the m&ms over the chocolate.

Let cool on the counter for about 20 minutes. Place in the freezer for an hour and then break apart into small pieces.
Nutrition Information:
Serving: 1piece| Calories: 313kcal (16%)| Carbohydrates: 28g (9%)| Protein: 3g (6%)| Fat: 21g (32%)| Saturated Fat: 11g (69%)| Cholesterol: 31mg (10%)| Sodium: 203mg (9%)| Potassium: 163mg (5%)| Fiber: 1g (4%)| Sugar: 20g (22%)| Vitamin A: 365IU (7%)| Calcium: 29mg (3%)| Iron: 1.6mg (9%)
recipe from Grin and Bake It