Crockpot cheesy potatoes and smoked sausage is one of those slow cooker casseroles that gets gobbled up every time. It's extra cheesy comfort food at it's finest!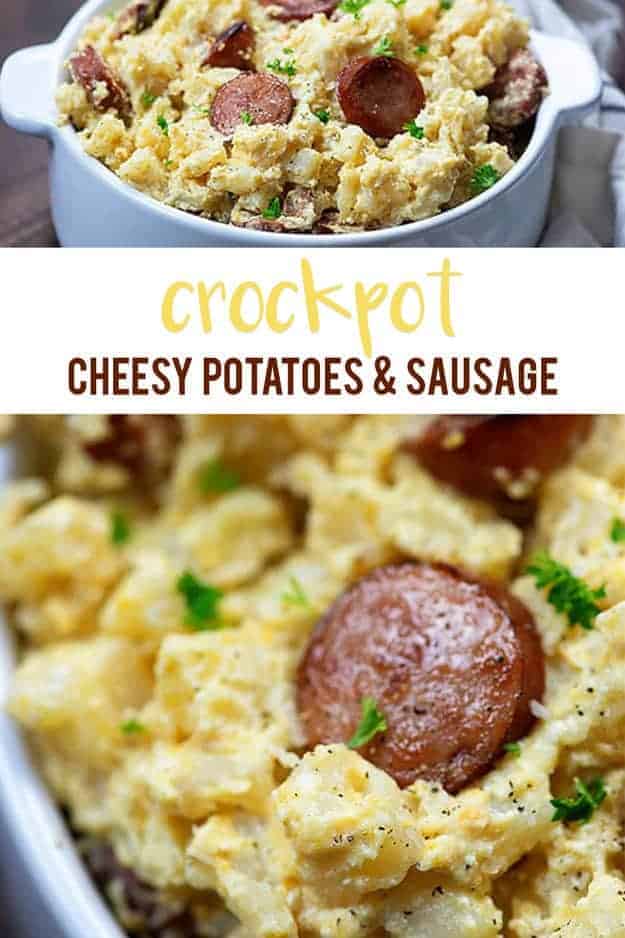 My daughter and I were walking the dog the other day, because it has finally warmed up enough to leave our house every now and then.
We had turned into hermits over the winter, not going to lie.
Anyway, we were walking the dog and my daughter mentioned that she hadn't seen one of the neighbors at church for awhile. When I asked where the neighbor had been, she said that she was just having some 'old people problems.'
I asked exactly what that meant and she replied with, "you know, her back and neck and knees are hurting."
Ahhhh. Old people problems. I can relate.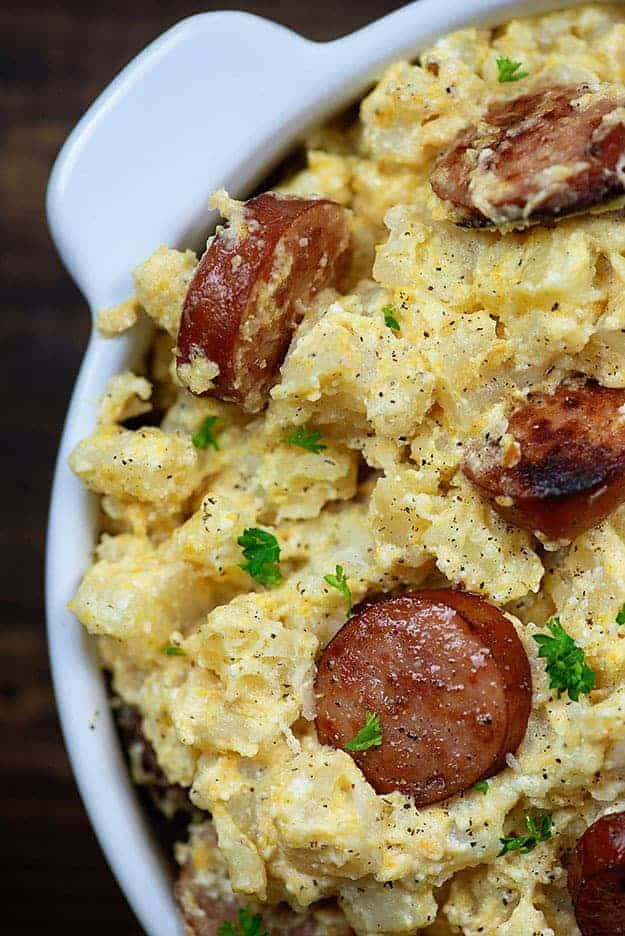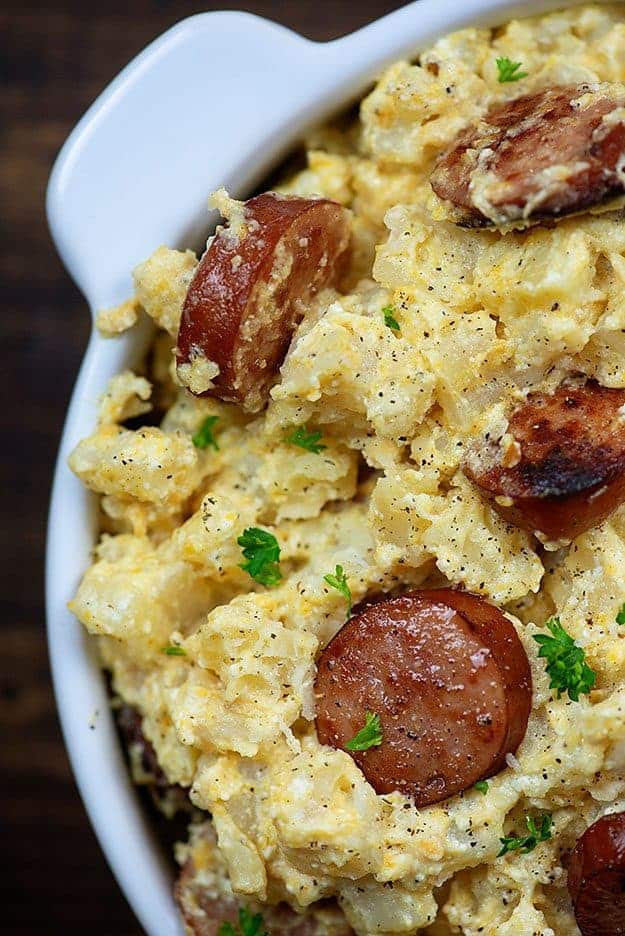 The very next day my daughter and I were walking the dog again and I don't know what happened but all of a sudden I couldn't turn my head to the left without serious pain.

My daughter looked at me sadly, nodded to herself, and confirmed my worst fears.
"Old people problems."
Later in the day she had this little gem of a realization: "Wow. So, middle aged means that you're actually in the middle of your life. You're halfway done living."
Needless to say, I was in the mood for some comfort food yesterday.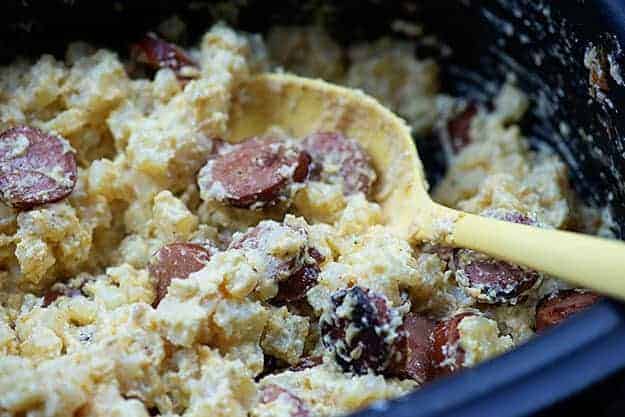 Enter these crockpot cheese potatoes.
I wanted this slow cooker casserole recipe to be super easy and I didn't really want to fuss with making a bunch of different things, so I turned cheesy potatoes into a main course by adding smoked sausage.
I love make smoked sausage recipes for dinner, because smoked sausage is just about the easiest thing in the world. It's already cooked for you, so just take a few minutes to brown it up and you're good to go.
Anyone else like their smoked sausage extra crispy on the edges? It's my favorite part.
Anyway, let's do this.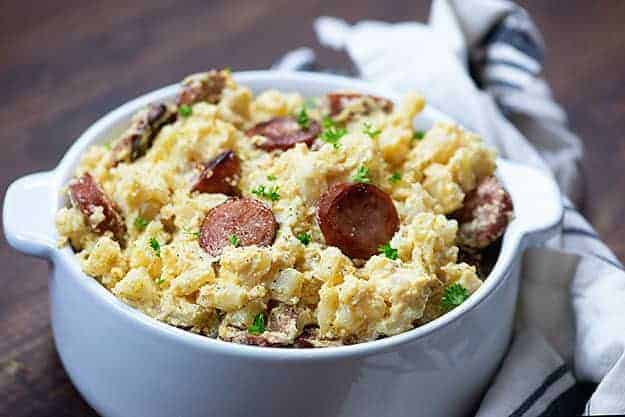 How to make cheesy potatoes in a crockpot:
We've all probably made cheesy potatoes in the oven (try my cheesy hashbrown casserole!), but can you just take that same recipe and pop it in a slow cooker?
Yeah, pretty much. There's not a whole lot of conversion going on here. It's simple.
You'll start with a bag of frozen cubed potatoes and add them right to your slow cooker. These diced potatoes will hold up better than shredded, so be sure you're using diced.
The cheese mixture is made up of sour cream, cream of chicken soup, cheddar cheese, and a few spices.
Combine everything together in your crockpot, cover, and cook on low for 4 hours.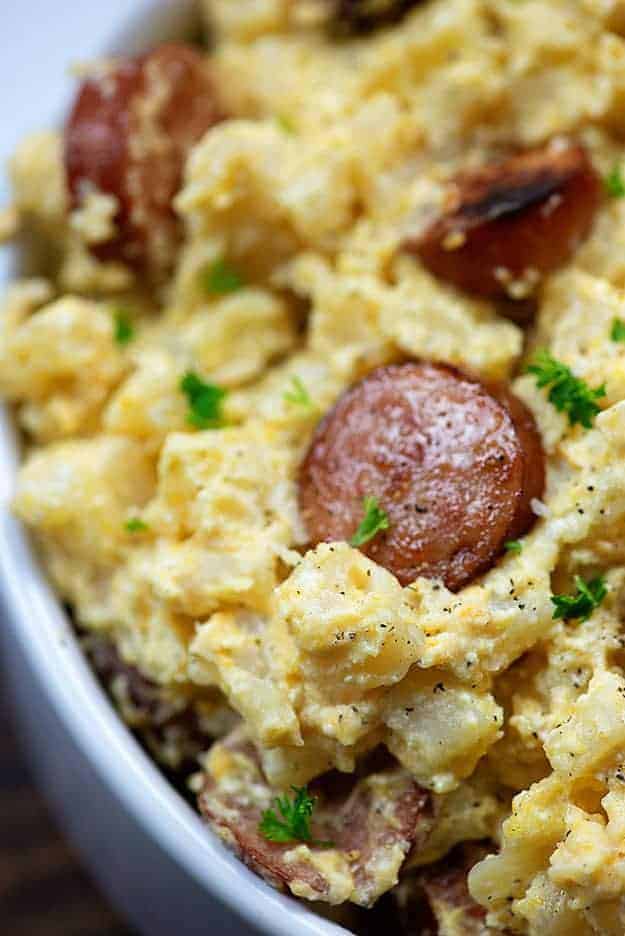 Give everything a big stir to combine it all and then brown up that smoked sausage.
I just add a little drizzle of olive oil to a skillet and then heat the sausage over high heat. I like the outside to get a little crispy, but you can cook the sausage until it's the texture you prefer.
Stir the sausage into your potatoes and serve it up!
What to serve with crockpot cheesy potatoes and smoked sausage?
I would keep the side dishes simple and light for this one. Something like a nice green salad or my Tuscan roasted vegetables would be perfect. Roasted green beans or glazed carrots would also be delicious.
Tools needed for these slow cooker cheesy potatoes:
Crockpot: I use my Ninja crockpot pretty regularly. It heats evenly, I prefer the rectangle shape, and it has amazing reviews on Amazon. Buy it here with my affiliate link.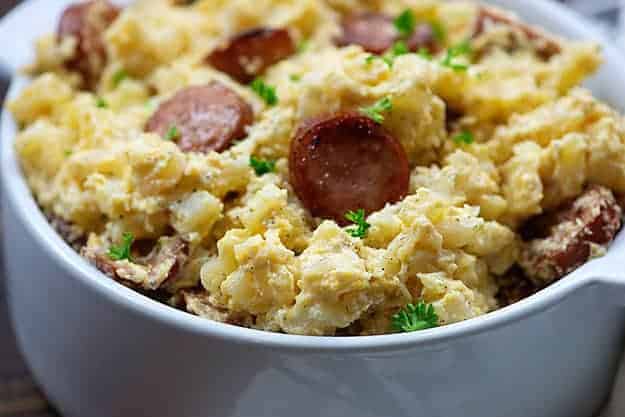 Cast Iron Skillet: This isn't strictly necessary as you can use any skillet to brown your sausage, but I do prefer cast iron. It gets super hot, nothing sticks to it, and it allows you to really get a good sear on your food. Buy one here with my affiliate link.
More recipes you might like:
If you love smoked sausage, this Instant Pot mac and cheese is full of it, too!
This slow cooker breakfast casserole is always a hit in my house and I love that it cooks while you're in bed!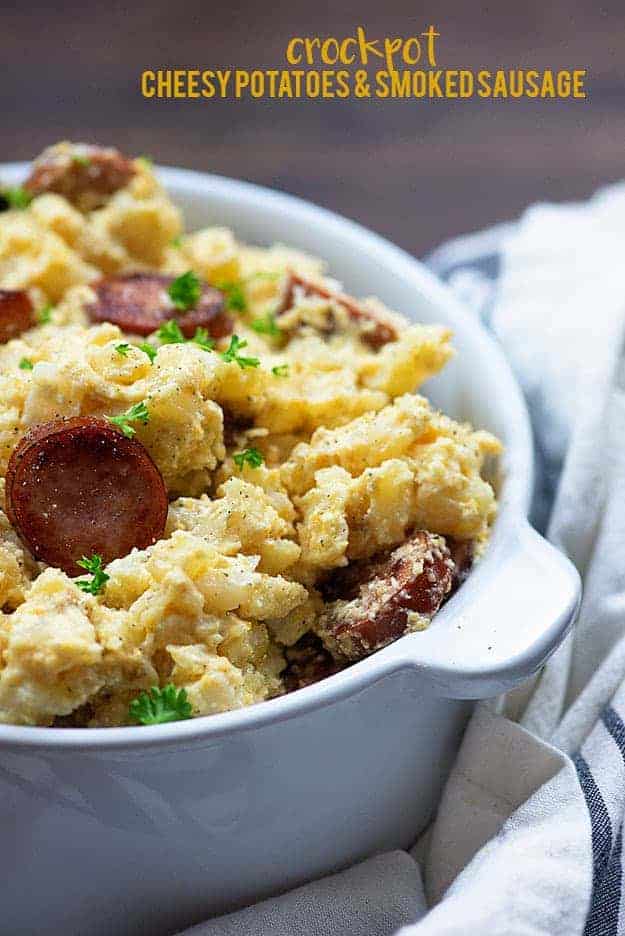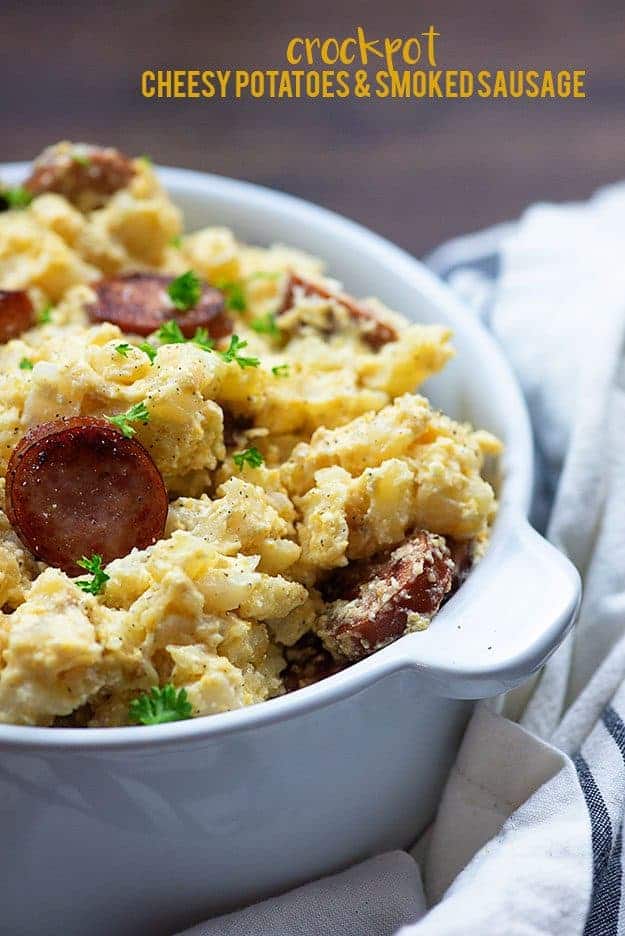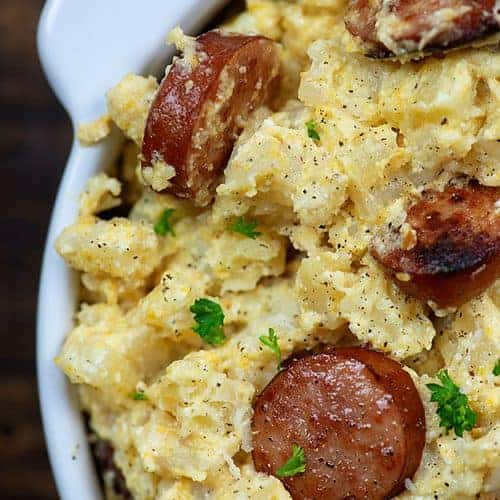 Slow Cooker Cheesy Potatoes and Smoked Sausage
This comforting slow cooker casserole is full of cheesy potatoes and crispy cooked smoked sausage.
Prep10 minutes
Cook4 hours
Total4 hours 10 minutes
Ingredients
32 ounces frozen diced potatoes
2 cups sour cream
10 ounces cream of chicken soup
2 cups grated cheddar cheese
1 teaspoon onion powder
1 teaspoon garlic powder
1 teaspoon salt
1 teaspoon pepper
1 teaspoon olive oil
1 pound smoked sausage
1 tablespoon parsley chopped
Instructions
Add all ingredients except for the olive oil, sausage, and parsley to the slow cooker. Stir well to combine.

Set slow cooker to low and cook for 4 hours or until potatoes are tender.

When the potatoes are finished cooking, heat a large skillet over high heat and add the olive oil.

Slice the smoked sausage into thin rounds and add to the hot skillet. Sear on each side.

Stir the sausage into the potatoes and sprinkle with fresh parsley just before serving.
Nutrition Information:
Calories: 527kcal (26%)| Carbohydrates: 26g (9%)| Protein: 18g (36%)| Fat: 39g (60%)| Saturated Fat: 18g (113%)| Cholesterol: 102mg (34%)| Sodium: 1267mg (55%)| Potassium: 560mg (16%)| Fiber: 1g (4%)| Sugar: 2g (2%)| Vitamin A: 750IU (15%)| Vitamin C: 10.5mg (13%)| Calcium: 287mg (29%)| Iron: 2.4mg (13%)