So. I did something over the weekend. Something ridic.
I, the queen of sitting on the couch, attended an NFL game.
It was mostly only fun because I was a little tipsy the entire time. And because the people I was with were awesome. And because have you seen the types of food they sell at NFL games? It's some good stuff.

Everyone was shouting "Go Bears" at me. I shouted back "Go hot dogs!" Because hot dogs. And also, too much to drink. 😉
Also, can I just point out that my husband is pretty much the most adorable person in the world? I love him and his hairy face.
Honestly, I was pretty proud of myself. I didn't cheer for the wrong team even once. I came close a few times, but I learned pretty quickly to only cheer when the people in the Bears clothes were cheering. Easy enough.
So, anyway, that was a fun weekend and now I'm home and expected to cook my own food and not drink beer at 11am. I figured I'd make up for that fact by loading up some tender little potato pillows (aka gnocchi) with some cheddar cheese sauce and as much pork as I could handle – which happens to be a lot. Go pork!
As you know, I've been working with Smithfiled this year to share fun ways to use their marinated fresh pork products. I'm really in love with them, because the pork is already perfectly seasoned and you just open a package and go. You can really get dinner on the table in no time. This gnocchi with pork and bacon takes less than 30 minutes, guys.
This cheese sauce is basically just evaporated milk and grated cheddar. It comes together in a flash and doesn't get gritty or weird. You'll nail it, I promise.
Be sure to also check out my Pork Milanese and Pork Slow Cooker Chili! Good stuff!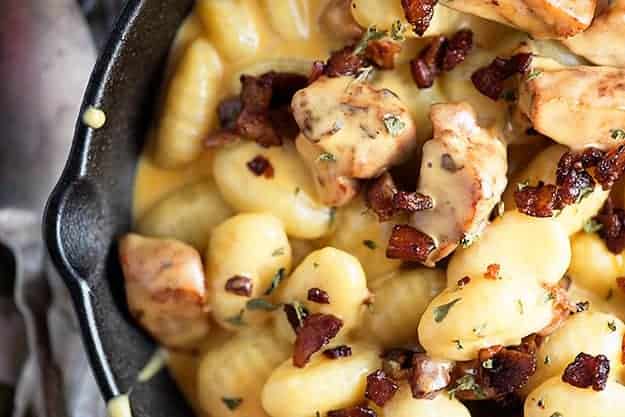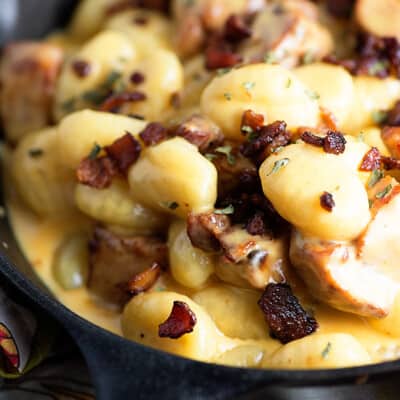 Cheesy Gnocchi with Smoked Pork and Bacon
You can really get dinner on the table in no time. This gnocchi with pork and bacon takes less than 30 minutes, guys.

Prep5 minutes
Cook20 minutes
Total25 minutes
Ingredients
2 pounds gnocchi
1 1/2 pounds Smithfield Applewood Smoked Bacon Marinated Fresh Pork Loin Filet
3 slices Smithfield Bacon any variety
6 ounces evaporated milk
12 ounces cheddar cheese
1 teaspoon hot sauce
1 teaspoon salt
1 teaspoon pepper
Instructions
Bring a large pot of water to a boil.

While water is heating, open the pork loin filet and scrape the bacon off the top into a 10 inch skillet. Dice the pork loin into bite sized pieces and add to the skillet.

Dice the three slices of bacon and add to the skillet.

Cook the pork loin and bacon over medium heat until cooked through, stirring often, about 10 minutes.

Once water is boiling, add gnocchi and cook until it floats to the top of the water, about 3 minutes. Drain and set aside.

Add the evaporated milk, cheddar cheese, hot sauce, salt, and pepper to the hot pot that you used for boiling the gnocchi. Turn heat to medium and cook, stirring constantly, until cheese is nearly melted.

Return the gnocchi to the pan with the cheese sauce. Gently stir in half of the pork and bacon. Stir to coat in cheese sauce.

Serve immediately.

Remaining pork may be refrigerated for use in stir-fry, sandwiches, or tacos.
Nutrition Information:
Calories: 708kcal (35%)| Carbohydrates: 57g (19%)| Protein: 48g (96%)| Fat: 31g (48%)| Saturated Fat: 16g (100%)| Cholesterol: 146mg (49%)| Sodium: 1428mg (62%)| Potassium: 587mg (17%)| Fiber: 3g (13%)| Sugar: 3g (3%)| Vitamin A: 635IU (13%)| Vitamin C: 1.1mg (1%)| Calcium: 519mg (52%)| Iron: 6.6mg (37%)