This cream cheese pound cake recipe makes a rich, decadent cake. It's divine topped with a simple strawberry coulis.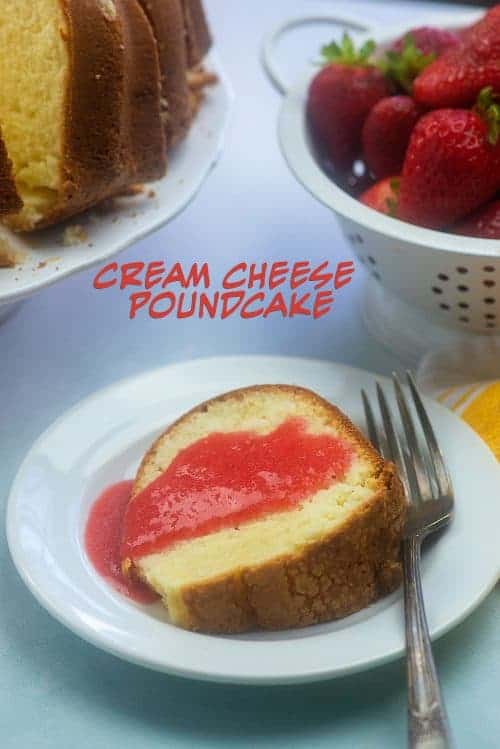 Everyone has little (or sometimes big) failures in the kitchen every now and then and I truly expected this pound cake to be one of my failures.
You see, I struggle with cake. It's just not something that I'm good at.

I often mess up cake mixes, if we're being totally honest.
So, I hope you'll take that information and you'll keep it in mind when I tell you that this cream cheese pound cake right here? It's perfection. If I can manage to make this without screwing it up, I bet you can too!
How to make this easy pound cake:

The prep time for this cake is about 20 minutes. Not bad as far as cakes go.
You'll just add cream cheese, butter, and sugar to your mixing bowl and cream it together.
Next comes the eggs. Be sure to mix them in one at a time before adding the next egg. Many people skip this step and add them all at once. Doing it this way will ensure that the eggs mix in evenly with your batter.
Dump in your flour all at once, give it a good stir, and pop it into a well-greased bundt pan. (Use butter and smear it alllllll up in that bundt pan! Dust with flour when finished.)
This pound cake recipe bakes in about an hour and 20 minutes.
The cream cheese makes this a moist pound cake recipe.
How to make strawberry coulis topping:
The coulis (pronounced 'cool-ee') is just 4 ingredients – strawberries, water, lemon, and sugar.
After you blend together all the ingredients it is important to use a mesh strainer to get all the seeds out of the coulis before topping your cake.
The strawberry coulis is amazing and I could honestly just eat it with a spoon.
How to serve the pound cake: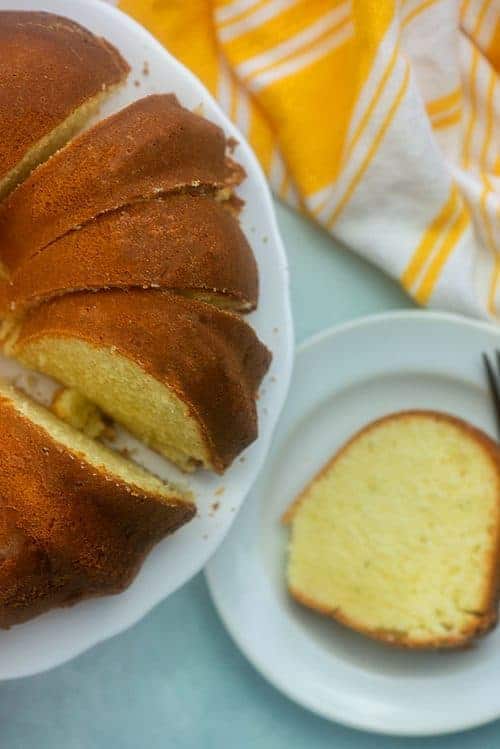 When the cake is finished, it should be stored in the refrigerator. Pound cake is best served cold.
You should store the strawberry coulis in the fridge also, in a covered container like a mason jar.
When you are ready to serve, slice the cake into your preferred size. This recipe should make you about 12 slices.
Then top the cake with the strawberry coulis! I have a tendency to drown my cake in that gorgeous topping.
The strawberry coulis alone was the perfect combination of tart and sweet and it was so fresh tasting. You could also use raspberries or blackberries, but be sure to adjust the sugar as needed.
Add some whipped cream or ice cream if you are really feeling something extra!
Why is it called pound cake?
Weird name right…"pound cake." We didn't add a pound of anything to this cake.
Originally pound cake was made of a pound. Lots of pounds actually.
It was a pound of sugar, a pound of flour, a pound of eggs, and a pound of butter, producing a dense, heavy cake.
While this isn't a traditional pound cake with a pound of ingredients, it has a similar texture and flavor.
More cake recipes to try!
I have a few other cake recipes on the site that I can make time and again without messing them up!
In case you're also cake challenged and want to check them out, here you go:
My eclair cake is no bake and fool-proof.
My pumpkin coffee cake is one of the most popular reader recipes on the site.
And my banana cake recipe is a total win for the banana fanatics out there!
Cream Cheese Pound Cake with Strawberry Coulis
This cream cheese pound cake recipe makes a rich, decadent cake. It's divine topped with a simple strawberry coulis.

Prep20 minutes
Cook1 hour
Cooling time30 minutes
Total1 hour 50 minutes
Ingredients
For the cake:
8 ounces cream cheese, room temperature
1 1/2 cups butter, room temperature
3 cups granulated sugar
6 large eggs, room temperature
3 cups cake flour, see note
2 teaspoons vanilla extract
For the strawberry coulis:
2 cups hulled strawberries
1/4 cup water
1 tablespoon lemon juice
3 tablespoons sugar
Instructions
Pre-heat your oven to 325 degrees and grease and flour a bundt pan.

Cream together the cream cheese, butter, and sugar.

Add in the eggs one at a time and make sure they are completely incorporated before adding the next. Add in the vanilla.

Dump in the flour all at once and mix until combined.

Pour batter into bundt pan and bake for 1 hour and 20 minutes, checking with a cake tester after 1 hour.

Cool the cake for 20 minutes in the pan before removing to a cake plate to cool completely.

Once cake is completely cool, prepare the strawberry coulis.

Add everything to a blender or food processor and process until smooth.

Press through a mesh strainer to remove all the seeds.

Serve cake slices with a drizzle of strawberry coulis.

Store the cake and strawberry coulis in the fridge for up to 1 week.
Tips & Notes:
You may use all purpose flour, but you'll have a denser crumb than if you use cake flour.
Nutrition Information:
Serving: 1slice| Calories: 631kcal (32%)| Carbohydrates: 78g (26%)| Protein: 8g (16%)| Fat: 32g (49%)| Saturated Fat: 19g (119%)| Cholesterol: 174mg (58%)| Sodium: 300mg (13%)| Potassium: 135mg (4%)| Fiber: 1g (4%)| Sugar: 54g (60%)| Vitamin A: 1100IU (22%)| Vitamin C: 14.6mg (18%)| Calcium: 48mg (5%)| Iron: 0.9mg (5%)
This recipe was originally published in April 2010. It was revised September 2019.